This website and its content are not intended to provide professional or financial advice. The views expressed here are based solely on the writer's opinion, research, and personal experience, and should not be taken as factual information. The author is not a financial advisor and lacks relevant certifications in that regard. We highly recommend consulting a qualified financial advisor before making any investment decisions, as the information presented on this site is general in nature and may not be tailored to individual needs or circumstances.
FinTech – or simply fintech – is one of the words you can find frequently in media – especially when it comes to media that covers financial topics.
But what is it actually and why does it matter so much when we talk about stocks? Simply put, fintech companies offer products and services that affect our everyday lives and the sustainability of countless businesses around the world and for a simple reason: they have to do with personal and corporate finances.
In this article, we will give you more information related to fintech in general, and to the fintech stock market in particular, focusing our attention on some main topics: what are the best fintech stocks right now, what you should consider before choosing them and how to understand the whole industry, and how to start investing in fintech stocks.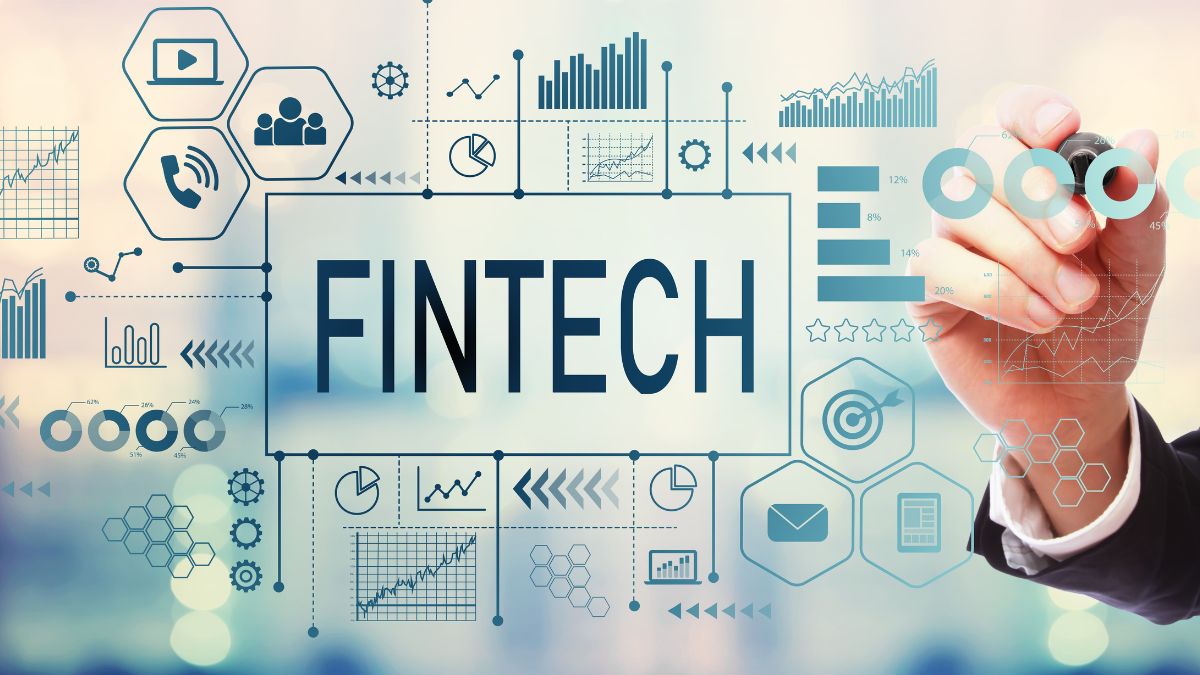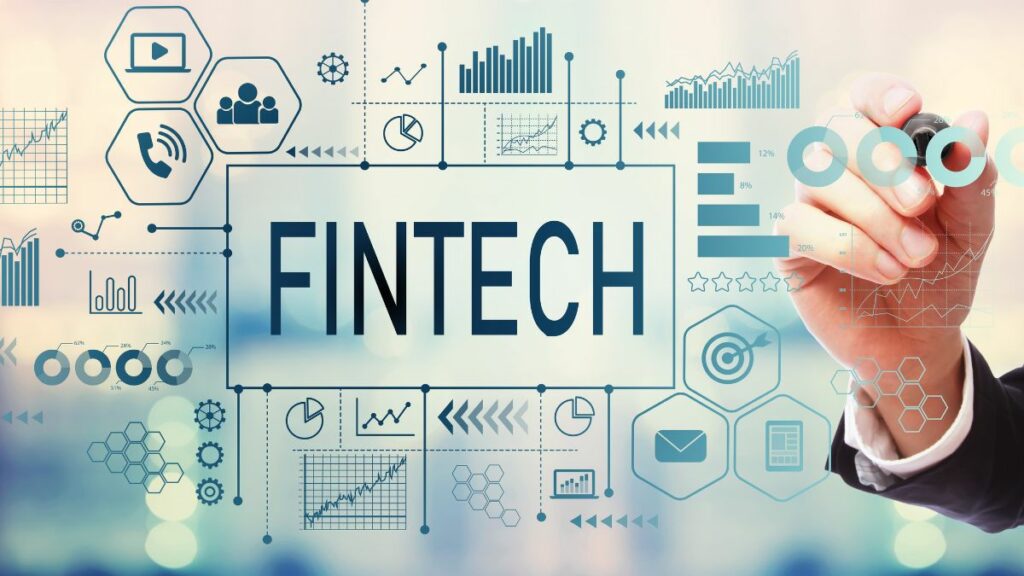 What are Fintech Stocks?
Fintech brings together finance and technology. A fintech firm can be involved in sectors that span from payment methods provided to businesses, to payment and financial management platforms, to the use of innovative technologies like blockchain.
Fintech stocks are issued by those companies that belong to the category of fintech and, at the same time, are publicly traded on stock exchanges.
Since fintech covers many sectors and competition – especially after Covid – is constantly increasing, the reliability of a company might become a critical element.
TOP 5 Fintech Stocks
And reliability has been our guide to create the following list of the best fintech stocks. All the stocks we're listing are issued by companies that proved to be able to successfully deal with competition and have some unique characteristics able to meet different segments.
They were born as fintech companies, or integrated fintech innovations over time.
1. PayPal Holdings
PayPal has hundreds of millions users across the globe, and it constantly manages to acquire new users for the intuitiveness of its payment platform. It can be used on desktop and mobile devices to make seamless transactions across the globe. It allows you to make transactions even when the only thing you know about the recipient is the email address – and this adds a layer of security, since it's not necessary to constantly share personal details.
PayPal offers both personal and business solutions, and can be linked to different cards and bank accounts – something that can also help you with your financial management.
---
2. Visa
Also Visa is based in California, and there is an interesting fact about the Initial Public Offering (IPO) that led the company to become a publicly traded company on the NYSE: it went public in 2008, during the global financial crisis, and despite this it was the largest IPO in the country's history at the time, with an opening price of $44 per share. Today, the stock – under the ticker V – is traded at around $224.
Countless partners and companies all over the world use Visa and Visa's processing network to issue their branded cards and allow people to use them for payments – globally.
---
3. Mastercard
Also Mastercard operates globally, and offers services and products like credit and debit cards, other debit and credit products designed for consumers, businesses – including many crypto firms – and even governments, analytics and identity verification services. To better retain its users, Mastercard is also involved in many rewards programs.
---
4. Payoneer Global Inc.
The company was founded in 2005 and went public on the Nasdaq in 2015 under the ticker PAYO – currently traded at around $6 per share.
This company is focused on delivering digital payment solutions, making cross-border transactions easier also thanks to wire transfers and debit cards.
Payoneer was able to meet the needs of small businesses and freelancers, as well as the needs of big companies – among its partners, we find Google and Amazon.
To mention some numbers, the company has almost 2000 employees, 5 million users, and offers its products and services in more than 200 countries.
---
5. Marqeta
By using Marqeta, companies are able to issue payment cards – including virtual cards – to meet the needs of their payment card programs. To make the process even easier, Marqeta provides API features for complete management.
The company was founded in 2010 and went public on the Nasdaq in 2021 – under the ticker MQ. This fintech stock is traded at around $6 at the time of writing.
Understanding the Fintech Stock Market
A rule that applies to all stocks is that when you want to invest in a stock, you need to understand the industry it belongs to.
Fintech stocks make no exception, but the task can be tough, simply because when you're interested in fintech, you need to understand not only finances, but also technology.
Fintech involves several sectors, and virtually any innovation can somehow be used to improve financial lives.
As we mentioned at the beginning of this article, fintech affects our lives each and everyday, and many times it turns out that you're using a fintech service even when you didn't fully realise that.
But, to be more concrete, there are some pillars that support fintech, and knowing them helps you to understand the stock fintech market:
Intuitiveness,
Inclusivity – both economic and geographical,
Innovation.
Now, even if all these are good principles, you might feel quite uncomfortable when you need to analyse more than one industry to understand a single stock.
This is one of the risks associated with investing in stocks, along with some other issues that may arise because of the very nature of this industry.
One of this is the fact that fintech can be influenced by social media – like in the case of meme stocks, and many of them are included in the fintech sector – and that innovations like cryptocurrencies also fall in the category of fintech – and they may be subject to the so-called pumps and dumps, based on the diffusion of misleading information to manipulate the market.
An additional risk has to do with different regulatory frameworks: even if fintech companies are able to offer products that are similar to those offered by banks – but often improving them and making them more inclusive – they don't have the same status acquired by banks over time, and this often causes regulatory issues that may affect the stocks of fintech companies.
Key factors to consider when choosing fintech stocks
For the reasons we listed above, it's straightforward that a deep analysis of the most fundamental factors that affect fintech stocks is pivotal. Here are the most important elements to consider:
From a perspective that is strictly related to how a company performs, it is important to consider the margin expansion of that company – that is, the company should increase the profits registered on the sale of products over time.
The previous point can also affect another element – retention. In the fintech industry, competition is really tough, and companies may end up offering low cost products that are not in line with sustainable growth. Fintech companies should work on both customer retention and margin expansion.
Moreover, the capability of a company to integrate innovation – to manage competitors, retain but also acquire new customers.
Where can you buy Fintech Stocks?
Especially after the breakout of the pandemic, most fintech stocks witnessed an impressive growth – which was actually not sustainable.
This resulted in layoffs – to rebalance the overhiring activity due to the Covid and to large funding rounds – and dramatic drops in fintech stock prices.
So, it is important to use tools that are not only able to give you a smooth investing experience, but that also give you all the information you need to know about fintech companies and the whole market to give you the possibility to make informed decisions.
If we take into account these elements, eToro is for sure the right fit – for both beginners and experienced investors.
If you want to discover all its functionalities, you can open an account for free – and here's a guide on how to do that.
Step 1: Open an Account
eToro has its official desktop website and application that can be used on different mobile devices and with different operating systems.
To sign up, you'll just need to locate the Sign Up button and click. This will lead you to the initial form you have to use to communicate your personal details, email address and create a password. You'll then need to confirm your account via email.
As an alternative and faster method to sign up, you can use your Google account.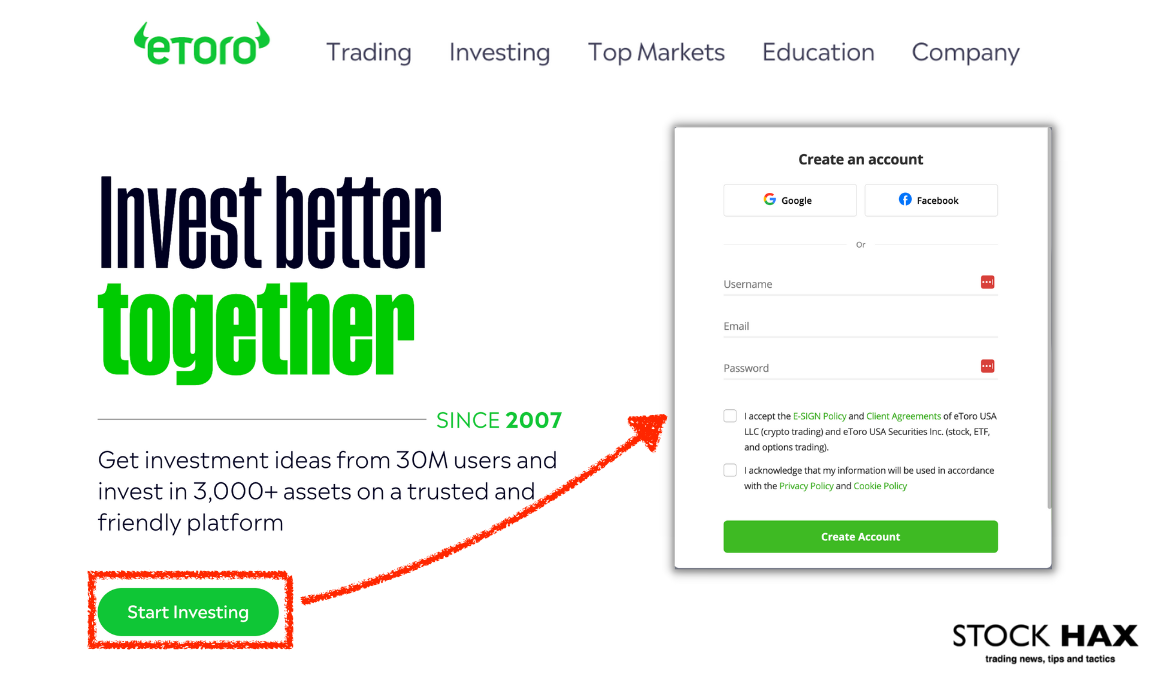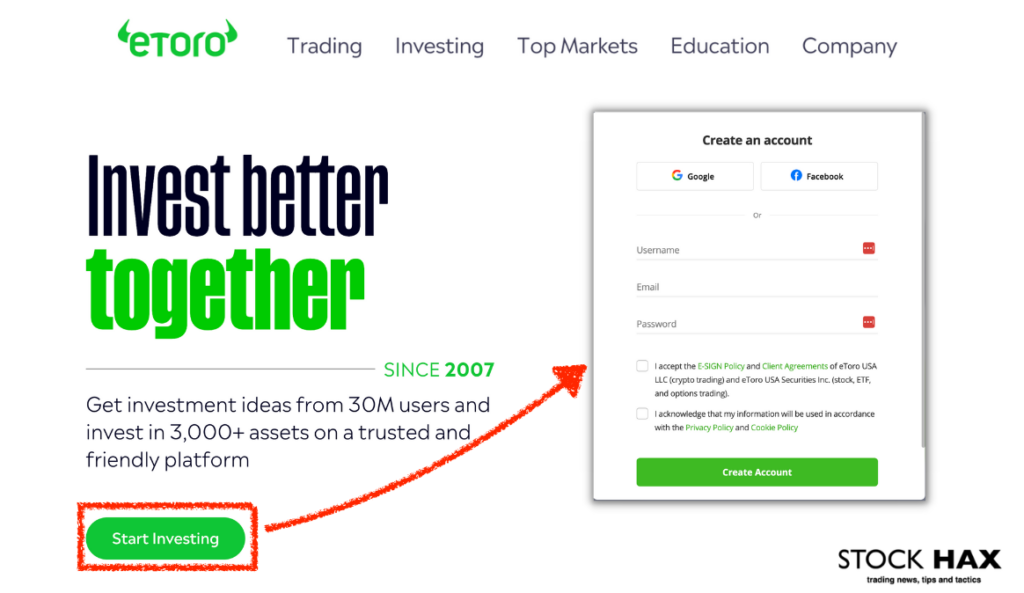 Step 2: Upload ID
To comply with KYC (Know Your Customers) and AML (Anti-Money Laundering) regulations, the platform will ask you to upload an ID. Moreover, you'll need to upload documents that can confirm your location and that you own the account you want to use for payments.
This will help you to operate in a safe environment – and eToro to keep its status of regulated broker.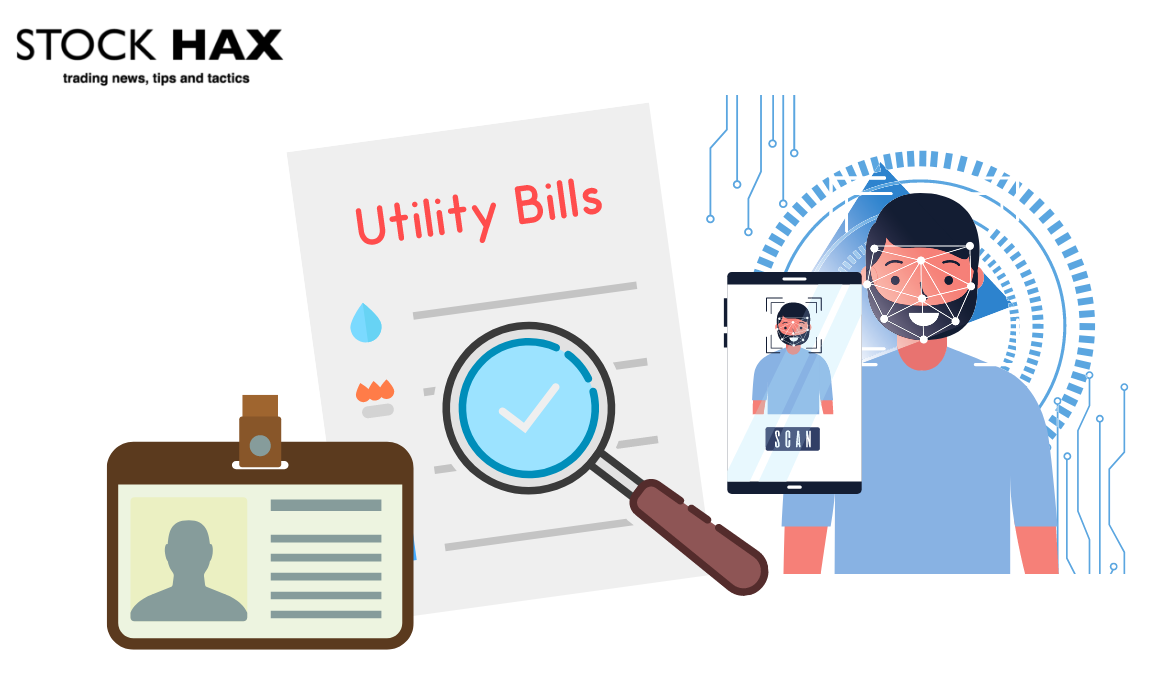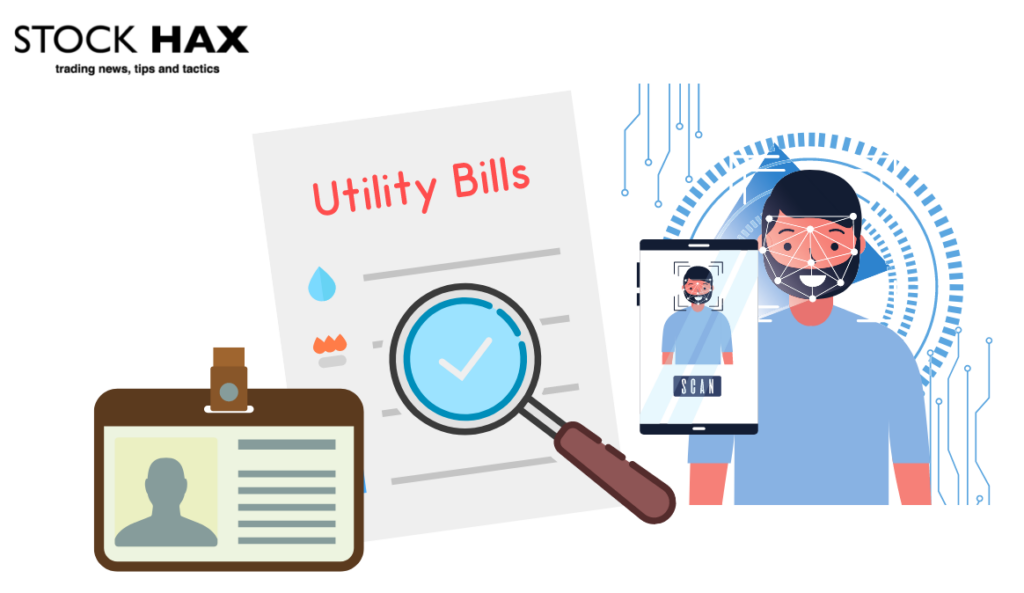 Step 3: Make a Deposit
There are several payment methods you can use to fund your account, including digital wallets and eToro Money, the payment method created by the company that allows you to fund your account without paying any fee.
This step will allow you to actually invest in stocks – and you can start for as low as $10.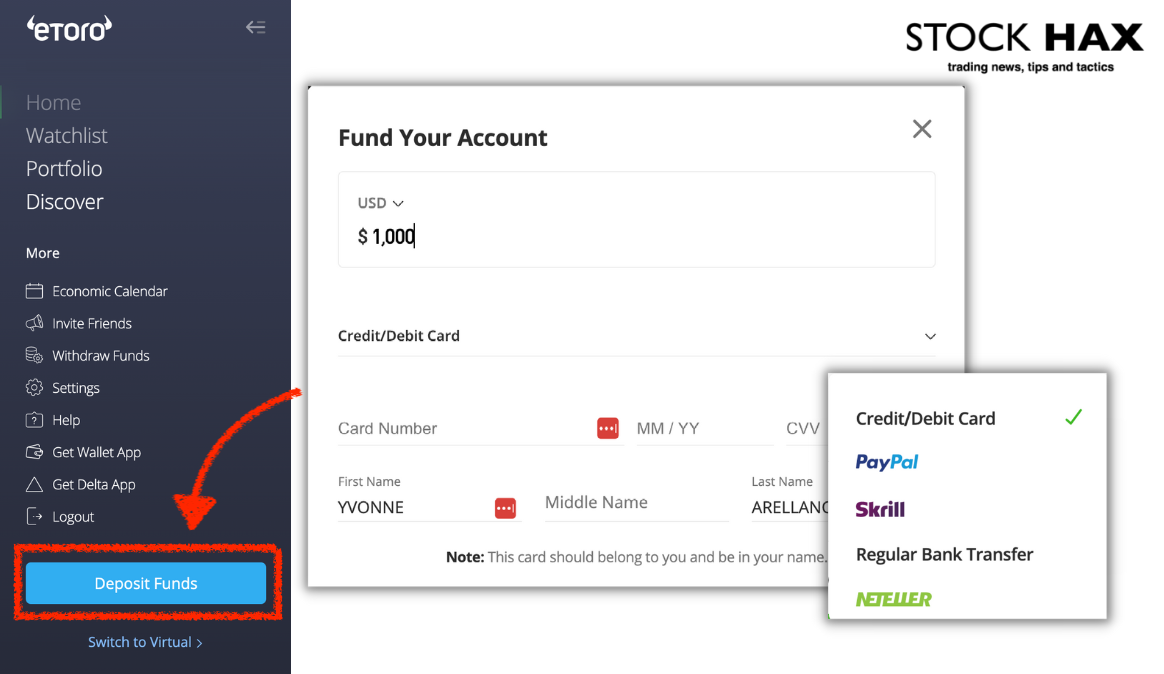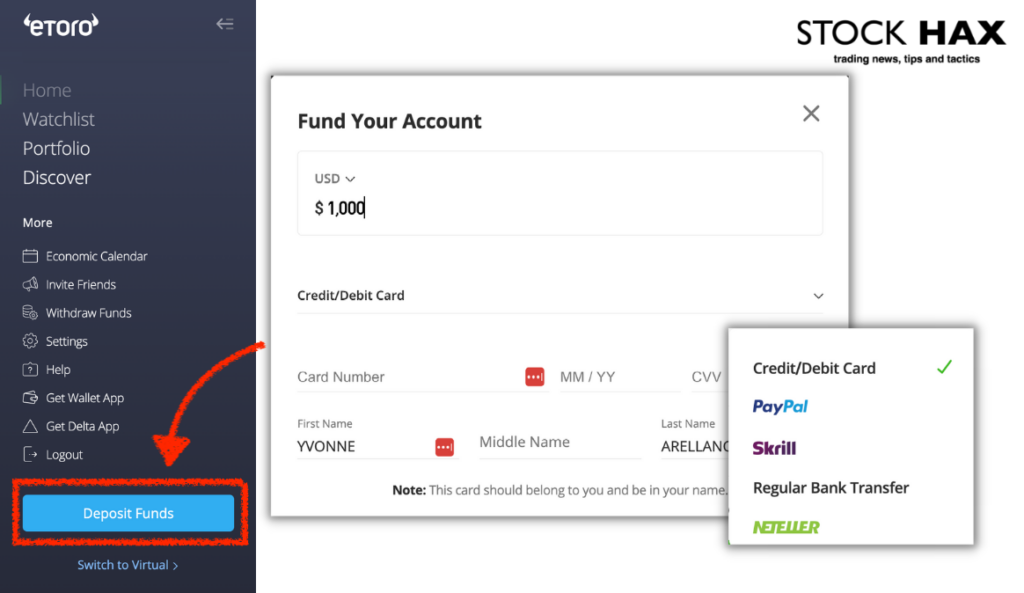 Step 4: Find the stock you want to invest in
To find the stock you want to invest in, you have to easy-to-use alternatives:
If you already know the stock that will represent your investment, you can use the search bar and type the name of the company that issues the stock or the ticker of the stock;
If you want to explore fintech stock, you'll just need to click on the "Discover" tab and select the category you're interested in: eToro will share with you all the stocks available that belong to that industry.
Conclusion
The fintech industry brings together finance and technology to provide people and business with solutions that are at the same time intuitive and inclusive.
With the pandemic, most fintech stocks experienced an impressive growth – since people couldn't leave their houses and businesses were in trouble, we all needed fast solutions that could help us to control our finances and make transactions – also giving us the opportunity to use different credit and debit products and services.
But after the tougher part of the pandemic, some of the weaknesses of the industry became evident – namely volatility, the fact that fintech stocks are easily subject to unmotivated hype, and regulatory issues.
That's why we listed all these risks – along with a list of the best fintech stocks currently available and how to invest in them, and our guide was always the reliability demonstrated by the companies we analysed.
Risk Disclaimer
StockHax strives to provide unbiased and reliable information on cryptocurrency, finance, trading, and stocks. However, we cannot provide financial advice and urge users to do their own research and due diligence.
Read More