This website and its content are not intended to provide professional or financial advice. The views expressed here are based solely on the writer's opinion, research, and personal experience, and should not be taken as factual information. The author is not a financial advisor and lacks relevant certifications in that regard. We highly recommend consulting a qualified financial advisor before making any investment decisions, as the information presented on this site is general in nature and may not be tailored to individual needs or circumstances.
Finding the best entartainment stock requires an in-depth analysis. Since trading is a risky activity, it is important to gather all the information available on a particular company and to analyse data.
Moreover, it is pivotal to understand the industry that includes the stock you're interested in.
For these reason, to list the best entertainment stocks we didn't only consider the company behind those stocks, but analysed the industry as a whole.
The companies involved in the entertainment industry can be influenced by many factors – for instance, the availability of global service, or the use of the latest tech developments to keep up with the different needs sof users.
In this article, we will cover the best entertainment stocks available by taking into account several indicators. Moreover, we will provide you with a shorot guide related to the intuitive tools available to start investing.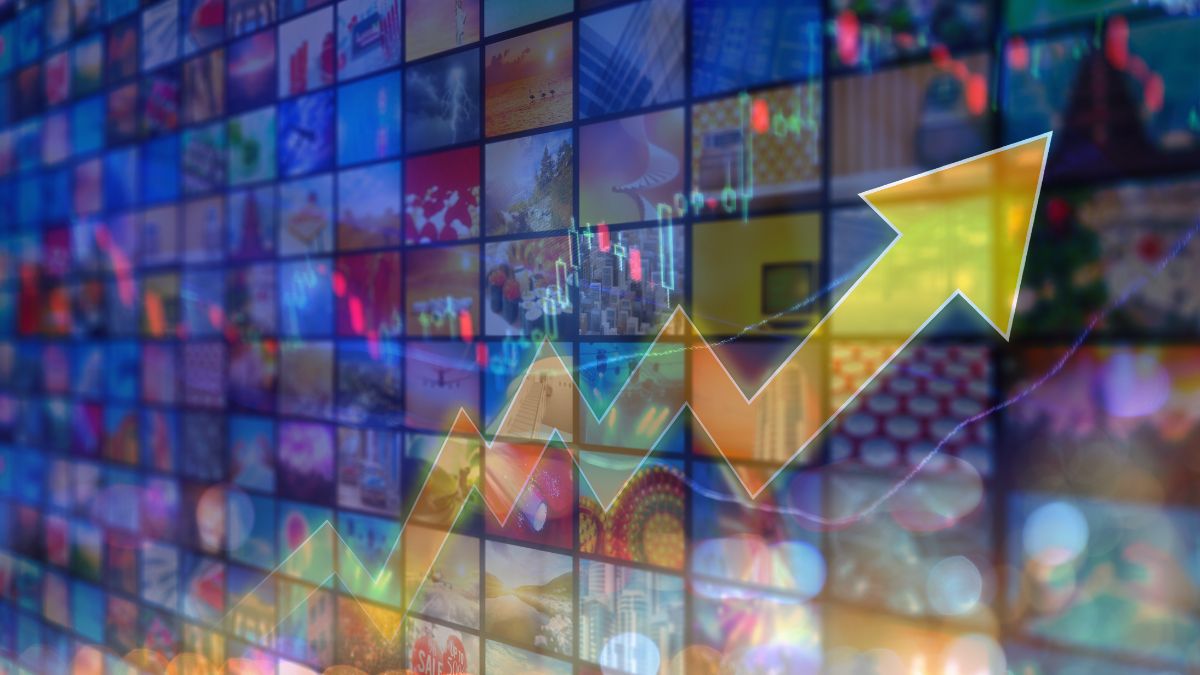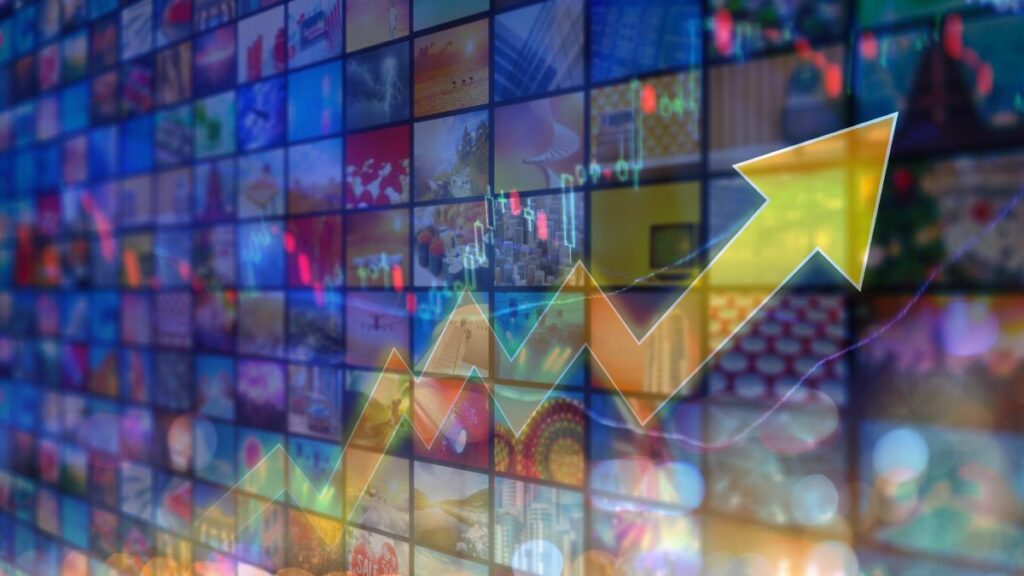 What are Entertainment Stocks?
Entertainment stocks are those stocks issued by companies whose main profits derive from the entertainment industry.
To have the opportunity to trade this type of stock, the company has to be listed on an exchange to be publicly traded.
Under the category of entertainment stocks we can find the stocks of companies that are not only strictly related to services like streaming, or films, but also to sectors like the lodging sector.
This definition is useful to better understand the type of stocks we're going to see – to be more precise, the best entertainment stocks that are currently attracting the attention of traders and investors.
TOP 5 Entertainment Stocks
To choose the entertainment stocks we're going to analyse, we took into account elements like the sustainability of the company that issues the stock, an historical analysis of prices, the opinions of different traders, investors and analysts.
As we will see later, eToro allows you not only to trade different financial products, but also to get insights and the opinions of professionals and everyday traders.
The stocks we're going to analyse, which represent the best entertainment stocks currently available, are Walt Disney, Warner Bros, AMS, Cineworld and Paramount – we bet you know most of them, but let's see why they're considered as valuable investments by many.
1. Walt Disney
Production and distribution of television and film contents;
The management of theme parks – like the well known Disneyland;
The management of broadcast networks – like Fox, ESPN, National Geographic;
Streaming services;
Production and sale of Disney merchandise.
Walt Disney includes production brands like Marvel, Pixar and Twentieth Century Studios.
If you're looking for an entertainment stock, Walt Disney is constantly in the watchlists and portfolios of countless traders and investors around the world – and this makes it deserve the first spot in our list of the top entertainment stocks available.
---
2. Warner Bros Discovery Inc.
It creates content in digital and physical formats and it's able not only to produce content, but also to distribute content across several studios and networks. To mention some of them, we can list Food Network, Discovery, Magnolia, DMAX and Eurosport.
The sectors the company covers are many, as you can see, and the variety of its content spans across many genres like sport, travel, investigation, channels for kids.
Also the channels it uses are many – video streaming platforms, paid and free TV, mobile devices, services offered under subscription.
The stock didn't perform very well in the past year, but the sentiment of traders, investors and analysts is extremely positive.
---
3. AMC Entertainment Holdings Inc.
Despite its long history, AMC Entertainment Holdings always pays attention to innovative solutions: in 2022, the company got closer to the crypto space, allowing for payments in DOGE and Shiba Inu on its official website.
Often considered as a meme stock – that is, those kinds of stocks that show high levels of volatility and whose price is strongly influenced by retail investors who often create groups on social media – it recently turned out that even Ray Dalio bet on AMC and similar stocks.
---
4. Cineworld Group PLC
A big change occurred in 2006, when the company went public: headquartered in Brentford, this company is traded on the London Stock Exchange (LSE) under the ticker CINE – currently for less than $5.
This company represents one of the leading groups in Europe, and it is the only cinema company quoted in the United Kingdom. Moreover, after the acquisition of Regal Entertainment Group, Cineworld is the second largest cinema company in the world.
Recently, the company denied that it was in talks with AMC to let the US company buy its assets – but it's true that it is exploring the possibility to sell.
---
5. Paramount Global
Actually, Paramount Pictures, along with other companies like Nickelodeon and Paramount+, are all subsidiaries of Paramount Global, which is a multinational that produces and distributes television and cinema contents, along with streaming services.
The stock of Paramount Global is traded on the Nasdaq, under the ticker PARA for around $24 at the time of writing.
The sentiment of traders, investors and analysts around this entertainment stock is positive, especially after Paramount+ managed to add almost 10 million new users in the last quarter of 2022.
Understanding the Entertainment Stock Market
Investing in the entertainment stock market is as risky as investing in any other stock. For this reason, it is important to understand all the different elements that can influence the price of a stock.
For instance, understanding if the company that issues the stock keeps up with the times and new technologies.
Paid subscriptions, video streaming, mobile platforms – these are only some of the elements that customers value today.
Moreover, it is important to consider the variety of products and services offered by the companies, as well as their focus on intuitiveness – they are entertainment companies, so it shouldn't be hard to have access to their services, and the user experience should be as smooth as possible.
Today, there are countless entertainment and media companies, so it can be risky to choose the right entertainment stock: basically, even if you use the services of the company, research plays an important role in investing.
Key factors to consider when choosing entertainment stocks
Let's list some of the elements considered by traders and investors before investing in entertainment stocks:
Does the company use a sustainable business model? How does it plan to be profitable?
Does it operate in different countries? The current global market, especially when it comes to entertainment, is populated by global companies that manage to produce contents that are also in line with different cultures to stay ahead of competition. Of course, you might choose the stock of a company that operates only in one country, but consider that all the companies we analysed have some kind of global vocation – this could be via acquisitions, services or, as in the case of AMC, the integration of global payment methods.
Is the company able to meet the 'tech' needs of customers? For example, does it make its services available on different devices?
Where can you buy Entertainment Stocks?
Now that we've analysed the key elements to consider before investing in entertainment stocks, and that we've seen what are the best entertainment stocks according to fundamental and technical analyses and the sentiment around the stock, it's time to be more concrete and to answer an important question – how can you invest in entertainment stocks?
Today, there are countless brokers available, but we chose to focus on tools that could make the trading experience of users as intuitive as possible. We tested eToro, since it's one of the most popular and appreciated online brokers currently available, and we can say that this platform actually meets expectations.
Of course, you should always do your own research to discover the broker that can meet your needs, but if you're interested in eToro, here's a guide about how to open an account with this broker.
Step 1: Open an Account
The first thing to do to open an account with eToro, is going to the official website of the platform. There, you'll find a button, the sign up button, that will allow you to get access to a small form you can use to share your personal info.
Alternatively, you can choose to sign up via Google or Facebook.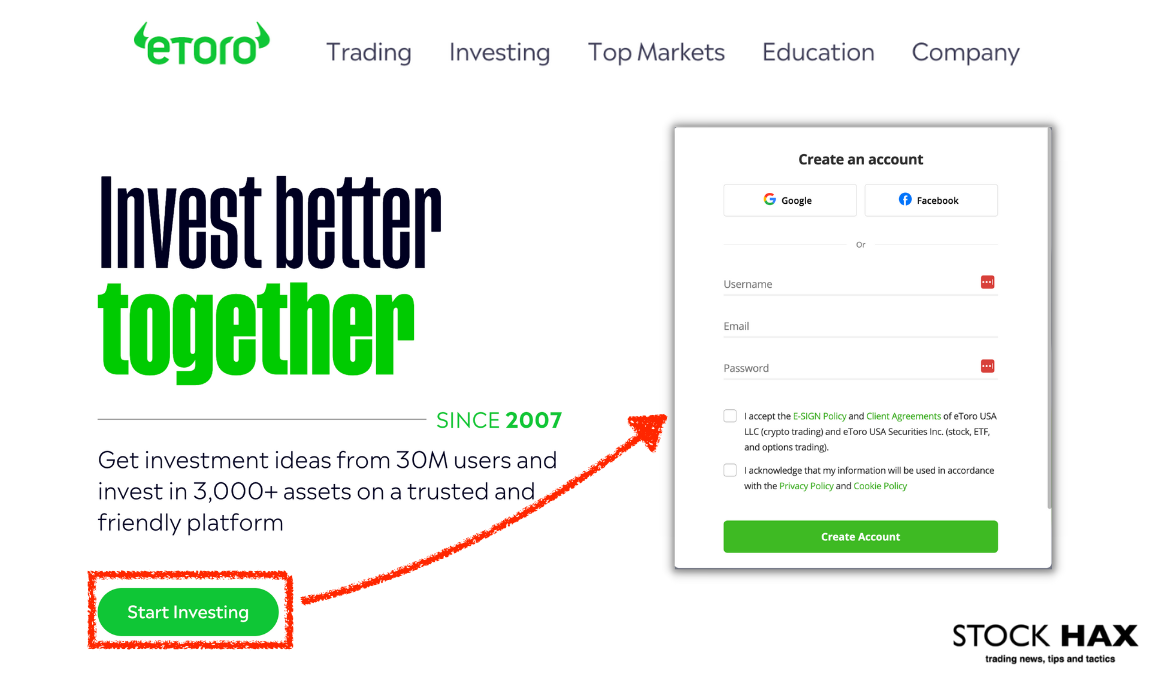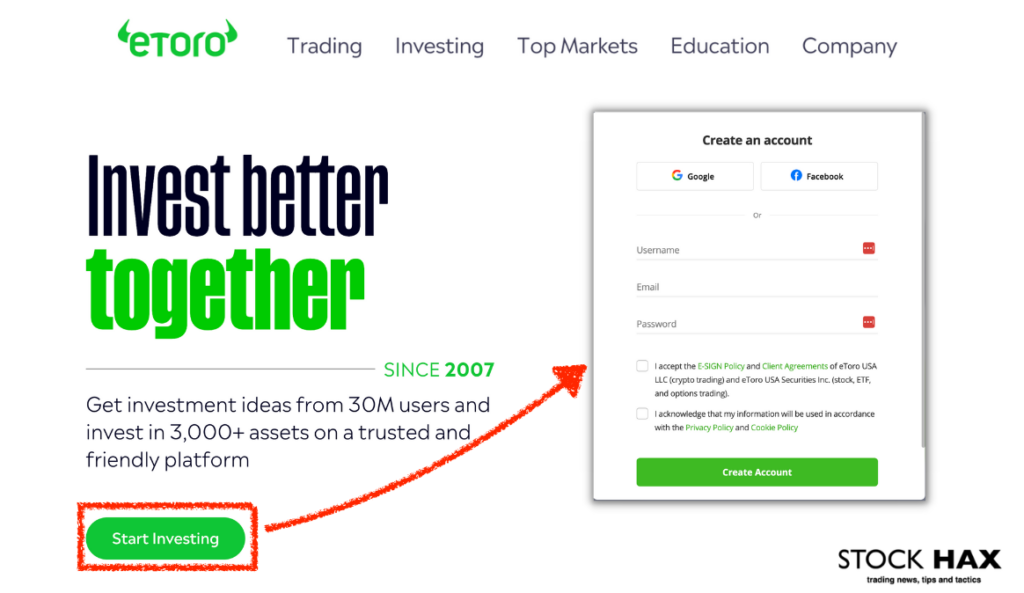 Step 2: Upload ID
This step actually allows you to operate in a safe environment. Uploading an ID serves many purposes:
The platform needs to verify your identity,
eToro wants to know if you're 18 – otherwise, you can't use this type of platform,
eToro needs to know if you live in a country where it can offer its services while complying with its regulatory framework.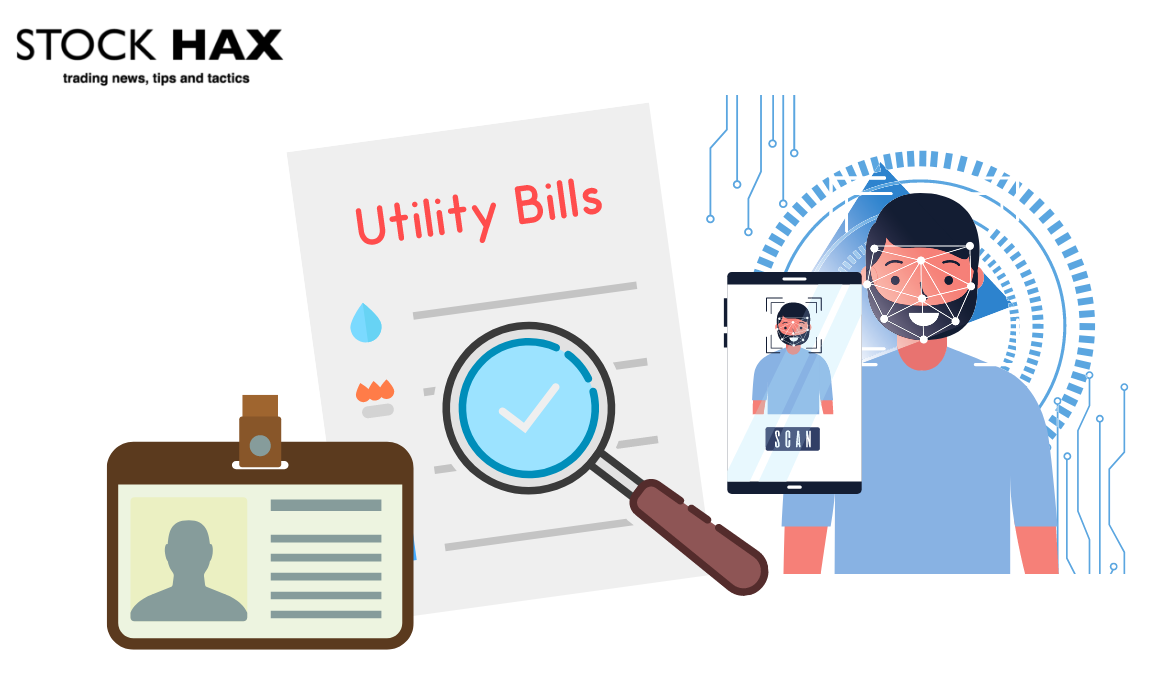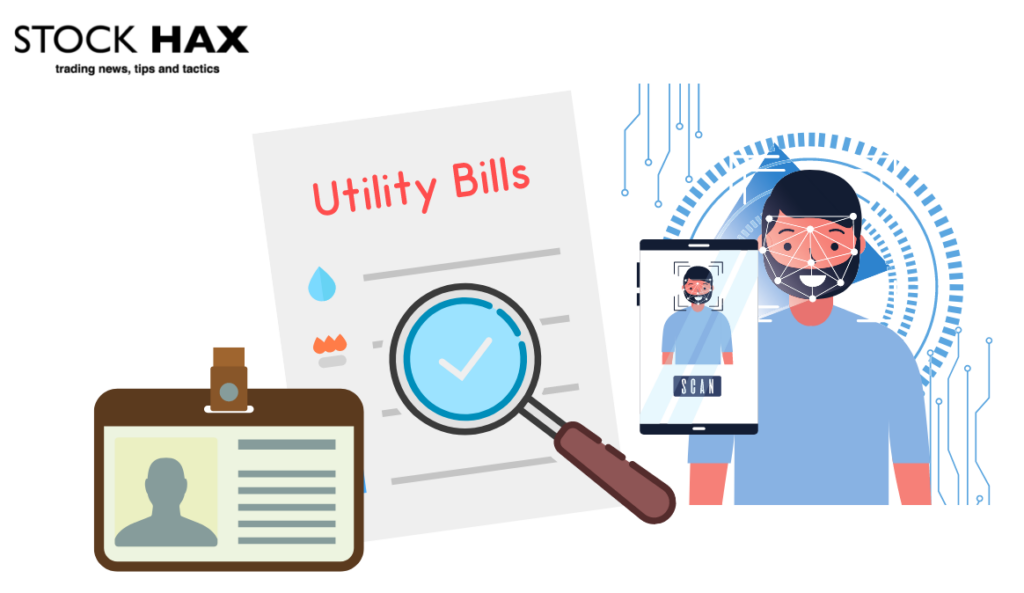 Step 3: Make a Deposit
eToro offers two types of wallets:
The demo wallet allows you to invest by using a sort of virtual currency – so, you don't risk real money,
The real wallet allows you to make real investments, so it needs real money.
To top up your real account you can use one of the payment methods available – including digital wallets.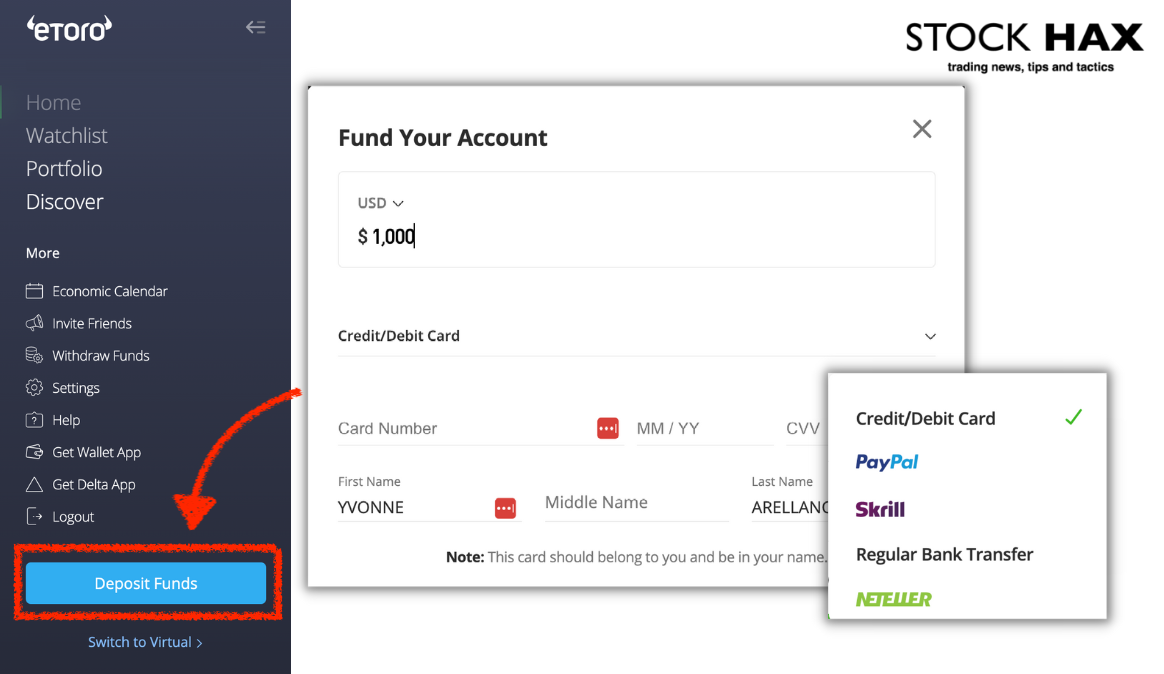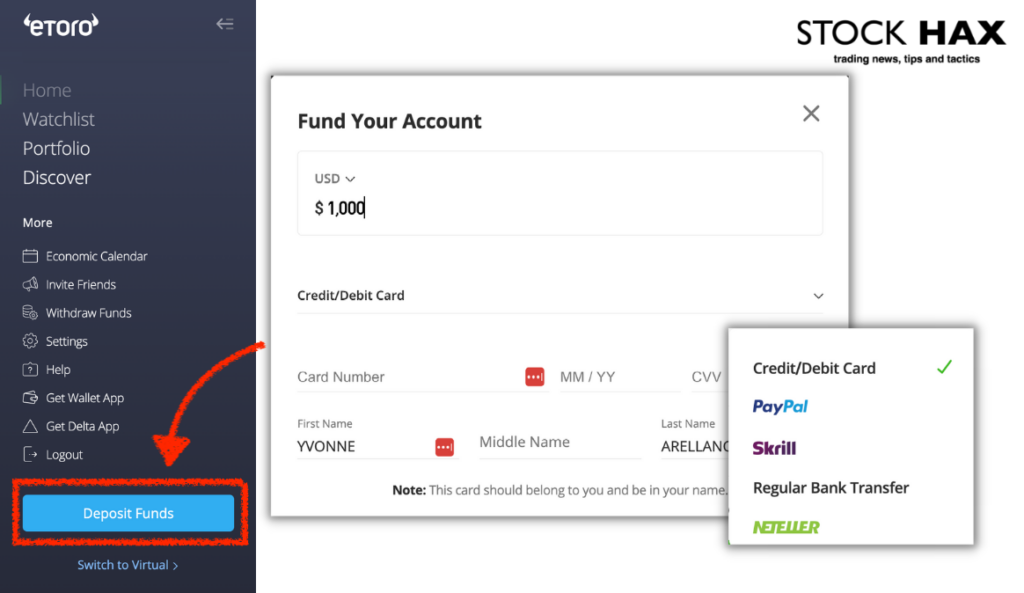 Step 4: Search for the stock you were looking for – or discover similar stocks
After the sign up process, you can start using the platfom to invest in the product you're interested in. Since eToro offers countless financial products, it can be hard to navigate all the available opportunities.
But the platform is designed to make your experience as smooth as possible: if you already know what's the stock you want to invest in, you can use the search bar; if you want to explore a specific category of stocks – like "Entertainment" – you can use the explore tab.
Conclusion
Investing in entertainment stocks is not easier or less riskier than investing in other industries. Also in this case, it is pivotal to do both fundamental and technical analysis: the former will help you to better understand the company that issues the stock, and if it actually use a sustainable business model; the latter will help you understand if a stock is fairly priced.
In this article, we listed some of the elements used by investors and traders before starting their activity – as well as some of the entertainment stocks available for public trading and investing – we chose them according to elements like the analysis of the business models of the companies that issue these stocks, technical analysis and the sentiment of traders and investors around the world.
We found the last element easily, also thanks to the insights shared by eToro, a regulated broker particularly appreciated for its intuitiveness and variety of investment products.
Investors and traders should consider risks involved in trading and manage risk.
Risk Disclaimer
StockHax strives to provide unbiased and reliable information on cryptocurrency, finance, trading, and stocks. However, we cannot provide financial advice and urge users to do their own research and due diligence.
Read More