This website and its content are not intended to provide professional or financial advice. The views expressed here are based solely on the writer's opinion, research, and personal experience, and should not be taken as factual information. The author is not a financial advisor and lacks relevant certifications in that regard. We highly recommend consulting a qualified financial advisor before making any investment decisions, as the information presented on this site is general in nature and may not be tailored to individual needs or circumstances.
Blue chip stocks are one of the most popular investments for investors looking to build a diversified portfolio. These stocks have earned their reputation as reliable investments, offering a balance of low risk and high returns. Blue chip stocks represent established companies with strong brand names, a track record of consistent growth, and high revenue streams. Investing in blue chip stocks can provide many benefits, but it's important to understand that there are also potential drawbacks to consider.
In this article, we will delve deeper into the world of blue chip stocks, highlight some of the best blue chip stocks on the market, and inform you of factors you should consider before investing in blue chip stocks. By the end of this article, you'll have gained insights into whether or not blue chip stocks are the right investment choice for your portfolio.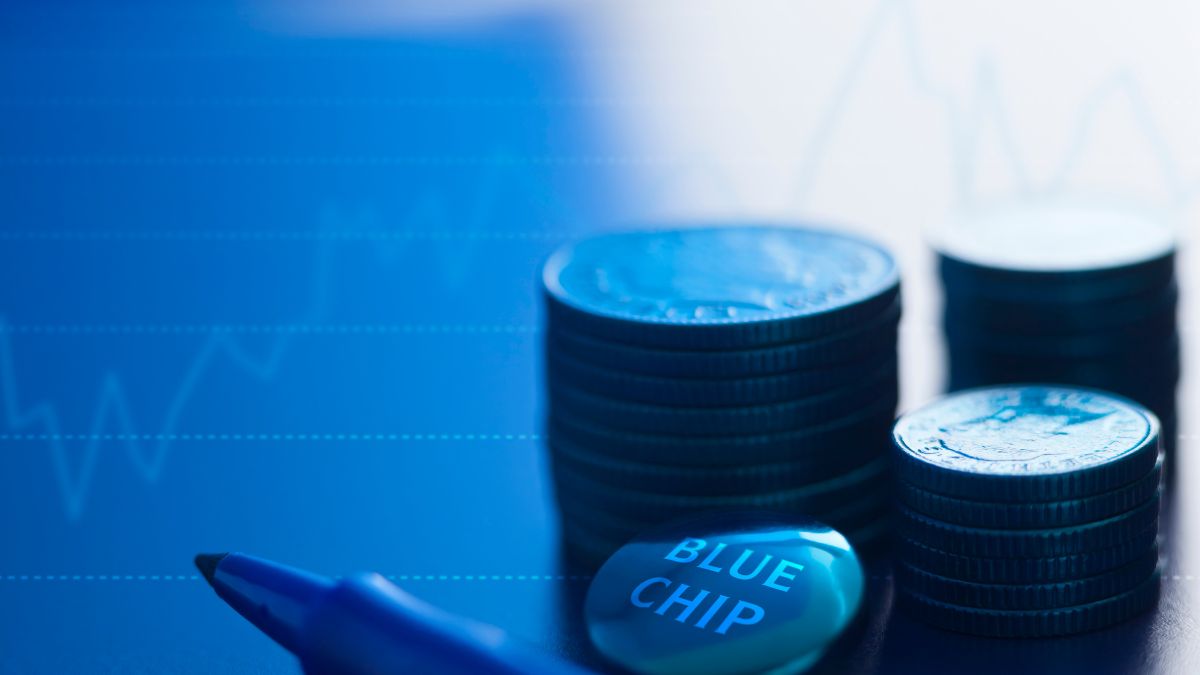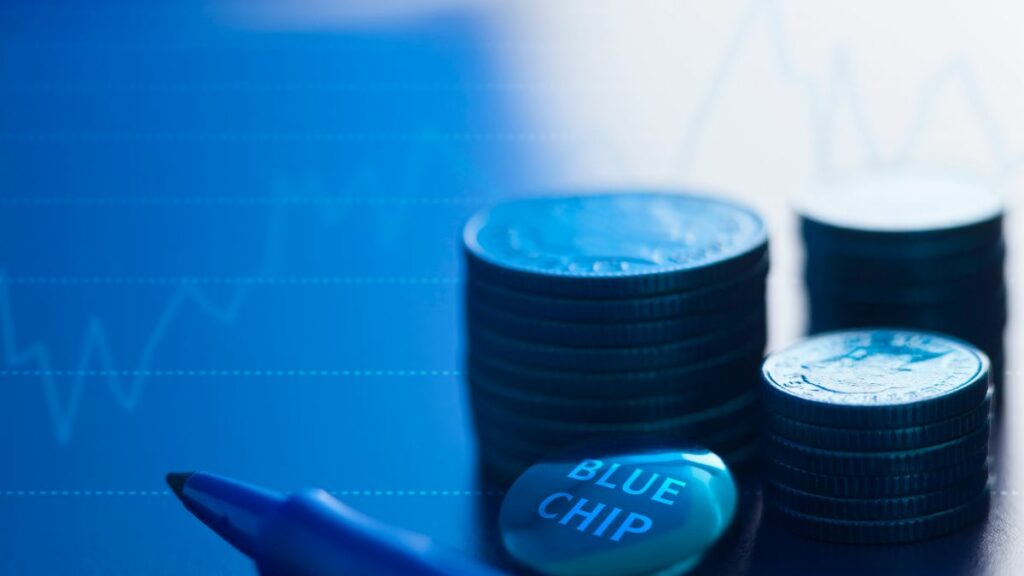 What are Blue Chip Stocks?
The term "blue chip stock" was first coined in the 1860s by brokers to describe stocks issued by large companies.

A blue-chip stock is a large-cap company with a proven track record of profitability and growth. These companies have existed for many years and are financially stable to withstand economic downturns. They are one of the most reliable investment choices in the market.
These companies have strong financial positions and long histories of stability, which makes them ideal for risk-averse investors who are willing to sacrifice high returns for stability and security. While blue chip stocks are not immune to market volatility, they tend to hold up well during economic uncertainties, making them an essential component of a well-diversified portfolio for many investors. Some examples of blue chip stocks include Apple, Amazon, and Johnson&Johnson.
TOP 5 Blue Chip Stocks
Blue chip stocks are large companies that have strong business models and substantial financial resources at their disposal. These companies tend to be more stable than other types of stocks because they have long histories of success and steady growth. They tend to pay relatively higher dividends.
Here are five blue-chip stocks for your portfolio:
1. Advanced Micro Devices (AMD)
The company's products are used in personal computers, game consoles, embedded systems applications, and also for military applications.
AMD is the second-largest supplier of microprocessors worldwide after Intel. The company was founded by Jerry Sanders in 1969 and is listed on the New York Stock Exchange (NYSE). AMD is an ideal blue chip stock because it has existed for many years.
As of 2023, AMD's market capitalization is approximately $126.57 billion USD; the company reported revenue of USD 17.6 billion in 2022, representing a significant increase from the previous year due to its strong position in the semiconductor industry and continued growth in providing innovative technologies for various markets.
---
2. Intel Corporation (INTC)
The company was founded in 1968 by Gordon E. Moore, an engineer at Fairchild Semiconductor, Robert Noyce, and Andrew Grove, with $2 million in funding from Noyce's venture capital firm: American Technology Corporation (ATC).
The name "Intel" came from Integrated Electronics Corporation (IEC), which was later acquired by Honeywell. As of 2023, Intel's market capitalization is approximately $114.22 billion, and the company's revenue for 2022 was approximately $88 billion. Pat Gelsinger is the current CEO of Intel.
The company manufactures and sells microprocessors, motherboard chipsets, integrated circuits, flash memory, and other semiconductor products. Intel is a leader in the global semiconductor industry and continues to invest heavily in research and development to maintain its market position. In recent years, the company has faced increased competition from rivals such as Advanced Micro Devices (AMD) and Nvidia.
---
3. Taiwan Semiconductor Manufacturing (TSM)
It was founded in 1987 by Morris Chang, a pioneer in the semiconductor industry who had previously held executive positions at Texas Instruments and General Instrument Corporation.
As of 2022, TSMC's market capitalization is approximately $13.41 trillion. In 2021, TSMC reported revenue of approximately $362.4 billion.
TSMC is a leading provider of advanced semiconductor manufacturing services, producing chips for a wide range of applications, including smartphones, high-performance computing, artificial intelligence, and automotive electronics. In addition to its own production facilities in Taiwan and China, TSMC has operations abroad, such as in Europe, Japan, and the U.S., making it more appealing to investors who like companies with a global presence.
---
4. Apple Inc (AAPL)
It was founded in 1976 by Steve Jobs, Ronald Wayne, and Steve Wozniak.
In 1980 the company went public to instant financial success. Its best-known hardware products are the Mac line of computers, the iPod media player, and the iPhone smartphone. Its software includes the OS X and iOS operating systems, the iTunes media browser, the Safari web browser, and productivity applications.
The current CEO is Tim Cook, while Steve Jobs served as CEO until his death in 2011. In 2012 Apple became the world's largest company by market capitalization, with a market cap of $1 trillion at its peak before falling back to $2 trillion by early 2018. Apple's current market capitalization stands at $2.41 trillion, making it one of few companies valued at over $2 trillion.
---
5. Palantir Technologies Inc (PLTR)
The company was founded in 2003 by Peter Thiel, Alex Karp, Joe Lonsdale, and Stephen Cohen. Palantir's first customer was the CIA, which sought to develop an alternative technology to replace its existing systems from Lockheed Martin.
As of 2022, Palantir's market capitalization is approximately $19.14 billion, and the company reported a revenue of approximately $1.5 billion in 2021.
Palantir developed its technology by analyzing data gathered by intelligence agencies, including the CIA and NSA. The software allows users to link different databases and visualize relationships between people, places, times, and events. It has been used by law enforcement agencies to track down criminals, financial fraud investigators to find money launderers, counterterror analysts to detect terrorist networks, and companies in various industries to gain insights from their data. Palantir has expanded its offerings to include products for the healthcare and finance industries, among others.
Understanding the Blue Chips Stock Market
Blue chip stocks are stocks with high market capitalization and large companies that have been around for a long time. These stocks tend to be more stable and less volatile than other stocks. They are usually traded on major exchanges such as the New York Stock Exchange (NYSE) or Nasdaq. However, it's still important to understand the risks and rewards of investing in blue chip stocks.

How to Analyze Blue Chip Stocks
Analyzing blue chip stocks can help you determine if they're a good fit for your portfolio. Here are some tips to help you analyze blue chip stocks:
Look at the company's history
Find out how long it's been around and how much money it has made over time. The longer a company has been around, the more likely it is to succeed in the future.
Analyze the company's Cash flow statements
Look at how much cash flow the company generates compared to its debt obligations and other financial commitments. If a company generates more cash than it needs to cover its liabilities and investments, it may be able to make good on its promise to return profits to shareholders through dividends.
Risks and Rewards of Investing in Blue Chip Stocks
The risk of losing money is always present when investing in any stock, but it's much lower with blue chip stocks. If you plan on buying and holding these stocks for the long term, then you can expect to see smaller fluctuations in their price than other types of investments.
In spite of the fact that many blue chip companies showed stable performances in the past, the analysis if historical data can't guarantee stable future performances. They also tend to pay higher dividends than other firms because they have more cash on hand from years of well-managed operations and prudent financial decisions. This makes them attractive for investors looking for steady returns over time rather than those seeking high growth rates that may come with greater risk attached
Key factors to consider when choosing Blue Chips Stocks
There are a number of factors to consider when choosing blue chip stocks. These include
Financial Strenght: One of the most important factors to consider when choosing blue chip stocks is the company's financial position. You should examine the company's financial statements to assess its profitability and revenue growth. Strong Financials are a solid indicator of a company's ability to weather economic downturns and sustain long-term growth.
Competitive Position: Another important factor to consider is the company's competitive position within its industry. This includes assessing the company's market share, its ability to innovate and adapt to changing market conditions, and the overall growth potential of its industry.
Management Expertise: Check the reputation and track record of the management team. For instance, having a solid track record of success at previous companies. Investors need to know that the people handling their money have experience in the field they're investing in. A strong management team can help ensure the company is poised for long-term success.
Dividend History: For investors seeking income-generating stocks, it's essential to consider a company's dividend history. A company with a consistent and growing dividend history is worth investing in.
Where can you buy Blue Chips Stocks?
One of the easiest ways to invest in blue chip stocks is through online brokers. These brokers have simplified the process of buying blue chip stocks, simplifying the investment process – even if this doesn't make the trading activity less risky.
You can buy blue chip stocks through online brokers like eToro. This platform offers you access to hundreds of blue chip stocks, including stocks like Amazon, Facebook, Netflix, Tesla, Apple, and Google parent Alphabet Inc.

The entire process of buying blue chip stocks online is simple and fast with eToro. All you need to do is, register an account on this platform, and you'll be able to buy any stock with just one click of a button!
Here are some steps to help you register on eToro:
Step 1: Open an Account
On the eToro website, go to the main page and click on "create an account." Next, fill out the registration form. You'll need to provide basic information such as your name, email address, phone number, etc., which only takes a few minutes.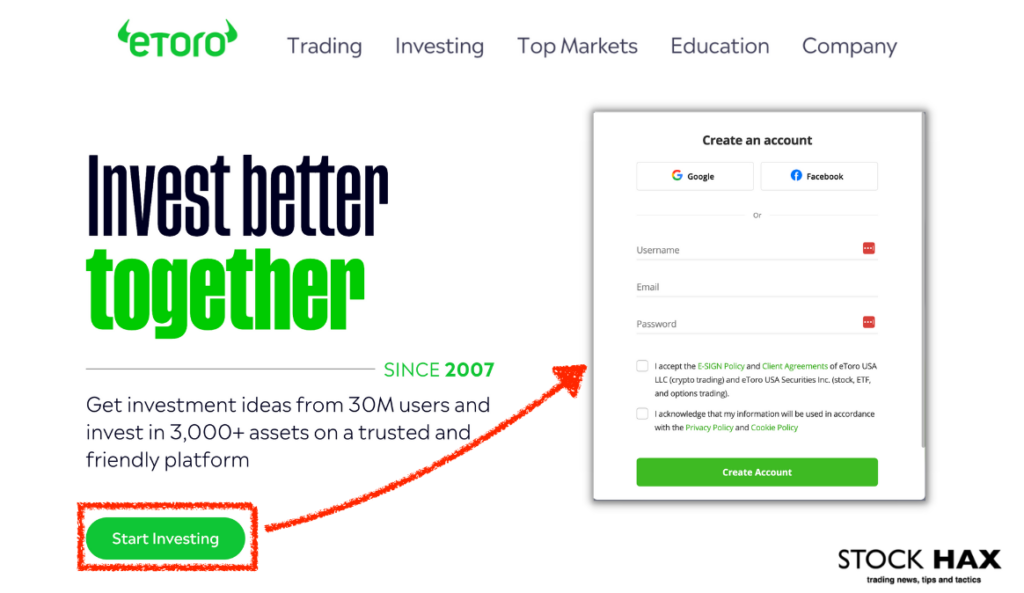 Step 2: Upload ID
After you have completed the first step, you will need to upload your identification documents for KYC and AML compliance. eToro is a regulated online broker; as such, it must comply with anti-money laundering policies.

Once you submit the necessary documents, your account will be verified and open for trading on the stock market.

Here are the documents that you need to submit for verification:
Utility bill
Driver's license or a valid passport
Bank account statement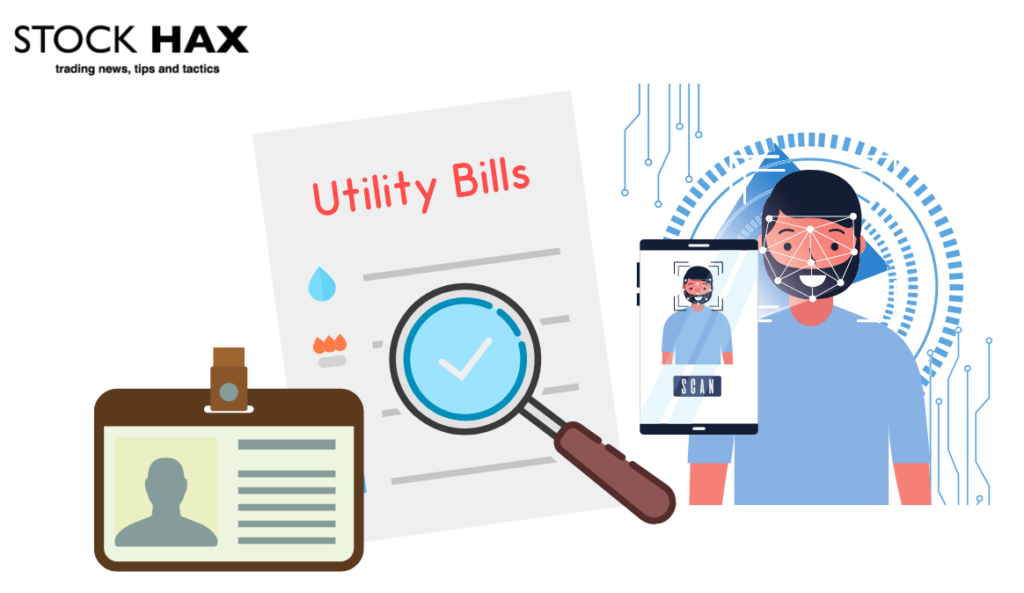 Step 3: Make a Deposit
After you create an account, you can start buying stocks! However, you must make a deposit using your PayPal account, debit/credit card, or wire bank transfer.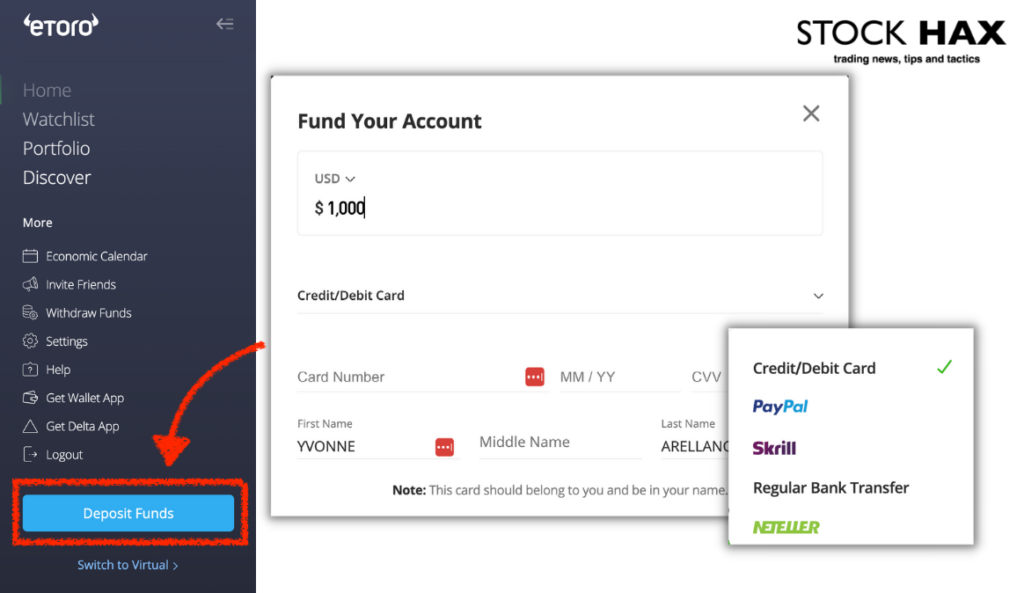 Step 4: Search for Stock
eToro offers a wide range of blue chip stocks that you can buy for the long term. Use the search bar to navigate the online trading platform to look for the stocks you want to buy.

Once you have decided which ones to purchase, click the Buy button and enter the amount you want to bid. The minimum amount you can invest is $10. Next, click on Trade and place a bid.
eToro offers many features and tools, like stop-loss, which come in handy when you want to protect your investment.
Final Note
Investors and traders might add this category of stocks to their portfolios for diversification purpose, but it's pivotal to highlight that trading always come with risks, no matter how safe an investment can be commonly considered. We hope this article has helped you understand what it means to invest in blue chip stocks and why they are so important. You should know that there are many great companies out there, but they each have different strengths and weaknesses. So before investing in any company, make sure that you do your research!
Risk Disclaimer
StockHax strives to provide unbiased and reliable information on cryptocurrency, finance, trading, and stocks. However, we cannot provide financial advice and urge users to do their own research and due diligence.
Read More