This website and its content are not intended to provide professional or financial advice. The views expressed here are based solely on the writer's opinion, research, and personal experience, and should not be taken as factual information. The author is not a financial advisor and lacks relevant certifications in that regard. We highly recommend consulting a qualified financial advisor before making any investment decisions, as the information presented on this site is general in nature and may not be tailored to individual needs or circumstances.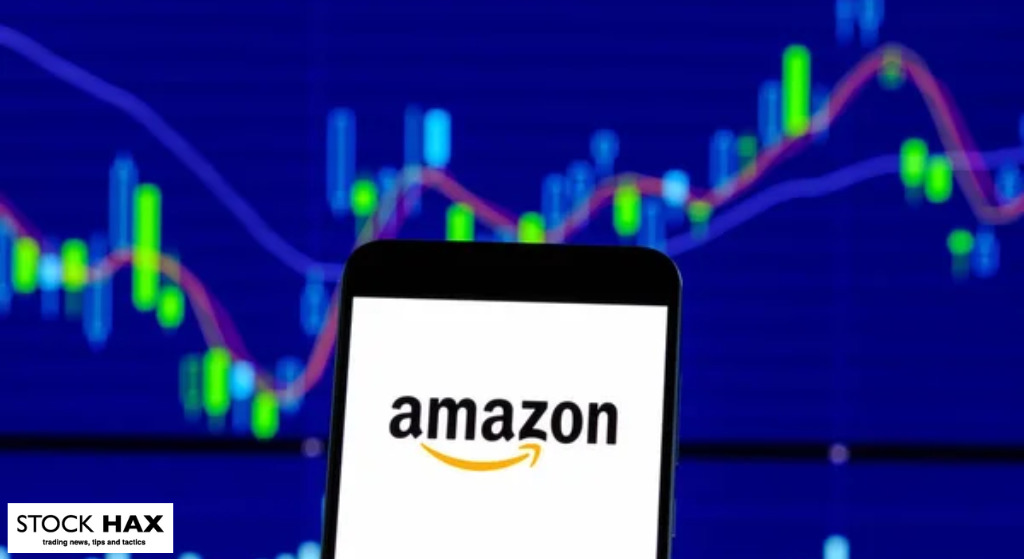 The stock price of Amazon is $120.11 as of this writing. During the past 24 hours, its overall price has risen by 4.44%. Today, the stock traded between a low of $116.04 and a high of $121.50. For the month, the stock price decreased by 14.66, which is an increase of 113.90%. The stock price has trended in a strong upwards direction this year, as experts believe that the AI stock has the potential for even more long-term growth.
Here's a look at Amazon's past performance and current value to see what the future holds.
Amazon Going into June 2023
Amazon's earnings announcement, released on 19 April 2023, took the industry by surprise, as it conveyed an increase in net sales and diluted earnings per share above analysts' expectations. Revenue rose 9.37% YoY to 127.36 billion, which is 2.21% higher than the estimates. Amazon.com reported EPS at 0.31 for the first quarter, which beat expectations by a whopping 43.26%.
The earnings report was perceived as a bit unsteady by the market due to the reported uncertainties and worries about their cloud computing services in the next quarter. As a result of the tension in the industry, shares plunged by approximately 6% and bottomed up at 102.05 on 1 May 2023. Since then, the AMZN has been growing at a steady pace.
Amazon has experienced some slowdowns, which can be attributed to macroeconomic conditions, the macro environment, and uncertainties in the industry. Depending on investor type and investment strategy, the market participants divide into two categories: growth investors, looking for companies with rapid growth potential, and value investors, looking for stable profit margins, consistent cash flow, and relatively high dividends.
AWS (Amazon Web Service) is the tech giant's cloud computing and API platform, earning $19.74 billion in revenue last year. It is Amazon's ray of hope to protect its overall performance. Despite the relative slowdown in cloud services along the sector as a whole, Amazon reported $21.354 billion in revenue for Amazon Web Services alone. The earnings not only beat the expected by StreetAccount $21.22 billion by 0.38% but also grew by 16% compared to last year's same quarter.
Amazon's Relative Strength Rating stands at 85 out of 99, receiving an upgrade from 67 on 8 May. Ideally, the rating should be 80 or higher, according to experts from IBD. Amazon is the biggest company in the Retail-Internet industry. Although it is trading below its 200-day moving average and not standing at the best buy range right now, investors might want to keep an eye on this growth AI stock.
Looking at more future insights from CNN, 38 out of 50 analysts on the stock believe that AMZN is a buy, while eight believe that it may even outperform the market. With only one sell and three hold recommendations, experts are on the same page regarding the growth of the stock. In the next 12 months, their median price range is $135.00 or 12.4% growth from the current price, with chances of reaching a high of around $165.00.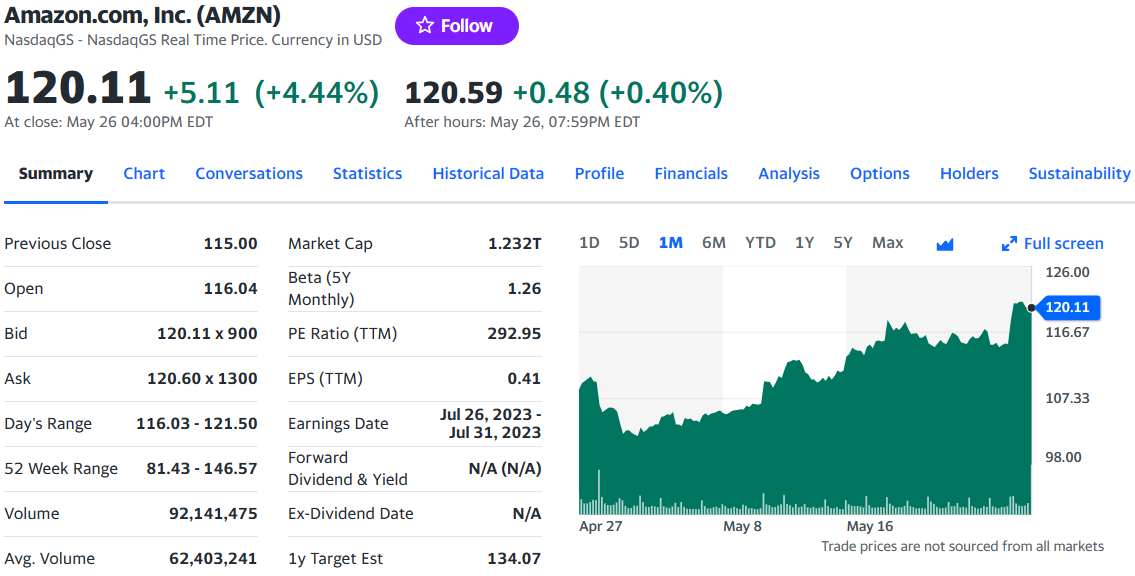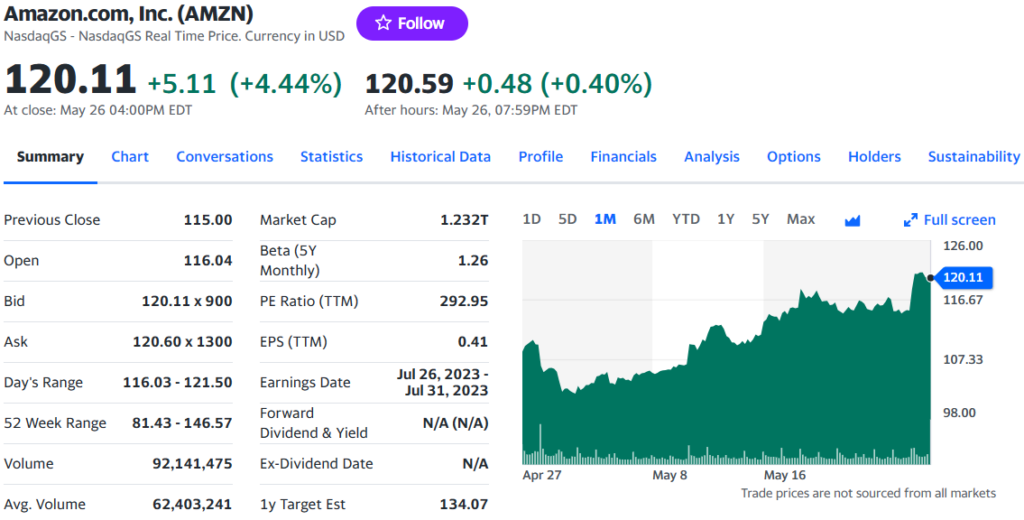 Amazon and its Relation to AI in 2023
Amazon has had significant involvement in artificial intelligence (AI), especially lately, since the launch of Amazon Web Services. The cloud computing platform has expanded Amazon's business by providing solutions for computing power, database storage, content delivery, and other functionalities for advertising and marketing, financial services, gaming, and more.
Following the strong AI demand, analysts from Mizuho rated the stock as a "Top Pick" in the realm of AI stocks. Although the company faces severe competition from Google and Microsoft and their new consumer-focused approaches to AI, analysts are bullish for Amazon's revenue growth for the next quarter.
What is more, as a response to its competitors, the retail behemoth surprises the industry by announcing a launch of a new AI platform for corporate customers. Amazon Bedrock will incorporate two tools: a language model named Titan Text, similar to ChatGPT, and Titan Embeddings, offering its own search personalization features.
By closing more physical stores and laying off 27000 employees, the company focuses strongly on its cloud computing services. As a strong leader in the industry and a powerhouse in the e-commerce sector, the retail behemoth's stock is one to watch in the future. Likewise, AI use will strengthen their position even further.
More Investments from Amazon in the Future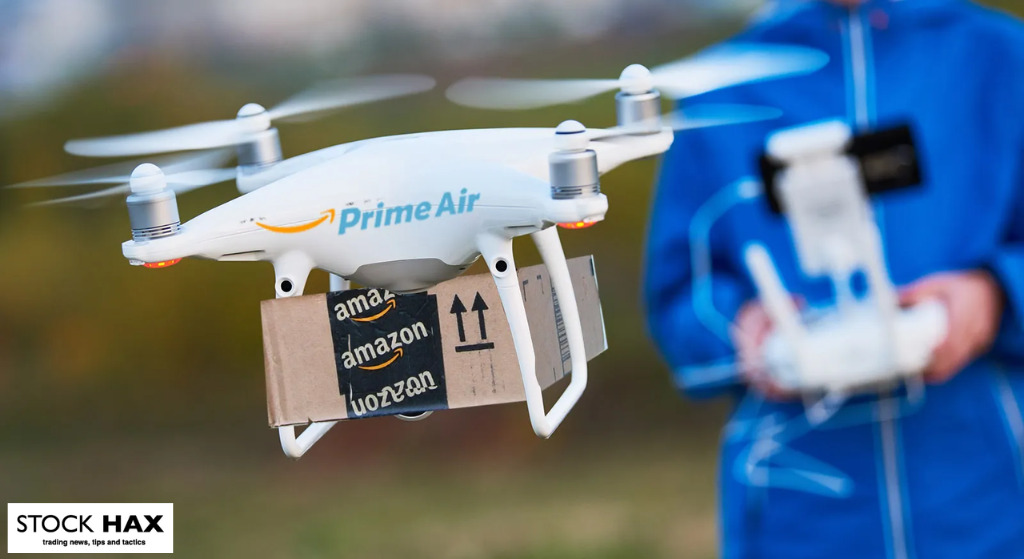 Amazon continues to look for additional investments, including package delivery by drones. As part of its Prime Air service, it started delivering orders by drone in California and Texas in December. The company claims to have worked on drone delivery for almost a decade.
An acquisition of One Medical by Amazon valued at $3.9 billion has just been completed. The company made several forays into the healthcare market, which were successful. In 2018, Amazon acquired PillPack, making it possible to ship prescriptions nationwide, which threatens pharmacy businesses. Consumers' access to healthcare has been simplified by the company.
According to Amazon CEO Andy Jassy, the long-term opportunities for the company look bright. Despite the uncertain economy's repercussions, he is confident that they will only last for a short time. Amazon's investments and innovations in customer experiences, such as streaming entertainment, customer-first healthcare, and broadband satellite connectivity, point to a bright future.
Analysis Conclusion
In the short and medium term, Amazon's stock price has declined due to increasing expenses, rapid expansion, and declining consumer spending. It appears that the trend will continue, but there are some silver linings, given the company's impeccable reputation. Its continuous investments and innovations may help the company survive for now and blossom in the long run.
FAQs
Is Amazon paying dividends?
The company does not pay cash dividends to its shareholders. Amazon's business model has always been driven by innovation and branching out, as evidenced by its entry into the grocery and pharmacy sectors, which shows that its money should be used to grow rather than to pay dividends.
When did Amazon's stock split?
The company announced a 20-for-1 split of its common stock on March 19, 2022, which will come into effect on June 3, 2022, to be paid to shareholders of record on May 27, 2022.

For stockholders of record on August 12, 1999, Amazon announced a 2-for-1 split of its common shares, effective September 1, 1999.

The company announced on November 19, 1998 that it would be splitting its common shares three-for-one, with the split taking place on January 5, 1999, for stockholders of record on December 18, 1998.

The company announced on April 27, 1998 that it would split its common shares into two for one, effective on June 2, 1998. This was for shareholders as of May 20, 1998.
Where is Amazon traded?
Amazon is traded on the National Association of Securities Dealers Automated Quotations (NASDAQ), a global electronic marketplace, under the ticker symbol AMZN.
Risk Disclaimer
StockHax strives to provide unbiased and reliable information on cryptocurrency, finance, trading, and stocks. However, we cannot provide financial advice and urge users to do their own research and due diligence.
Read More