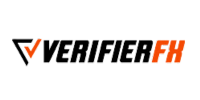 Hard to contact
Hidden fee structure
Unregistered
Pros
Margin trading
Presidential accounts
Low minimum to start
Easy to navigate interface
Cons
Unregistered
No contact email
No listed phone number
Verifierfx.com Highlights

| | |
| --- | --- |
| 💰 Account Minimum | Verifierfx has an account minimum of $100 |
| 💸 Commission Fees | Verifierfx does not list their comission fees. |
| 💼 Investment Options | Verifierfx offers their customers Forex, stocks, commodities, indices, and cryptocurrencies. |
| 🤖 Robo-Advisor | Verifierfx does not have a Robo-Advisor. |
| 📊 Research and Analysis | Verifierfx claims to offer extensive research and analysis tools including stock research reports and news. |
| 📱 Mobile App | Verifierfx does not have a mobile app. |
| 🏦 Retirement Accounts | Verifierfx does not offer retirement accounts. |
| 📈 Trading Platform | Verifierfx offers their WebTrader and AppTrader trading platforms for customers to trade 24/5. |
| 📞 Customer Service | Verifierfx has a "Contact Us" form you can use. |
| 📚 Educational Resources | Verifierfx has an education section of their website once you have an account with them. |
| 🌕 Fractional Shares | Verifierfx does not offer fractional shares. |
| 🌱 Socially Responsible | Verifierfx claims to offer socially responsible stocks and cryptocurrencies. |
| 🌎 International Investing | Verifierfx does offer international investing through Forex markets. |
| 💳 Cash Management | Verifierfx does not offer a cash management account or a debit card. |
| 🔍 Margin Trading | Verifierfx offers margin trading for customers who meet certain requirements. |
| ⚙️ Options Trading | Verifierfx does not offer options trading. |
| ₿ Cryptocurrency Trading | Verifier seems to offer cryptocurrency trading for certain cryptocurrencies. |
| 🛡️ Account Security | Verifierfx does not list their account security on their website. |
| 💹 Leverage | Verifierfx offers margin trading for customers who meet certain requirements. |
| ⚖ Regulation | Verifierfx is unregulated. |
Introduction
Verifierfx claims to be an online brokerage that can help people fund their futures through smart investments. Unfortunately, they aren't regulated with any financial governing body which can lead potential investors to extreme risk.
Unregistered brokerages generally operate without the necessary regulatory oversight, which can be risky for investors. Regulatory bodies exist to protect investors and ensure fair practices in the financial industry. Without proper registration, there is a lack of transparency and accountability, making it difficult to assess the legitimacy and reliability of the brokerage.
When dealing with financial services, it is crucial to choose regulated and reputable brokers to safeguard your investments. Registered brokerages are subject to specific rules and regulations, ensuring they adhere to certain standards and safeguards. They often provide investor protection mechanisms, such as insurance or compensation funds, to mitigate potential risks.
Given the limited information available about Verifierfx.com and its unregistered status, it is advisable to exercise caution. Consider seeking out regulated alternatives that provide a transparent and secure trading environment to protect your investments.
In this article, we'll be going over the benefits, and more likely drawbacks, of investing with Verifierfx.com
Verifierfx Background and Company Information
There isn't much to be said about the background of Verifierfx as they don't have one that can be easily found. If you head to their website and click on their "About Us" section, you'll find vague information that could be copied and pasted for any broker in the world.
They're quoted on their website saying, "We reached the trust of over millions of clients from 197 countries." A quick Google search will reveal that there are only 195 countries total, not a great sign for someone you're supposed to entrust your money to.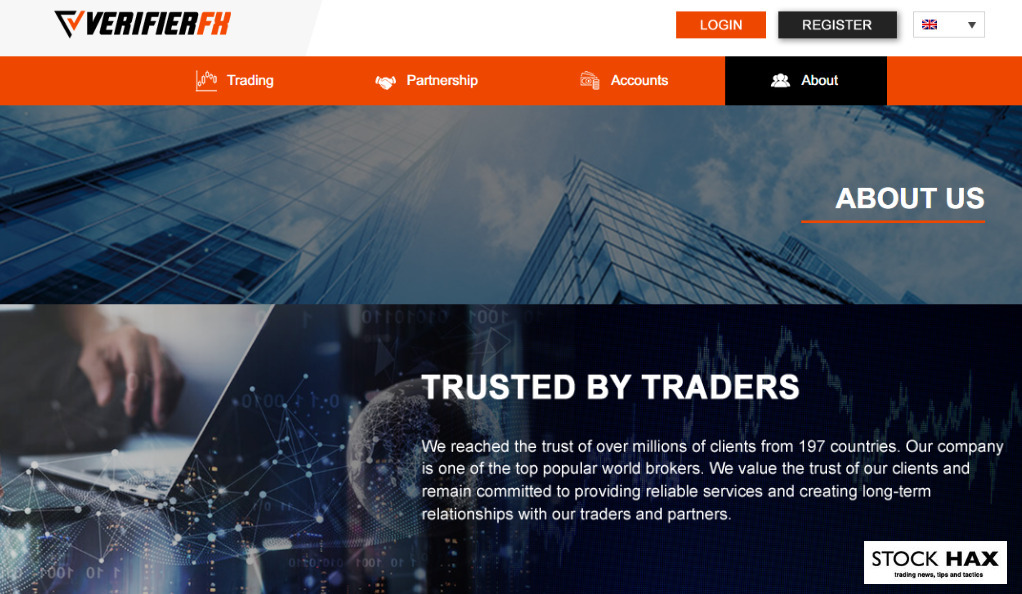 When you look for information regarding how the company started, you only find more vague information. Where other brokerages would give their background, Verifierfx is just obscure about their past. The About Us section continues, "Built from the ground up, the trading platform allows fast and easy market access, precision trading, and lightning-fast execution." What is "the trading platform" they're referring to?
They don't have much of a reputation to speak of, which isn't great for a company claiming to be in the business of investments. Other sites review them with incredibly negative light, outright calling Verifierfx a scam.
Most of this could stem from the fact that Verifierfx is unregistered, a huge red flag in the world of brokers. Their website doesn't give out any information that's worthwhile, and Americans can't access the further pages of the site altogether.
We wish there was more to write about for the background and history of Verifierfx, but there just isn't enough out there. Verifierfx's third listed core value in their "About Us" page is transparency – go figure.
Verifierfx User Interface and User Experience
In today's digital age, user interface (UI) and user experience (UX) play a critical role in determining the success and legitimacy of online platforms. However, when examining Verifierfx.com, a potentially illegitimate brokerage, it becomes evident that their UI and UX fall far short of user expectations.
Simplistic and Lackluster Interface: With a simplistic and lackluster interface that offers little in terms of features and functionality, doubts arise about the platform's legitimacy and user-centered approach. Upon visiting Verifierfx.com, users are greeted with an underwhelming and rudimentary user interface.
Cluttered Design: The design appears hastily put together, lacking aesthetic appeal and a cohesive visual identity. The website's overall layout feels cluttered, with limited attention given to organization and intuitive navigation. Users are left searching for essential information and struggling to find the necessary tools for effective trading.
Hidden Features: A hallmark of established trading platforms is their comprehensive range of features and tools designed to assist traders in making informed decisions. However, Verifierfx.com disappoints in this regard, providing users with very little in terms of functionality. The platform offers only the most basic features, such as limited charting capabilities and a rudimentary order placement system.
Lack of Resources: Advanced tools, educational resources, and in-depth market analysis, which are commonplace in legitimate brokerages, are noticeably absent.
In assessing Verifierfx.com's user interface and user experience, it becomes evident that the platform falls far short of industry standards. With a shallow and basic UI, limited features and functionality, and a lack of personalization options, the legitimacy and user-centeredness of the platform come into question.
Traders seeking a reliable and comprehensive trading experience are advised to look elsewhere for regulated and reputable brokerages that prioritize user needs and offer a robust suite of tools and resources.
Remember, in the world of online trading, a subpar user experience can be indicative of deeper concerns, and it is crucial to prioritize transparency, security, and user-centric design when choosing a trading platform.
Verifierfx Trading and Investment Options
When considering an online trading platform, it is crucial to thoroughly examine the available trading and investment options, as well as the legitimacy of the service provider. In the case of Verifierfx.com, an alleged illegitimate business, claims are made about offering stocks, indices, cryptocurrencies, forex, and commodities.
However, a closer examination reveals significant concerns regarding the platform's authenticity, as well as the limited nature of its trading and investment offerings.
While Verifierfx.com states that it offers stocks for trading, the lack of verifiable information about the platform makes it challenging to ascertain the authenticity of this claim.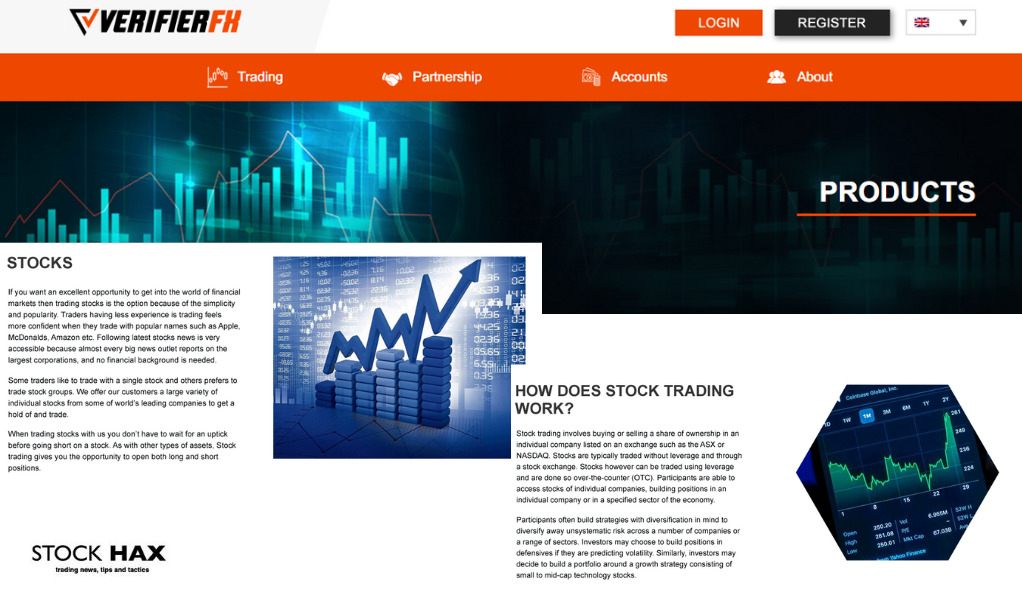 Lack of Stock Listings: Legitimate trading platforms typically provide access to a wide array of stocks from reputable exchanges worldwide, accompanied by comprehensive research tools and analysis. However, without proper regulation and transparency, Verifierfx.com's stock offering is questionable at best.
No Indication of Indices: Similar to its claims about stocks, Verifierfx.com asserts that it allows users to trade indices. Nevertheless, the absence of concrete information and a lack of reputable indices' availability further cast doubt on the platform's legitimacy. Established trading platforms usually offer a diverse range of global indices, enabling investors to participate in broader market movements. Unfortunately, Verifierfx.com's limited transparency makes it difficult to determine the authenticity and breadth of its index offerings.
Where's the Crypto?: The booming popularity of cryptocurrencies has made them an attractive investment option. However, when it comes to Verifierfx.com, caution is warranted. The platform claims to provide cryptocurrency trading but lacks the necessary regulatory oversight to ensure secure and reliable transactions. Given the potential for cryptocurrency-related scams and the need for robust security measures, investors should prioritize regulated exchanges or platforms with a proven track record.
Can't Find Forex: Foreign exchange (forex) trading is a widely sought-after investment option. However, Verifierfx.com's alleged provision of forex trading should be approached with skepticism. Trustworthy forex brokers are typically registered and regulated, offering access to multiple currency pairs, competitive spreads, and advanced trading tools.
Without regulatory oversight, Verifierfx.com's forex offerings lack credibility, potentially exposing traders to significant risks.
When evaluating Verifierfx.com's trading and investment options, it becomes apparent that caution is necessary. The platform's questionable legitimacy and lack of regulatory oversight significantly undermine its credibility.
While Verifierfx.com claims to provide trading options across stocks, indices, cryptocurrencies, forex, and commodities, the absence of transparent information and reputable offerings raises doubts about the authenticity and reliability of these claims.
Crypto Trading
Verifierfx.com has a section of their website dedicated to crypto trading, but they don't list they cryptocurrencies they offer, if they offer any. Most other online brokers will give a list of the crypto-coins they have on offer. Verifierfx does not.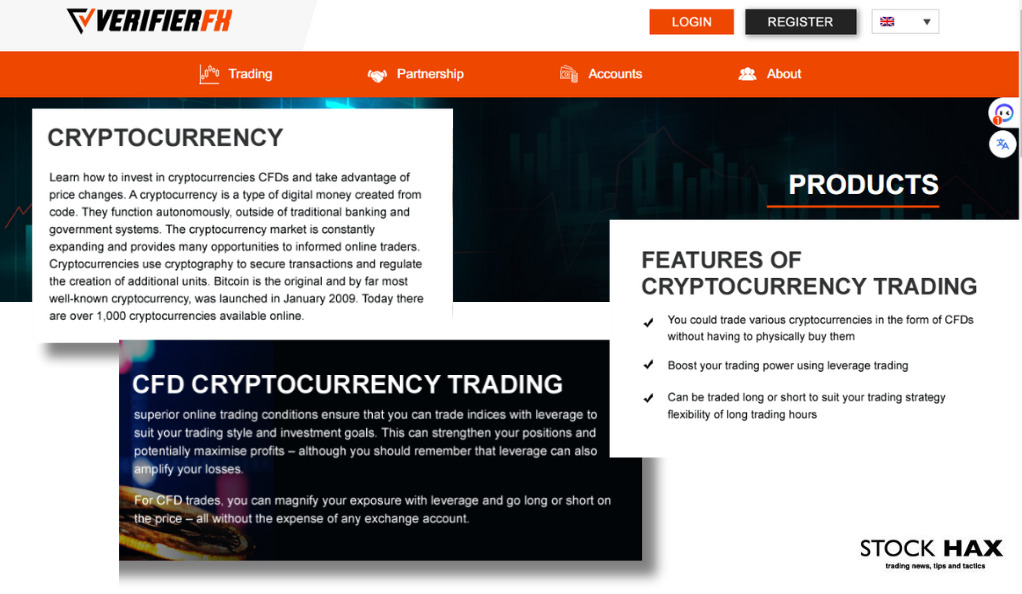 Verifierfx.com Safety and Security
When it comes to online trading, safety and security measures are of utmost importance to protect investors' funds and personal information. However, in the case of Verifierfx.com, an unregistered brokerage that lacks transparency regarding its safety and security measures, significant concerns arise.
The absence of any information on their website or online platforms regarding such measures raises doubts about the platform's commitment to safeguarding its users' interests.
Verifierfx.com's failure to provide any details about its safety and security measures is highly alarming. Reputable and trustworthy brokerages typically take pride in showcasing their security protocols and measures to instill confidence in their users. However, the lack of transparency exhibited by Verifierfx.com raises suspicions about the platform's intentions and its ability to provide a secure trading environment.
One critical aspect that contributes to the safety of investors is regulatory oversight. Registered and regulated brokerages are subject to specific rules and regulations aimed at protecting clients' funds and ensuring fair practices.
However, as an unregistered brokerage, Verifierfx.com operates without the necessary regulatory supervision, which poses inherent risks for investors. In the absence of regulatory oversight, users may lack recourse in case of disputes or financial losses.
Verifierfx Customer Support and Education
When choosing an online trading platform, the quality of customer service and the availability of educational resources are crucial factors for traders. However, in the case of Verifierfx.com, a brokerage lacking transparency and credibility, significant concerns arise regarding the platform's customer service and education programs.
With no readily available contact information and the absence of educational resources on their website, users are left without vital support and educational opportunities.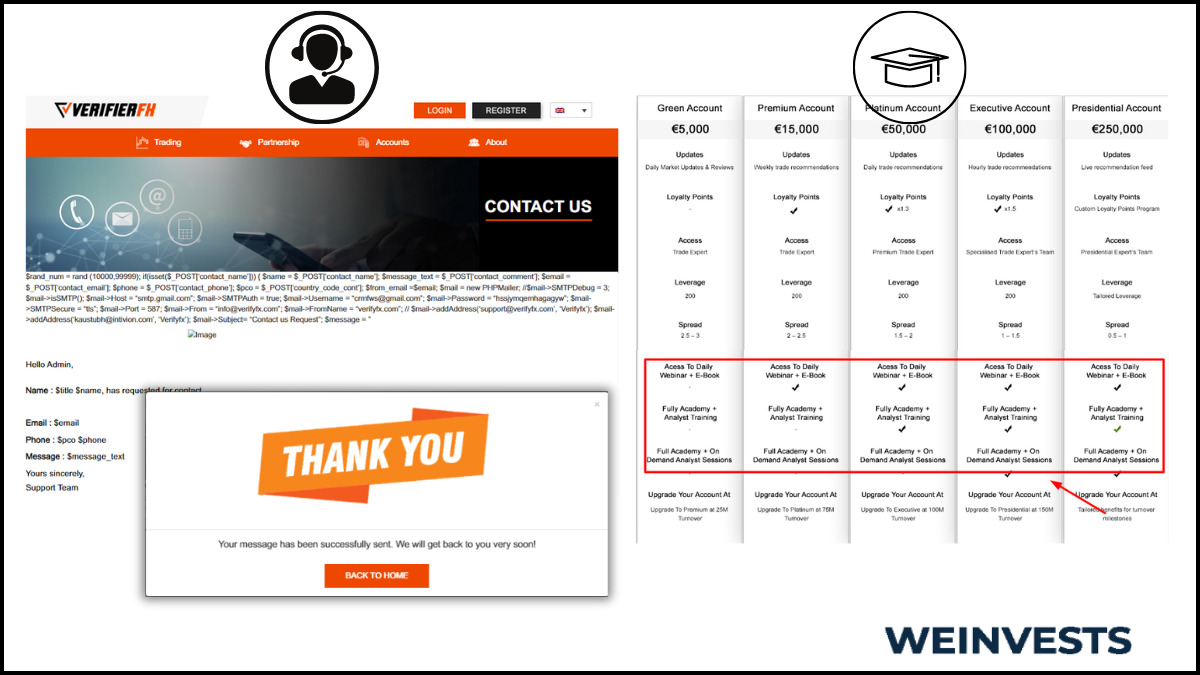 Verifierfx.com's decision to provide only a contact form for communication raises serious doubts about their commitment to customer support. Established and reputable brokerages typically offer multiple communication channels, such as phone numbers and email addresses, to facilitate prompt and efficient assistance for their clients.
By omitting these essential contact details, Verifierfx.com creates a significant barrier for users seeking assistance or clarification on trading-related matters.
Educational resources are fundamental for traders to enhance their knowledge, skills, and overall understanding of the financial markets. However, Verifierfx.com's failure to provide any educational programs on their website further diminishes the platform's credibility.
Reputable brokerages usually offer a variety of educational materials, including tutorials, webinars, articles, and videos, to empower their clients with valuable insights. The lack of educational resources on Verifierfx.com not only hampers traders' ability to make informed decisions but also suggests a lack of dedication to helping clients succeed.
The absence of clear and accessible customer service channels and educational programs raises concerns about the level of support Verifierfx.com is willing to provide to its users. Prompt and effective customer support is essential for addressing queries, resolving issues, and providing guidance in the fast-paced world of online trading.
With no readily available contact information and the absence of educational resources on their website, Verifierfx.com fails to meet the industry standards expected from reputable brokerages. Traders seeking a reliable and supportive trading environment are advised to explore regulated alternatives that prioritize customer service and provide comprehensive educational resources to empower their clients.
Verifierfx Fees
Transparent fee structures are vital for traders when choosing an online brokerage, as they directly impact profitability and overall trading costs. Unfortunately, Verifierfx.com fails to provide upfront information about its fees. This lack of transparency raises significant concerns about the platform's integrity and potential hidden costs that users may encounter.
Verifierfx.com's failure to disclose its fee structure upfront is a major red flag. Reputable brokerages typically display their fees clearly on their websites. This allows traders to make informed decisions based on the associated costs. However, the lack of fee information on Verifierfx.com suggests a lack of transparency and raises suspicions about the potential for undisclosed charges or unfavourable fee arrangements.
The absence of clear fee information on Verifierfx.com creates uncertainty for traders, leaving them vulnerable to hidden costs and unfavourable terms. Without upfront disclosure, traders may encounter unexpected charges for services such as deposits, withdrawals, inactivity, or other transactional activities. Hidden fees can significantly impact profitability and erode the gains made through trading activities.
The lack of transparency regarding Verifierfx.com's fees is a significant concern for traders. The absence of upfront fee disclosure raises suspicions about hidden costs and unfavourable terms. To protect their financial interests, traders should prioritize regulated brokerages that provide transparent fee structures upfront.
By selecting a brokerage with clear and transparent fee information, traders can make informed decisions and ensure that their trading activities are not compromised by hidden charges or unfavourable terms.
Fees Breakdown
Verifierfx most likely charges a range of fees for trading and investing on the platform. Commisions, spreads, and other charges could all be included in these fees.
Overall, fees on the platform may or may not be generally competitive with other online brokers, as they aren't transparently listed for users to review.
Verifierfx Conclusion
Verifierfx is an unregistered broker with little to no clear information on their site. They don't offer potential customers their email address, commission fees, or cryptocurrencies on sale. To say that their website is sparse, vague, and limited would be an understatement.
As attractive as their site might be, we highly recommend investing with a regulated brokerage. They can protect you from serious losses through insurance and provide you with an excellent, reliable line of communication.
FAQ
Can you trade crypto on Verifierfx?
While they have a section of their website dedicated to cryptocurrencies, Verifierfx makes no explicit note of selling cryptocurrencies through their supposed platform.
Can you use Verifierfx in the United States?
Unfortunately no, you cannot. At the time of writing, any American or person currently in the United States of America cannot trade on Verifierfx.com
Where is Verifierfx registered?
Verifierfx is not registered anywhere, a major red flag for a company that is supposedly a legitimate brokerage.
Risk Disclaimer
StockHax strives to provide unbiased and reliable information on cryptocurrency, finance, trading, and stocks. However, we cannot provide financial advice and urge users to do their own research and due diligence.
Read More