Dogecoin is a cryptocurrency, a digital asset based on blockchain technology. In the case of Dogecoin (DOGE) it pertains to the subcategory of memecoins, cryptocurrencies that base their popularity on memes and their strong communities.
Understanding cryptocurrencies in general, and memecoins in particular, will help you to assess possible risks associated with this type of investment.
If you're interested in buying DOGE, you should know that there are different brokers and crypto exchanges that allow you to buy this memecoin, and one of these is eToro: this regulated, global broker allow users to get exposure to different asset classes — including cryptocurrencies and DOGE — through intuitive design and trading platform.
In this article, we will cover in detail how to buy Dogecoin on eToro.
How to buy DOGE with eToro
eToro gives users the advantage of buying and selling DOGE through different financial instruments – namely cryptocurrencies and CFD (contracts for difference). Despite the variety of choice, a point that never changes is intuitiveness.
Moreover, eToro operates at a global level and is a fully regulated broker. If you're interested in buying DOGE with this global platform, here's how it works.
Step 1: Create a new account
The registration process is as intuitive as the entire platform. You can choose between the official eToro website and the broker's mobile application. The sign up button will lead you to a form that will require you to enter your full name, email, password, and mobile phone. Alternatively, if you want to speed up the process, you can sign up by using a Google or Facebook account. In both cases, you'll need to accept the terms and policies of eToro.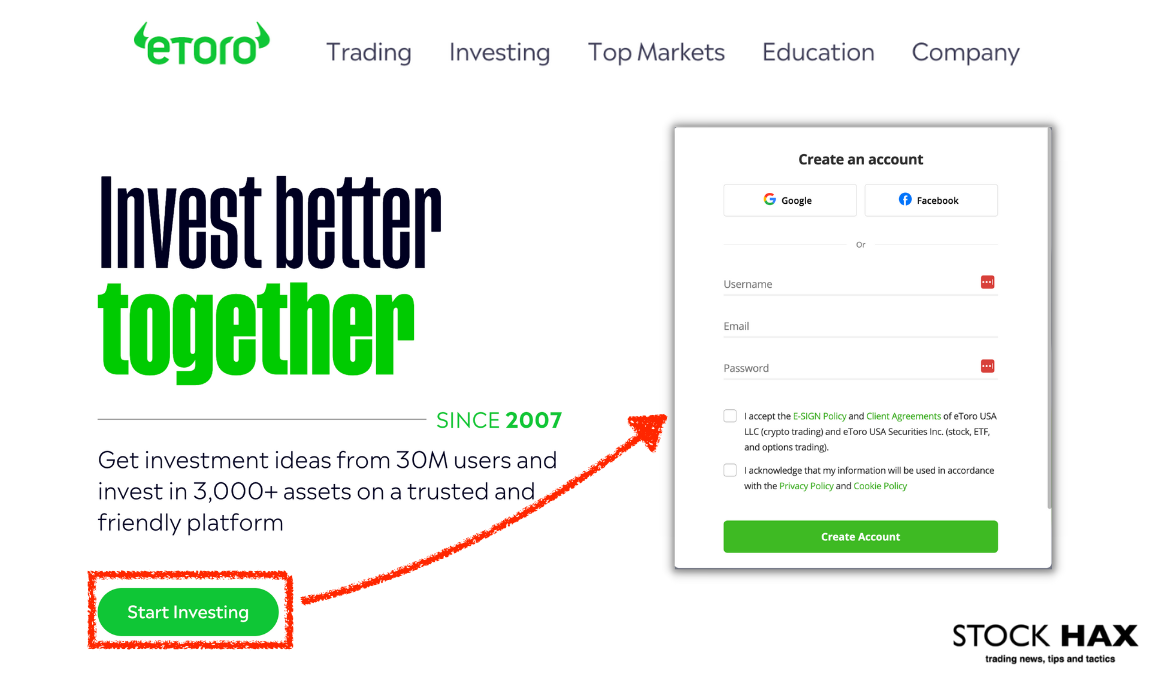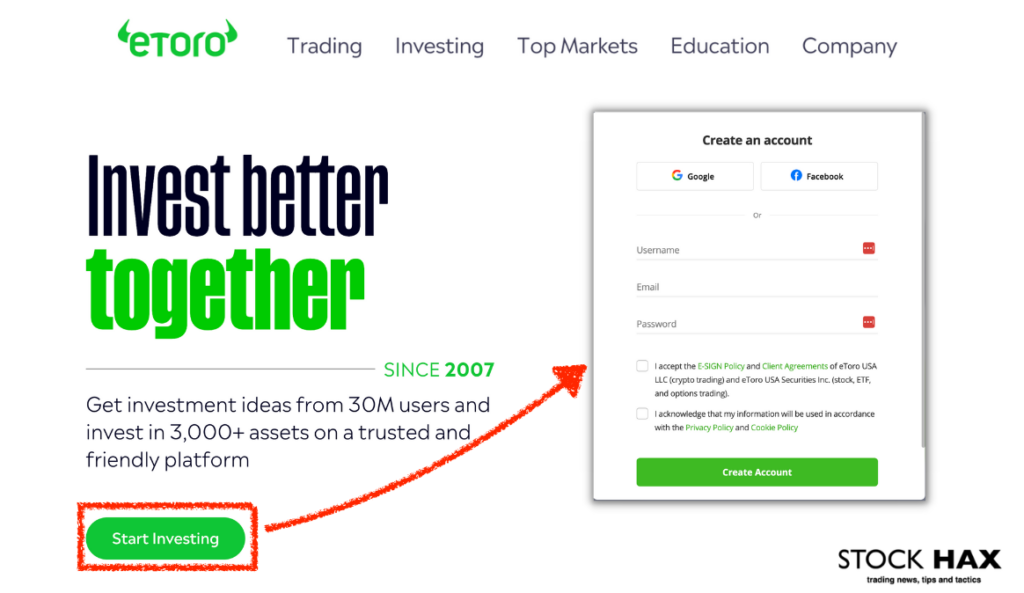 Step 2: Complete the verification process
This process starts with the upload of your ID and proof of residence. If you're asking why you should do this, it's important to note that this step proves the attention of the broker towards compliance: national regulators require brokers to identify their users, and it's also useful to prove that you're of legal age.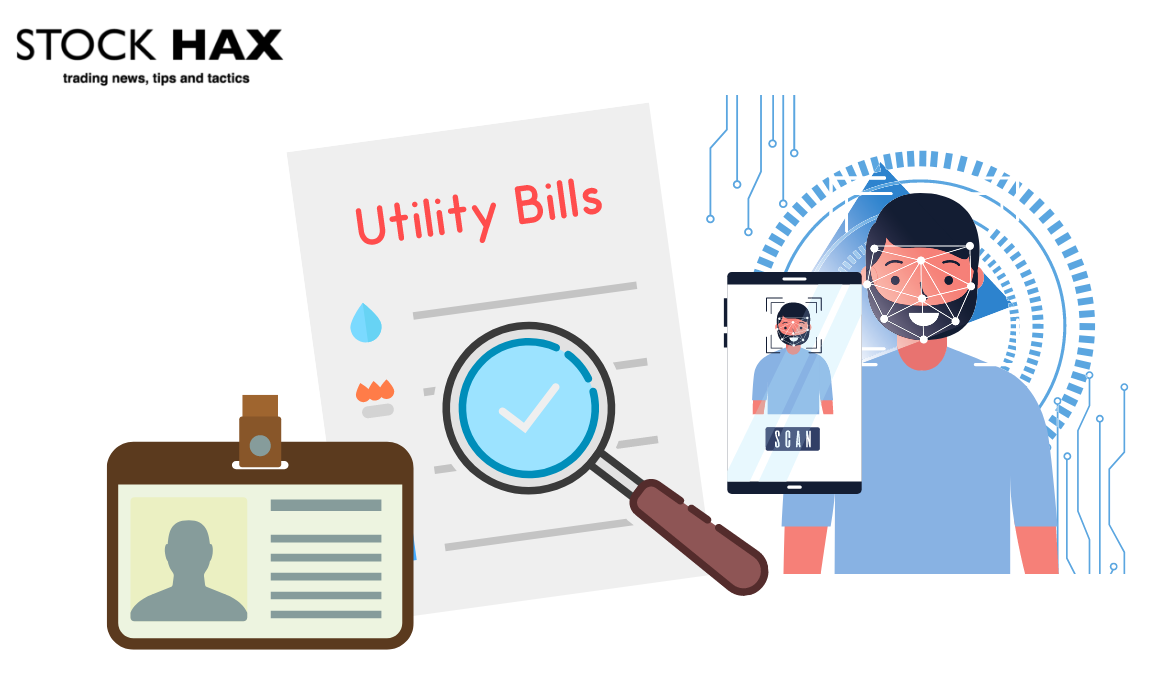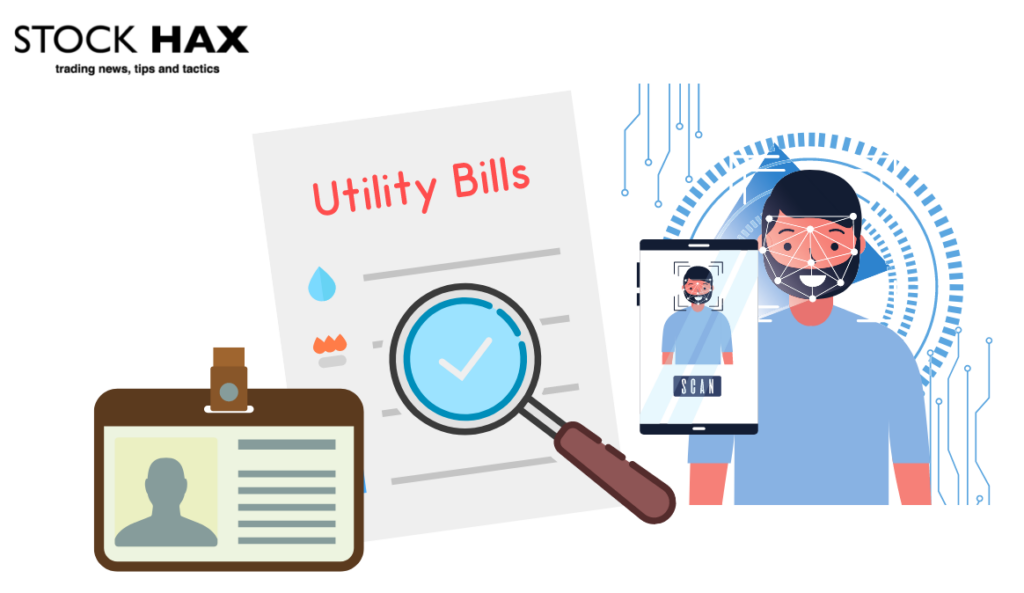 Step 3: Deposit real funds
To deposit funds, users can both click the "Deposit Funds" button or use the page dedicated to each asset – as we will see in a while.
eToro offers different deposit methods, like credit and debit cards, PayPal, Skrill, Neteller and bank transfers.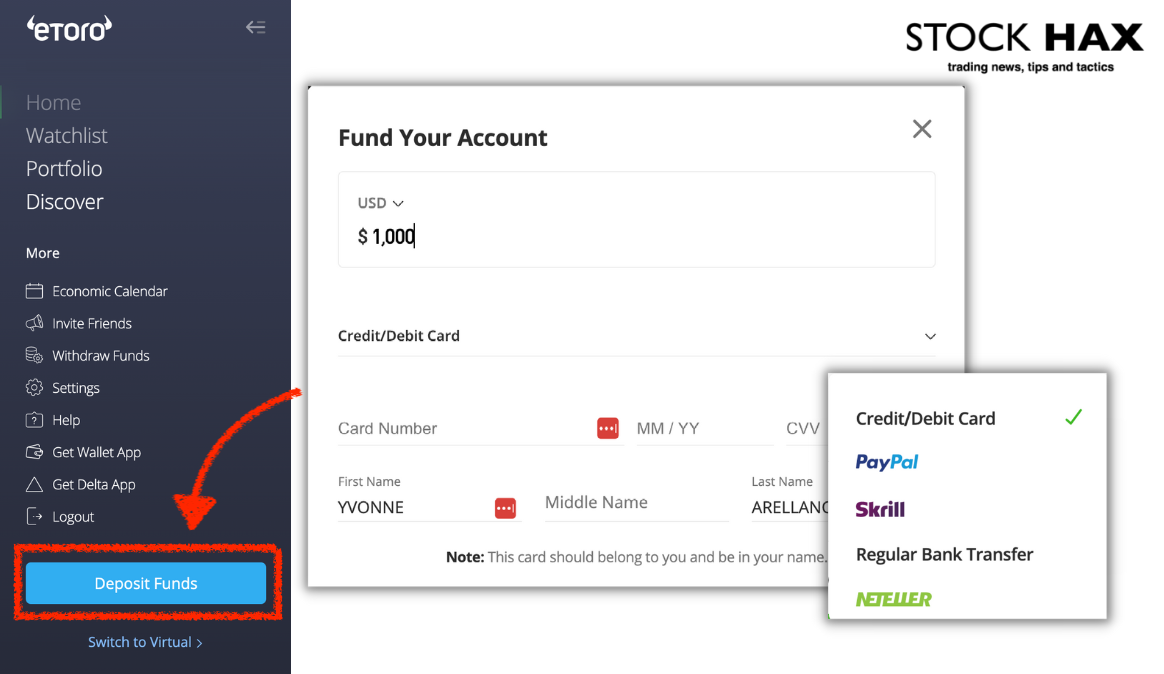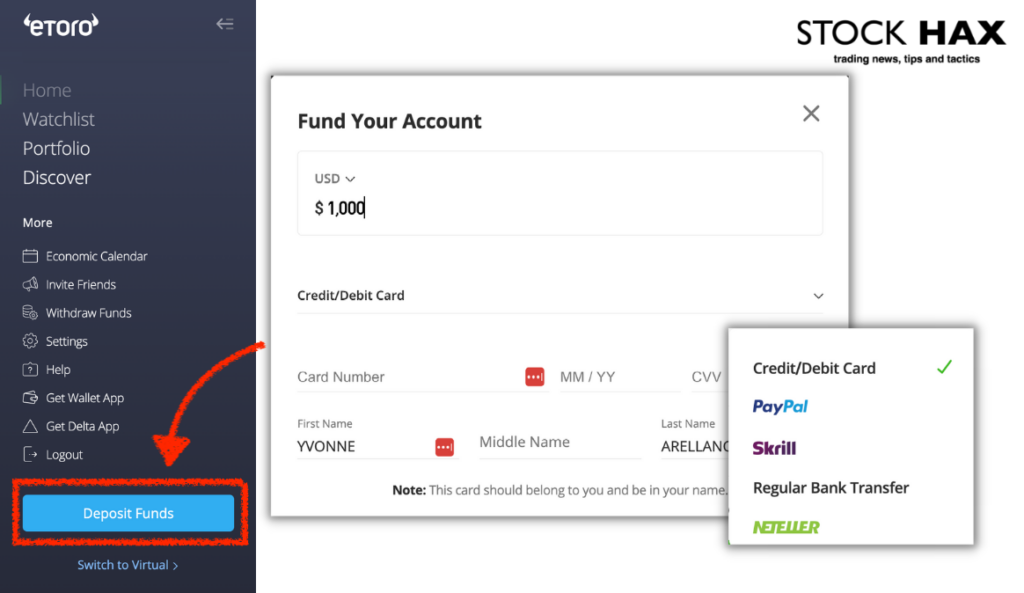 Step 4: Search for DOGE
Since there are countless financial instruments on eToro, it might be hard to locate the specific asset you're interested in, but eToro designed a search tab that makes the process straightforward. Users just need to type "DOGE" and click the link under the "Markets" section to find Dogecoin.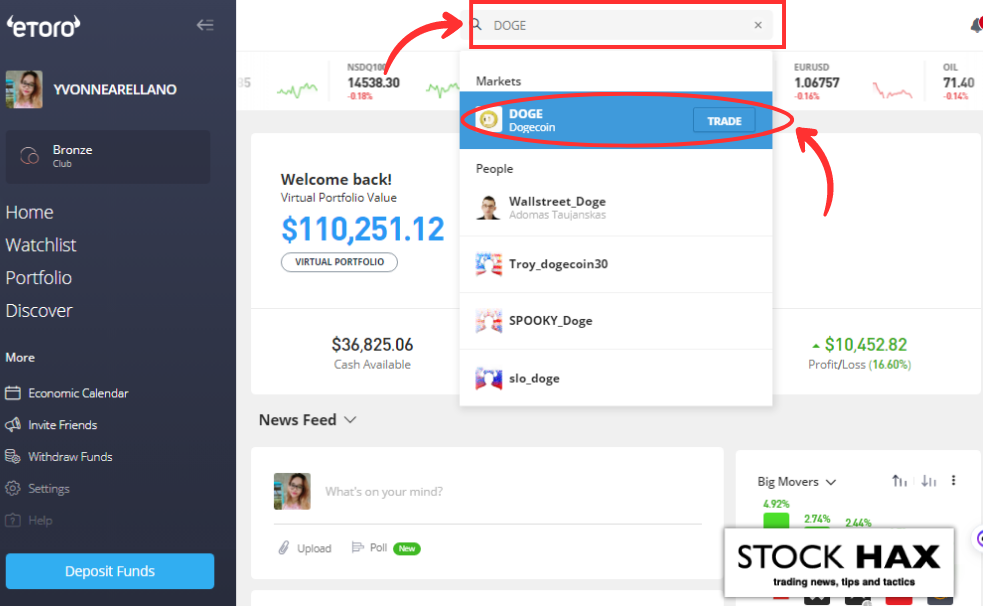 Step 5: Buy DOGE
The last step is buying DOGE from the trading page dedicated to the asset. Investors and traders can set the type of order, amount they want to invest — or units of DOGE they want to buy. They can also set stop loss and take profit to automatically close orders according to the conditions they set. They can also choose leverage: if no leverage is set, the user will directly own DOGE; otherwise, he will invest in DOGE-based CFDs.
Now, they can click "Set Order".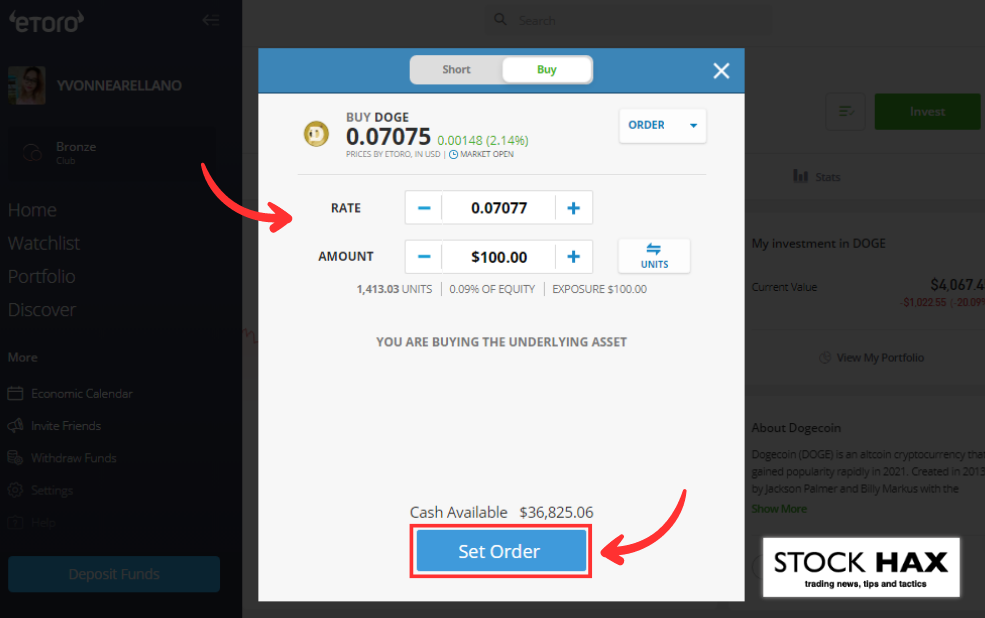 The process to buy DOGE on eToro is intuitive and requires just a few clicks. The verification process is fast. If you want to open a new account, you won't experience any delay.
What Are the Fees for Buying DOGE on eToro?
eToro doesn't charge any fee or commission to open an account or manage it. When it comes to cryptocurrencies, the broker charges 1% commission fee to transactions: this 1% is added to bid/ask spread – the difference between bid and ask prices, set by internal market makers. This is the reason why users will always see a Loss in their portfolio page as soon as they buy DOGE on eToro – the loss is the 1% fee.
If you invest in DOGE CFDs, overnight fees will apply. Moreover, eToro charges $5 for withdrawals and $10 for 12 consecutive inactive months.
An In-depth Look at DOGE
Dogecoin was created in 2013 by developers Billy Markus and Jackson Palmer, who wanted to create a satirical payment method in response to the wide speculation on crypto assets.
The community around Dogecoin developed quickly, and it is considered both the first memecoin and the first "dog coin" – that is, it was the first of the cryptocurrencies that use dogs as their logos. In the case of DOGE, the dog is a Shiba Inu.
The coin, despite being a memecoin without a limited supply, gained the support of personalities like Elon Musk.
Although DOGE is now considered as a legitimate investment, it is important to understand that it can be highly volatile and prone to news and support of the community — these are all pivotal elements to understand the market cycles and trends involved in this crypto project.
Factors to Consider Before Buying DOGE
The volatility of this crypto asset implies that investors should always evaluate their risk tolerance before investing in DOGE: risk and volatility are strictly correlated, since the more volatile an asset is, the higher the level of risk associated with it.
Moreover, as we mentioned, it is important to understand cryptocurrencies and the memecoin phenomenon. In any case, portfolio diversification can be a good tool to reduce risks.
Making the Most of eToro's Features
eToro doesn't only provide intuitive tools and processes, but also other features that can be used by traders and investors.
To mention some of these features:
eToro Social Trading, which mixes information about financial markets and the features of social media, so that traders and investors from all over the world can discuss market developments and financial strategies.
eToro CopyTrading, which allows users to copy the portfolios of professionals traders and investors with a few clicks.
Staking: eToro offers staking rewards – granted only for holding crypto assets – on eligible cryptocurrencies. Users don't need to complete any particular action, they just need to keep eligible cryptocurrencies in their wallets.
Managing Your DOGE Investment on eToro
As well as you can use intuitive interfaces to set orders, you can use them to manage your investment.
eToro offers the eToro Money crypto wallet, where you can see all your crypto investments and manage them – staking, buying and selling, everything you need to have full control over your crypto investments.
Moreover, you will be provided with the necessary tools to understand markets and do deep analysis – both fundamental and technical, thanks to the charts available.
These types of analyses will help you to better understand if you need to wait, buy or sell – and you also have access to the opinions and strategies of pro traders and investors.
Risks and Challenges in Buying DOGE
Cryptocurrencies are considered particularly volatile assets – when compared to more traditional markets. In the case of memecoins, they can be even more volatile, since they were born without any specific purposes – to make a practical examples, they can't be compared to a cryptocurrency like Ether, which fuels a blockchain that allows users to build entire infrastructures by using a high-level programming language.
These points should be evaluated by investors, since they have repercussions on risk levels — and each investor has a different risk tolerance.
Moreover, cryptocurrencies are still in a gray area for what concerns regulation, and this might add further risk to the investment. Cryptocurrencies are also often associated with cyber crimes – but it is important to note that investors and traders have different means to make their investments more secure in this sense, starting with using a reliable and regulated broker such as eToro.
Conclusion
Despite DOGE being born as a token created for fun, it managed to surround the project with a strong community, and to gather the attention of tech personalities. In the future, DOGE could be involved in more projects, since it's now considered a legitimate investment.
Combining this with eToro can be an interesting choice, since also the broker developed different features over time — from the creation of eToro Money to sensitive reductions of fees and commissions. The broker constantly develops, adding new financial instruments and features that can help traders and investors to enjoy a smooth experience.
Frequently Asked Questions
Can I Buy DOGE on eToro in My Country?
DOGE can be bought in all the countries where eToro Money crypto wallet is available. Countries where this functionality can't be used are Estonia, France and the Netherlands.
Is My Investment in DOGE on eToro Safe?
eToro provides a safe crypto wallet thanks to its eToro Money payment and wallet app.
Can I Transfer My DOGE from eToro to Another Wallet?
Yes, as long as you transfer cryptos to your eToro Money crypto wallet first.
What Are the Fees for Buying DOGE on eToro?
eToro charges 1% fee on DOGE transactions.
Where can you immediately buy Dogecoin?
eToro is one of the available brokers that allow you to immediately buy DOGE.
How much does it cost to buy Dogecoin on eToro?
1% of your DOGE transaction.
Risk Disclaimer
StockHax strives to provide unbiased and reliable information on cryptocurrency, finance, trading, and stocks. However, we cannot provide financial advice and urge users to do their own research and due diligence.
Read More