Understanding the Stock Market and TSLA Company
Investing in the stock market is a widely acknowledged method of wealth creation. The broad stock market is known for generating positive returns over long investment horizons. Since 1989, the S&P 500 has generated an average return of 10.2% annually.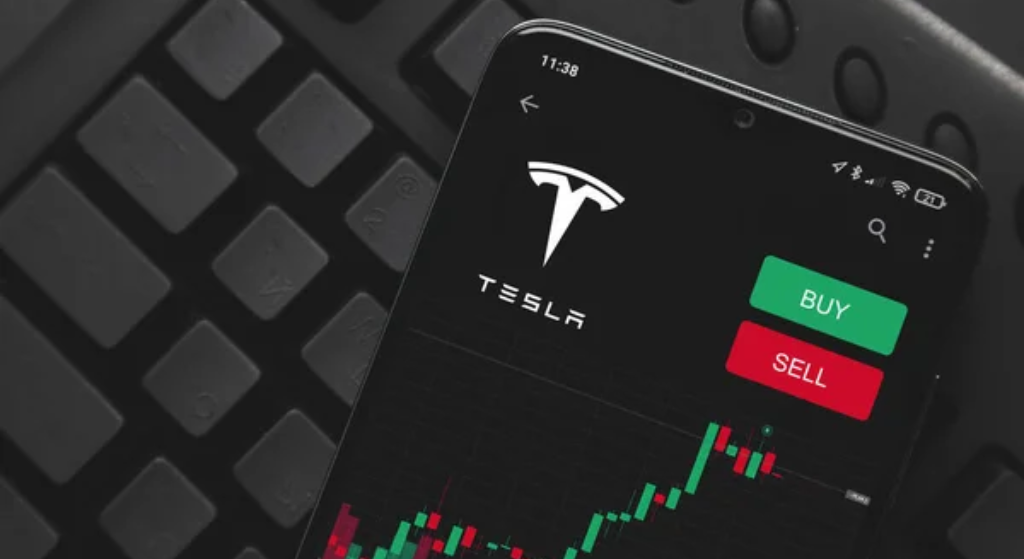 One company that's been at the forefront of technological innovation and captured investors' attention is Tesla Inc. (TSLA). Known for its electric vehicles, energy storage solutions, and renewable energy products, Tesla's performance on the stock market has defied expectations, making it a popular choice among investors.
Buying Tesla stock on eToro allows investors to capitalize on Tesla's growth while leveraging eToro's unique features. This combination potentially allows for enhanced portfolio diversification and informed investment decisions.
Another factor that sets eToro apart from many other online platforms is its social trading feature. eToro allows you to follow the trades and investment ideas of more experienced and successful investors.
What Are the Fees for Buying TSLA Stock on eToro?
Introduction to eToro Fees: Trading on eToro involves certain costs. These include trading fees, conversion fees, withdrawal fees, inactivity fees, and additional fees that may be applicable under certain conditions. Understanding these fees is crucial when investing in Tesla stock on eToro.
Trading Fees: When buying and selling Tesla stock on eToro, you may be subject to a spread – the difference between the buy and sell price. Depending on the type of asset. For example, if you are buying non-leveraged physical shares in TSLA eToro does not charge any fees or add a markup on the spread. If you are using CFDs and buying 4 units of TSLA, eToro will add a markup on the price. So, if the market is offering TSLA shares at $250, eToro will add 0.15% to the price, or $0.375, for a cost of $1.5 on the trade.
Conversion Fees: If you deposit funds in a currency other than USD, eToro will convert your deposit to USD at the current market rate when you place your order to buy TSLA stock. A conversion fee applies to this process.
Withdrawal Fees: There's a flat fee for withdrawing funds from your eToro account. This fee is important to factor in when calculating potential returns from selling Tesla stock.
Inactivity Fees: An inactivity fee will be charged if your eToro account remains inactive for a certain period. This is particularly relevant if you plan to buy and hold Tesla stock for the long term.
Additional Fees: eToro may charge additional fees under certain conditions, such as overnight fees for leveraged positions. These could potentially impact your net returns from trading Tesla stock.
Comparison with Other Platforms: When evaluating trading platforms, understanding the fee structures is key to choosing the most cost-effective option. Let's compare eToro with two other popular platforms: AvaTrade and Plus500.

eToro's strength lies in its transparency and competitive fee structure, with no charges for stock and ETF trading for European clients & US clients. Non-EU clients pay a low spread fee. Overnight and weekend fees apply for leveraged positions, and a $5 withdrawal fee is standard.

AvaTrade, while offering competitive spreads, charges inactivity fees after three months, compared to eToro's 12 months. This platform also includes a flat $50 withdrawal fee after certain periods of inactivity, which can eat into your profits if you're not actively trading.

Plus500, on the other hand, doesn't charge any commissions on trades. However, they do impose tight spreads, overnight funding charges, and a $10 inactivity fee after three months of non-use.

While each platform has its pros and cons, eToro offers a balance of competitive and transparent fees, especially for those planning on regular trading. It makes eToro a viable choice for trading TSLA stock.
Conclusion: Understanding eToro's fee structure is crucial to making informed trading decisions. Incorporating these costs into your trading strategy can help maximize profitability when investing in Tesla stock on eToro.
How to Invest in TSLA Stocks
Investing in TSLA stocks is a streamlined process when done through eToro, a global trading platform renowned for its user-friendly interface and robust set of features. In our experience testing eToro, the platform's standout strengths include ease of use, an expansive selection of investment options, and innovative features such as social trading and CopyPortfolio.
Whether you're a seasoned investor or a novice, eToro simplifies the process of buying TSLA stocks. The trading platform also offers detailed analytics to help you make informed investment decisions. For a more comprehensive overview of the platform, refer to our full eToro review. Given eToro's versatility, we strongly recommend opening an account with eToro to capitalize on the potential opportunities that TSLA stocks offer.
Step 1: Open an Account
To begin, you'll need to open an account on eToro. The registration process is straightforward. Simply click on the "Sign Up" button on eToro's homepage, fill in your personal details, and set a password. The link to eToro's account opening page can be found here. Please note that you must be at least 18 years old to open an account.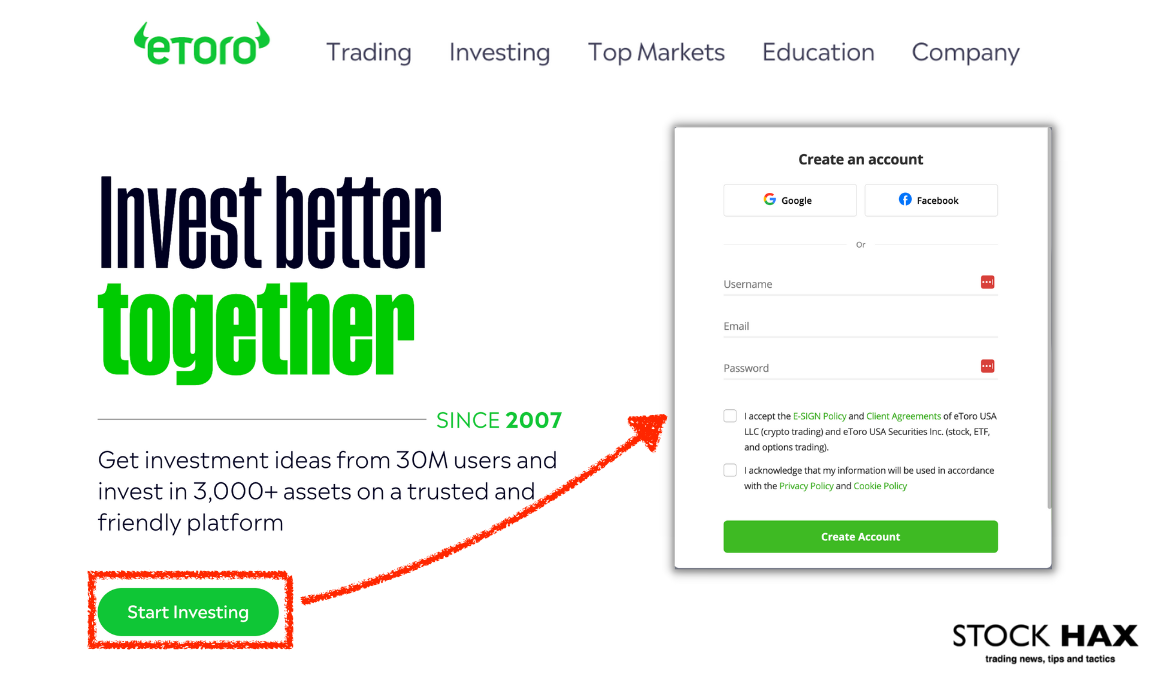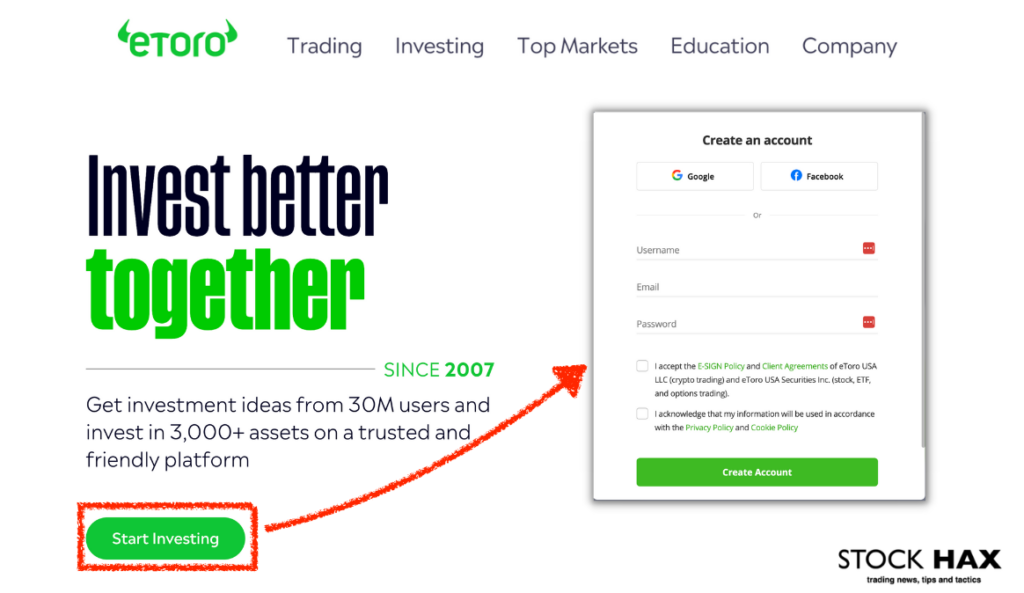 Step 2: Upload ID
For account verification, eToro requires a valid government-issued ID (passport, driver's license, or national ID) and proof of address (i.e., utility bill or bank statement with your address). This process is crucial for security and regulatory compliance. You can upload your ID for verification by following the steps given on the eToro account verification page here.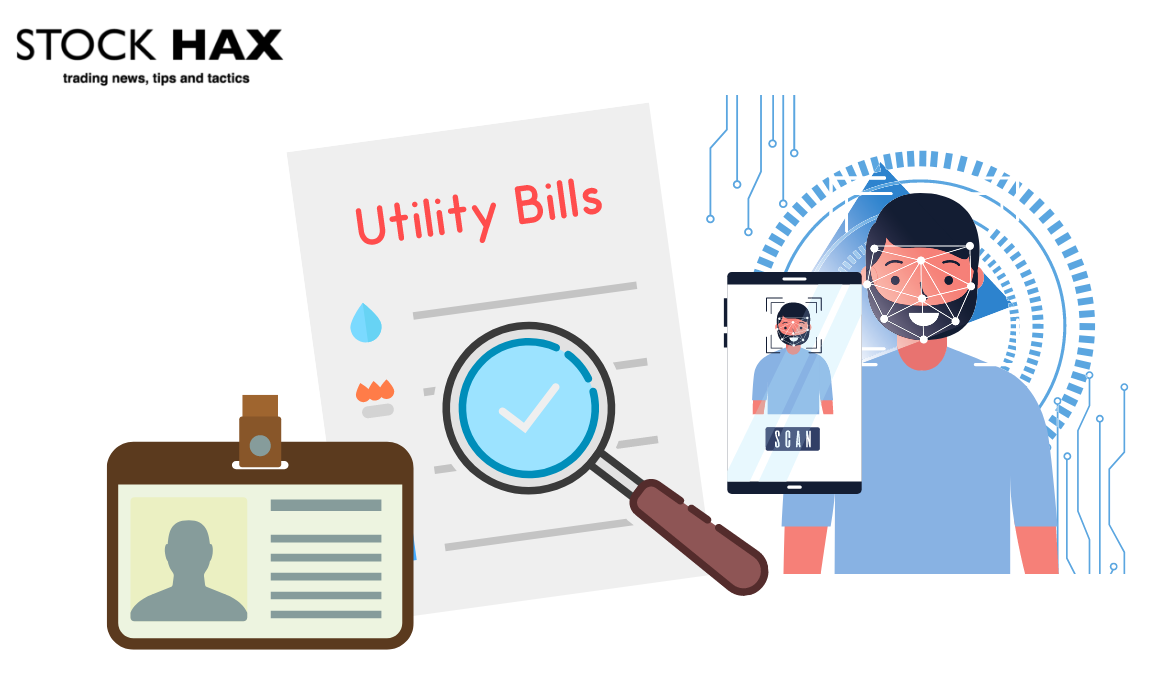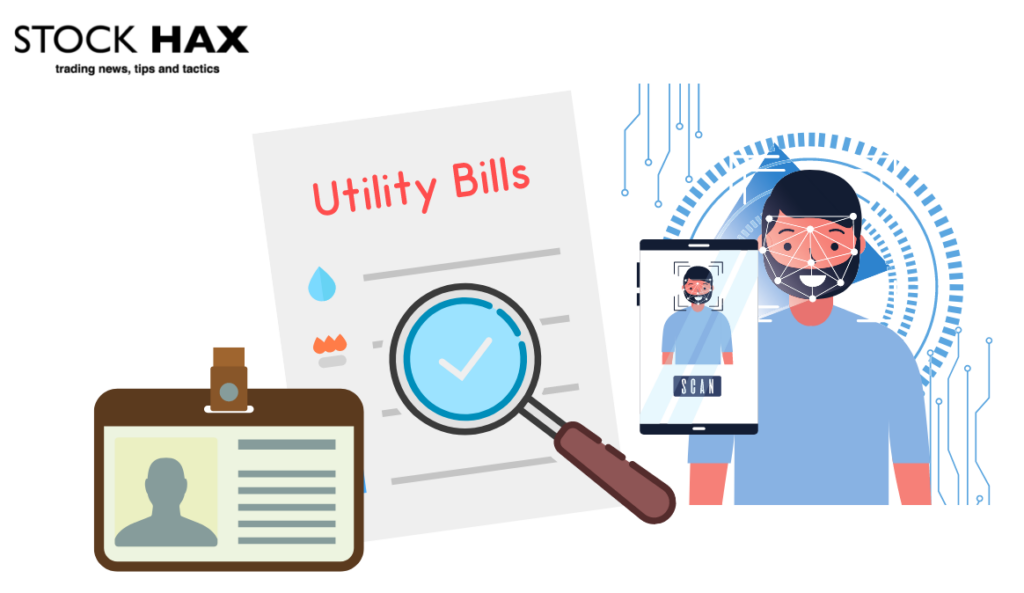 Step 3: Make a Deposit
Once your account is verified, it's time to fund it. eToro accepts several payment methods, including credit cards, PayPal, and bank transfers. The minimum deposit requirement varies depending on your location, from $10 to $10,000. More details can be found on eToro's deposit FAQ page here.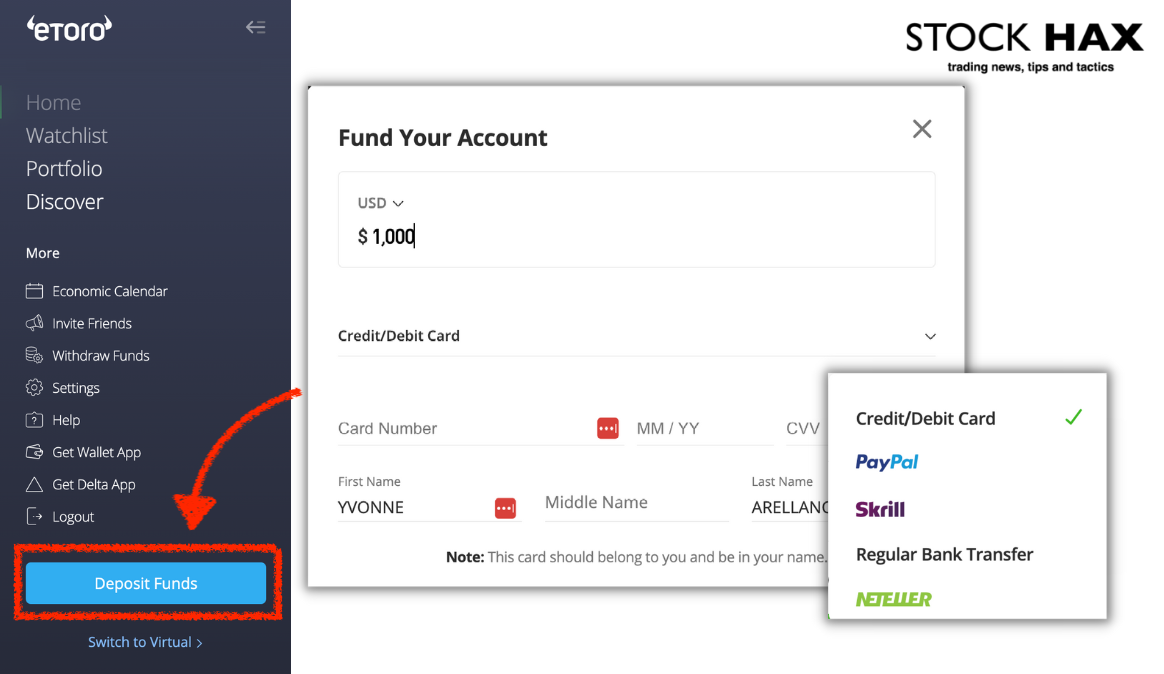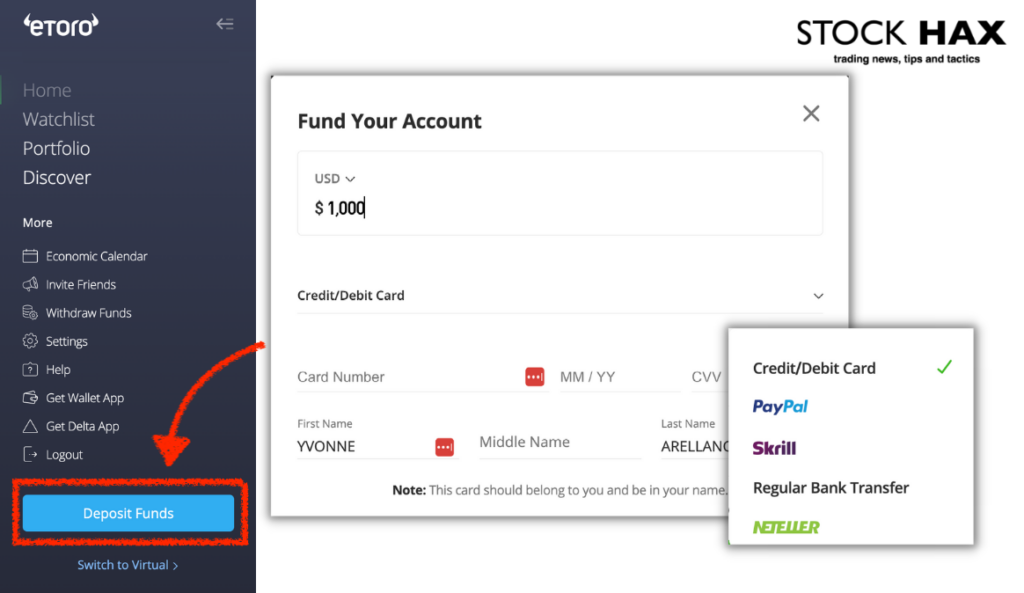 Step 4: Search for TSLA Stock
Next, search for Tesla stock on the eToro platform. Enter "TSLA" into the search bar at the top of the page. The sophisticated eToro algorithm will automatically show the most appropriate prompts. Then click on "Trade" to proceed. Detailed instructions can be found on eToro's trading page here.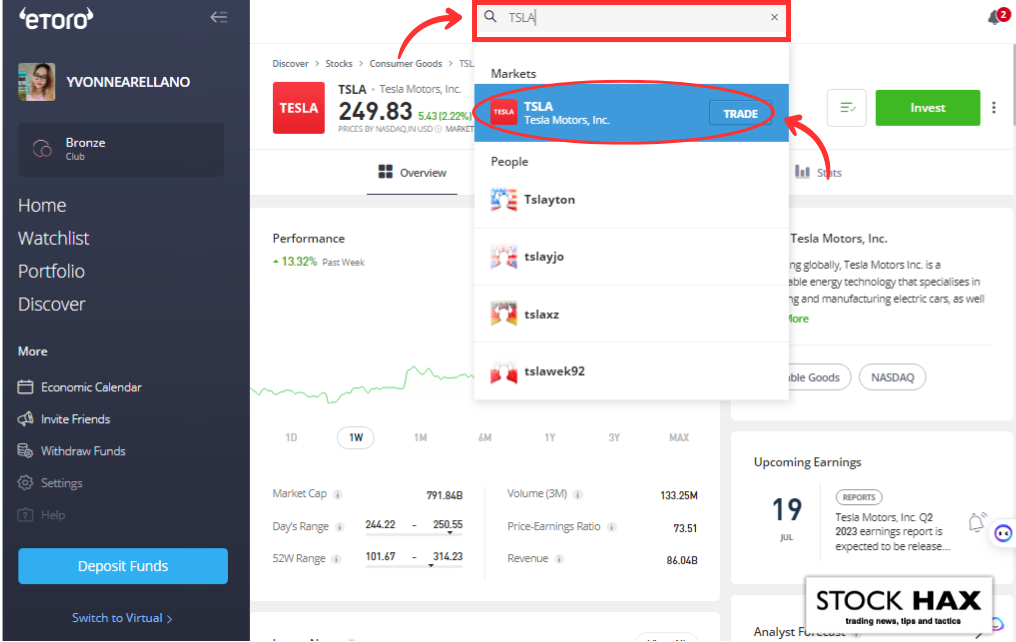 Step 5: Buy TSLA Stock
Once you have located Tesla stock, set your desired purchase as a dollar amount or a number of shares, and click on "Open Trade." This initiates the buying process, and your TSLA shares will be added to your eToro portfolio. Remember, always double-check your entries before confirming the purchase.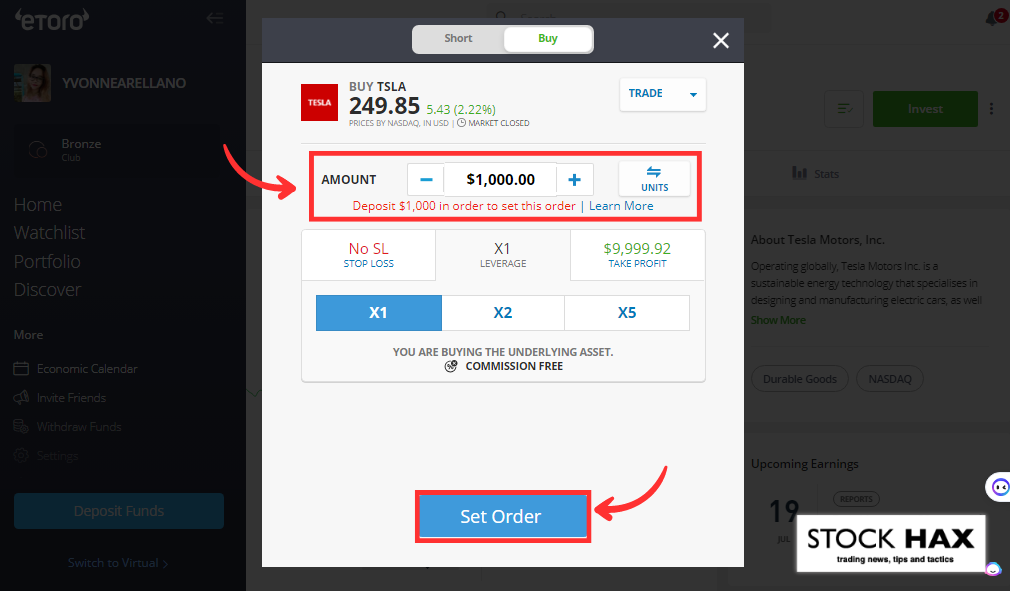 Investing in TSLA on eToro involves some simple steps: opening an account, verifying your identity, making a deposit, searching for TSLA stock, and executing the trade. With its intuitive design and comprehensive features, eToro is highly recommended. So why wait? Begin your stock trading journey today by opening an eToro account.
An In-depth Look at TSLA Company
In this section, we'll look at the history of Tesla, key events in the company's growth, and an understanding of its stock performance.
History of TSLA Company
Founded in 2003 by Martin Eberhard and Marc Tarpenning, Tesla Inc. (TSLA) entered the automotive industry with a bold vision: to prove that electric vehicles (EVs) could be better, quicker, and more fun to drive than gasoline cars. A key turning point in Tesla's history was when SpaceX CEO Elon Musk joined the team as chairman in 2004, becoming CEO in 2008.
Over the years, Tesla has revolutionized the auto industry with its innovative electric vehicles and unique business model. It started with a high-performance sports car, the Tesla Roadster, in 2008, followed by the launch of Model S, Model X, Model 3, and Model Y, each marking significant milestones in Tesla's history.
Tesla's mission extends beyond cars, aiming to accelerate the world's transition to sustainable energy. It ventured into the renewable energy space, creating products like the Powerwall, Powerpack, and Solar Roof.
Key Events in TSLA Company's Growth
Several key events have propelled Tesla's growth. In 2010, Tesla went public, raising $226 million in its initial public offering (IPO), marking the first American car company to go public since Ford Motor Company in 1956.
In 2013, Tesla's Model S became the best-selling electric car worldwide, a testament to the company's vision and execution.
Tesla started manufacturing batteries at the Nevada Gigafactory in 2016, a move aimed at reducing battery costs and boosting production. In 2017, Tesla launched Model 3, the first mass-market electric vehicle, another significant milestone.
The opening of Gigafactories in China and Germany further boosted Tesla's production capacity and global reach. In 2020, despite the challenges of the COVID-19 pandemic, Tesla produced half a million cars and joined the S&P 500 index, further solidifying its standing in the market.
Understanding TSLA Company's Stock Performance
Since its IPO, Tesla's stock has seen significant growth, often outperforming market expectations. Tesla's share price skyrocketed in 2020, splitting 5-for-1 in August when it started the year at around $29 and closed 2020 at $231.59. A second stock split came in December 2022, this time for 3 to 1. TSLA's performance has made it one of the most valuable companies in the world by market cap.
Despite its volatile nature, TSLA stock has generally followed an upward trend, driven by investor confidence in Tesla's market potential and strategic moves. However, it's essential to understand that past performance doesn't guarantee future results, and investing in stocks always carries risk.
Before investing, investors should carefully analyze Tesla's financials, business model, competitive positioning, and external factors like regulatory changes and market dynamics. While Tesla has been at the forefront of the EV revolution, competition is intensifying with traditional automakers and startups entering the EV market.
Factors to Consider Before Buying TSLA Stock
Before investing in any company, including Tesla, it's essential to carefully consider several factors. These factors can help you make informed decisions and develop a strategy that aligns with your financial goals and risk tolerance.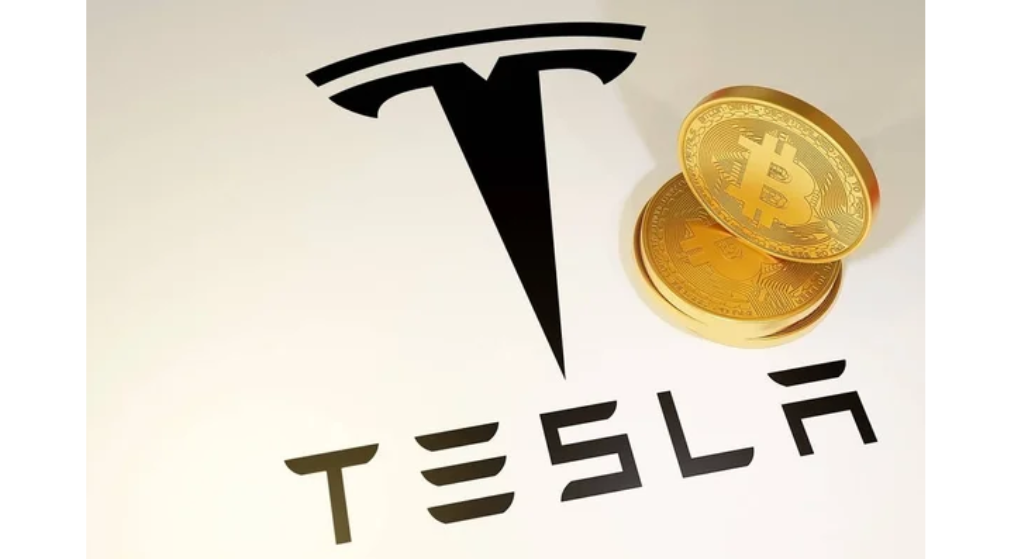 Evaluating Market Conditions
When considering investing in TSLA stock, it's crucial to assess the overall market conditions. Are we in a bull market with prices generally rising, or is it a bear market with declining prices? Beyond the broader market, it's also essential to evaluate the specific market conditions for the EV industry.
For example, consider the global push towards sustainable energy and away from fossil fuels. How might this trend influence the demand for electric vehicles in the future? What about competition? Several traditional automakers, like General Motors and Ford, and startups are entering the EV market. How might this increased competition impact Tesla's market share and profitability?
Risk Assessment for Stock Investments
Investing in the stock market inherently involves risk, and investing in TSLA is no exception. Therefore, it's crucial to conduct a thorough risk assessment before investing.
Consider the company-specific risks first. For instance, Tesla's profitability has been inconsistent, and it operates in a highly competitive and rapidly evolving industry. There's also a high degree of reliance on CEO Elon Musk, whose actions and comments have significantly impacted stock performance in the past.
Secondly, examine market-related risks. Stock prices are often influenced by broader economic and market trends, which can be unpredictable.
Importance of Investment Diversification
No matter how promising an investment may seem, it's never wise to put all your eggs in one basket. Diversification, the practice of spreading your investments across a variety of assets, is a crucial strategy for managing risk.
Investing in TSLA should be part of a diversified portfolio that includes a mix of asset types (stocks, bonds, real estate, etc.) and spans different industries and geographic regions. This way, your entire portfolio won't be significantly impacted if TSLA or the EV industry experiences a downturn.
Diversification isn't about guaranteeing profits or protecting completely against losses. Instead, it's about balancing risk and reward by spreading investments so that potential gains in certain assets can offset losses in others.
Making the Most of eToro's Features
eToro is not just an online trading platform; it's a comprehensive hub for financial trading with innovative features designed to optimize the trading experience for users. Let's delve into these features.
Utilizing eToro's Social Trading Feature
One of the unique features of eToro is its social trading feature, which allows users to follow, interact with, and even mimic the trades of top investors on the platform. This capability can be especially helpful for novice traders who may benefit from observing the trading strategies of experienced investors.
You can make the most of this feature by carefully selecting who you follow. Check their portfolios, trading history, and risk scores. Pay attention to their posts and discussions to gain insight into their thought process and strategy.
Leveraging eToro's CopyPortfolio Feature
eToro's CopyPortfolio is a thematic investment product that bundles together various assets or a group of traders into a single portfolio. Essentially, you are copying a diversified portfolio instead of a single trader.
There are two types of CopyPortfolios: Top Trader Portfolios and Market Portfolios. Top Trader Portfolios consist of the best-performing and most sustainable traders. At the same time, Market Portfolios bundle together CFD stocks, commodities, or ETFs under one chosen market strategy.
Understanding eToro's Stock Trading Benefits
eToro offers several benefits that can enhance your stock trading experience. The platform is user-friendly, making it accessible for both new and experienced traders. The broad range of financial instruments, including stocks, ETFs, cryptocurrencies, and commodities, provides ample opportunities for diversification.
Another significant benefit is that eToro offers commission-free trading for stocks, meaning you don't pay any broker fees when opening or closing a position. However, other charges, like spreads and overnight fees, may apply.
Managing Your TSLA Stock Investment on eToro
Monitoring Your TSLA Stock Investment
On eToro, continuously tracking your TSLA stock investment is crucial. The platform provides real-time data, charts, and news updates to help gauge your investment's performance. Additionally, setting up alerts can help you stay on top of significant market shifts.
When to Sell TSLA Stock Deciding When to Sell
TSLA depends on your investment goals, market conditions, and Tesla's performance. Regularly reviewing these factors will guide your sell decisions. Keeping an eye on Tesla's future plans and sector trends is also beneficial.
Withdrawing Your TSLA Stock or Profits
Withdrawing profits or selling TSLA stock on eToro is straightforward. However, be aware of the platform's withdrawal fees and processing times to manage your expectations. Regular reviews of your investment strategy can also help you time your withdrawals effectively.
Risks and Challenges in Buying TSLA Stock
Understanding Stock Market Volatility
Investing in TSLA stock, like any other, comes with market volatility. Prices can fluctuate rapidly, influenced by factors ranging from Tesla's performance to broader economic trends. Educating yourself on market patterns can equip you better to handle volatility.
Legal and Regulatory Challenges
Tesla, operating globally, faces varying legal and regulatory environments. Changes in these areas can impact the company's operations and, subsequently, TSLA's stock price. Therefore, staying updated on global auto industry regulations is essential.
Security Risks in Stock Trading
Online trading platforms, while convenient, can be vulnerable to security threats. Hence, ensuring the platform's security measures, like the ones eToro employs, is vital to protect your investments. Regular password updates and two-factor authentication can add extra layers of security.
Conclusion: The Future of TSLA Stock and eToro Trading
TSLA Stock's Potential in the Coming Years
TSLA's potential remains promising, given the rising demand for electric vehicles and Tesla's innovative drive. However, its performance hinges on numerous factors, making it crucial to stay informed. Regularly reviewing Tesla's strategic direction and market positioning can provide useful insights.
Future Developments in eToro
EToro continually strives to enhance user experience, anticipate more user-friendly features, advanced trading tools, and comprehensive educational resources. Regularly updating your eToro app or software will ensure you have access to the latest features and improvements.
Final Thoughts on Investing in TSLA Stock on eToro
Investing in TSLA on eToro combines the promise of a pioneering company with the convenience of a top-tier trading platform, making it a worthwhile consideration for diversified portfolios. Remember, your investing journey is personal, and keeping your financial goals in sight is paramount.
Frequently Asked Questions
Can I Buy TSLA Stock on eToro in My Country?
Yes, eToro is a global platform available in many countries. However, its services are restricted in certain regions due to regulatory constraints.
Is My Investment in TSLA Stock on eToro Safe?
eToro is a regulated platform ensuring user security. However, stock investments are inherently risky, and it's important to conduct thorough research and consider your risk tolerance.
Can I Transfer My TSLA Stock from eToro to Another Portfolio?
Yes, eToro provides the option of transferring stocks to another broker. You will need to follow the procedures specified by both eToro and the receiving broker.
What Are the Fees for Buying TSLA Stock on eToro?
The main fees are trading fees (spread), conversion fees for non-USD deposits, and withdrawal fees.
Risk Disclaimer
StockHax strives to provide unbiased and reliable information on cryptocurrency, finance, trading, and stocks. However, we cannot provide financial advice and urge users to do their own research and due diligence.
Read More