This website and its content are not intended to provide professional or financial advice. The views expressed here are based solely on the writer's opinion, research, and personal experience, and should not be taken as factual information. The author is not a financial advisor and lacks relevant certifications in that regard. We highly recommend consulting a qualified financial advisor before making any investment decisions, as the information presented on this site is general in nature and may not be tailored to individual needs or circumstances.
Unlimited Trades and Low Commissions
Just2Trade offers some of the lowest commission fees you'll find in the industry, but at what cost? We take a look at Just2Trade to see just how well the service itself works in exchange for these discounts. From research to fees, Just2Trade cuts a lot of corners to help traders save.

No minimum balance
Flat commission fees
RetireGuide investment planning
Pros
Unlimited trades for members
Free research reports, real time data
Broker-assisted market orders
Industry-low commissions per trade
No account inactivity fees
Cons
No commission-free ETFs
High account minimum balance
High account minimum balance
Research is not particularly robust
No trading platform beyond rudimentary web-based solution
Overall lack of basic features for online brokerage firm
Just2Trade Highlights

| | |
| --- | --- |
| 💰 Account Minimum | $100 |
| 💸 Commission Fees | Stocks and ETFs: From $0; Options: From $0.40 per contract |
| 💼 Investment Options | Stocks, ETFs, options, mutual funds, bonds, forex, futures, CFDs |
| 🤖 Robo-Advisor | Available |
| 📊 Research and Analysis | Just2Trade offers a range of research and analysis tools, including real-time market data, charting tools, Trading Central automated market analysis, and news and analysis from leading providers such as Dow Jones, MarketWatch, Briefing.com, and Reuters. |
| 📱 Mobile App | Just2Trade offers a mobile app for iOS and Android devices. The app allows you to trade stocks, ETFs, options, mutual funds, forex, futures, and CFDs, and provides access to real-time market data, news and analysis, trading alerts, and Trading Central automated market analysis. |
| 🏦 Retirement Accounts | Traditional IRA, Roth IRA |
| 🎓 IRA Accounts | Just2Trade offers a range of IRA accounts for US clients |
| 📈 Trading Platform | Just2Trade offers a range of trading platforms for different markets and instruments |
| 📞 Customer Service | Just2Trade offers customer support via phone, email and live chat, WhatsApp, Telegram, Viber, FB Messenger, Skype, WeChat, Support is available 24/7. |
| 📚 Educational Resources | Just2Trade provides a range of educational resources, including webinars, videos, and articles on a range of topics, including trading strategies, market analysis, and risk management. |
| 🌕 Fractional Shares | None |
| 🌱 Socially Responsible | Just2Trade does not offer specific socially responsible investing options. |
| 🌎 International Investing | Just2Trade offers access to a range of international markets, including Canada, Europe, Asia, and Australia. |
| 💳 Cash Management | Just2Trade offers a range of cash management services, including free ACH transfers, wire transfers, and check writing. |
| 🔍 Margin Trading | Just2Trade offers margin trading with a minimum deposit of $2,000. |
| ⚙️ Options Trading | Just2Trade offers options trading with a commission of $2.50 per contract. |
| ₿ Cryptocurrency Trading | Just2Trade does not offer cryptocurrency trading. |
| 🛡️ Account Security | Just2Trade is regulated by the Securities and Exchange Commission (SEC) and the Financial Industry Regulatory Authority (FINRA). Client funds are held in segregated accounts, and Just2Trade uses advanced encryption and other security measures to protect client data. |
| 💹 Leverage | Just2Trade offers leverage of up to 4:1 for day trades and up to 2:1 for overnight trades. |
| ⚖ Regulation | Just2Trade is regulated by the Securities and Exchange Commission (SEC) and the Financial Industry Regulatory Authority (FINRA) in the United States. In the UK, Just2Trade is regulated by the Financial Conduct Authority (FCA). In Australia, Just2Trade is regulated by the Australian Securities and Investments Commission (ASIC). In the European Union, Just2Trade is regulated by the Cyprus Securities and Exchange Commission (CySEC). |
What are Just2Trade's Main Features?
Just like most other brokerage firms, Just2Trade offers stocks, mutual funds, options, ETFs and bonds, which can form the backbone of most traders' portfolios. However, they do lack futures or forex trading, which may turn off some traders who want to focus on those strategies.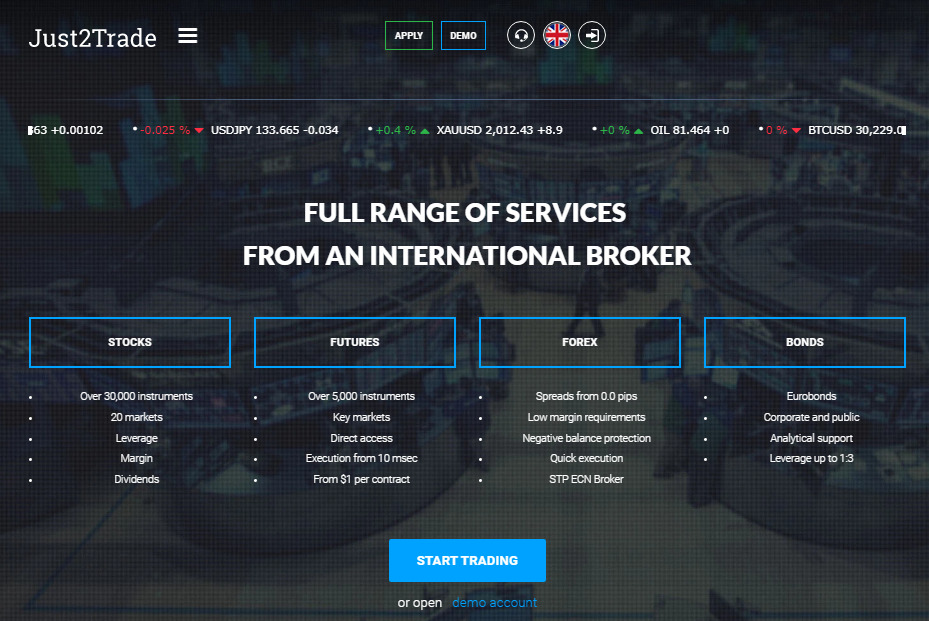 Generally, as with any other platform, users of Just2Trade are able t make trades at a frequency suitable for their investment strategies. This is great news for advanced and experienced traders, who want to make sure they have the ability to change their portfolio whenever they want to.
In order to facilitate these unlimited trades, Just2Trade also offers some fairly workable research tools to go with their existing platform. Members get free research reports and real-time data, also the platform claims of having software in place that does trade analytics.
These research options, however, are not perfect: Just2Trade used to work with research firm Morningstar, but they parted ways in 2013. While it was clearly a cost-saving measure to keep $2.50 commissions affordable, their switch to InvestCenter has resulted in a downturn in the quality of their trade research.
As an online broker, Just2Trade's primary interface is their website-based trading platform, which is known as J2Trader. Overall, it's a decently robust, well-featured interface, though it lacks a lot of the features and user-friendliness found in their high-end competitors. Options trading is particularly difficult in J2Trader, for instance, and their streaming Level I and Level II quotes are so small on the screen they can be difficult to read.
However, the other features on J2Trader are decently robust for most investors: members can keep track of up to five charts, each chart having up to three different stocks and dozens of technical features to further refine your searches. While Just2Trade lacks a mobile app for now, they offer Morningstar research reports to provide at least a little more insight into trades for their customers.
While J2Trader has its appeal, and there are certainly advantages to such a barebones interface (as evidenced in their low trade fees), it can be frustrating for traders who want more than just a place to simply place trade orders. Only the most self-directed investors need apply, as they might be able to place the trades they want without being able to benefit from top-notch research.
Some reviews show that customer support is not meeting industry standards, such as not being 24/7, and relatively slower response times.
Some users questioned the additional payments that the company receives to make the order flow smoothly. Unlike some other brokers — Interactive Brokers, for instance — they actually pocket that money instead of passing the savings along to the trader. Now, if you don't know about it, you won't miss it, but it is an important distinction to be made when it comes to Just2Trade.
How Do You Open a Just2Trade Account and What are the Requirements?
Just like most other online brokers, Just2Trade just takes a quick trip to their website, where you can fill out an online form which will take about ten minutes to complete. For this part, just select your country of origin, and submit your Social Security Number and government ID to verify your identity.
After that, you can fill in the rest of your information, including address, date of birth, employment, income, and available funding sources. The whole thing is extremely aboveboard, and you won't have to go through a very lengthy process. Once your information is entered, just select your account, link it to a funding source, and get started.
What Are the Rules for Trading on Just2Trade?
If you want rock-bottom trade commissions, Just2Trade is a very good investment solution. For stock and options trading, Just2Trade just charges $2.50 per trade (with a $0.50 additional fee per contract for options). Few, if any, of their competitors can boast such incredibly low rates, which contributes further to Just2Trade's focus on high-activity traders.
In addition to these normal commissions/fees, Just2Trade has a few other fees you have to deal with as well. While there is no fee to open up an IRA, for instance, you will have to deal with a $35 annual fee to maintain the account. However, if you manage to get your assets up to more than $25,000, that fee is waived.
Penny stocks also incur some similarly small fees, which you should consider if you're contemplating going with Just2Trade. Stocks that cost less than a dollar have a tiny fee of $0.003 per share added for the whole order. While your commissions are not meant to exceed $5.50, they do require a minimum $2.50 commission.
What Kind of Trader is Just2Trade Best For?
Just2Trade's unlimited trades and low, low commissions and fees seem tailor made for the kind of investor who wants to watch the markets like a hawk, making numerous trades in order to always have a leg up on the market. If you're planning on being an active trader, Just2Trade's rates simply can't be beat.
At the same time, it seems as though there is a high learning curve for Just2Trade, making it counterintuitive for beginner investors to give them a shot. The high initial deposit of $2,500 can turn off traders who are just getting started, and the gaps in high-quality customer service make it hard for Just2Trade customers to get outside assistance.
Active traders should be wary, though, of Just2Trade's rudimentary website design and below-par research tools and platform. If you're an active trader who wants to make sure they can get the most out of their investments, you need the research and a smooth interface by which to do this. Just2Trade, despite their great fee structure, simply doesn't have that.
Newer investors hoping to educate themselves as they trade shouldn't pick Just2Trade: while they offered technical analysis education through Recognia, they ended that contract in 2012. As a result, traders must make sure they know the rules of the game before trading with Just2Trade.
Other Good Products
If you want some higher-end customer service to go with your investing solutions, it might be best to try Fidelity Investments. While their commissions and fees aren't quite as low as Just2Trade, their long-standing reputation as a bastion of customer service makes them a lot easier to work with, especially as a beginner investor.
For those traders who are more technologically minded, and want robust analysis software and trading platforms, TradeKing is another good option to consider. Their browser-based platform offers free screening tools, real-time data and advanced research that handily beats Just2Trade's.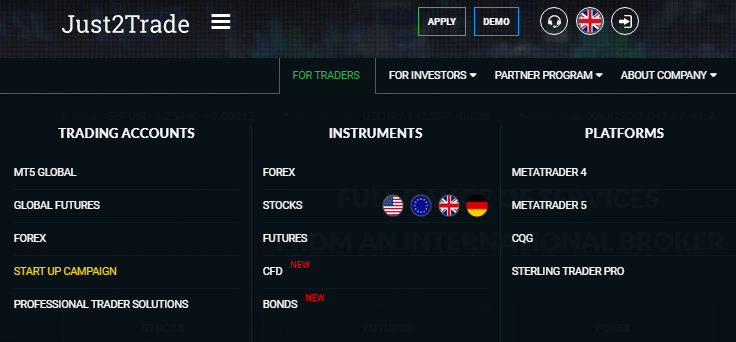 A Few Final Thoughts
The major impression you get with Just2Trade is a company that offers record-low trades at the expense of most everything else you might want out of an online brokerage firm. Given their restructuring and cutting down of features like Morningstar research, and their recent acquisition by WhoTrades in 2015, one gets the impression that Just2Trade is a discount broker in many fundamental ways.
Overall, though, Just2Trade's primary appeal is in their extremely low commissions and fees, and their unlimited trades. This approach is perfect for advanced investors who know what they're doing and want to be rewarded for watching the markets, but beginner traders should beware the learning curve. Without a strong customer service base to help you, it's easy to get lost.
Looking at Just2Trade on the whole, it's hard to argue with $2.50 commissions — it simply beats every other online broker out there. Just keep in mind the tradeoffs that were made to accomplish that, including lackluster platforms, no trader education, and some other basic features that usually come standard with these kinds of platforms.
Other investors discuss that the Just2Trade platform might be more suitable for experienced investors.
Risk Disclaimer
StockHax strives to provide unbiased and reliable information on cryptocurrency, finance, trading, and stocks. However, we cannot provide financial advice and urge users to do their own research and due diligence.
Read More