This website and its content are not intended to provide professional or financial advice. The views expressed here are based solely on the writer's opinion, research, and personal experience, and should not be taken as factual information. The author is not a financial advisor and lacks relevant certifications in that regard. We highly recommend consulting a qualified financial advisor before making any investment decisions, as the information presented on this site is general in nature and may not be tailored to individual needs or circumstances.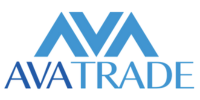 Worldwide licenses
Strong customer support
Wide range of investment products
Pros
AvaTrade offers intuitive trading platforms
Extensive educational resources are available, to understand different markets and the functioning of the platforms provided
Customer support is provided in different languages
AvaTrade is regulated in several countries
Cons
Withdrawal times may take up to 10 business days
Fees involved in account management can be considered high if compared to other online brokers
AvaTrade Highlights

| | |
| --- | --- |
| 💰 Account Minimum | $100 |
| 💸 Commission Fees | None for most instruments, $6 per lot for stocks and ETFs |
| 💼 Investment Options | CFDs on Forex, Stocks, Commodities, Indices, ETFs & Cryptocurrencies |
| 🤖 Robo-Advisor | Yes, DupliTrade and ZuluTrade |
| 📊 Research and Analysis | Market news, economic calendar, trading signals, sentiment analysis |
| 📱 Mobile App | Yes |
| 🏦 Retirement Accounts | No |
| 📈 Trading Platform | MetaTrader 4 and 5, WebTrader, AvaTradeGO app, AvaOptions app |
| 📞 Customer Service | 24/5 phone, chat and email support |
| 📚 Educational Resources | Trading Academy, webinars, eBooks, blog |
| 🌕 Fractional Shares | No |
| 🌱 Socially Responsible | Yes, ESG policy |
| 🌎 International Investing | Yes, over 150 countries |
| 💳 Cash Management | No |
| 🔍 Margin Trading | Yes, up to 1:30 leverage for retail clients and up to 1:400 for professional clients |
| ⚙️ Options Trading | Yes |
| ₿ Cryptocurrency Trading | Yes |
| 🛡️ Account Security | SSL encryption and segregated bank accounts |
| 💹 Leverage | Up to 1:30 for retail clients and up to 1:400 for professional clients |
| ⚖ Regulation | Licensed and regulated by a variety of global leading regulators |
AvaTrade has emerged as a valid online broker for its compliance and the variety of investment products offered. Safety and particular attention to customer service are the other two elements to mention when talking about this online broker.
In this article, we'll talk about the history of AvaTrade, the user experience, mobile app.
We'll focus also on the reputation of the broker, as well as on the investment options offered, security measures taken, and customer support, in order to give you all the information related to this globally available online broker.
AvaTrade Background and Company Information
AvaTrade was founded in 2006 in Dublin, Ireland, by Emanuel Kronitz, Negev Nosatzki and the financial company Clal Finance Ltd.
In its beginnings, the name of the company was AvaFX, with a strong focus on forex trading. Actually, the idea of the founders was to create a forex broker with a strong attention to customer experience.
In 2013, the name changed and the company was finally called AvaTrade.
This choice was in line with the expansion of the company, especially for what concerns investment options. The expansion of the company involved also a geographical expansion: as reported by World Finance, which interviewed the then CEO Emanuel Kronitz, AvaTrade had over 200,000 clients in 150 countries in 2012.
The company started its expansion in 2006, and today, under the management of the CEO Dáire Ferguson, the company has almost half million customers in over 150 countries, with a trading volume of over $70 billion per month.
The company has offices in Dublin (where it has its administrative headquarters), Milan, Sidney, Paris, and Tokyo. Other offices are in Chile, Malaysia, Mexico, Mongolia, Poland, South Africa, and Abu Dhabi.
Customers seem to be satisfied with the quality and trustworthiness of the online broker. If we look at customers' reviews on Trustpilot, AvaTrade has an outstanding 4.7 out of 5.
As reported by the official website of the broker, AvaTrade has won over 30 industry awards since 2009.
Moreover, the broker stands out for the number of licenses it has worldwide, which make AvaTrade a trustworthy and safe online broker. AvaTrade is regulated by: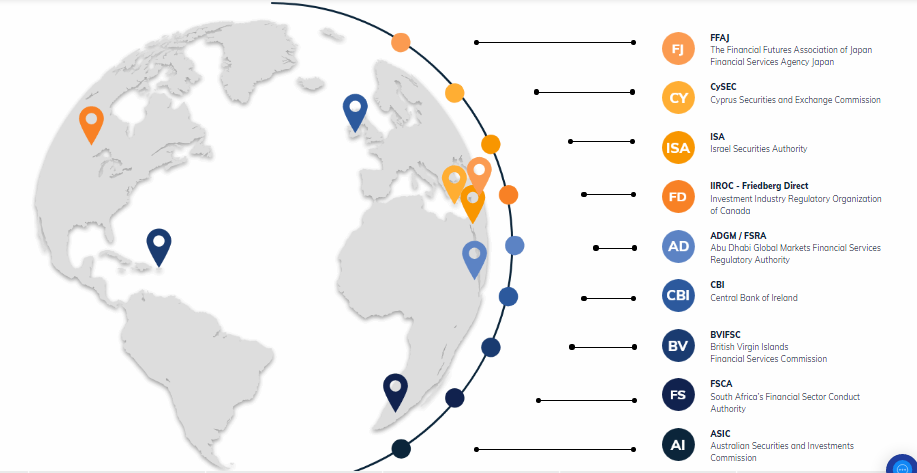 The Central Bank of Ireland,
The British Virgin Islands Financial Services Commission,
By the ASIC in Australia,
The FSCA in South Africa,
By the Financial Services Agency and the Financial Futures Association in Japan,
The Abu Dhabi Global Markets Financial Regulatory Services Authority,
The Cyprus SEC,
The Israel Securities Authority.
User Interface and User Experience
As mentioned, AvaTrade is focused on its customers, and this also means that it provides tools for trading that can be used by a wide variety of traders and investors.
Both beginners who look for intuitiveness and professionals who look for more complex tools can find the option that best fits their needs on AvaTrade.
The web browser trading experience is supported by an intuitive platform. As it occurs with many other online brokers, the web platform aims at giving tools to open buying and selling orders like bid and ask, market depth, price charts, and the capability to set orders of different complexity – from simple market orders to more advanced options that include elements like take profit and stop loss.
The trading platform's sidebar offers a way to fully control each account: deposits, history of trades, open positions, and orders are included, as well as the live chat.
Moreover, users can always look at what other members are doing, thanks to data on buying and selling orders, which could be useful to understand the sentiment surrounding a specific asset.
The mobile app offered by the broker has the same functionalities, but its design is different to better fit the needs of mobile trading experience.
Traders and investors can trade on mobile thanks to AvaTradeGo, which uses functionalities similar to MetaTrader 4. The mobile app was voted the best Forex Trading App at the Global Forex Awards in 2020.
The experience of users is further improved by the additional measures taken by the broker to protect funds.
The trading platforms offered – including the mobile app – are covered by AvaProtect. This product works as a sort of insurance, which can cover up to $1 million funds. Users can decide to protect their trades during a specific time frame they can choose, and everything is possible thanks to an upfront payment – which is calculated taking into account the risk involved in a specific trade, its level of volatility, and the amount of funds traded.
If the trade doesn't give the expected results, AvaTrade reimburses customers who chose this risk management tool.
Trading and Investment Options
As mentioned earlier in this article, AvaTrade was born to focus on Forex, but it expanded the number of investment options available over time.
Despite this, it is important to note that the investment options offered come in the form of CFDs – Contracts for Difference. This means that when you trade stocks or bonds you're trading them in the form of derivatives, and you don't own the underlying asset, but a derivative financial product whose price is based on a specific underlying asset.
With AvaTrade it's possible to trade:
Forex,
Bonds and Treasuries,
ETFs – Exchange Traded Funds,
Stocks,
Commodities,
Indices,
Cryptocurrencies,
Options.
All investment products are available thanks to different platforms and accounts.
We've already discussed AvaTradeGo and the web trading platform, and the fact that traders and investors can choose to insure their trades thanks to AvaProtect, but there are other features to analyze:
AvaTrade mainly relies on the use of MetaTrader, the popular trading platform integrated b y countless online brokers. AvaTrade uses the two popular versions of the platform – MetaTrader 4 and 5. This means that the online broker is able to offer dozens of indicators and graphic elements, as well as intuitive sign-in processes that work on every trading tool offered by AvaTrade.
Automated trading. Users can automate their trading activity in three different ways: Capitalise.ai, DupliTrade, and ZuluTrade. Capitalise.ai, as the name suggests, exploits artificial intelligence to analyze markets; DupliTrade is a different AvaTrade's trading platform that allows users to practice copy trading; ZuluTrade always allows for copy trading, but it is integrated with MetaTrader 4 and AvaTrade via API.
AvaTrade made available Islamic accounts. To open this type of account, users only need to send to the company the required documentation and fund their accounts. After this process, users will be able to trade according to Sharia Law. In particular, AvaTrade offers access to the Islamic halal trading of gold and silver, oil, indices, and forex.
AvaTrade also offers specific accounts for professionals – with higher accoutn limits, and forex accounts that allow users to trade over 50 currency pairs and forex options.
Another important feature of AvaTrade is that users can open demo accounts, in order to check all the functionalities of the broker and practice trading without using real funds.
Crypto Trading
When it comes to cryptocurrency trading, AvaTrade offers – as for most of its investment options – the opportunity to trade derivatives – based, in this case, on crypto assets.
So, you won't need a crypto wallet, like for instance the one offered by Robinhood, but you will be able to trade contracts based on different digital assets.
In fact, despite the opportunity to trade only derivatives, there is a large number of cryptocurrencies available on AvaTrade:
Bitcoin,
Bitcoin Gold,
Bitcoin Cash,
Ether,
EOS,
NEO,
Dash,
Chainlink,
Uniswap,
Litecoin,
Stellar,
Iota,
Shiba Inu,
Ripple,
Dogecoin,
Solana,
Polygon,
The Crypto10 Index, is based on Bitcoin, Ether, Binance Coin, Cardano, Solana, Dogecoin, Polkadot, Tron, Shiba, and Avalanche.
Safety and Security
AvaTrade takes all the necessary measures to keep the platforms, accounts and funds of users safe.
The broker uses encryption to protect users' data, and, as mentioned, insurance to protect funds.
The broker is regulated worldwide, forcing it to be safe and compliant in the countries where it operates.
Users can manage their trades thanks to AvaProtect, and decide when they want to protect them from losses or possible market downturns.
Users can activate AvaProtect seamlessly:
The first step is to open the web trading platform – WebTrader, or the mobile application – AvaTradeGO.
The protection is available for forex trading and trading involving certain commodities, so users need to choose one of the instruments that can benefit from additional protection.
Then, they can click on the AvaProtect icon. At this point, they need to select the duration of the protection. The standard protection time is 1 day or 2 days, but recently AvaTrade introduced shorter time frames for selected forex pairs – 1 hour, 3 hours, 6 hours, or 12 hours. Once they choose, they will see the fee they need to pay to activate the protection and the expiration date.
Now, they can complete the trade.
Customer Support and Education
Customer support represents one more demonstration of AvaTrade's focus on customers.
First off, the broker offers extensive educational tools: each investment option is offered with a detailed explanation of how a specific asset works, and information about its market of reference.

The broker also offers courses and tutorials for beginners, to understand the different platforms, technical analysis, different order types and trading strategies, as well as the most common market terms.
Customer support is provided via phone call, live chat, request form, WhatsApp. Support is offered in different languages, and also phone numbers are provided according to specific regions and cities.
Fees
Fees charged by AvaTrade can be divided into two groups: fees related to the trading activity of users, and fees charged for administrative reasons.
The latter represents an element that users often consider as a disadvantage of the broker.
Fees Breakdown
Fees related to trading are charged as the buy/sell difference – that is, the Bid/Ask spread.
So, every time users open a position, this fee is already included. Fees charged differ according to assets, and if users want more specific information before opening an order they need to login and look at the information section associated with each asset.
The other types of fees charged are associated with the management of each account:
Overnight fee: this fee is charged on positions that remain open after 10 p.m. GMT. The fee can change according to the asset.
Inactivity fee: inactivity fees are charged by AvaTrade when an account remains inactive for three consecutive months. The fee amounts to $50, which is high when compared to other online brokers – which don't charge any inactivity fee in most cases.
Administration fee: this fee is charged if an account remains inactive for 12 consecutive months, and it amounts to $100.
Conclusion
AvaTrade has been able to stand out in the brokerage market as a safe and fully regulated environment.
Users appreciate the focus on customers, via the additional means to protect funds, the availability of a wide range of investment products, and customer service available in different languages.
The broker has a strong international vocation, and its offices are distributed around the world, as well as the licenses it has are provided by different financial authorities worldwide.
Nevertheless, users find some disadvantages. For example, withdrawals can take several days to be processed, and administration fees can result to be too high.
Overall, AvaTrade is a valid and strong online broker, able to meet the needs of different types of traders also thanks to the different trading platforms and accounts provided.
FAQ
Is AvaTrade regulated?
Yes, AvaTrade is a regulated online broker and the number of licenses it acquired over time makes it stand out in the market.
Being a broker with a global vocation, AvaTrade is regulated in different countries: Ireland, British Virgin Islands, Australia, South Africa, Japan, Abu Dhabi, Cyprus, and Israel.
Is AvaTrade Safe?
Yes. The broker encrypts users' data to guarantee safety, and it also protects funds also by providing individual risk management tools. In particular, AvaProtect allows traders to protect their trades over a specific time frame.
Moreover, the licenses it acquired force the broker to keep the security standards imposed by national authorities worldwide.
How long do withdrawals take in AvaTrade?
Withdrawals on AvaTrade are processed within 24-48 hours since the moment of the request. Nevertheless, it may take up to 8 days to fully complete the process, and up to 10 business days to get your funds.
What is the minimum deposit amount for AvaTrade?
The minimum deposit amount required by AvaTrade is $100. Nevertheless, it might be higher for different types of trading. For instance, users need to deposit at least $2000 to use DupliTrade.
Risk Disclaimer
StockHax strives to provide unbiased and reliable information on cryptocurrency, finance, trading, and stocks. However, we cannot provide financial advice and urge users to do their own research and due diligence.
Read More