This website and its content are not intended to provide professional or financial advice. The views expressed here are based solely on the writer's opinion, research, and personal experience, and should not be taken as factual information. The author is not a financial advisor and lacks relevant certifications in that regard. We highly recommend consulting a qualified financial advisor before making any investment decisions, as the information presented on this site is general in nature and may not be tailored to individual needs or circumstances.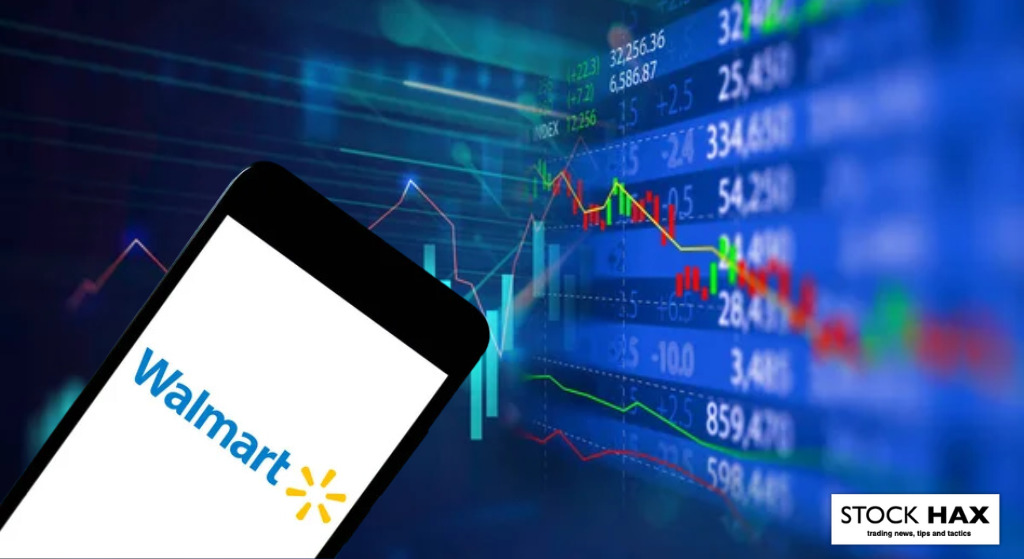 Walmart Inc. is a retail and wholesale business known for its extensive range of products and commitment to offering competitive prices. The company operates through three business segments: Walmart U.S., Walmart International, and Sam's Club. The U.S. segment operates under the Walmart, Wal-Mart, and Walmart Neighborhood Market brands, as well as walmart.com and other eCommerce brands. The International segment manages supercenters, supermarkets, hypermarkets, warehouse clubs, and cash and carry outside of the United States. The Sam's Club segment consists of membership-only warehouse clubs and samsclubs.com. Walmart was founded by Samuel Moore Walton and James Lawrence Walton in 1945 and is headquartered in Bentonville, Arkansas.
Walmart Stock Key Features
Large Product Selection: Walmart's extensive range of products is one of its key strengths. The array of products offered by Walmart is vast and caters to nearly all aspects of consumer needs. This wide selection, from essentials like groceries and household items, to luxury items like high-end electronics and designer clothing, ensures customers can find almost anything they need in a single visit or online order. The expansive selection is also a testament to the strong relationships Walmart maintains with thousands of suppliers around the world. In essence, it is a concrete result of their efficient and far-reaching supply chain, which can source products from around the globe to meet local market needs. This advantage cannot be overstated as it allows customers to save time, money, and effort by shopping at a single destination.
Everyday Low Prices: Walmart's commitment to offering competitive prices is a cornerstone of its business strategy. The company's "Everyday Low Prices" policy is designed to provide customers with affordable options across all product categories. Additionally, Walmart's ad match policy further enhances the company's competitive advantage. By offering to match the lower price on any identical product found in a local competitor's advertisement, Walmart sends a strong message to its customers that it is committed to offering them the best value at all times. This leaves Walmart as the go-to destination for countless bargain shoppers. Instilling a valuable and loyal customer base.
Pharmacy and Health Services: Walmart's in-store pharmacies offer a convenient solution for customers' health needs. Customers can fill prescriptions, purchase over-the-counter medications, and access a variety of health services, all under one roof. In addition, select Walmart stores offer vision centers for eye care needs and wellness clinics that provide basic health services. These offerings underscore Walmart's commitment to making healthcare more accessible and affordable for its customers.
Walmart App: The company's mobile application is a versatile tool that not only enhances the shopping experience but also adds layers of convenience and value. With features such as online shopping, product browsing, store locator, and shopping lists, it transforms the way customers shop by adding an element of digital ease. Particularly noteworthy is its ability to let customers order groceries for pickup or delivery – a feature that has grown increasingly important in recent years, considering the growing preference for contactless shopping options. Moreover, by offering exclusive deals and discounts, the app adds an additional layer of value and savings for customers.
Online Shopping and Delivery: In response to the growing trend of online shopping, Walmart's strong e-commerce platform and delivery services have become a key facet of the company's operations, allowing customers to shop from the comfort of their homes. Their vast selection of products can be browsed online and delivered directly to customers' doorsteps, a testament to Walmart's adaptability in response to evolving consumer behaviors. As part of this effort, Walmart has invested heavily in its online infrastructure and delivery logistics, ensuring that it can meet high demand levels while maintaining its commitment to fast, reliable service.
Walmart Stock Over the Years – Review
Over the past five years, Walmart's stock has demonstrated a consistent upward trend, primarily driven by the company's robust fundamentals and strategic growth initiatives. The stock experienced a significant surge in 2020 due to increased demand during the COVID-19 pandemic. Despite some volatility, particularly in 2021 due to market uncertainties, Walmart has managed to maintain its growth trajectory. The company's focus on e-commerce and digital transformation has also played a crucial role in its stock performance. Overall, Walmart's stock has shown resilience and steady growth, making it a stable performer in the retail sector.
Walmart Stock in 2023
In the current year, 2023, Walmart commenced trading at $142.55. Despite reaching an intraday high of $154.35 by mid-May, it had previously dipped to $136.11 in mid-March, a 4.51% slide from the yearly open. From this point, the stock has been wavering, with an appreciable rebound to its present high. The trajectory indicates volatility, yet retains promise for the second half of the year.
Walmart Stock in 2022
2022 saw Walmart open at $144.00, modestly down from the prior year. The stock soon hit its peak of $160.70 in late April, a commendable 11.6% surge from the opening. However, a steep decline ensued, plummeting to $117.27, a staggering 18.55% fall from its yearly high. After a turbulent year, the stock eventually closed at $141.79, reflecting a 1.52% decline from the year's start.
Walmart Stock in 2021
Starting at $144.30 in 2021, Walmart's performance echoed the bullish momentum from 2020. It swiftly reached its yearly high of $152.56 in mid-August, a slight but noteworthy 5.44% jump from the opening. Post this spike, the stock experienced a dip, hitting $126.28 in early March, a significant 18.22% drop from its high. Despite this setback, it rallied back to close at $144.69, a modest 0.28% increase from the opening price.
Walmart Stock in 2020
In 2020, Walmart kicked off the year at $118.86, a hefty 29.76% climb from 2019. Following the COVID pandemic, the stock plummeted over 32.52% from its peak to a low of $102.00 in mid-March. Yet, the stock then embarked on an astonishing rally, touching $151.33 by early September, marking an impressive 27.33% hike from the opening. The stock concluded the year at $144.15, a solid 21.36% leap from its year's beginning.
Walmart Stock in 2019
Opening the year at $91.64 in 2019, Walmart stock displayed a remarkable upturn, closing at $118.84, a significant 29.69% rise. In mid-November, it touched its yearly high at $125.38, a hefty 36.81% surge from its opening. The stock's yearly low was at its initial opening price, demonstrating the impressive overall growth across the year.
There are many ways to acquire Walmart shares, each with unique opportunities. You can opt for obtaining individual shares for direct ownership, or put money into in mutual funds or ETFs where you'll receive exposure to a diversified portfolio. Crowdfunding platforms also exist, which allow you and others pool together resources. Additionally, if you're more experienced, you can consider derivative instruments like options and futures, or direct share purchase plans (DSPPs) for a more hands-on approach. Each method comes with its unique facets and risks, necessitating due diligence.
As an online brokerage, eToro offers a smooth, user-friendly interface with a wide array possibilities to add Walmart shares to your portfolio.
Purchasing Walmart shares isn't limited to a single platform or broker. It's essential to keep in mind factors like fees, taxes, and available investment tools. For our illustration, we'll be using eToro.
Step 1: Open an Account
Kickstart your trading journey by navigating to eToro's website and clicking on the Sign-up option. The registration page quickly surfaces, prompting you to fill in your name, email, and a password. Alternatively, you could use your Facebook or Google accounts to expedite the process.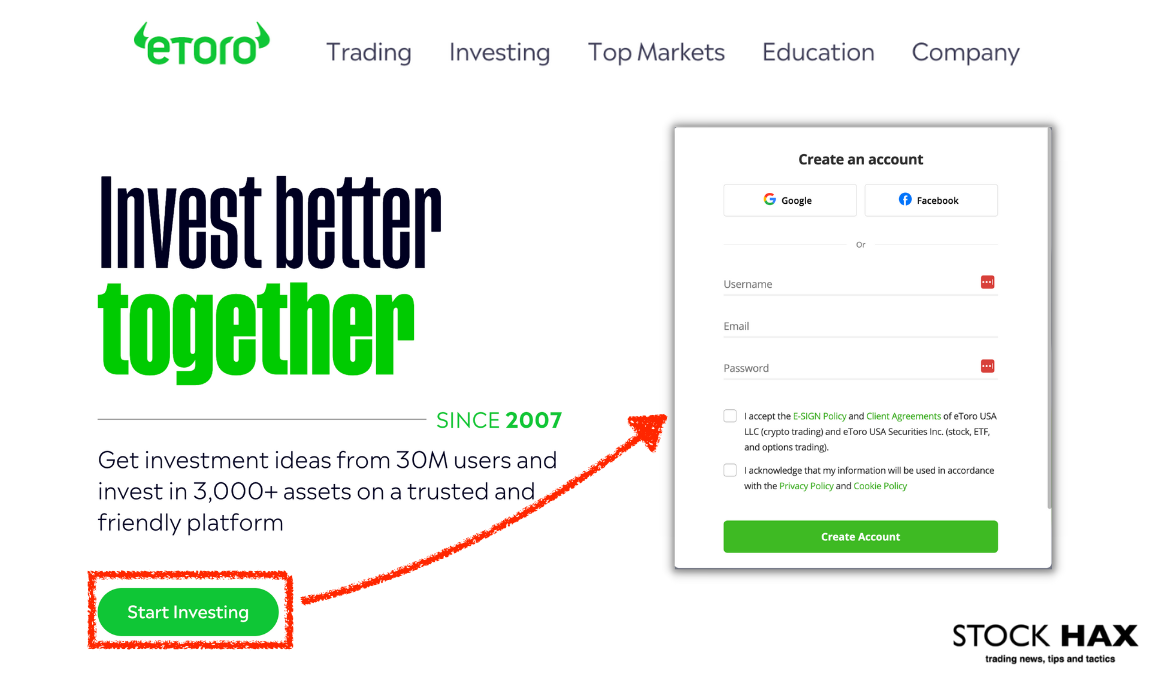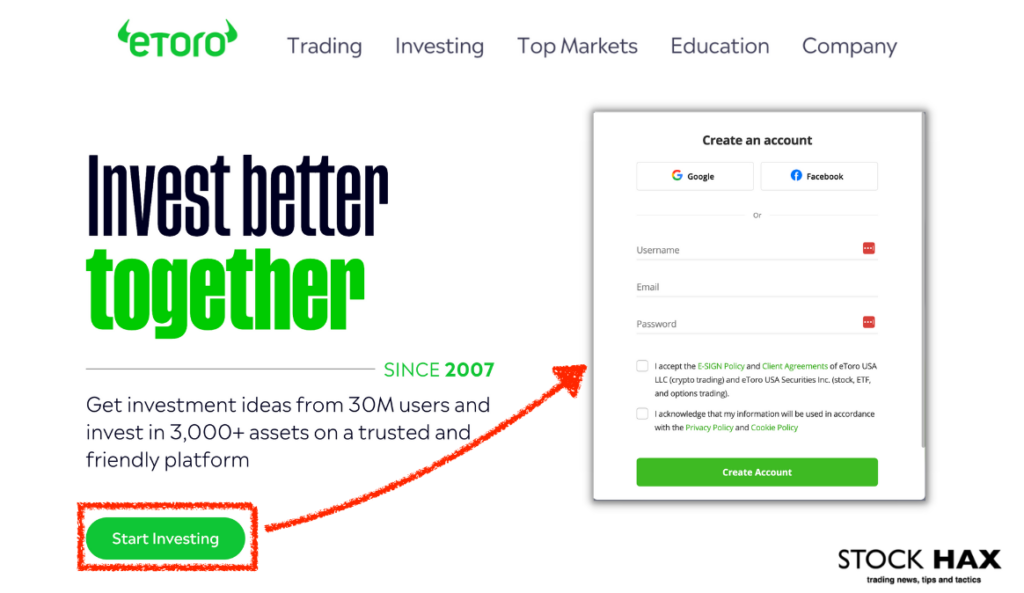 Step 2: Upload ID
Following registration, you'll need to verify your identity by uploading your proof of identity (POI) and proof of address (POA). Your POI can be your ID card, passport, or driver's license, and the POA should have your name, address, and date, issued within the last three months.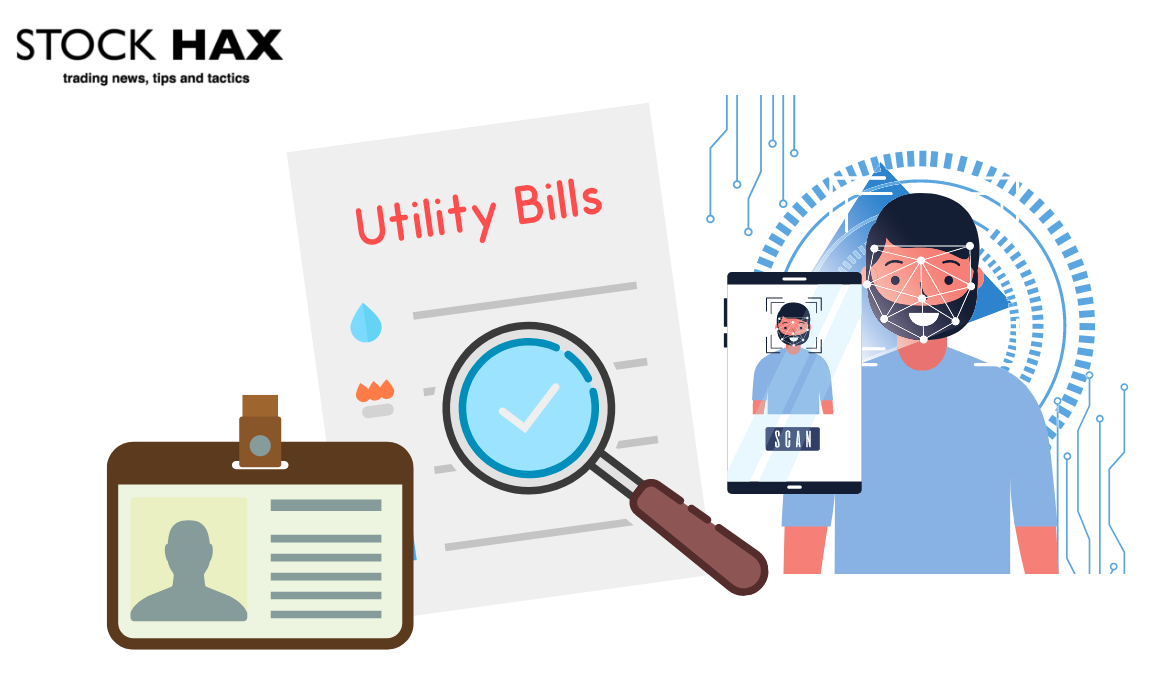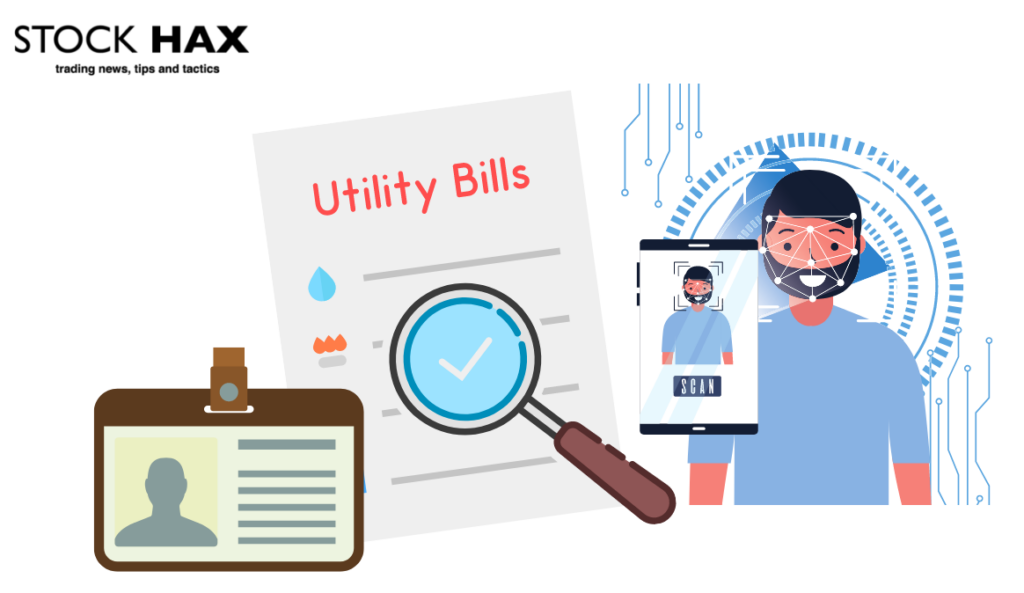 Step 3: Make a Deposit
After account verification, proceed to fund your account. Access eToro's menu and click on the Deposit Funds option. Here, you can select the amount you wish to allocate to Walmart shares, your currency preference, and the payment method.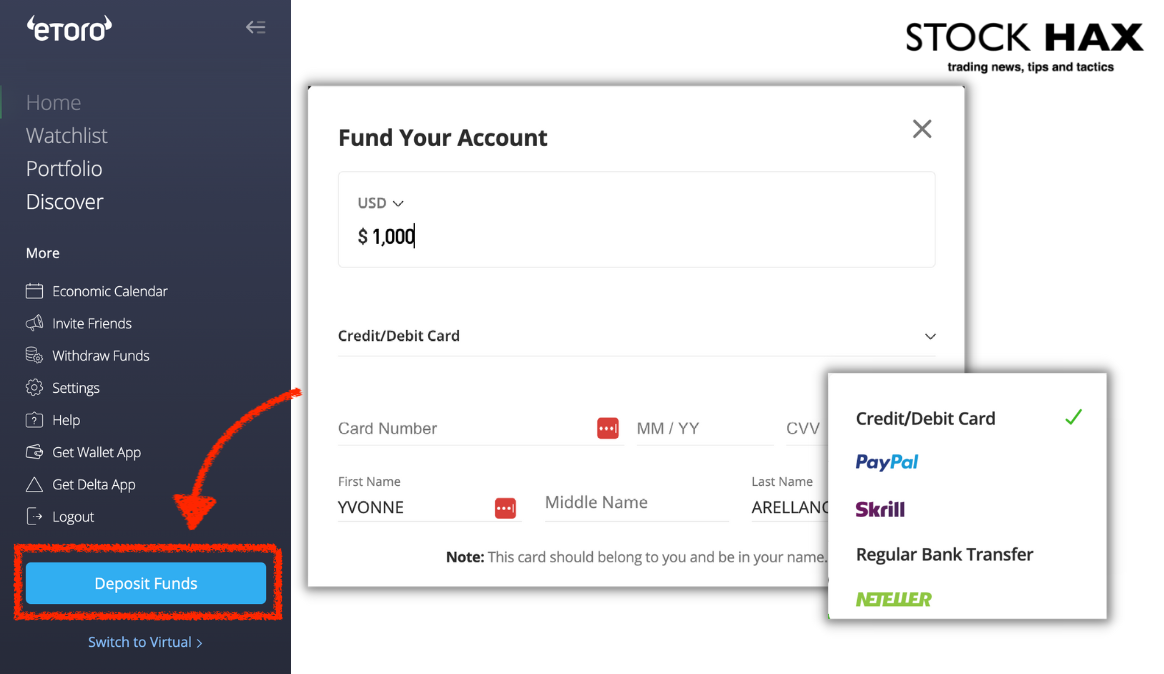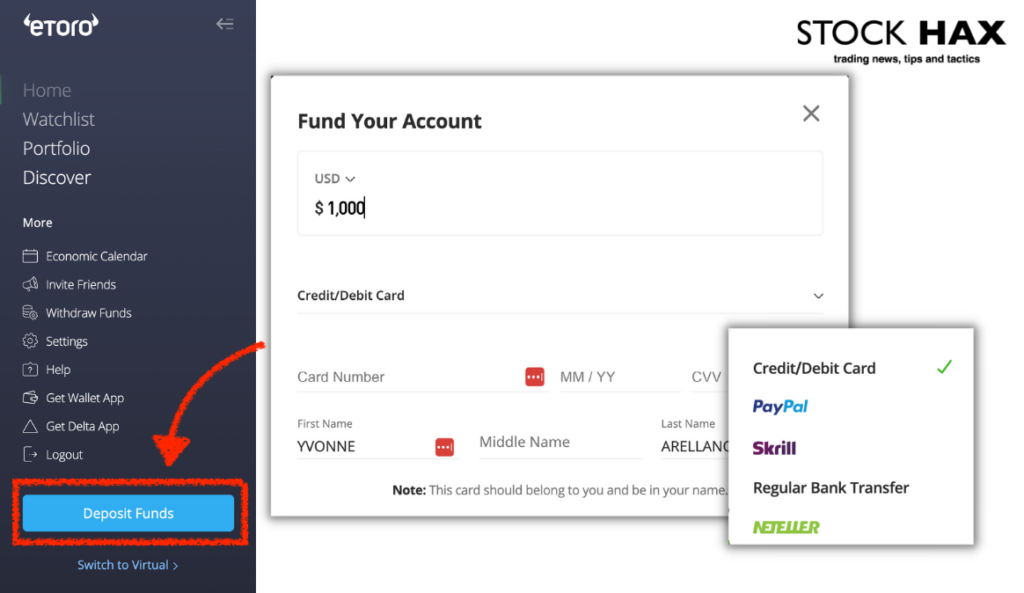 Step 4: Search for Walmart
To find Walmart shares, input 'Walmart' in the search bar. If you don't recall the ticker symbol, simply key in the initial letters and eToro's intuitive platform will display the most relevant results.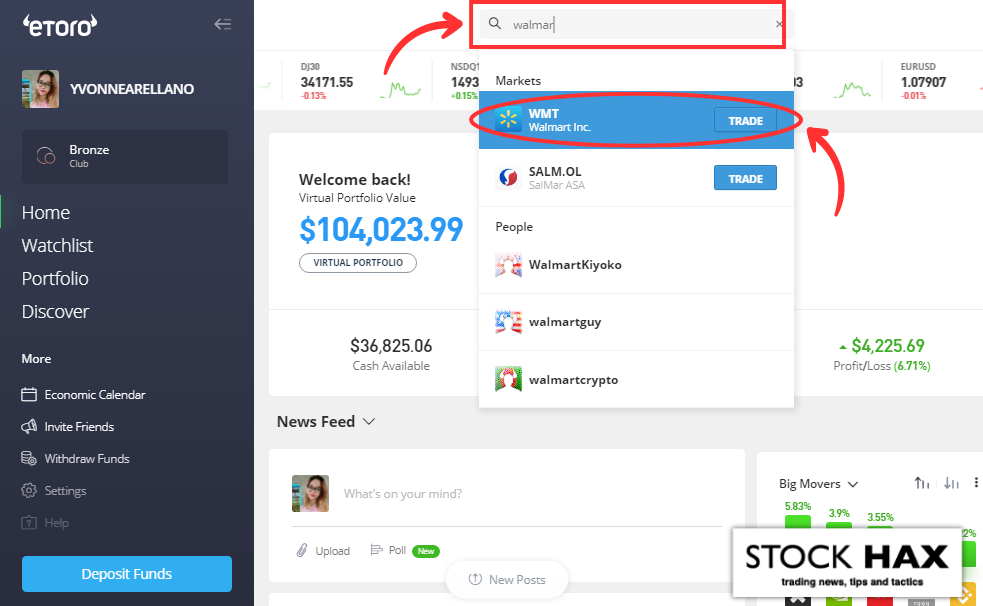 Step 5: Pick Walmart
With Walmart now in sight, adding it to your portfolio via eToro is straightforward. Click on 'Trade', decide on the amount you want to spend or the number of Walmart shares you wish to purchase. Once the transaction is done, your newly acquired shares will appear in your portfolio.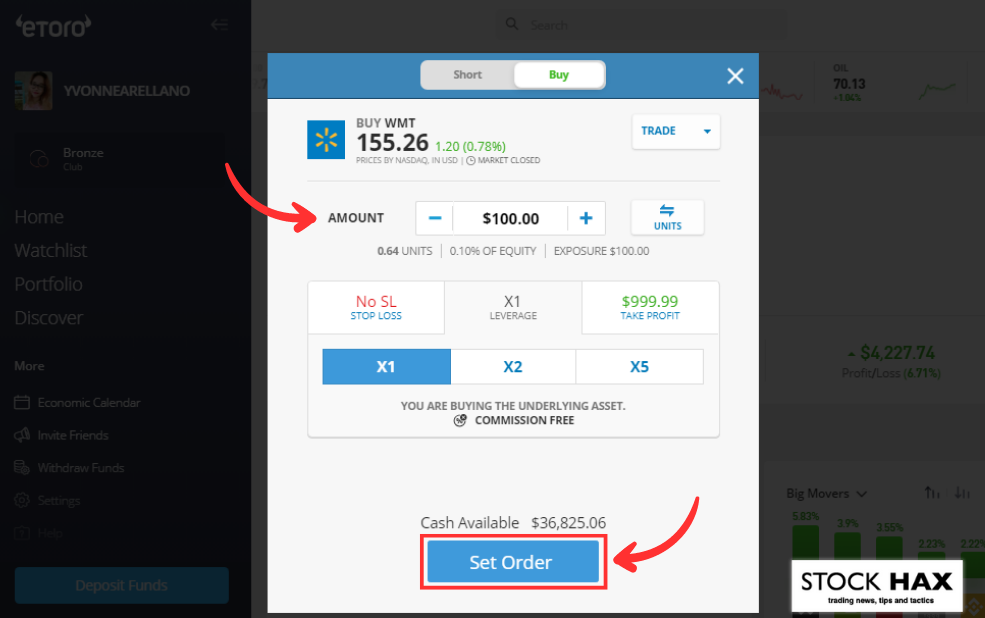 Summary
Walmart Inc. distinguishes itself in retail with an extensive product range, competitive prices, comprehensive health services, and a strong online presence. Its shares have consistently grown over the past five years, underpinned by sturdy business fundamentals and growth strategies. Adding Walmart shares to your portfolio is straightforward on platforms like eToro: sign up, verify your identity, fund your account, search for Walmart shares, and then select. This process offers an opportunity to participate in the growth trajectory of one of the world's largest retail companies, right from the comfort of your home.
FAQ
How much is Walmart stock?
As June 16, 2023's market close, the price of Walmart's stock was $155.53. However, this figure will vary over time due to market fluctuations. For the most up-to-date information, please refer to a reliable financial news source or a stock market platform.
Does Walmart offer a dividend for its stockholders?
Yes, Walmart has a long-standing history of paying dividends to its stockholders. As of June 9, 2023, the current trailing twelve-month (TTM) dividend payout for Walmart (WMT) is $2.28 per share, and the dividend yield stands at 1.49%. However, please note that dividends can be subject to change based on the company's financial health and board decisions. For the most recent dividend information, you should check the investor relations section on Walmart's official website or reliable financial news sources.
What factors have influenced Walmart's stock performance?
Walmart's stock performance over the years has been shaped by several factors, including its solid fundamentals, strategic growth initiatives, and the overall state of the economy. Notably, the COVID-19 pandemic caused a significant upswing in 2020 due to increased consumer demand for essentials. Even with market uncertainties in the following years, Walmart demonstrated resilience by sustaining its growth trajectory, primarily due to its emphasis on e-commerce and digital innovation. Nonetheless, like any stock, Walmart's performance can be affected by various macroeconomic indicators, industry trends, and company-specific news and events.
How has Walmart's stock performed over the past year?
Over the past year, which is halfway through 2023, Walmart's stock has seen some volatility. It opened the year at $142.55, which was slightly lower compared to the opening price of $144.00 in 2022. By mid-March, it had hit a low of $136.11, a 4.51% decline from the opening. However, the stock rebounded and reached an intraday high of $154.35 by mid-May, reflecting an 8.27% increase from its opening. As June 16, 2023's market close, the price of Walmart's stock was $155.53.
How can I acquire Walmart's stock?
You have a lot of ways to acquire Walmart shares, including trading individual stocks for direct ownership, putting money in mutual funds or ETFs, crowdfunding platforms, derivative instruments like options and futures, or direct share purchase plans (DSPPs). For example, using a platform like eToro, you can open an account, verify your identity, fund your account, search for Walmart shares, and pick the stock. It's essential to keep in mind factors like fees, taxes, and available tools. Always remember, stocks involve risks, and you should only spend money that you can afford to lose. If you're new to stocks, you might find it helpful to speak with a financial advisor.
Risk Disclaimer
StockHax strives to provide unbiased and reliable information on cryptocurrency, finance, trading, and stocks. However, we cannot provide financial advice and urge users to do their own research and due diligence.
Read More