This website and its content are not intended to provide professional or financial advice. The views expressed here are based solely on the writer's opinion, research, and personal experience, and should not be taken as factual information. The author is not a financial advisor and lacks relevant certifications in that regard. We highly recommend consulting a qualified financial advisor before making any investment decisions, as the information presented on this site is general in nature and may not be tailored to individual needs or circumstances.
Sasol, founded in 1950 and headquartered in Johannesburg, South Africa, is a global integrated energy and chemicals corporation.
With such a long history, the company has established itself as a prominent player in the production of liquid fuels, chemicals, and low-carbon electricity. It is known for its proprietary Fischer-Tropsch technology and commitment to sustainable practices in its operations.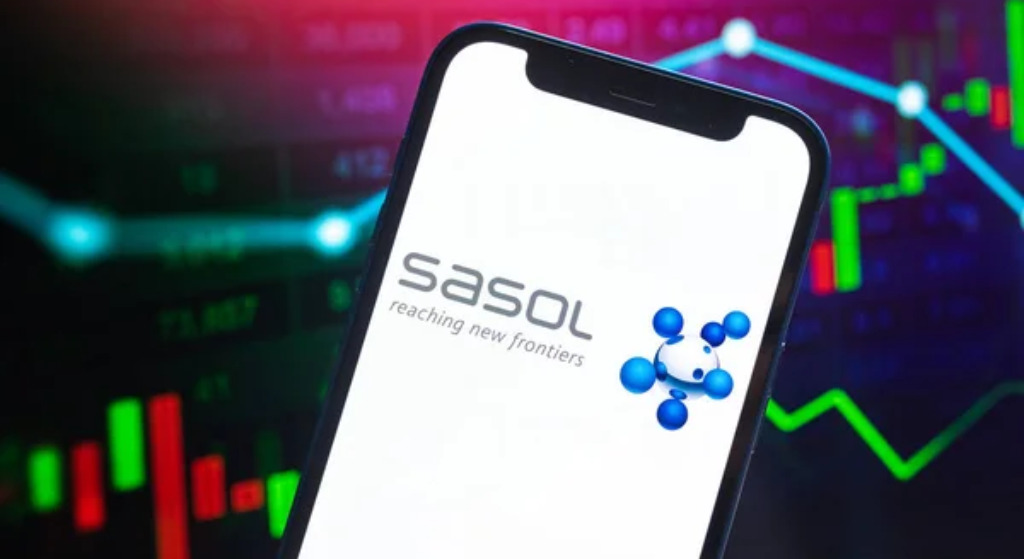 Sasol initially had its stock listed on the Johannesburg Stock Exchange in 1979 under the ticker symbol "JSE", but it later obtained a secondary ADR (American Depository Receipts) listing on the New York Stock Exchange (NYSE) in 2003, expanding its reach to international investors. Its ADR shares are trading under the ticker symbol "SSL".
In this post, we're going to show you how you can buy SSL. But we also want to first give you some important information regarding the stock's features and a historical price overview.
Let's get started…
Sasol Stock Key Features
To understand what investors invest in when they buy SSL, it's always a good idea to examine the business status of the company. To that end, the following list is a good starting point to familiarize yourself with Sasol:
Sasol has a global presence, with operations and projects in various countries across the world. Its international footprint allows the company to access diverse markets, leverage regional advantages, and mitigate risk through geographical diversification.

The company is also known for its proprietary Fischer-Tropsch technology, which enables the conversion of coal, natural gas, and other carbon-based feedstocks into a range of high-value products. This technology provides a competitive advantage and supports its diverse product portfolio.
Sasol operates as an integrated energy and chemicals business, involved in the production of a wide range of products, including liquid fuels, chemicals, and electricity. This integration allows for synergies and optimization across its various business segments.
Additionally, it emphasizes research and development to drive innovation and enhance its product offerings. More specifically, it invests in R&D to improve existing technologies, develop new processes, and explore emerging opportunities in the energy and chemicals sector.
Sustainability is a key focus for the company as it strives to operate in an environmentally responsible manner. It has initiatives in place to reduce greenhouse gas emissions, increase energy efficiency, and promote the use of renewable energy sources in its operations.
SSL Stock Over the Years – Review
Now, we'll take a look at how the price behaved in the last couple of years, starting from the most recent one.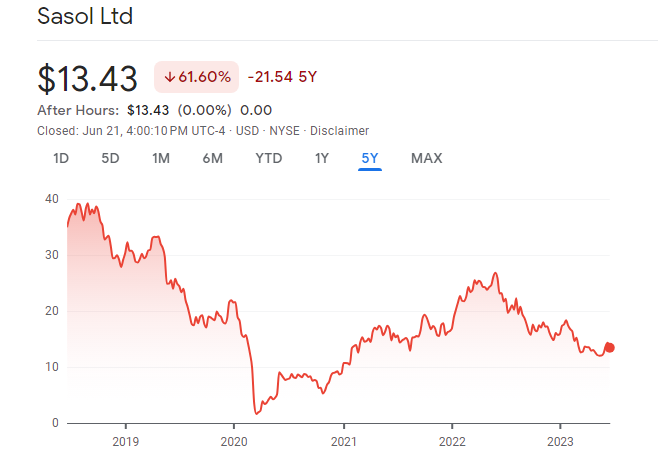 Generally, the stock has been very volatile as it seems to be the focus of a high number of traders. It's reasonable to assume that some fundamental changes regarding the company like partnerships, stock offerings, and financial reports play an important role in the long-term performance (1 year or more).
So, we'll first see how the stock price moved each year and then follow up with some key events that may have been related to investor sentiment and in that way, indirectly related to the stock price behavior.
SSL Stock in 2023
SSL decreased by 8.91%, YTD. Let's see some key events that could have something to do with the drop…
Jan. 24: Shares surged by 5.1% during midday trading on Tuesday following the release of the company's financial results for the six-month period ending on December 30, 2022.

Feb. 07: The stock price declined by 7.4% following the company's announcement that it anticipated reporting mixed results for H1 2023. The impact of stronger oil prices, improved refining margins, and a favorable foreign exchange rate was offset by weaker global economic growth, lower chemical prices, and increased costs.
SSL Stock in 2022
For 2022, the stock price was down overall again, but only 4.21%.
Jan. 25: The shares experienced a surge of 7.2% and reached a 52-week high following the company's report of a 31% increase in H1 revenue for FY 2022. The revenue rose to $4.86 billion from $3.7 billion in the year-ago period. This growth was attributed to higher crude oil prices, improved refining margins, and increased chemicals prices, driven by heightened demand as COVID-19 lockdown restrictions eased.
Feb. 08: The stock price declined by 0.8% as the company announced its expectation of reporting a mixed performance for H1 2022. The positive impact of improved Brent crude oil prices, refining margins, and chemical prices on margins is expected to be partially offset by operational challenges in South Africa, leading to lower production levels.
Aug. 22: Sasol expressed concerns about the potential impact of proposed carbon taxes in South Africa, citing them as a "significant risk" to its business. The company cautioned that these taxes could lead to a reduction in its operations and hinder its green initiatives.
Sep. 01: The company announced that it has reached a settlement agreement to pay $24 million in order to resolve a class-action lawsuit filed by U.S. investors. The investors had alleged that Sasol intentionally misrepresented the cost of its Lake Charles, Louisiana, chemical plant project. This settlement brings an end to the two-year legal battle between Sasol and the investors.
Nov. 01: Shares were down by 7.25% in premarket trading as the company, through its unit Sasol Financing USA, announced the launch of a $750 million offering for guaranteed senior unsecured convertible bonds, set to mature in 2027.
Dec. 01: SSL experienced an 8.5% decline following the company's warning about challenges at its Secunda operations impacting coal and fuel production and sales volume.
SSL Stock in 2021
2021 seems to have been a decent year for the stock price as it increased by 85.1%.
Jan. 29: Sasol anticipated that its earnings per share (EPS) for the second half of the year (1H2) would be in the range of R22.76 to R24.07, reflecting a significant increase of over 100% compared to the previous year. The company also expected headline EPS to be between R18.59 and R19.78, representing a more than 100% year-on-year increase.
Apr. 14: Sasol and Toyota Motor joined forces in a collaborative effort to explore the development of a green hydrogen mobility ecosystem in South Africa.
May 14: The company has entered into an agreement to divest a 30% stake in the Republic of Mozambique Pipeline Investments Co. for a total consideration of up to 5.145 billion South African rands ($364 million). The stake would be sold to a consortium of investment firms based in Africa.
Investing in Sasol shares is a straightforward procedure. To get started, you'll require either a brokerage account or a bank account that facilitates stock trading and grants access to SSL. If you don't possess either of these, you can easily register for a brokerage account online. Well-established brokers include Charles Schwab, Interactive Brokers, Fidelity, and eToro.
If you don't currently have a broker, we recommend eToro, as it offers a user-friendly platform that caters well to novice traders. This broker not only provides stocks but also presents a diverse array of investment options, including CFDs, forex, commodities, cryptocurrencies, and ETFs.
Now, let's guide you through the process of creating an account on eToro and acquiring SSL shares.
The process of purchasing stocks follows a more or less similar pattern across various brokerage platforms. Whether you opt for eToro or not, the subsequent steps will provide you with a general understanding of the actions required to progress from creating an account to adding the desired shares to your investment portfolio.
Step 1: Open an Account
To get started, head over to the eToro website and locate the "Sign-up" button. Clicking on this button will redirect you to the registration page, where you will be asked to enter personal details such as your name, email address, and a password. Alternatively, you have the option to create a profile by linking your existing Facebook or Google accounts.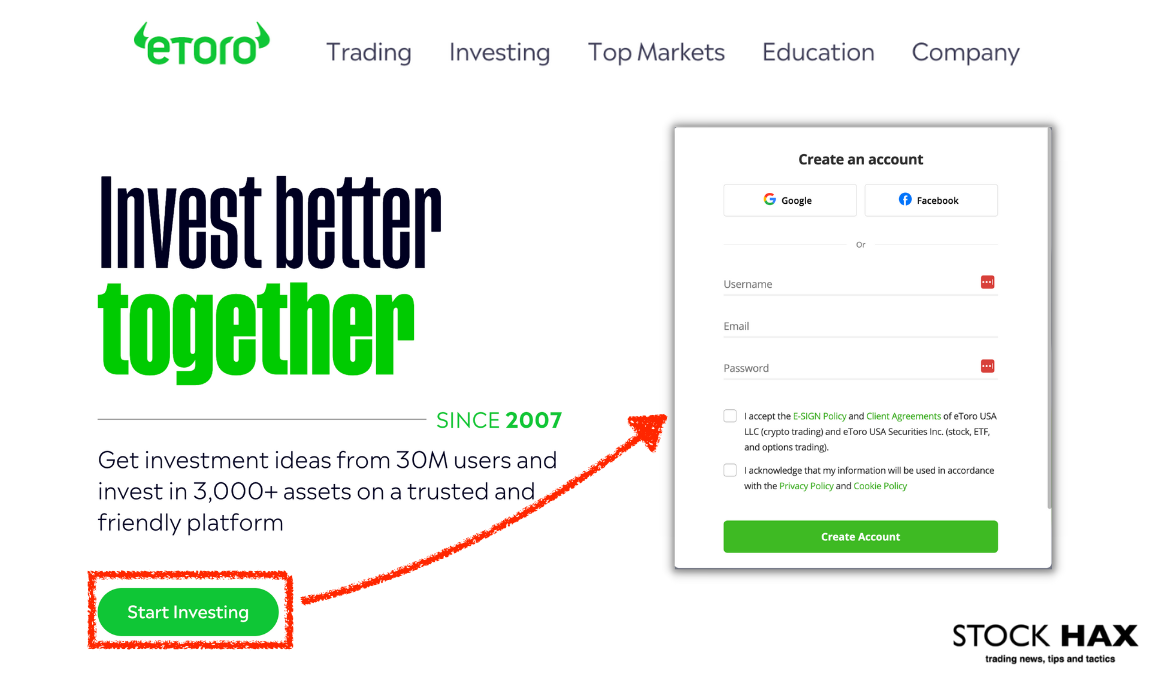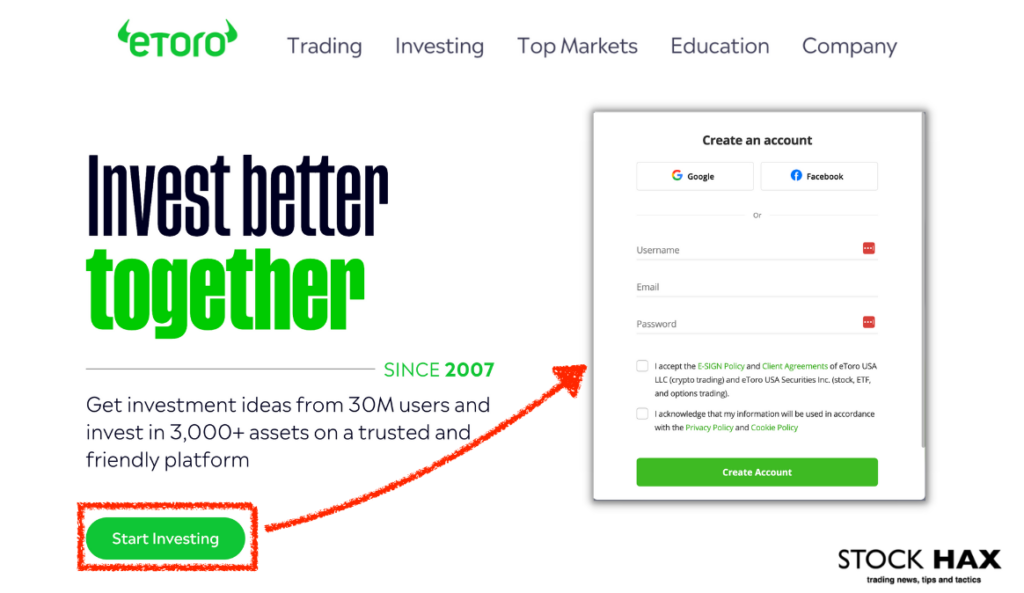 Step 2: Upload ID
Afterward, you will need to complete an identity verification procedure. This entails providing proof of identity (POI) and proof of address (POA) documents. Acceptable forms of POI include passports, ID cards, and driver's licenses. The POA document should feature your complete name and address, with a recent issuance date, preferably within the past three months.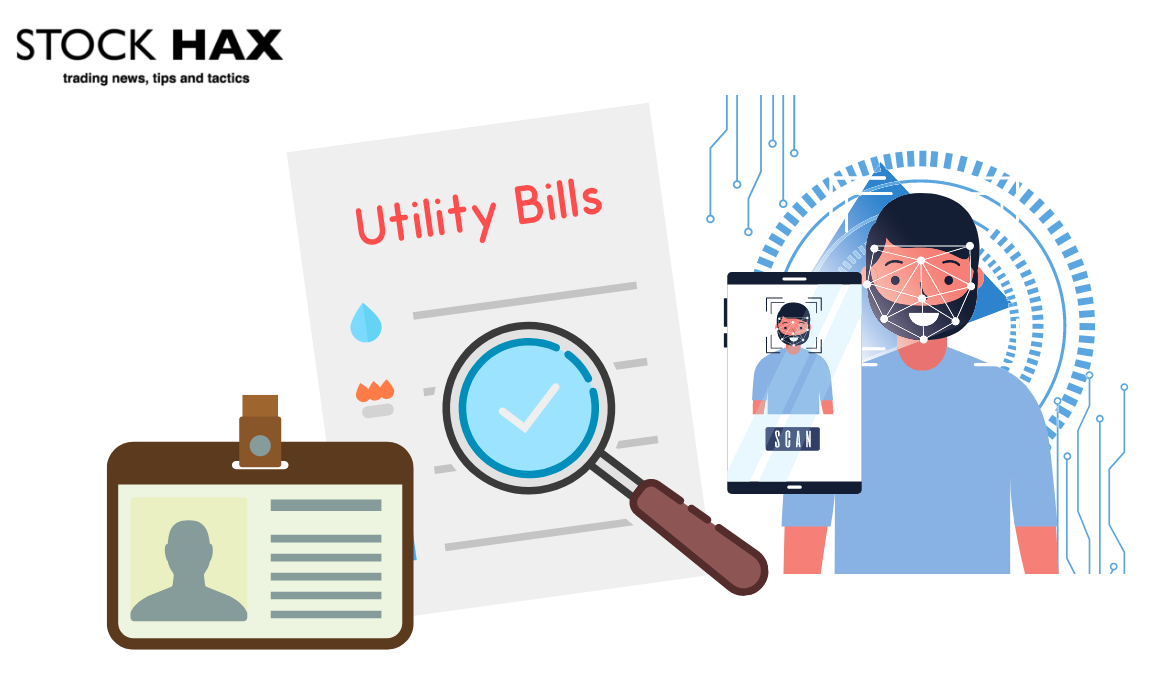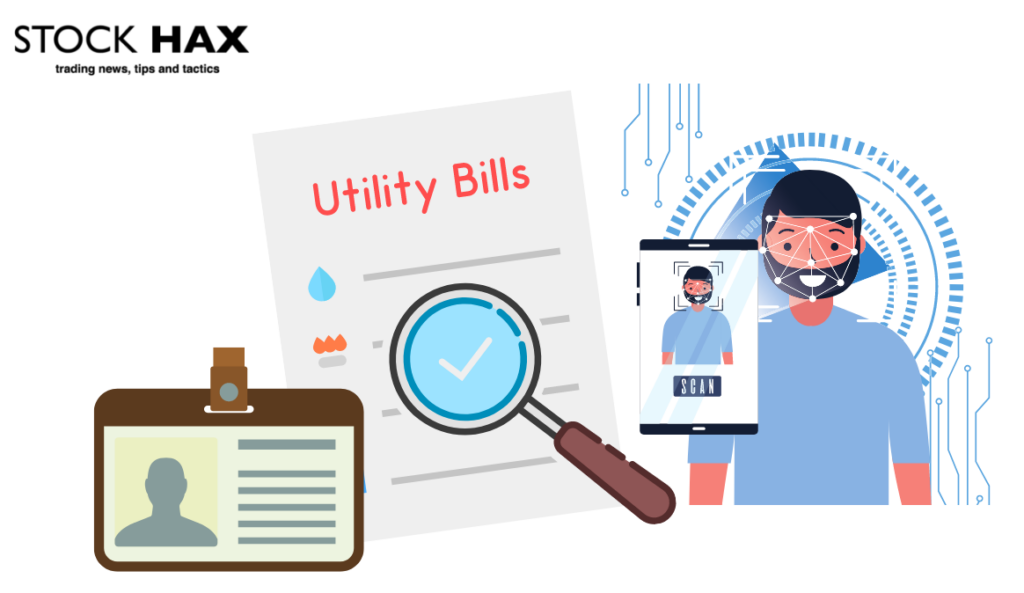 Step 3: Make a Deposit
Once you have successfully completed the verification process for your account, the next step is to fund your eToro account. Navigate to the menu within eToro's platform and locate the "Deposit Funds" button. Clicking on this button will enable you to specify the desired investment amount for SSL, choose the currency, and select your preferred payment method.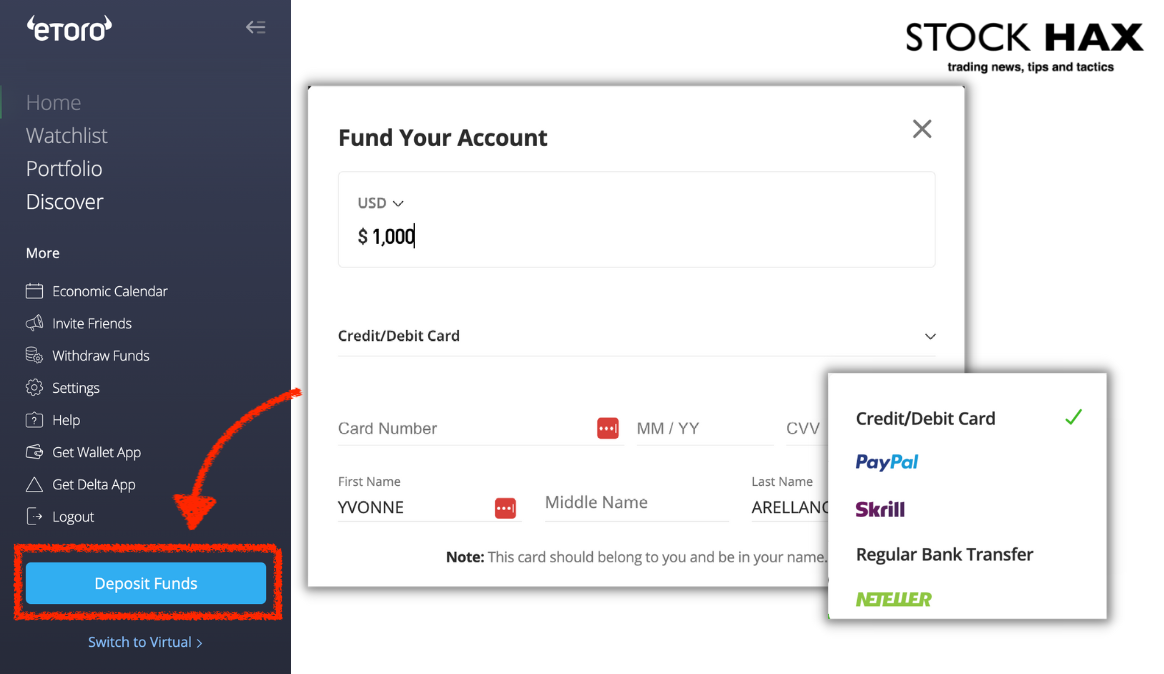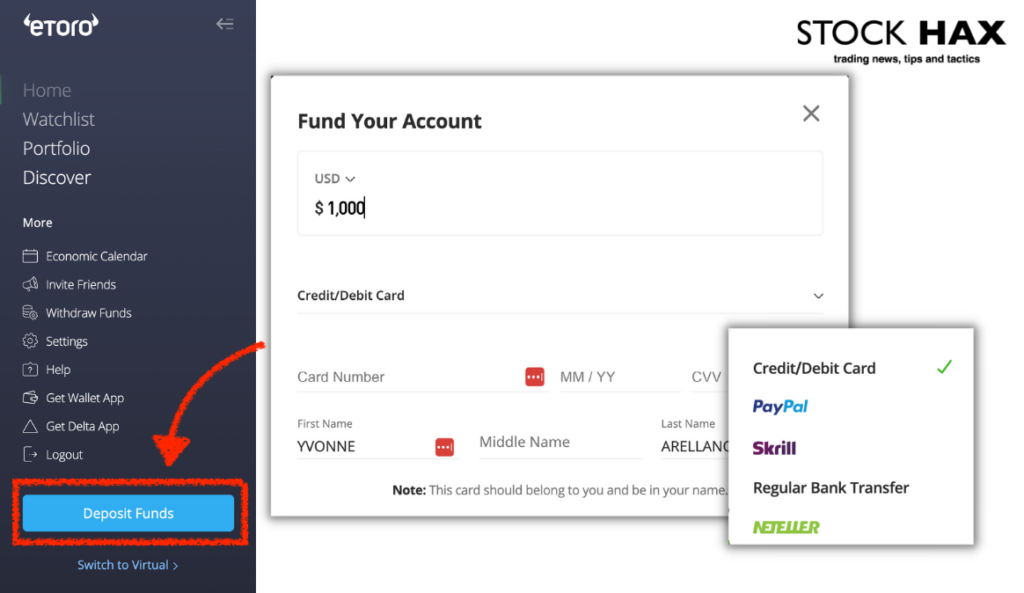 Step 4: Search for SSL
To find Sasol's stock on the eToro platform, all you need to do is enter "SSL" in the search tab. In case you are unsure of the ticker symbol for other stocks you are interested in, you can input the initial letters of the company's name, and the platform will display the most relevant results. This convenient feature allows you to easily navigate and explore various stocks and ETFs later.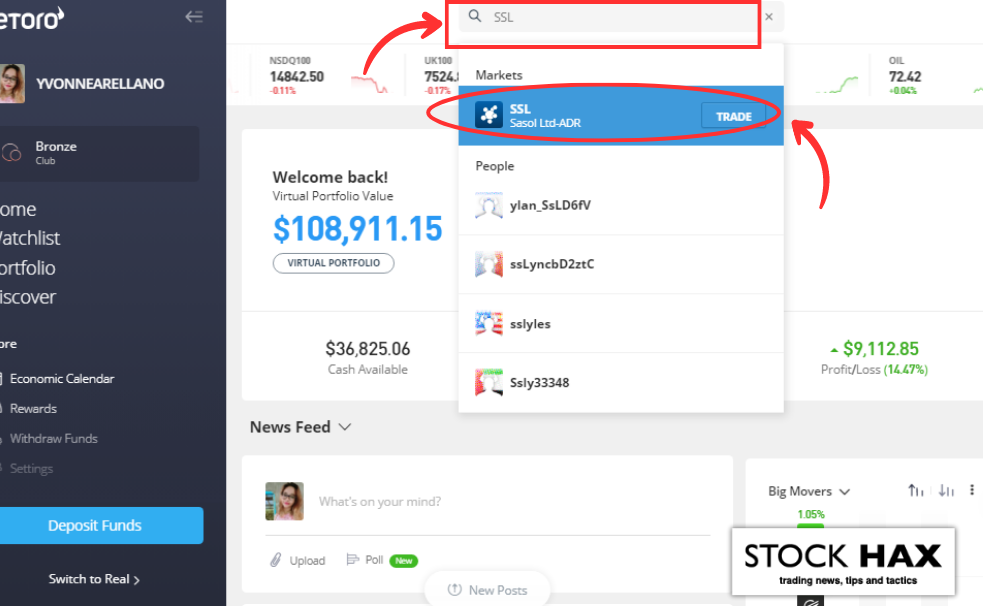 Step 5: Invest in SSL
Once you have chosen SSL on the eToro platform, simply click on the "Invest" button in the upper right corner. From there, you will be able to select the amount you wish to invest or the number of shares you want to purchase. After completing this step, you will be able to see your newly acquired SSL shares in your portfolio.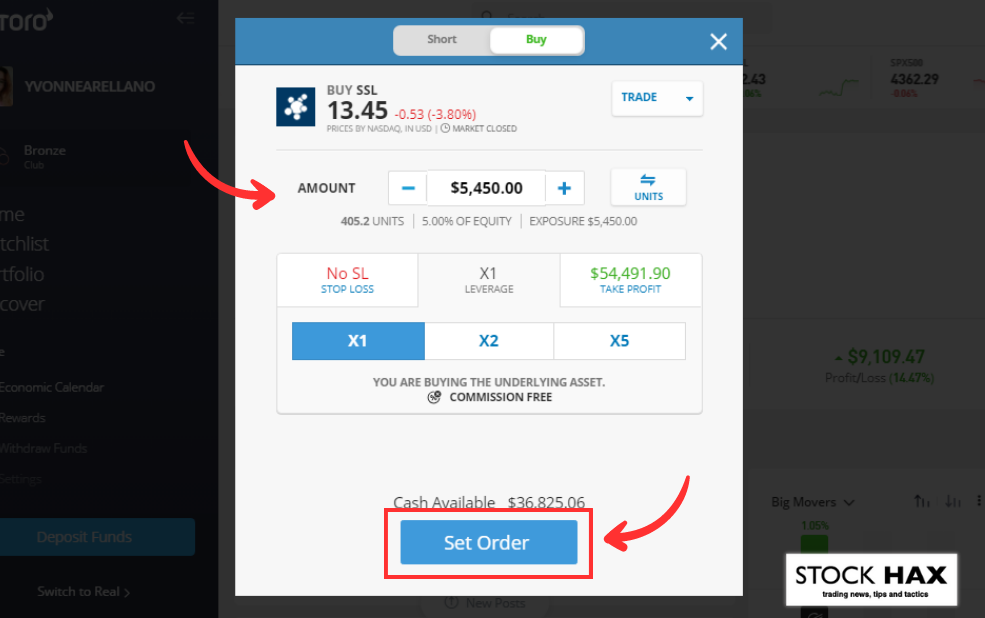 Summary
As you see, investing in Sasol's stock is easy. There are ways that enable you to invest directly in the stock listed on Johannesburg Stock Exchange in South Africa. But as there's no significant difference here, the ADR shares on NYSE will work just fine. So, just keep in mind that you should look for the ticker symbol "SSL" and not "JSE".
With this post, we also hope that we helped you understand how the stock price has behaved in the past and what key events may have been the catalysts for its long-term performance. This may be useful in the future if you want to gain a better understanding of Sasol's stock price action.
FAQs
Does Templeton Foreign own Sasol's stock?
As of 05/31/2023, the fund doesn't appear to be owning Sasol's stock right now, based on its most recent holdings report.
What is the stock price of SSL?
As of 06/16/2023, the price of SLL was $14.31 per share. The last trading day, it opened at $14.40 and reached a low of $14.18 and a high of $14.49.
How does the valuation of SSL compare to its peers?
SSL's P/E Non-GAAP (FWD) ratio is 5.12, which is lower than the sector median of 13.43, indicating a potentially undervalued stock. Similarly, SSL's Price/Sales (FWD) ratio is 0.56, lower than the sector median of 1.12. Additionally, SSL's Price/Book (TTM) ratio is 0.77, lower than the sector median of 1.72.
What are the potential risks and challenges that could impact the future prospects of SSL stock?
Potential risks for SSL stock include commodity price volatility, regulatory and environmental challenges, global economic conditions, intense competition, and operational/project execution risks. More so, fluctuating commodity prices, evolving regulations, economic downturns, competitive pressures, and operational complexities can all impact the financial performance and, consequently, investor confidence.
Risk Disclaimer
StockHax strives to provide unbiased and reliable information on cryptocurrency, finance, trading, and stocks. However, we cannot provide financial advice and urge users to do their own research and due diligence.
Read More