This website and its content are not intended to provide professional or financial advice. The views expressed here are based solely on the writer's opinion, research, and personal experience, and should not be taken as factual information. The author is not a financial advisor and lacks relevant certifications in that regard. We highly recommend consulting a qualified financial advisor before making any investment decisions, as the information presented on this site is general in nature and may not be tailored to individual needs or circumstances.
Verizon Communications Inc. is an American telecommunications conglomerate that has been operating since 1984. The company was originally called Bell Atlantic, as it resulted from the split of the Bell System, which was divided into seven different companies.
In the beginning, the company was headquartered in Philadelphia, but when it merged in 1997 with another company that resulted from the breakup of the Bell System, it expanded to New York and moved its headquarters there.
Then in 2000, Bell Atlantic changed its name to Verizon, a new term composed of the Latin word veritas, meaning truth, and the word horizon. To date, Verizon's wireless network is the second-largest wireless carrier in the U.S. and will have nearly 150 million subscribers by the end of 2022.
Verizon (Ticker: VZ) Stock Key Features
Dividend Yield
Verizon stock has paid a quarterly dividend since its initial listing in 1984. Additionally, the company has always offered an above average dividend yield, even during tough financial periods. More specifically, Verizon has averaged an annual dividend yield of 4.65% between 2016 and 2022. So, considering that the market's average annual dividend yield does not exceed 3%, Verizon's can be considered pretty good.
It should also be noted that the dividend yield has continued to increase slightly over the years and will be 6.56% in 2022.
Ownership Composition
Verizon has always been a public company since its inception. Therefore, it is not surprising that most of the company is publicly held, with only a small portion of shares not in free float. Of the 4.204 billion shares the company has issued, 4.203 billion are in free float and only 1.45 million are in private hands.
This ratio is very important, especially for traders, as it shows that this company has extremely high liquidity and it is therefore very unlikely that an order cannot be executed or that there are problems with short selling the share.
[include trading view's graph about ownership composition]
Market Capitalization
Another very important feature of Verizon is the fact that it has an extremely high market capitalization. In fact, Verizon's market capitalization is $142.431 billion, well above the average market capitalization of other stocks in the market.
Price to Earnings Ratio (P/E)
The price-to-earnings ratio is also an extremely important metric that many investors look at before even considering whether or not it would be a good idea to buy the stock. It is simply calculated by dividing the price of the stock by the annual earnings per share, and gives valuable information about how expensive the stock is.
When a stock is expensive and when it is cheap depends on personal preferences and investment strategy, but Verizon's current P/E ratio of 6.56 is objectively very low.
Finally, it is also important to talk about probably the most important feature of all: Revenue. Verizon has managed to post positive net income in almost every year of its operation, and in the last six years in particular, the company has increased its net income from about $13 billion to more than $21 billion.
Dividing net income by the number of shares outstanding yields earnings per share, a valuable piece of information often used by investors. Over the past five years, Verizon has averaged EPS of $5.
Verizon Stock Over the Years – Review
Over the past five years, Verizon's stock price has declined 33.06% and has yet to show any signs of recovery. The main cause of the share price decline is the recent market downturn that we have been experiencing since the beginning of 2022. However, even though the market has almost fully recovered from it, Verizon has continued to slide.
What is most surprising about Verizon's last five years, however, is the fact that, against all odds, the company has not only managed to generate positive net income every year, but has actually increased it significantly year after year.
More specifically, aside from a small drop in net profit in 2022 due to the pandemic, Verizon has managed to increase its net profit by almost 50% from $15.53 billion in 2018 to the end of 2022.
[enter a trading view's chart showing the past five years]
Verizon Stock in 2023
From a purely technical perspective, Verizon's stock entered a downtrend at the beginning of this year and has continued to do so to date. Today, Verizon is down 15.51% year over year, well behind the overall market, which is up 18.61% compared to the S&P500 index.
Despite the drastic drop in share price, Verizon Communications is on track to grow its net income to $21.59 billion from $21.26 billion in 2022. Other metrics such as return on equity, return on assets, and return on invested capital are also showing positive signs, suggesting they will be at least as high as last year, but no worse.
Verizon Stock in 2022
In 2022, Verizon suffered a similar faith as in 2023, but on a slightly larger scale. During this period, the stock price fell nearly 25% despite a short-term high reached in late April. At the same time, the 25% drop is also the result of a short rally at the end of the year, where the stock surged by 11.24%.
However, from a fundamental point of view, it should be noted that Verizon's net profit fell by 3.67% year-on-year, indicating a slight consolidation. On the other hand, the company managed to achieve a net margin of 15.51% during the same period. Therefore, the decrease in net profit cannot be considered significant for the company's overall profitability.
Verizon Stock in 2021
2021 was not a great year for Verizon shareholders either. Despite the choppy and rapid rise of the overall market, fueled by the stimulus packages granted by the government after the pandemic, Verizon closed down 11.87% year-over-year.
However, even in this case, even if the stock price declined during the year, the company showed considerable strength and recovery potential even after the pandemic. Verizon reported a 23.95% year-over-year increase in net income and an 18.95% increase in net margin. In addition, return on equity and return on assets reached nearly 30% and 6.5%, respectively.
Verizon Stock in 2020
In the infamous 2020, the year of the pandemic, Verizon stock did better than the following three years, but still ended the year 3.84% below its baseline. What sets this year apart from the following years, however, is that Verizon experienced a significant decline in revenue and operating activity as a result of the pandemic restrictions.
More specifically, net income fell 7.6% year-over-year, while most other performance metrics and indicators, such as return on equity, return on assets, and return on invested capital, all declined significantly as well.
Verizon Stock in 2019
Finally, if we talk about Verizon's performance in 2019, we can note that the share price ended the year with a significant increase of 9.00%. In fact, 2019 was the last year in which the stock price increased, and it is the year in which Verizon's all-time high of $62.07 per share was reached.
In addition, this year was also a success for the company from a fundamental perspective. Verizon's net income has increased 24.07% year over year, and its return on equity has increased to 33.64%.
Thanks to the advent of discount and online stock brokers, almost anyone can now invest online at an affordable price and without too many restrictions. Nevertheless, it is very important to carefully consider all investment methods and their associated costs, as they can greatly affect the profitability of a trade.
The most common way to invest in a company is to buy the stock directly. This method is by far the most commonly used, as it is not only easy to understand, but also involves the lowest fees and commissions of all the different methods.
Investing with stocks is very simple. Once a position is opened, the investor is exposed to both unlimited risk and unlimited return, depending on when and how he closes his position. Moreover, shares have the undeniable advantage that most online brokers offer them without commissions or at most at very low costs.
Another method that is very popular is the indirect investment in a company through the purchase of an ETF or a mutual fund. Although these financial instruments may have somewhat higher commissions, they generally involve less risk for the investor, as he invests in a basket of securities and thus reduces the stock-specific risk of his portfolio.
Finally, it is important to note that there are many other investment vehicles, such as crowd funds and stock options. However, these methods tend to have higher requirements and costs, and investors are at greater risk of losing capital.
For this reason, in this article we will discuss how you can open a Verizon stock position using eToro, one of the most common investment tools and platforms.
Today, it is possible to purchase Verizon stock through many different exchange platforms and online brokers. However, it is important to consider that, even though the offered services might be similar, fees, taxes and commissions might vary greatly. In this article we will use eToro as an example.
Step 1: Open an Account
The first step towards investing in Verizon is opening an eToro account. This step is extremely easy as it can be started just by clicking on "sign-up" from eToro's homepage. Then, once the registration page loads, you will be bale to enter your name, email and set your password. Additionally, to make this process even faster, it is possible to open the profile also by using a Facebook or Google account.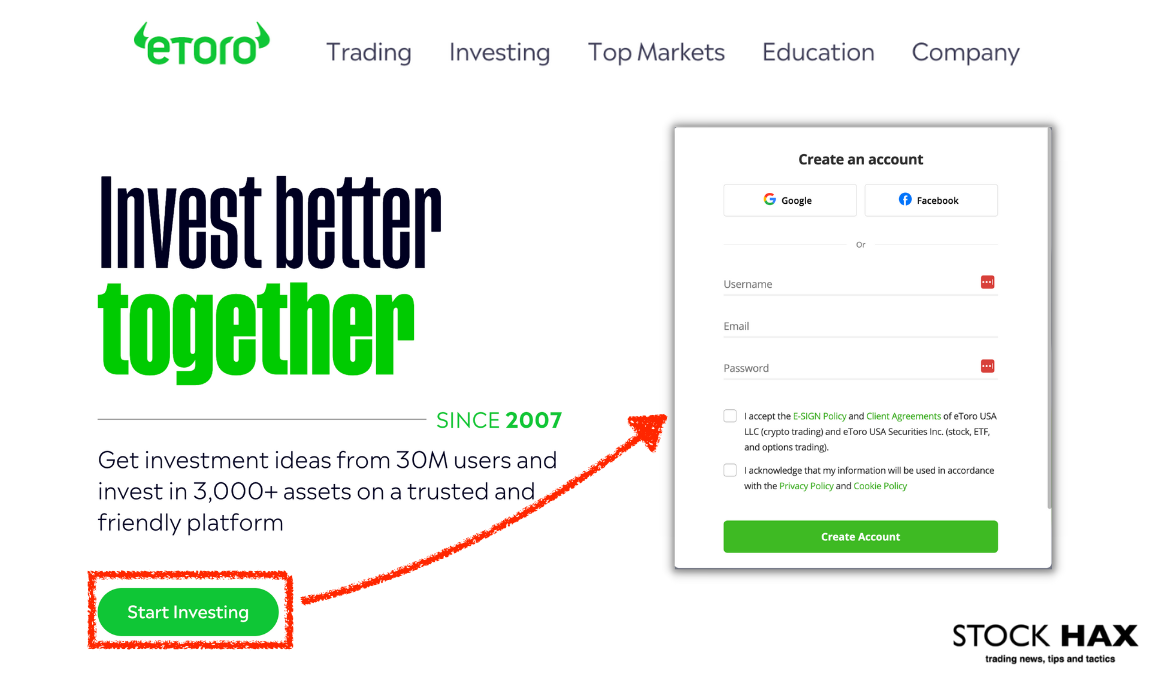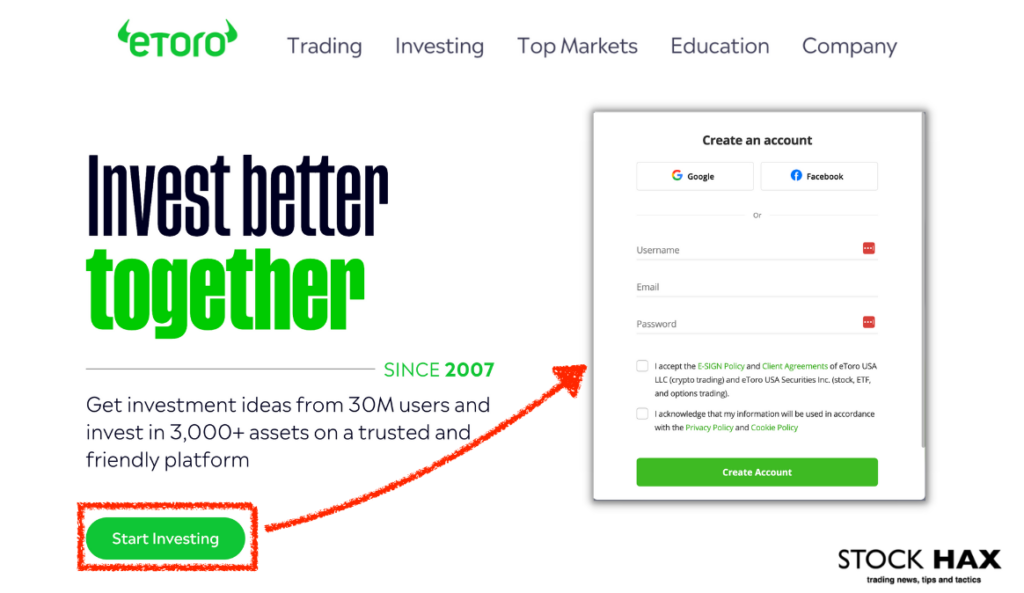 Step 2: Upload ID
The next step to open an eToro account requires verifying your identity. To do so, users will have to provide a Proof Of Identity (POI) and a Proof Of Address (POA). The most used examples of POI are the ID, passport or diver's license, whereas a POA could be any document showing the user's full nama, address and date.
Important: the document must be issued at most three months prior.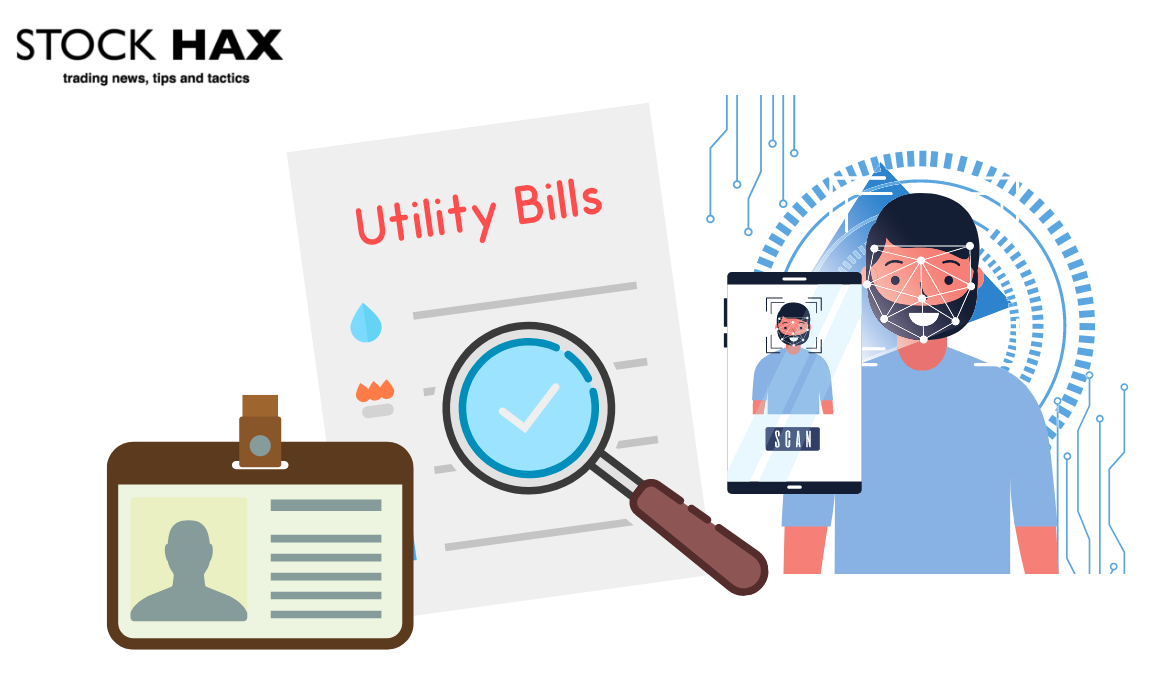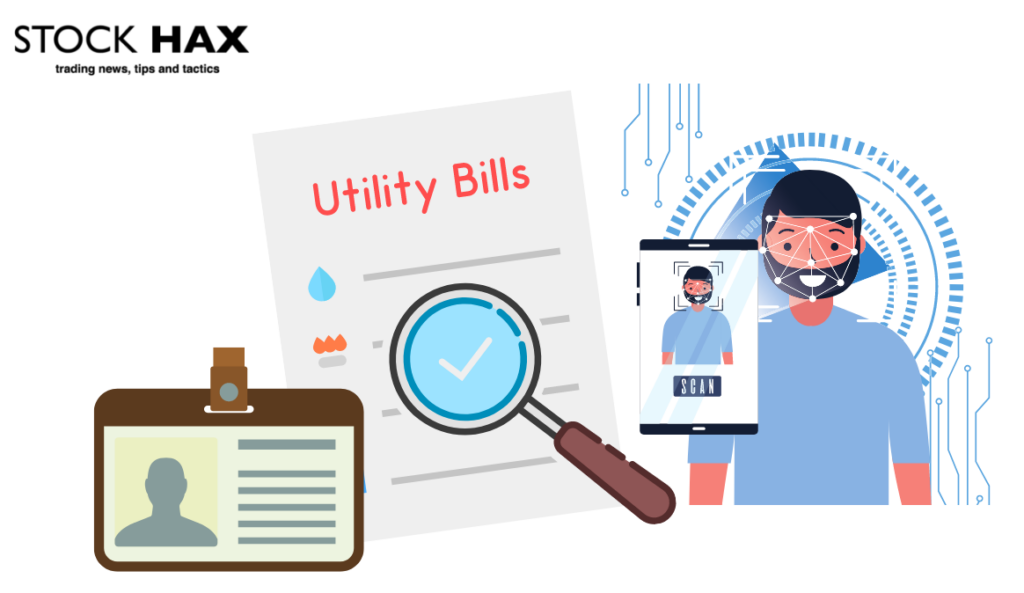 Step 3: Make a Deposit
The third step consists in simply making a deposit. This can happen right before the verification process is completed. The easiest way to deposit funds in an eToro's account is by opening eToro's menu and clicking on the "Deposit Funds" button. From there you will be able to select the amount you which to deposit on your account.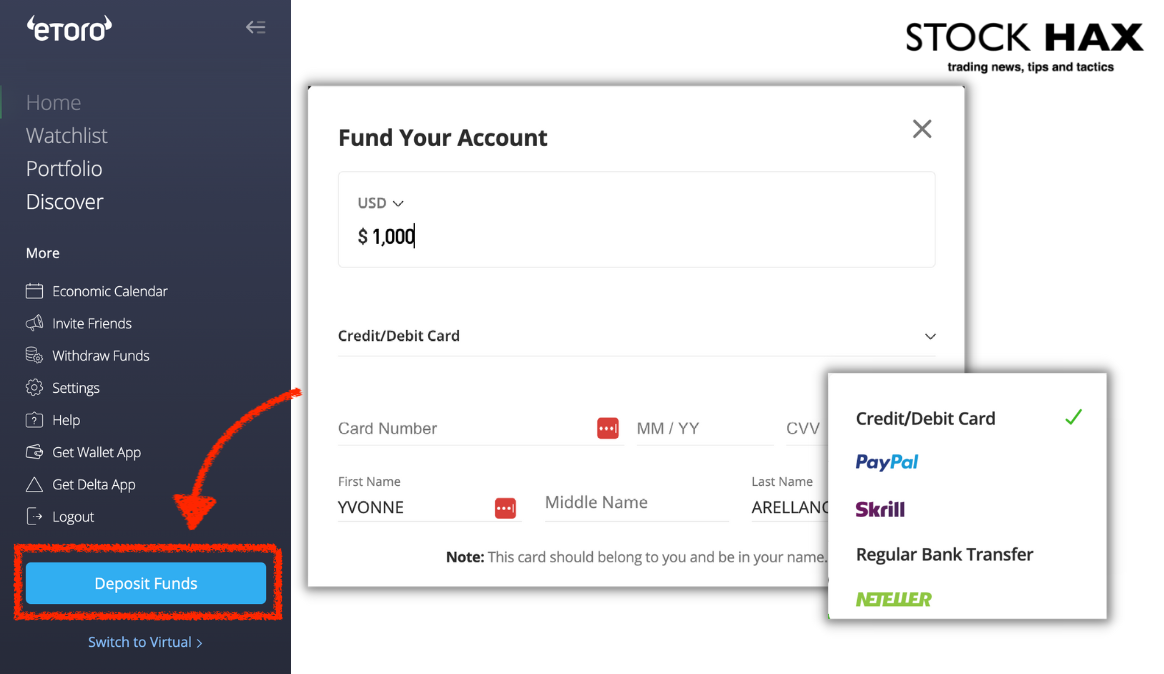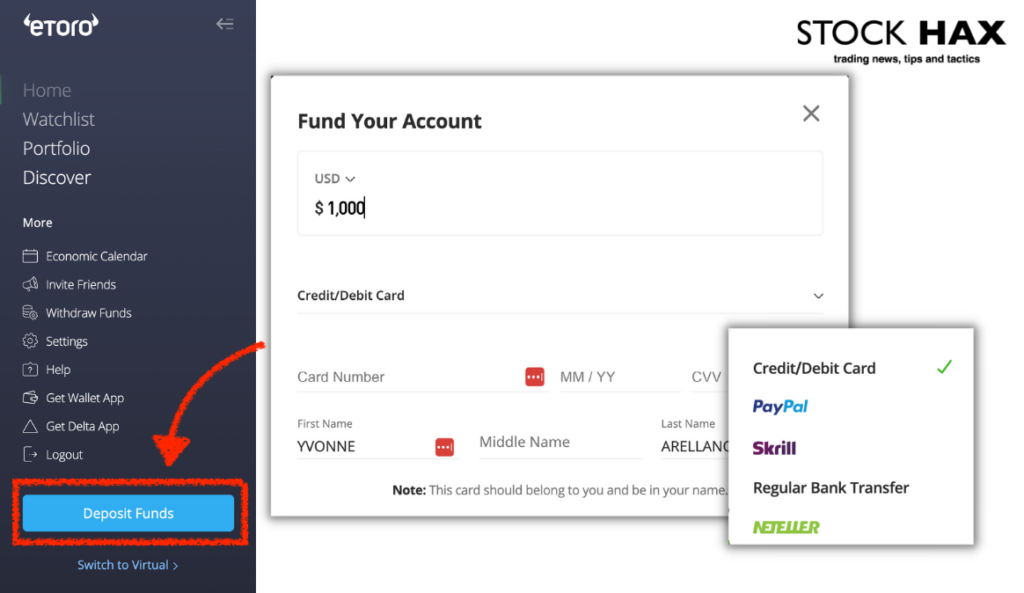 Step 4: Search for Verizon
Once the account is funded, you are ready to invest in the stock. The easiest way to find the stock you are looking for is by typing the stock's ticker symbol in eToro's search bar, so in this case you would enter "VZ", Verizon's ticker. However, if for any reason you do not remember a stock's ticker, by entering the company's full name, the platform will display the most popular results.
Step 5: Invest in Verizon
After selecting Verizon, you will be able to invest in it with ease. By clicking the "Invest" button, you can choose how many shares to purchase. Then, after the buy order is filled, you will be able to see your newly acquired shares in your portfolio.
Summary
In summary, Verizon stock performance has been extremely poor in recent years starting in 2020, and this year is on track to be the fourth in a row in which the stock price ends the year in the red. However, sometimes a falling stock price can indicate a potential investment opportunity. So before you turn down that opportunity, take a close look at the underlying business.
From a purely fundamental perspective, despite brief corrections since 2020, Verizon's net income has been slowly rising while its P/E ratio has been falling. In addition, Verizon has delivered strong return on equity, return on assets, and return on invested capital.
However, before deciding whether or not to invest in Verizon, you should conduct an individual analysis, as the profitability of a trade also depends on personal preferences and investment strategies.
FAQ
Has Verizon Reported Negative Earnings Over the Past 5 Years?
No, Verizon has reported relatively constant and positive earnings over the past five years. Of course, some fluctuations are to be expected especially considering the current financial situation, but during this period net income never became negative.
Has Verizon Stock Price Decreased or Increased in 2022?
Verizon stock's price has seen a sharp decline during 2022 despite the fact that two short term rallies occurred that year, one at the beginning and one at the end of it. Everything considered, in 2022 the price of the stock fell by almost 25%.
Does Verizon Pay Dividends?
Yes, Verizon Communications pays dividends. Moreover, the amount of dividends the company pays can be defined as above average as between 2018 and 2022 it has average an annual dividend yield of 5%.
Risk Disclaimer
StockHax strives to provide unbiased and reliable information on cryptocurrency, finance, trading, and stocks. However, we cannot provide financial advice and urge users to do their own research and due diligence.
Read More