This website and its content are not intended to provide professional or financial advice. The views expressed here are based solely on the writer's opinion, research, and personal experience, and should not be taken as factual information. The author is not a financial advisor and lacks relevant certifications in that regard. We highly recommend consulting a qualified financial advisor before making any investment decisions, as the information presented on this site is general in nature and may not be tailored to individual needs or circumstances.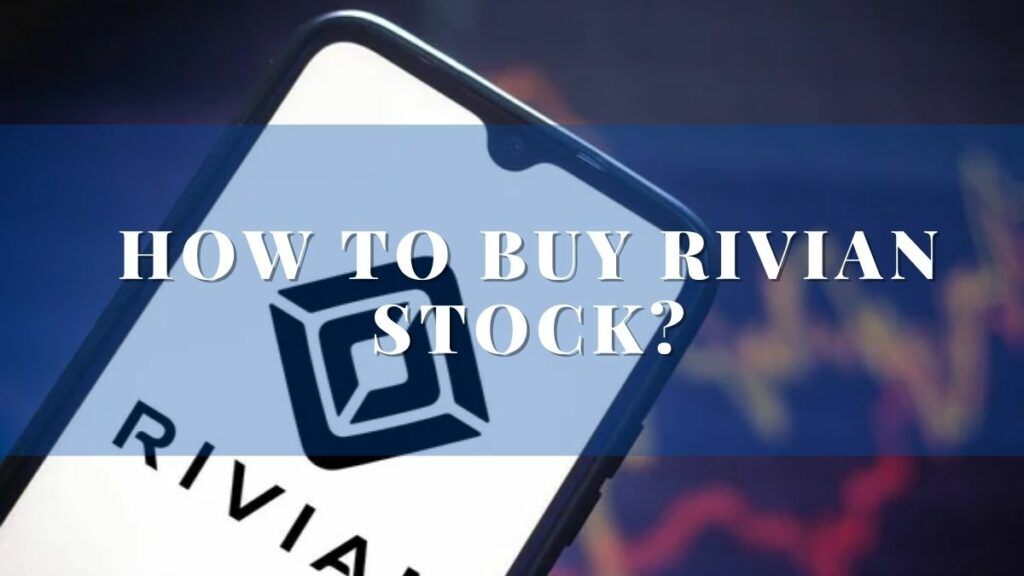 Rivian is an American automotive company founded in 2009. It is focused on the design, development, and manufacture of electric vehicles, adventure gear, and services. The company aims to deliver sustainable and adventurous experiences to its customers through its products. Let's take a look at the background of the company and the procedure for buying its stock.
What is Rivian Stock?
Rivian is a rapidly growing American electric vehicle and outdoor adventure company. The company is based in Plymouth, Michigan. Rivian designs, develops, and sells electric vehicles, such as trucks and SUVs, as well as adventure gear and accessories. In addition to producing electric vehicles, Rivian also provides related services, such as charging solutions and maintenance. The stock price of Rivian fluctuates constantly based on market conditions and various other factors.
When Did The Rivian Go Public?
Rivian went public on November 9th, 2021, through a special purpose acquisition company (SPAC) merger with Churchill Capital Corp IV. (A SPAC merger is a transaction in which a private company merges with a publicly traded shell company to go public without undergoing a traditional initial public offering IPO.) The merger allowed Rivian to become a publicly traded company without the time and expense associated with a traditional IPO. After the merger, Rivian's stock began trading on the stock market, allowing individual investors to buy and sell company shares.
Why Might Some Investors Buy Rivian?
Whether to buy Rivian stocks depends on your financial condition and investment goal. Let's look at some of the benefits of buying Rivian stocks.
1. Growth Potential
According to various market research reports, the global electric vehicle market is expected to grow significantly in the coming years, with some estimates projecting a compound annual growth rate of over 20% through 2030.
2. Strong Leadership
Rivian has a strong leadership team with a track record of success in the automotive industry.
3. Strategic Partnerships
Rivian has formed partnerships with major companies such as Amazon and Ford.
4. Environmental Impact
Investing in Rivian can positively impact the environment, as the company is focused on reducing carbon emissions by producing electric vehicles.
If you are planning to invest in Rivian stock, ensure you risk assessment is in place.
Where to Buy Rivian Stock
Investors can purchase and trade stocks on various trading exchanges and through online brokers. However, you should choose the online broker after considering the commission fees, trading resources, and technical tools. Let's look at the three best online brokers for purchasing Rivian stocks.
1. eToro
eToro is another quality online brokerage that allows users to invest in various financial markets, including stocks of Rivian. If you are interested in purchasing Rivian stocks through eToro, you can easily open an account, fund it and invest your desired amount. eToro is another great option considering the research resources and advanced trading tools it provides.
2. Robinhood
Robinhood is an online investment platform that allows individuals to purchase stocks, options, and cryptocurrency. It is popular among investors for its commission-free trading and user-friendly interface. To invest in Rivian stock on Robinhood, you must create an account on the platform and complete the verification process. After that, you need to fund your account with the amount you want to invest in Rivian and purchase the stock. Robinhood tops the list since it offers commission-free stock trading, an easy-to-use UI, and a list of trading tools for technical analysis.
3. E-trade
E-Trade is a well-established online brokerage platform with Rivian stocks listed on its marketplace. E-Trade provides a user-friendly platform, advanced trading tools, and a regulated environment for conducting trades, making it a good option for investing in Rivian stocks.
How to Invest in Rivian Stocks
Investing in Rivian stocks could be one way to diversify your investment portfolio. One platform that supports Rivian stocks is eToro. With a great reputation and a range of options for both beginner and professional traders, eToro makes the process of buying Rivian stocks easy and accessible.
Step 1: Open an Account
To begin, you will need to open an account with eToro. To do so, navigate to the eToro homepage and click the "Sign Up" button. This will take you to the registration page, where you will need to provide some basic information, including your name, email address, and a password.
https://www.etoro.com/customer-service/how-to-open-etoro-account/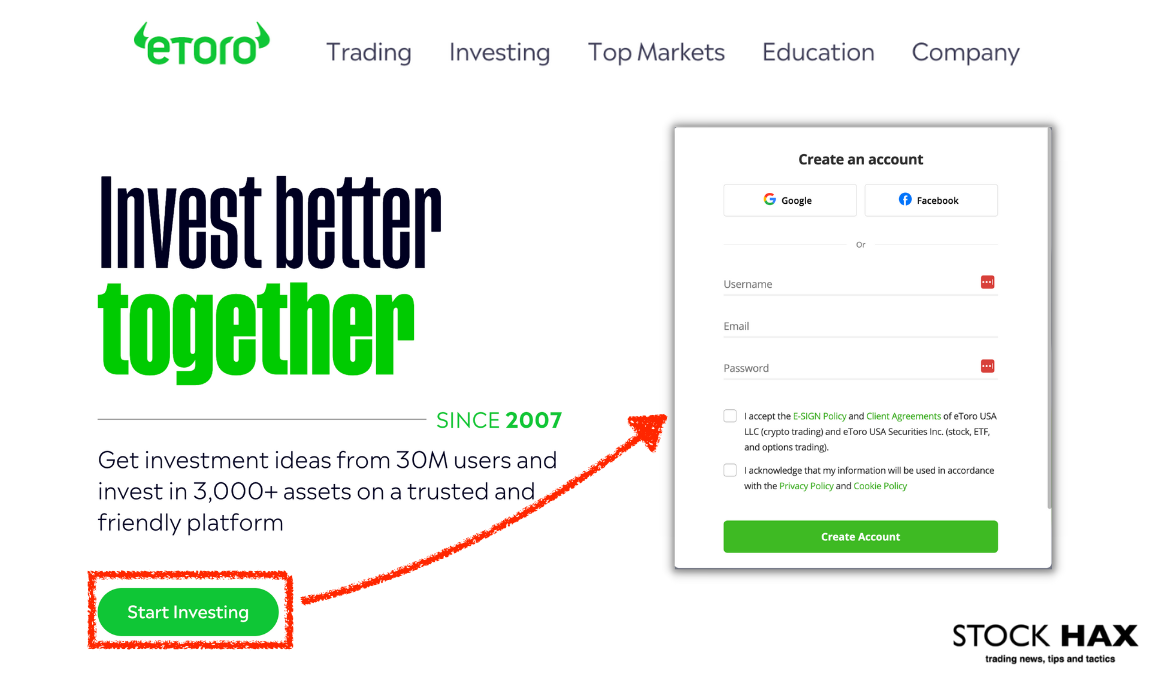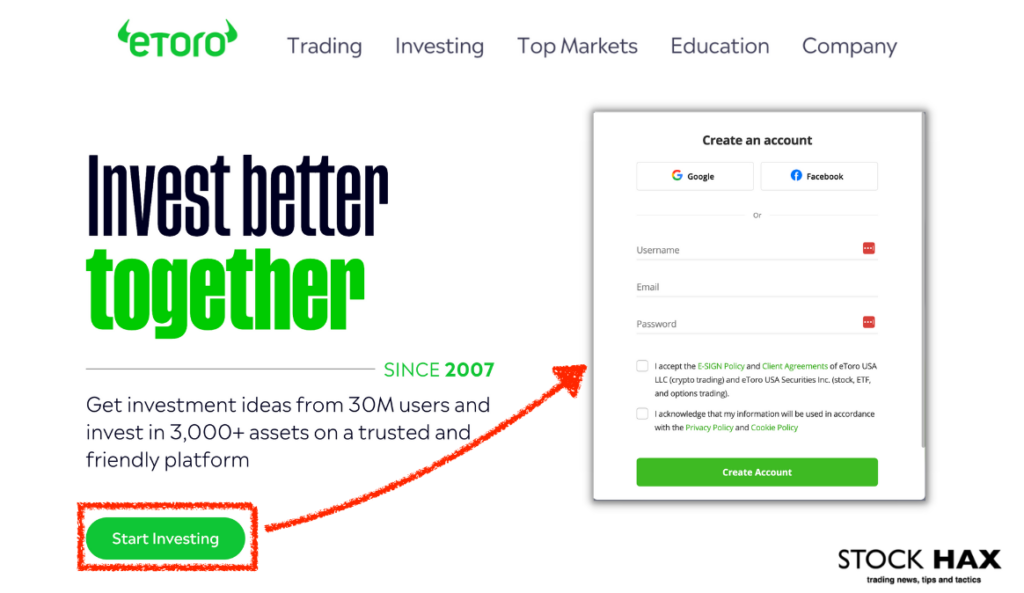 Step 2: Upload ID
After creating an account, you will need to upload proof of your identity. This could be a passport or a government-issued ID card. To upload your ID, go to your eToro profile and click on "Complete Profile" in the menu on the left. From there, you can upload your ID and complete the necessary verification steps.
https://www.etoro.com/customer-service/how-to-open-etoro-account/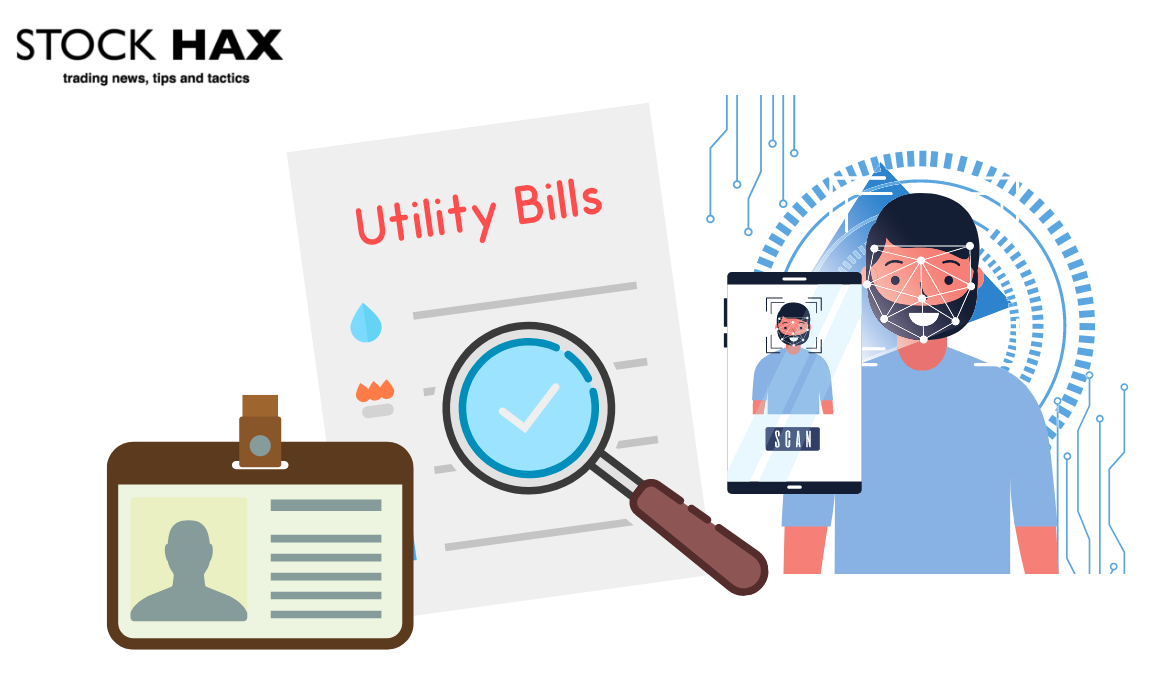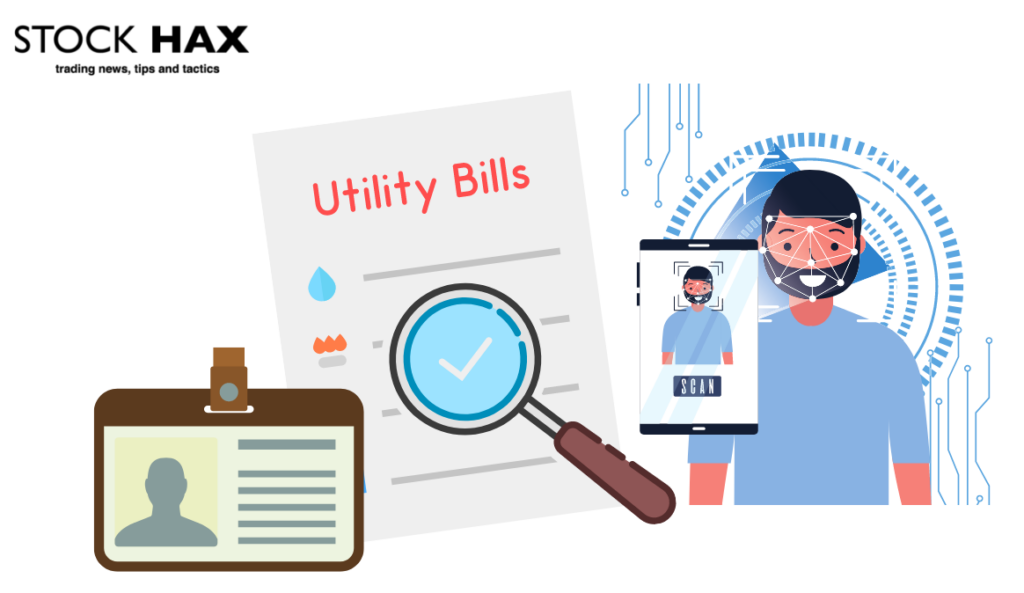 Step 3: Make a Deposit
Once your account is verified, you will need to fund it in order to buy Rivian stocks. To do this, navigate to the "Deposit Funds" section of the eToro platform. From there, you can choose your preferred payment method and deposit funds into your account.
https://www.etoro.com/customer-service/deposit-faq/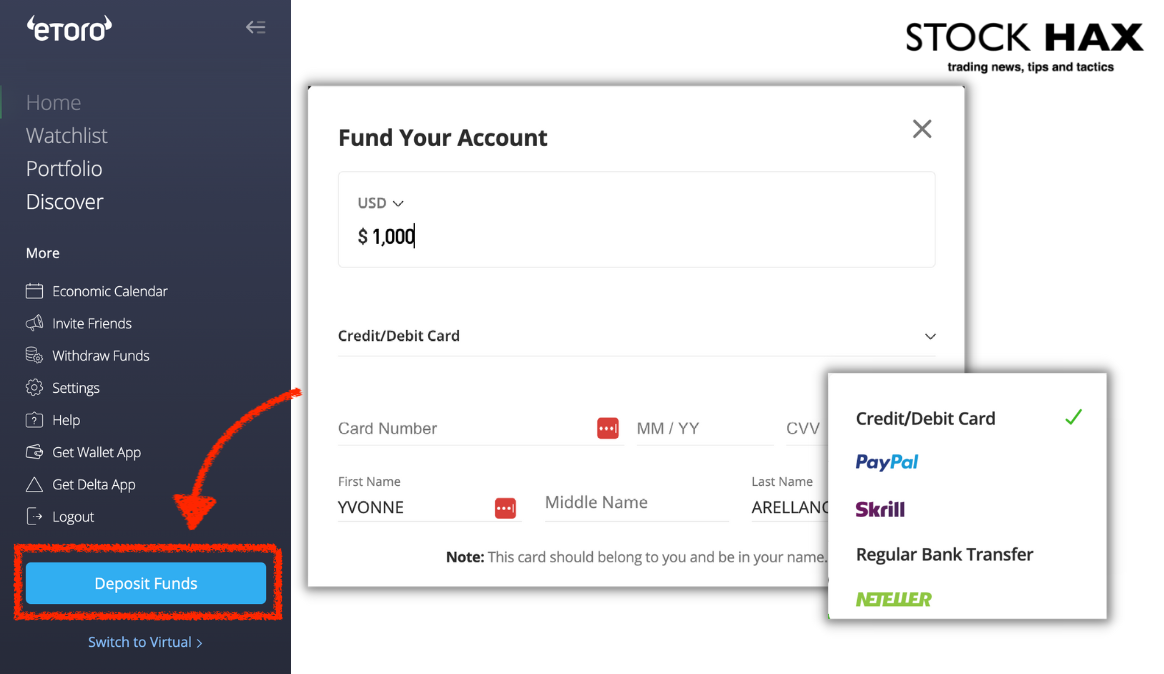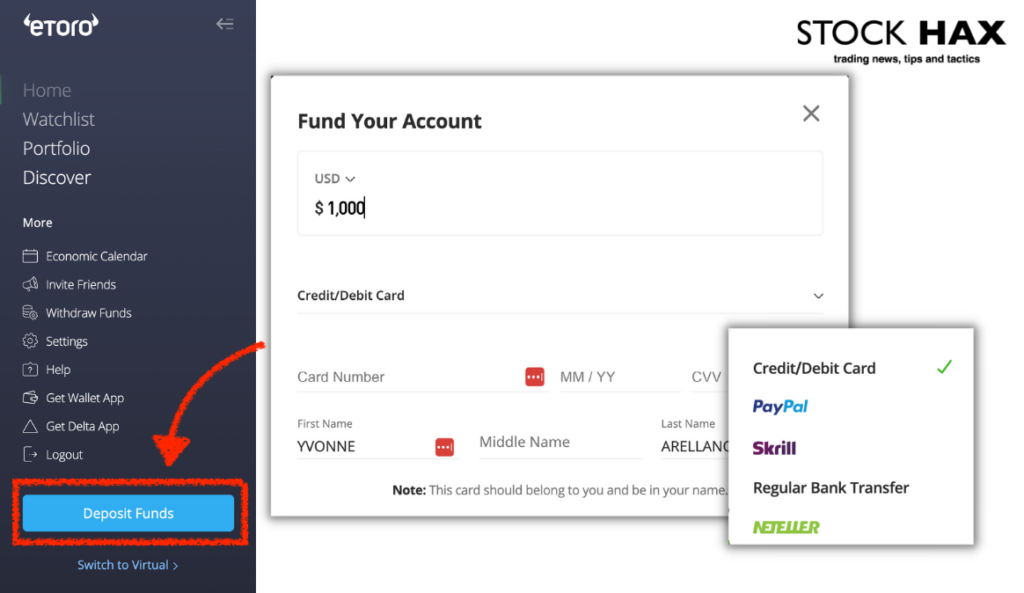 Step 4: Search for RIVN
To search for Rivian on eToro, simply use the search bar on the platform's main page. Type in "Rivian" and select it from the search results.
https://www.etoro.com/discover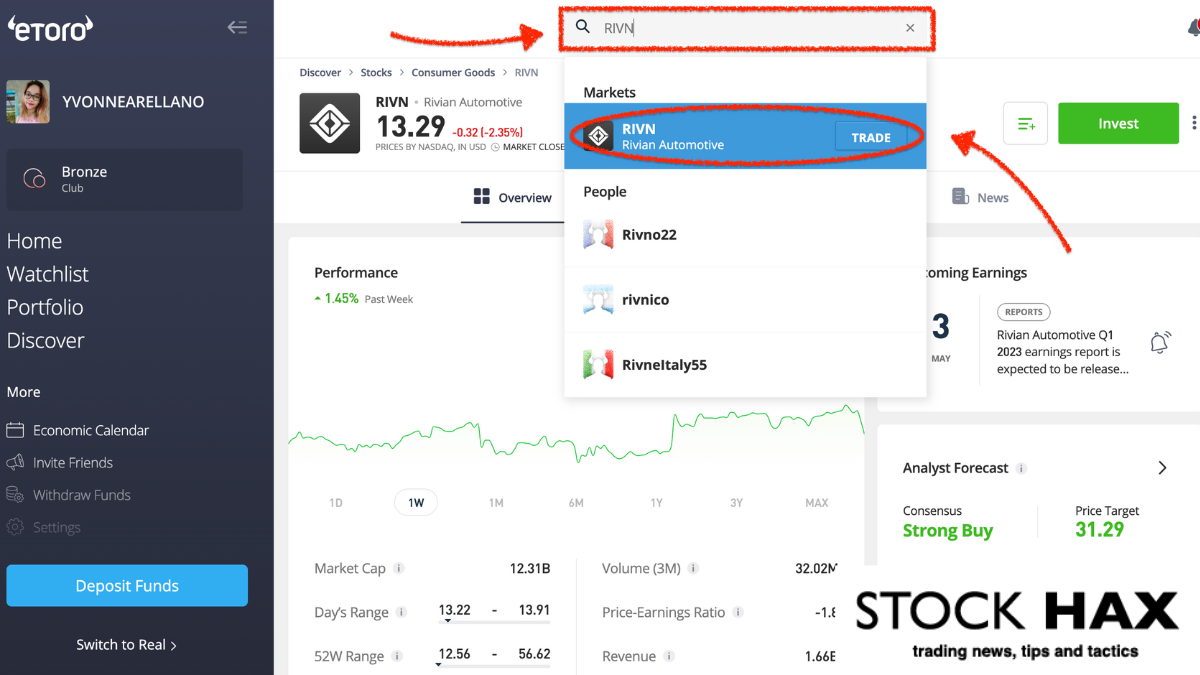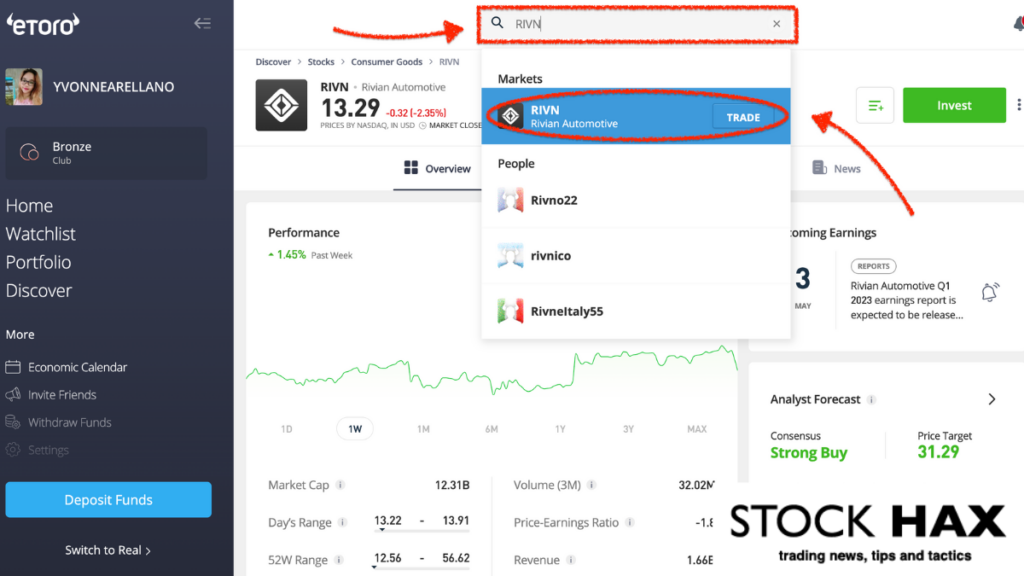 Step 5: Invest Rivian
After finding Rivian on the eToro platform, you can easily invest its stock. Simply click on the "Invest" button and follow the prompts to complete your purchase. Congratulations, you have now invested in Rivian stock!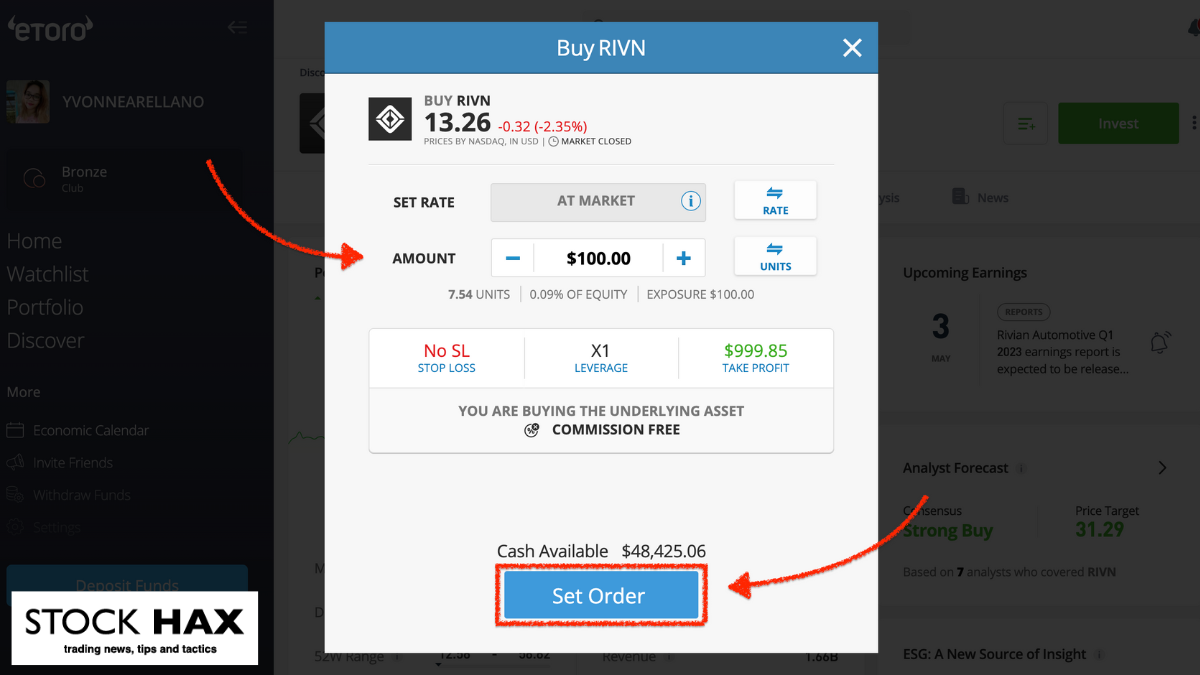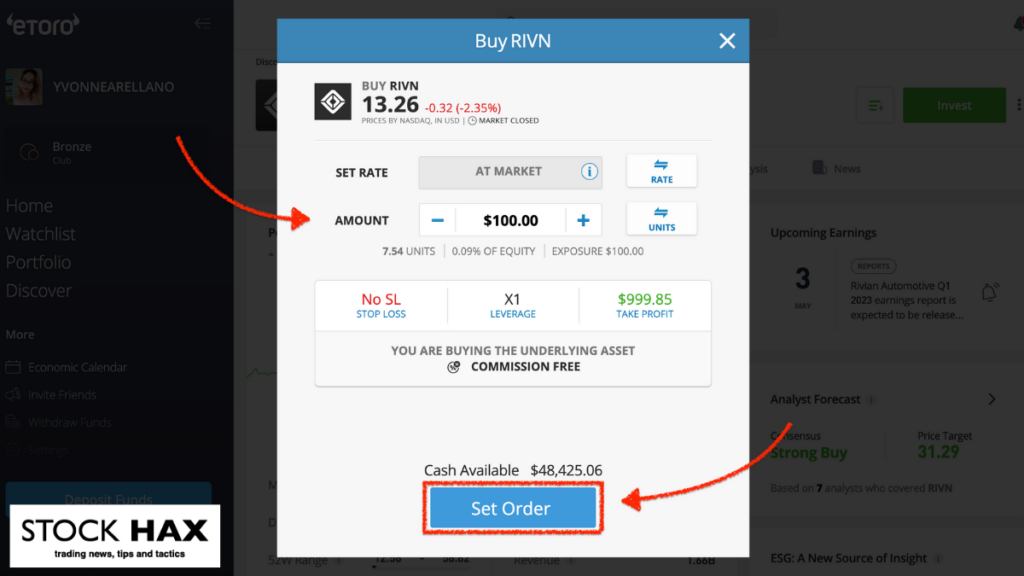 1. Know Rivian Fundamentals & Choose A Broker
The first step is to know the current performance of the company and its growth potential. You can utilize different online resources to analyze the current performance of Rivian and be aware of its financial forecast for the time you want to hold the stock.
Once you are sure about the performance and are ready to purchase, you need to finalize the broker with which you want to proceed. You must select a reputable online brokerage with Rivian stock listed on the marketplace, allowing you to utilize several trading tools.
2. Open An Account
You need to open an account with the broker after finalizing any single one. Creating a brokerage account is simple, and it won't take long. You simply need to provide all the information asked and wait for the broker to verify you.
3. Purchase Rivian Stock
Once your account is approved, transfer funds into your brokerage account to purchase Rivian stock. Use the brokerage's platform to search for Rivian (RIVN) and select it from the search results. Choose the number of shares you want to purchase and select a market or limit order. A market order will execute immediately at the current market price, while a limit order allows you to set a specific price at which you want to buy the stock. Review the details of your order, including the price, number of shares, and any fees, and confirm the order.
4. Monitor Your Investment
Once your order is executed, you can monitor the performance of your investment through your brokerage account. It is important to continuously monitor the performance of the stock you have invested in to plan a profitable exit.
Pros & Cons Of Rivian
Let's take a look at some of the pros and cons of investing in Rivian stock.
Pros
Rivian is a growing electric vehicle manufacturing company.
Rivian has a strong leadership team with a track record of success in the automotive industry.
The company has formed partnerships with major companies such as Amazon and Ford.
Cons
As a new and untested company, Rivian carries a higher risk level than established companies.
Rivian faces significant competition in the electric vehicle market.
The Bottom Point
Rivian is a designer, developer, and manufacturer of electric vehicles and their components, making it one of the fastest-growing companies in the e-vehicle sector. However, it still faces competition from electric automobile giants like Tesla, Lucid Motors, and Nissan. Investing in Rivian, like any stock should be based on your current financial condition.
Risk Disclaimer
StockHax strives to provide unbiased and reliable information on cryptocurrency, finance, trading, and stocks. However, we cannot provide financial advice and urge users to do their own research and due diligence.
Read More