This website and its content are not intended to provide professional or financial advice. The views expressed here are based solely on the writer's opinion, research, and personal experience, and should not be taken as factual information. The author is not a financial advisor and lacks relevant certifications in that regard. We highly recommend consulting a qualified financial advisor before making any investment decisions, as the information presented on this site is general in nature and may not be tailored to individual needs or circumstances.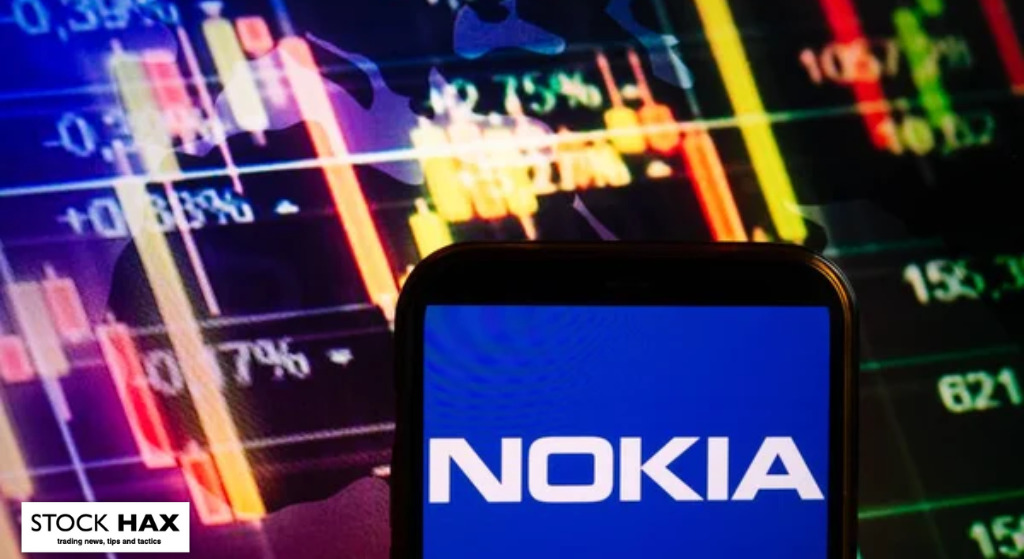 Nokia, a renowned multinational telecommunications company, has a rich history dating back to 1865. With headquarters in Espoo, Finland, Nokia has established itself as a global leader in the information and communications technology industry. The company operates across various sectors, including telecommunications infrastructure, software, and services. Nokia's primary focus lies in designing and manufacturing network infrastructure equipment, such as base stations, routers, and optical networking systems. They also offer software solutions, including network management and optimization tools. Moreover, Nokia actively participates in the development of emerging technologies like 5G, Internet of Things (IoT), and cloud-based services. With a commitment to innovation, Nokia continues to shape the future of connectivity and enable seamless communication worldwide.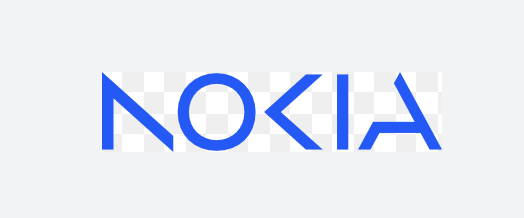 5 Nokia Stock Key Features
Global Telecommunications Presence: Nokia's stock represents a leading player in the global telecommunications industry, benefiting from its strong presence and expertise in network infrastructure and related services.
Diversified Product Portfolio: Nokia offers a diverse range of products and solutions, including 5G equipment, software, and services, allowing the potential to tap into multiple segments of the telecommunications market.
Technological Innovation: With a focus on emerging technologies like 5G, IoT, and cloud solutions, Nokia's stock provides exposure to a company at the forefront of innovation in the telecommunications sector.
Strategic Partnerships: Nokia has established strategic partnerships with major telecommunications providers worldwide, enhancing its market presence and potential for future growth.
Potential Market Opportunities: The increasing global demand for improved connectivity, 5G network expansion, and digital transformation presents potential market opportunities for Nokia.
Nokia Stock Over the Years – Review
Nokia's stock over the last five years has witnessed both highs and lows. One of the main causes for the price increase during this period was the growing anticipation and deployment of 5G technology worldwide. As the demand for faster and more efficient connectivity surged, Nokia benefited from its involvement in 5G infrastructure. However, the stock also faced challenges due to intense market competition and delays in 5G network rollouts. Additionally, fluctuations in financial performance and macroeconomic factors impacted Nokia's stock.
Nokia Stock in 2023
In 2023, Nokia's stock performance showed stability with a minor decrease in price. Starting the year at $4.68 on January 3, the stock saw a minor decline through June 16, where it closed at $4.28. This slight decline could be attributed to different factors, including market conditions, investor sentiment, and company-specific developments. It's essential to conduct a thorough analysis of Nokia's financial performance, strategic initiatives, and industry dynamics to gain a comprehensive understanding of the factors influencing its stock price. Investors should consider both short-term fluctuations and long-term trends when evaluating Nokia's performance.
Nokia Stock in 2022
Nokia's stock performance in 2022 showcased fluctuation throughout the year. Starting at $5.41 in January, the stock experienced a decline to $4.45 in March before a partial recovery to $4.76 in May. It further increased to $5.00 in July but faced a drop to $4.28 in October. Ending the year at $4.64 in December, Nokia's stock price showed mixed results. Various factors such as financial performance, industry dynamics, and market conditions likely contributed to these price movements.
Nokia Stock in 2021
Nokia's stock performance in 2021 demonstrated significant volatility throughout the year. Starting at $3.18 in January, the price increased to $3.41 in March and further rose to $4.28 in May. It experienced a notable surge to $5.20 in July before experiencing a slight dip to $4.75 in October. The stock closed the year on a positive note, closing at $6.29 on December 31. The price fluctuations were influenced by various factors: among all, the impact of the COVID-19 pandemic and subsequent lockdown measures played a significant role in shaping Nokia's performance. The pandemic disrupted global markets and led to uncertainties, affecting the overall economic landscape and investor behavior.
Nokia Stock in 2020
Nokia's performance in 2020 showcased a mix of volatility and modest growth. Beginning the year at around $3.80, the stock price declined to $2.32 in March amidst market uncertainty caused by the COVID-19 pandemic. However, it gradually recovered, reaching $3.56 in May and $4.21 in July. The stock experienced some downward pressure in October, dipping to $2.93. By the end of the year, Nokia's stock price had rebounded to $3.91.
Nokia Stock in 2019
Nokia's performance in 2019 displayed a mix of ups and downs. Starting the year at $5.10, the stock price experienced a slight increase to $5.36 in March. However, it faced a decline in May, reaching $4.43. The price then recovered, rising to $5.07 in July. In October, Nokia's stock experienced another dip, falling to $4.40. By the end of the year, the stock price had decreased further to $3.28.
When it comes to adding exposure to Nokia shares, there are various avenues available. Here are some of the different ones:
Stocks: The most common method is to add exposure to Nokia shares is to directly acquire them in stock exchanges. This allows you to own a portion of the company and potentially benefit from its performance.
Mutual Funds: You can consider capitalizing on Nokia's potential through mutual funds that include Nokia among their portfolio holdings. These funds pool money from multiple investors to hold a diversified basket of stocks, providing exposure to Nokia along with other companies.
Exchange-Traded Funds (ETFs): ETFs are similar to mutual funds but trade on stock exchanges like individual stocks. It's possible to find ETFs that specifically focus on Nokia or technology-related sectors, providing exposure to Nokia shares.
Crowdfunding: Some platforms offer opportunities to add exposure to companies like Nokia through crowdfunding. This involves contributing funds alongside others to support the growth of the company.
Options and Derivatives: Advanced traders can choose to engage in options trading or other derivative instruments related to Nokia shares. These strategies involve leveraging the price movements of Nokia shares without owning the shares outright.
Dividend Reinvestment Plans (DRIPs): Nokia may offer DRIPs, allowing shareholders to plow back dividends received into acquiring additional shares, thereby compounding their investment.
Managed Portfolios: You can opt for managed portfolios or robo-advisors that provide professional management. These services may include allocating a portion of the portfolio to Nokia shares based on goals and risk tolerance.
It's important to conduct thorough research and consider individual investment goals, risk tolerance, and time horizon when choosing the most suitable method to add Nokia shares to your portfolio. Consulting with a financial advisor can also provide personalized guidance based on your specific circumstances.
One manner in which you can add exposure to Nokia shares is through online brokerage eToro. With a seamless and user-friendly experience, eToro provides easy access to the company's potential growth.
How to Use eToro for Picking Nokia Stock
When considering Nokia stock, it's essential to take into account factors such as fees, taxes, and available investment tools. Nokia stock is available for purchase on various exchange platforms and through online brokers, like eToro
Step 1: Open an Account
To get started, visit eToro's homepage and click on the Sign-up button. Within seconds, the registration page will appear. Simply provide your name, email, and password to create an account. Alternatively, you can also sign up using your Facebook or Google account for a convenient profile setup process.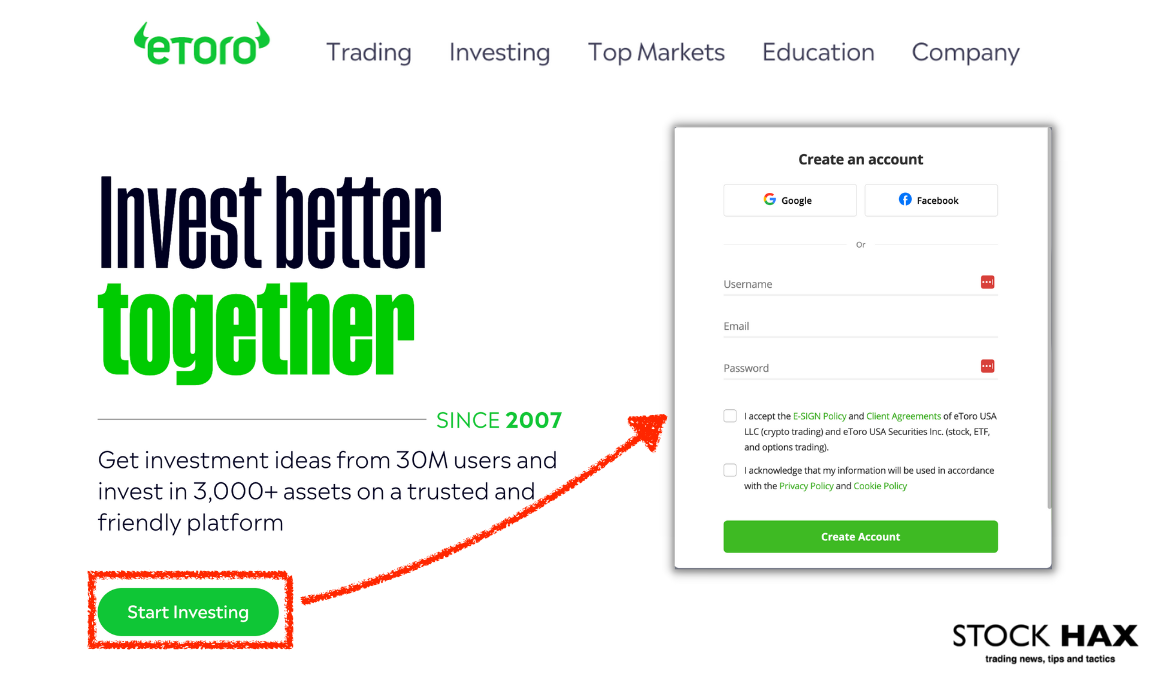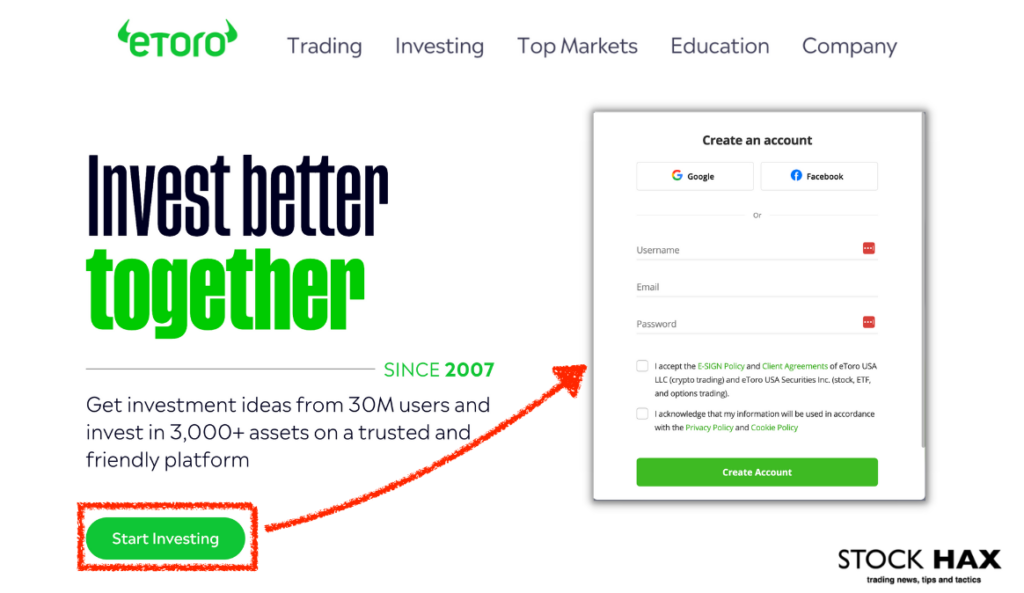 Step 2: Upload ID
During this step, you will need to verify your identity by uploading proof of identity (POI) and proof of address (POA). For POI, you can provide a valid ID, passport, or driver's license. The POA document should contain your full name, address, and a recent date of issue, typically within the past three months. Ensuring accurate and up-to-date documentation is essential to complete the identity verification process successfully.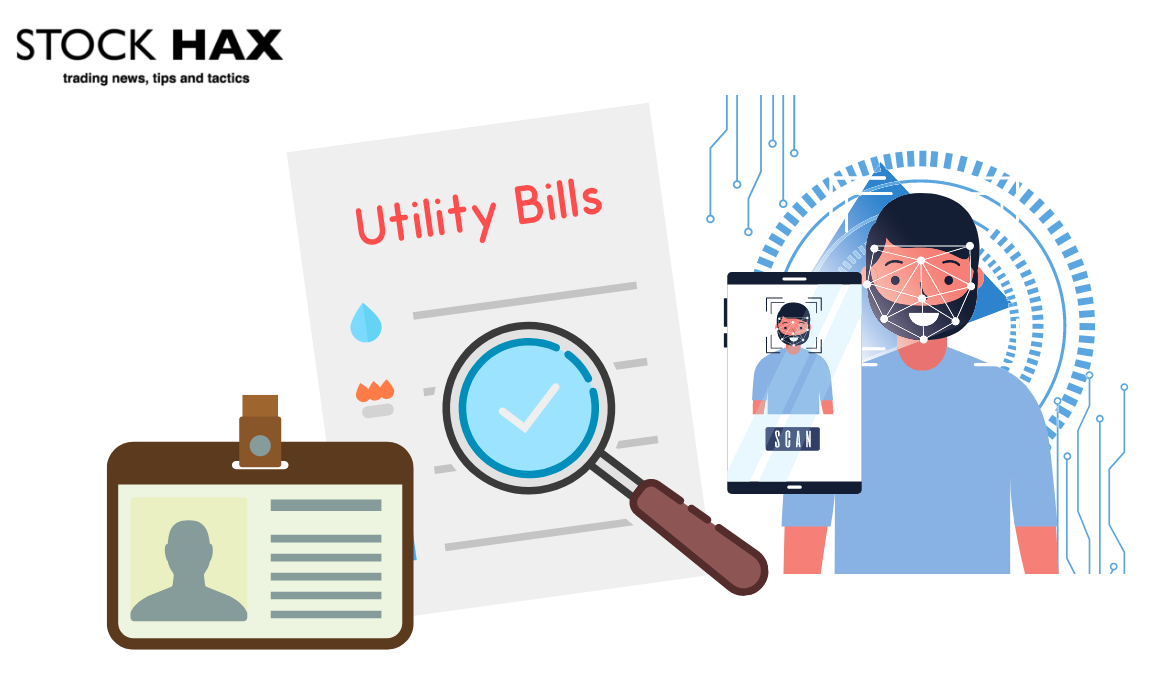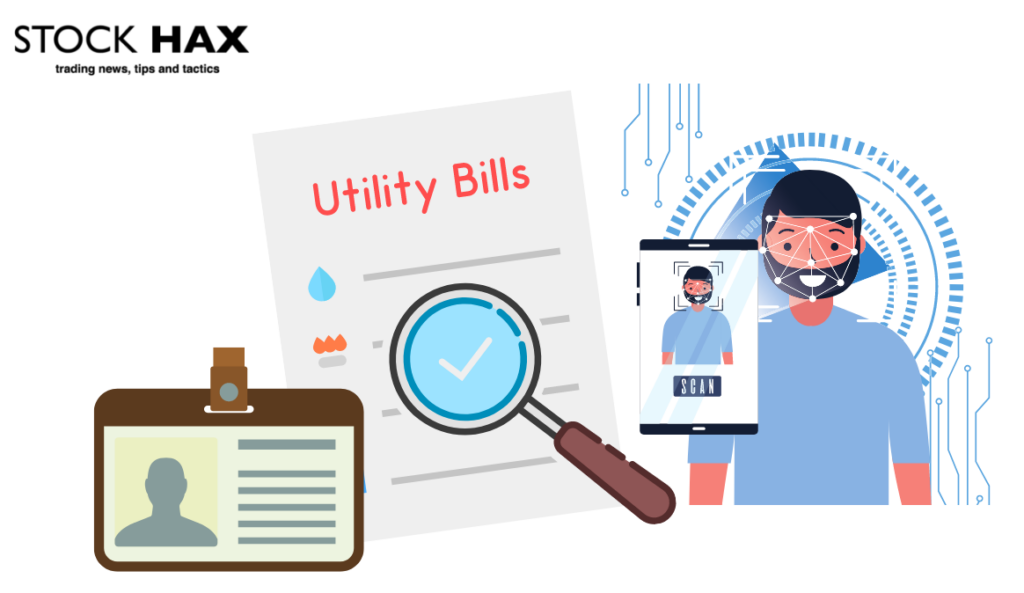 Step 3: Make a Deposit
Once your account verification is complete, it's time to fund your profile. Simply open the menu on eToro's platform and click on the "Deposit Funds" button. From there, you can choose the desired amount you wish to acquire Nokia shares, select your preferred currency, and decide on the payment method that suits you best. This step allows you to allocate funds to your eToro account, ensuring that you have the necessary resources available to start obtaining Nokia shares and take advantage of potential market opportunities.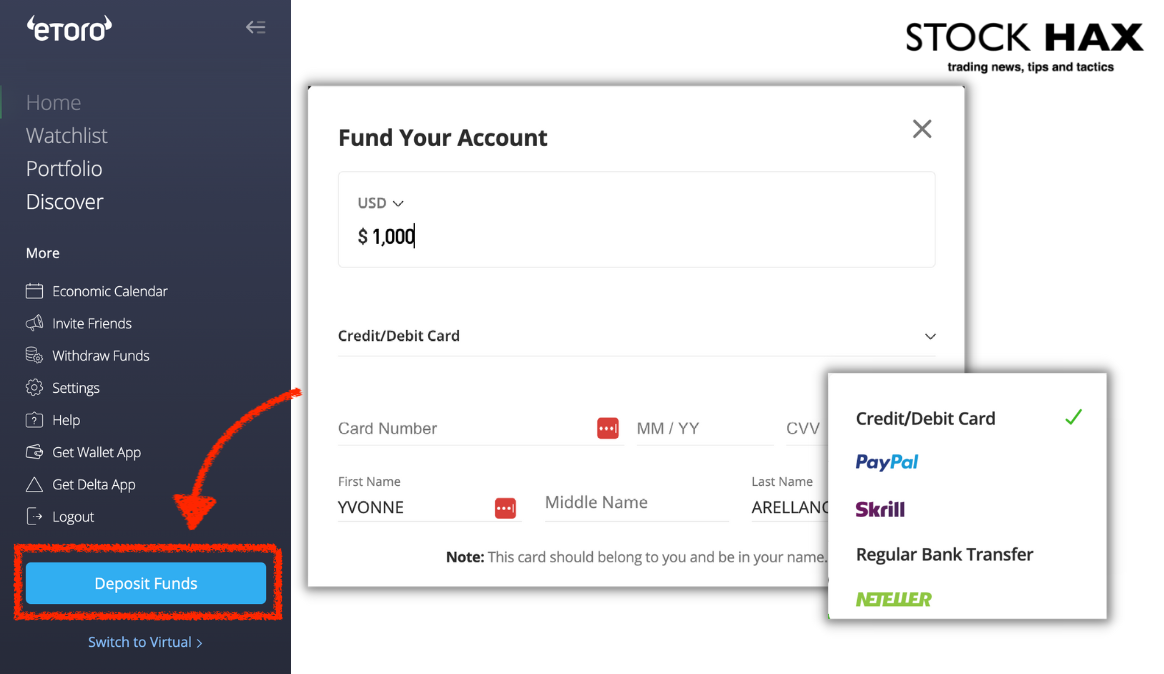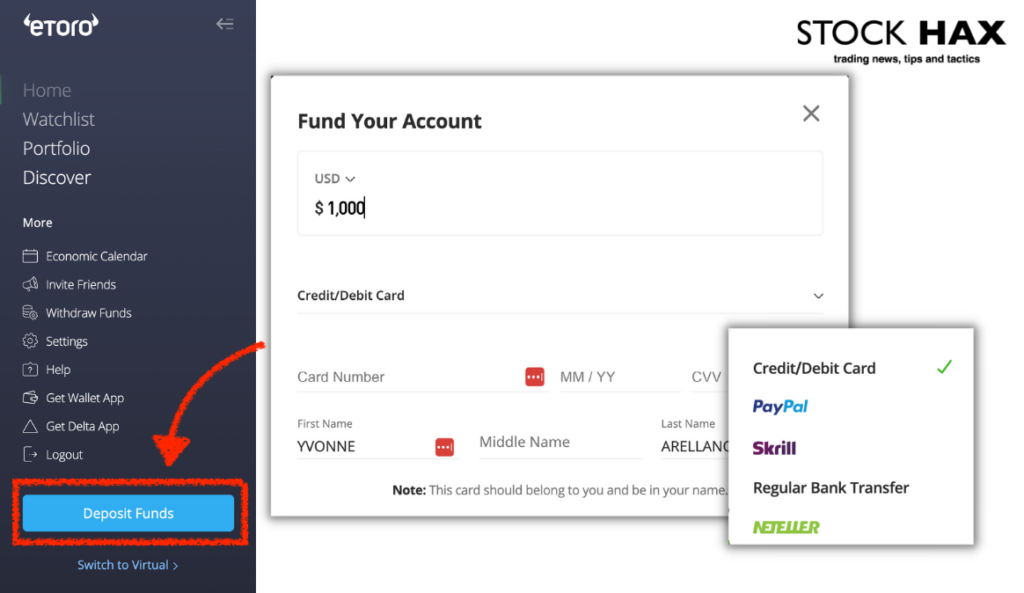 Step 4: Search for Nokia
To find Nokia shares, simply enter "Nokia" in the search tab. If you're unsure about the stock's ticker symbol, you can type in the initial letters, and eToro's intuitive platform will promptly show you the most popular results. eToro makes it easy to search for and access Nokia shares, ensuring a user-friendly experience for investors.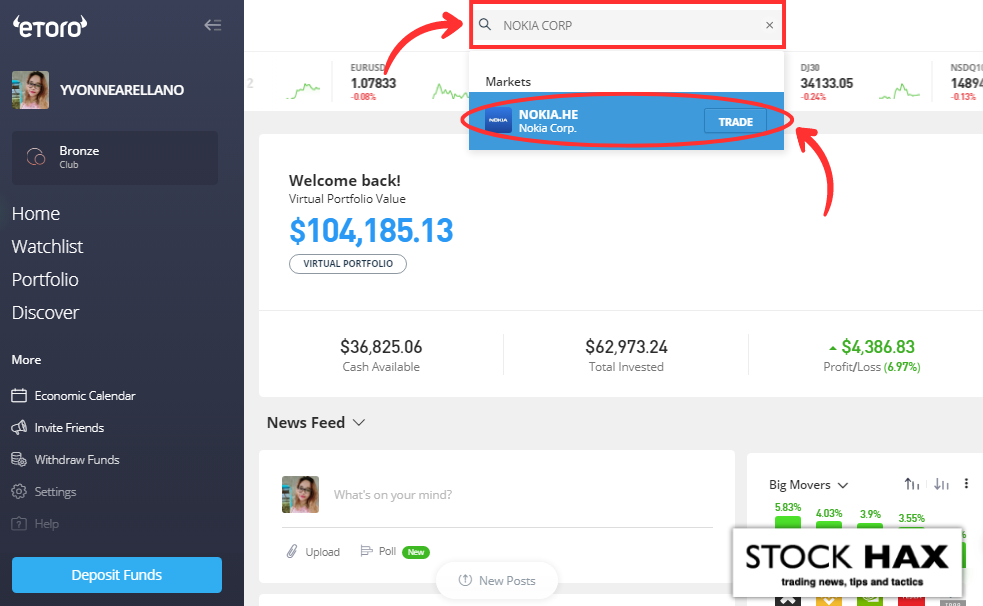 Step 5: Pick Nokia
Once you have selected Nokia, getting shares through eToro is a straightforward process. By clicking on the Invest button, you can effortlessly choose the desired amount of funds or the number of Nokia shares you wish to purchase. After completing the transaction, you will be able to view your newly acquired assets in your portfolio.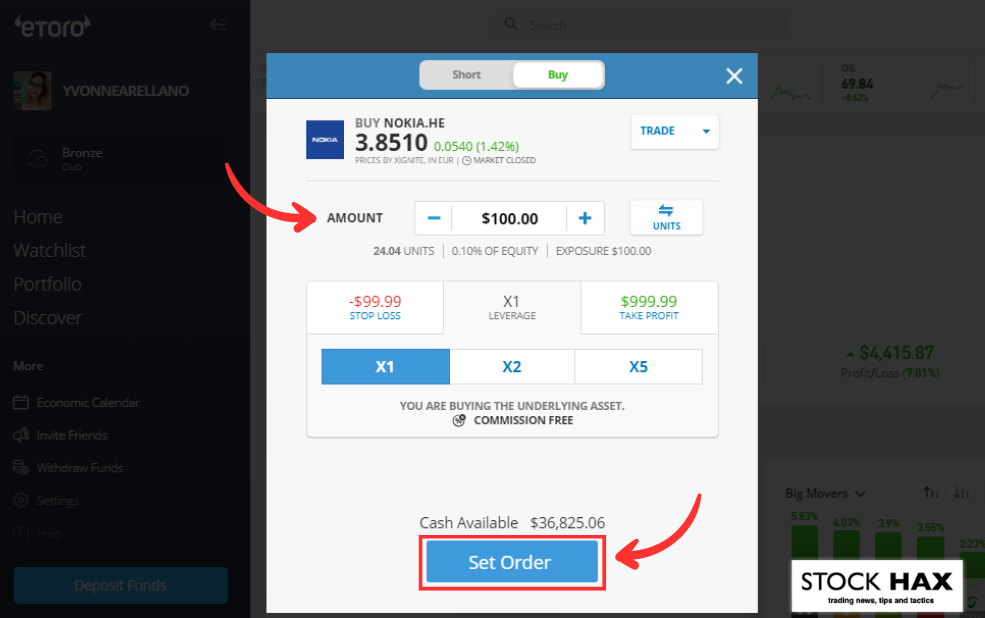 Summary
Acquiring shares of Nokia stock presents an opportunity to participate in a prominent technology company with a rich history in telecommunications. Nokia's expertise and global presence position it as a key player in the industry. The company's diverse portfolio, including networks, software, and licensing, provides a foundation for growth and innovation. As technology advances, Nokia's stock holds long-term growth potential. However, it's important to first evaluate factors such as Nokia's financial performance, market competition, and industry trends to make informed decisions. Thorough research and consultation with financial experts are crucial in assessing the suitability of adding Nokia stock to your portfolio and capturing potential opportunities in the evolving telecommunications landscape.
FAQ
What is the NOK message board & stock discussion?
Nok Message Board & Stock Discussion is a platform where investors and traders can engage in conversations about Nokia's stock. It provides a space for individuals to share their opinions, insights, and analysis regarding Nokia's performance, news, and market trends. Participants can discuss various aspects of the stock, such as price movements, fundamental analysis, technical indicators, and potential catalysts. Engaging in the message board and stock discussions can provide valuable information and perspectives, but it's essential to conduct thorough research and exercise caution when making investment decisions based on online discussions.
Does Nokia stock pay a dividend?
The current current Dividend Yield for Nokia is: 2.89%.
Is Nokia a buy or sell?
There is no way to predict the future of a stock's performance, and analysts have varying opinions. However, as of June 20, 2023, TipRanks reveals that according to 3 Wall Street Analysts, Nokia is a Moderate Buy.
Risk Disclaimer
StockHax strives to provide unbiased and reliable information on cryptocurrency, finance, trading, and stocks. However, we cannot provide financial advice and urge users to do their own research and due diligence.
Read More