This website and its content are not intended to provide professional or financial advice. The views expressed here are based solely on the writer's opinion, research, and personal experience, and should not be taken as factual information. The author is not a financial advisor and lacks relevant certifications in that regard. We highly recommend consulting a qualified financial advisor before making any investment decisions, as the information presented on this site is general in nature and may not be tailored to individual needs or circumstances.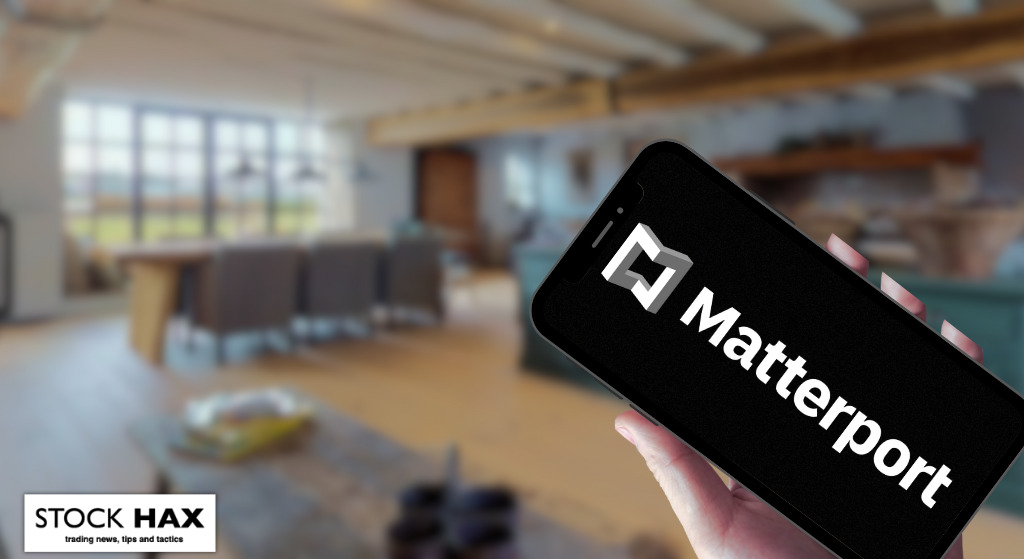 Matterport is a renowned technology company that specializes in creating immersive 3D experiences. Founded in 2011, the company has pioneered a cutting-edge platform that enables the creation, sharing, and utilization of spatial data. Matterport advanced software and hardware solutions empower businesses and individuals to capture and digitize physical spaces in stunning detail. By combining 3D imaging, computer vision, and artificial intelligence, Matterport has revolutionized industries such as real estate, construction, and architecture, offering a new way to explore and interact with physical spaces remotely.
5 Matterport Stock Key Features
Industry Leader: Matterport is a recognized leader in the 3D imaging and spatial data industry, with a strong market presence and a proven track record of innovation.
Several Market Applications: The company's technology has broad applications across various industries, including real estate, hospitality, retail, and insurance, providing potential for widespread adoption.
Subscription Model: Matterport generates recurring revenue through its subscription-based business model, ensuring a stable and predictable income stream.
Growing Customer Base: The company has a rapidly expanding customer base, including major enterprises, small businesses, and individual users, indicating a growing demand for its services.
Technological Advancements: Matterport continues to invest in research and development, driving advancements in 3D imaging, virtual reality, and augmented reality.
Matterport Stock Over the Years – Review
Actively trading since February 2, 2021, Matterport stock – whose price more than tripled from $10.50 on its first day to as high as $37.60 a share on December 1, 2021 -gradually started to plummet in the beginning of 2022. It reached a low of reaching just $2.20 on May 3, 2023 and closed at $3.26 on June 16, 2023. However, despite being so far off its peak, the company is growing, primarily driven by the increasing adoption of its 3D imaging and spatial data solutions. Matterport's ability to offer immersive experiences and enhance remote interactions with physical spaces has garnered significant interest, despite the market's cautiousness.
Matterport Stock in 2023
In 2023, Matterport stock price has been constant, starting the year at $2.69 and largely hovering around $3.00. Even so, Matterport's revenue has soared by 70% year-over-year, reaching a staggering $300 million, showcasing its robust financial standing. The company's expanding customer base and strategic partnerships have played a vital role in its success. Notably, Matterport has formed key collaborations with industry giants. With its subscription-based model generating stable revenue, Matterport could continue its upward trajectory and capitalize on the rising demand for immersive 3D experiences and spatial data solutions.
Matterport Stock in 2022
In 2022, Matterport stock plummeted from $19.61 to $2.65. Needless to say, the stock experienced a gradual downward trend, decreasing by approximately 86% throughout the year. Even so, Matterport's revenue grew by 45% compared to the previous year, reaching around $200 million thanks to the expanding customer base and successful implementation of its 3D imaging and spatial data solutions. Furthermore, strategic partnerships and acquisitions bolstered Matterport's market presence.
Matterport Stock in 2021
In 2021, Matterport stock experienced exceptional growth and market success. The stock price surged by over 2x throughout the year – going from around $10.50 on its first trading day February 2 and closing the year at $21.82 on New Year's Eve – reflecting the market's high demand and confidence in the company. Matterport's revenue skyrocketed by over 80%, exceeding $100 million, demonstrating substantial financial growth. The company's innovative 3D imaging and spatial data solutions gained significant traction, attracting a wide range of customers and industry partnerships. Matterport's stellar performance in 2021 solidified its position as a leader in the industry.
How To Add Exposure To Matterport
Acquiring shares of Matterport provides potential exposure to the company's success and growth propsects. Several options are available to add exposure to Matterport's stock:
Stocks: The most direct way to add exposure to Matterport is by directly acquiring its shares. It's possible to add shares through a brokerage account, either online or through a traditional broker.
Mutual Funds: It's also possible to add exposure to Matterport through mutual funds that include the company's stock in their portfolio. Mutual funds pool money from multiple investors to hold a diversified range of stocks.
ETFs: Exchange-Traded Funds (ETFs) offer another way to add exposure to Matterport. ETFs are funds that trade on stock exchanges, tracking the performance of an underlying index or a specific industry. It's possible to trade ETFs from market open to market close.
Crowdfunding: Although less common for established companies like Matterport, crowdfunding platforms may offer opportunities to add exposure to early stage companies. These platforms allow individuals to invest in startups or emerging companies in exchange for equity.
Online Platforms: Platforms like eToro provide a user-friendly interface for acquiring Matterport shares. They offer features such as fractional shares, copy trading, and social trading, allowing users to add exposure to Matterport alongside other users and learn from expert insights.
It's important to conduct thorough research, assess personal financial goals and risk tolerance before choosing one of these methods. Consulting with a financial advisor or investment professional can provide valuable guidance tailored to individual needs and circumstances.
When considering Matterport stock, it's crucial to factor in fees, taxes, and tools available across exchange platforms and online brokers. Here's a step-by-step guide on how to add Matterport shares to your portfolio through eToro:
Step 1: Open an Account
To get started, visit eToro's homepage and click on the Sign-up button. Within a few seconds, the registration page will load. Enter your name, email, and password. You also have the option to create a profile using your Facebook or Google accounts.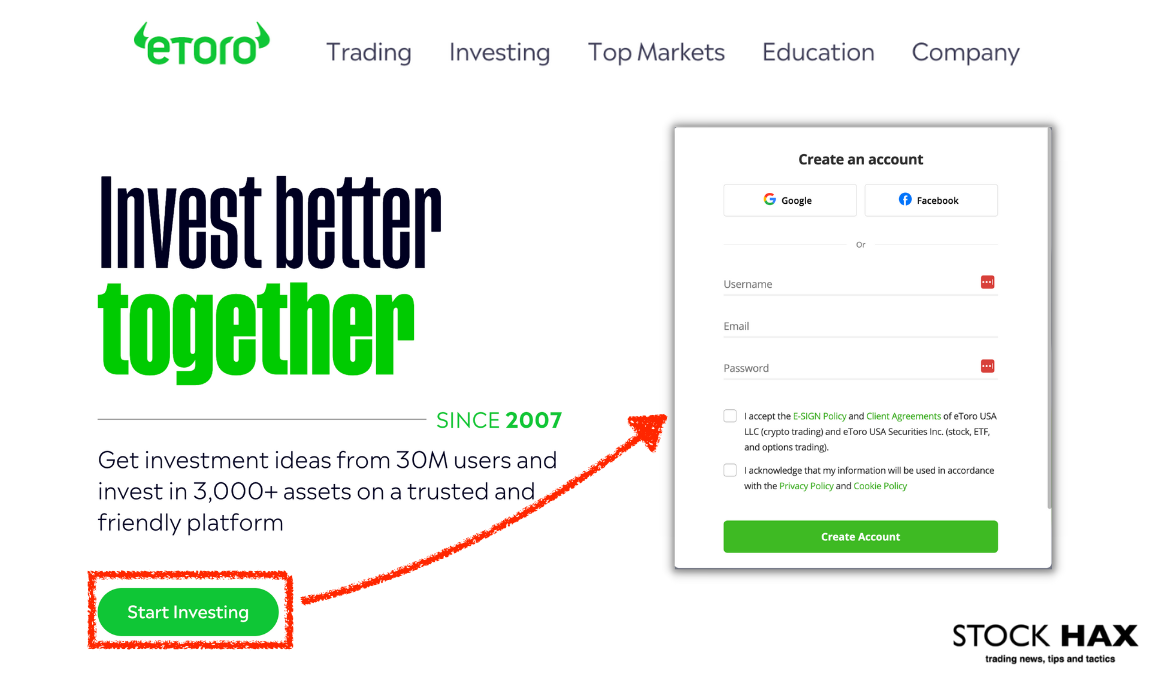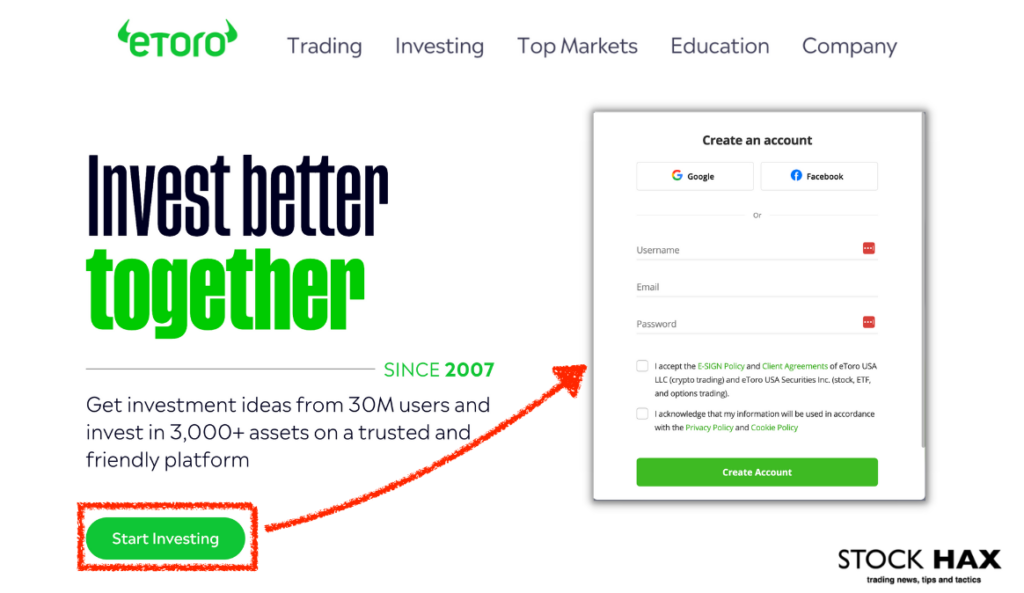 Step 2: Upload ID
The next step involves verifying your identity. Upload proof of identity (POI) and address (POA). Accepted POI documents include IDs, passports, or driver's licenses. The POA should contain your full name, address, and a recent date, no older than three months.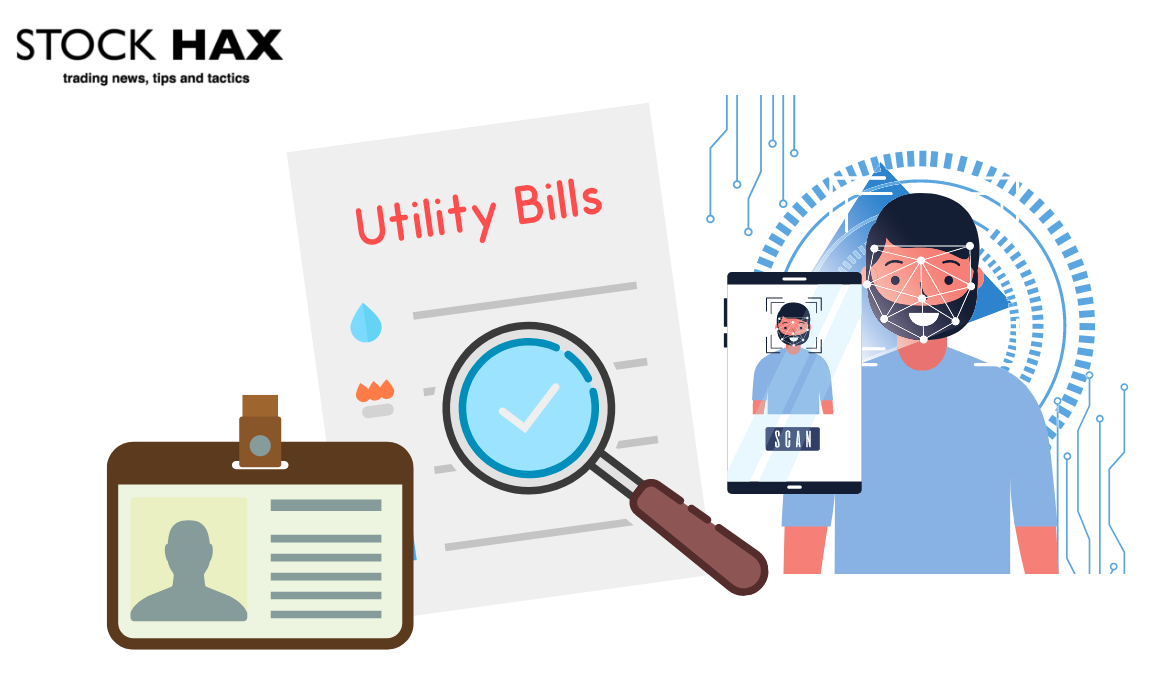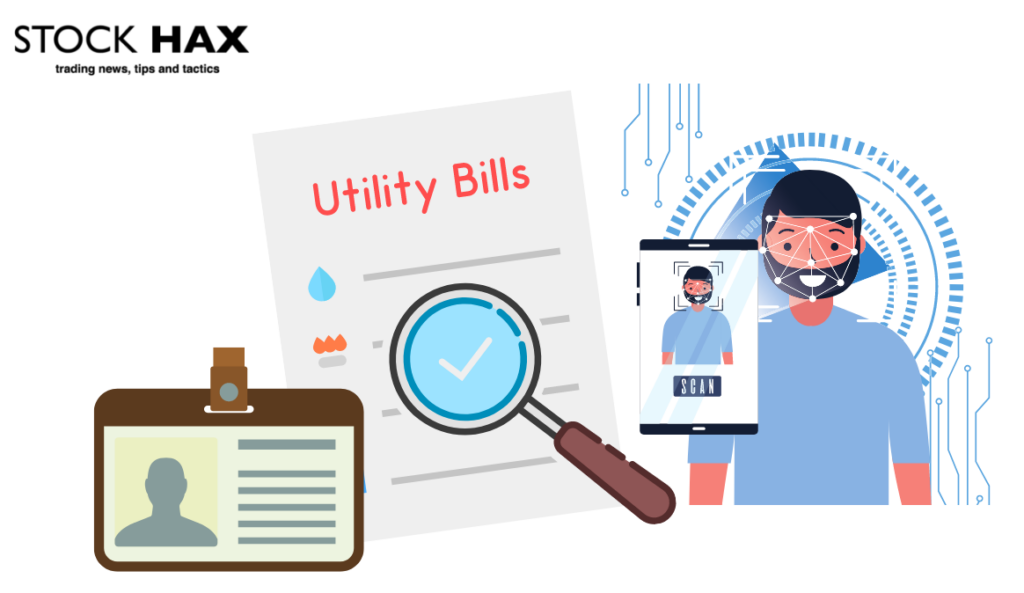 Step 3: Make a Deposit
Once your account verification is complete, it's time to fund your profile. Open the eToro menu and click on the Deposit Funds button. Select the amount you want to invest in Matterport stocks, choose the currency and payment method.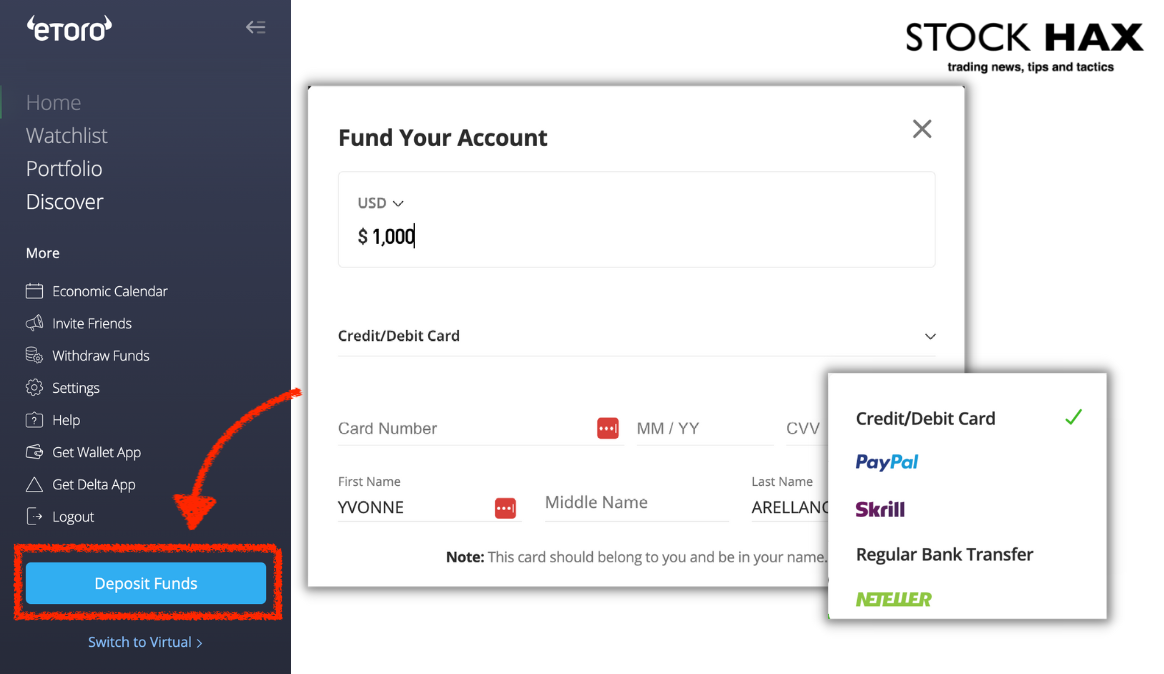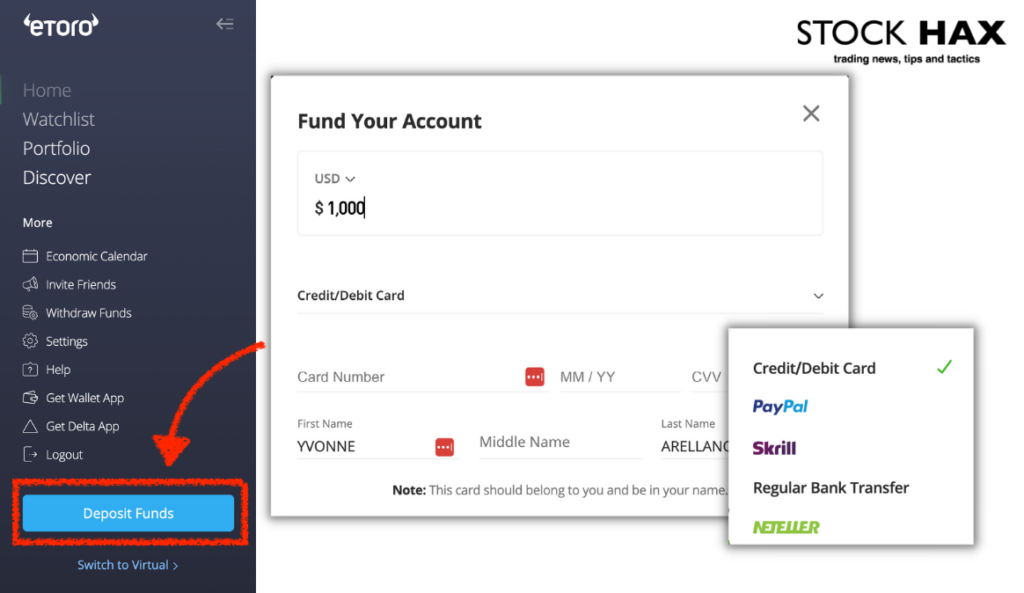 Step 4: Search for Matterport
To find Matterport shares, use the search tab and enter "Matterport". If you're unsure of the stock's ticker symbol, simply type in the first few letters. eToro's intuitive platform will quickly display the most popular results.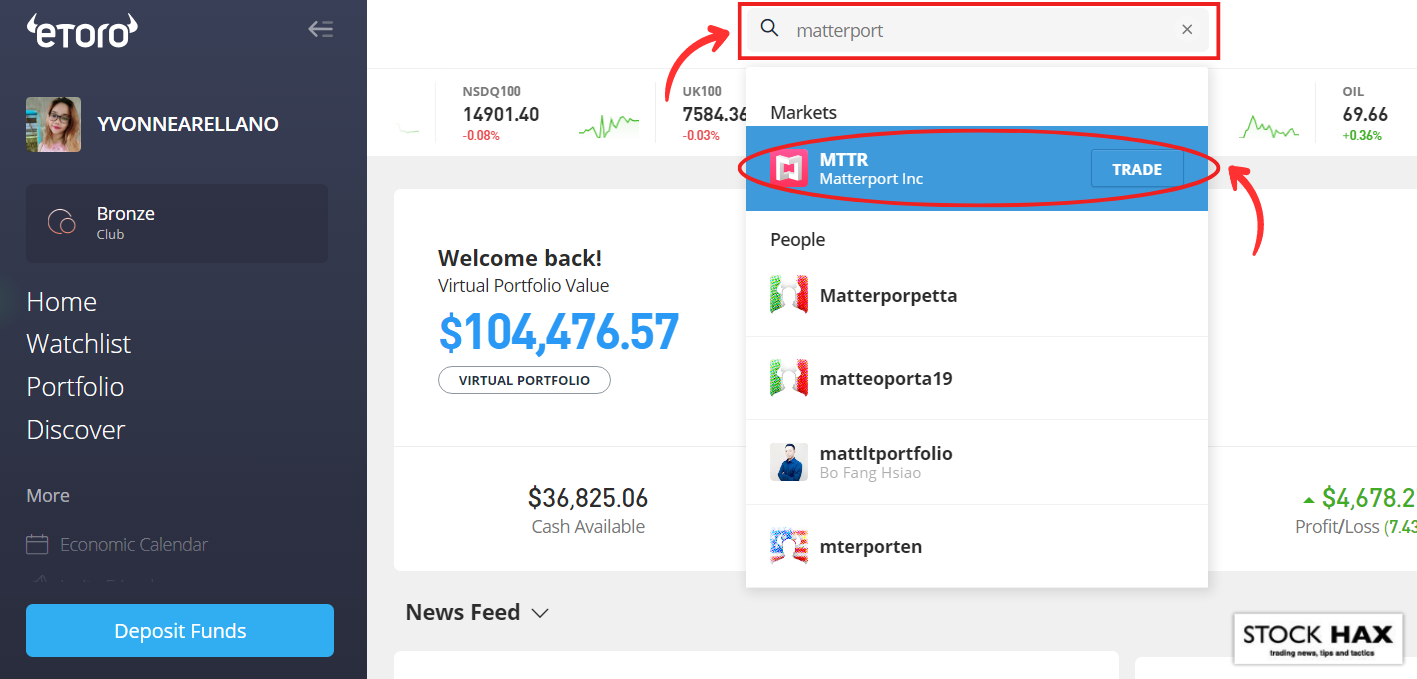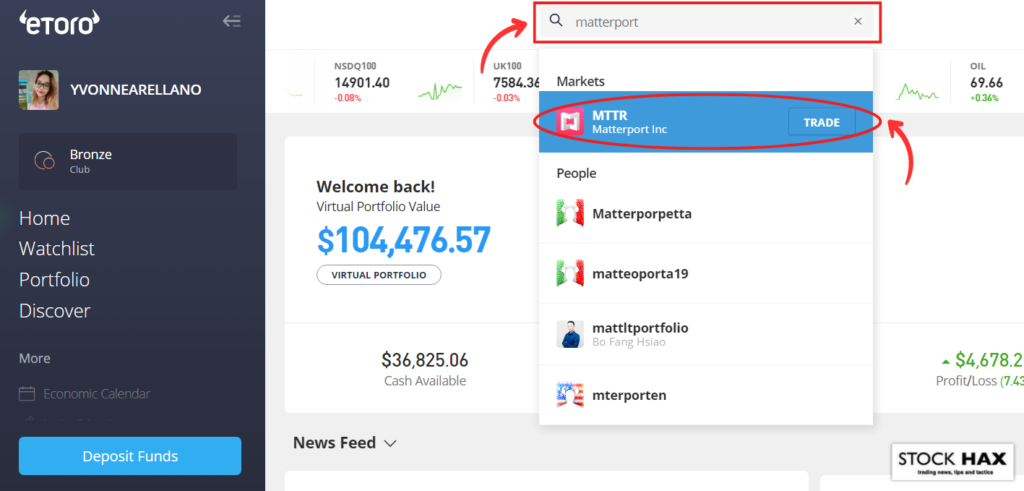 Step 5: Select Matterport
After selecting Matterport, add shares to your portfolio through eToro is straightforward. Click on the Invest button and choose the amount of money you wish to use or the number of shares you want to acquire. Once the process is complete, you will see your new assets in your portfolio.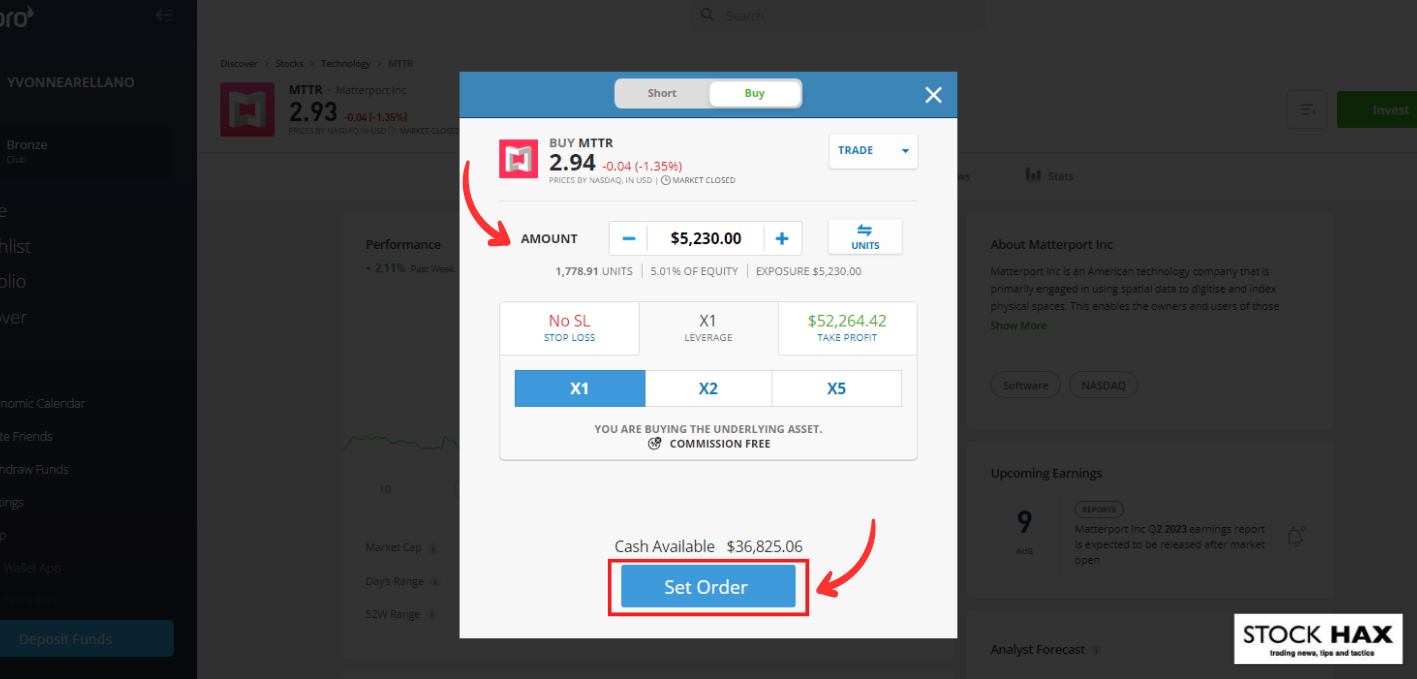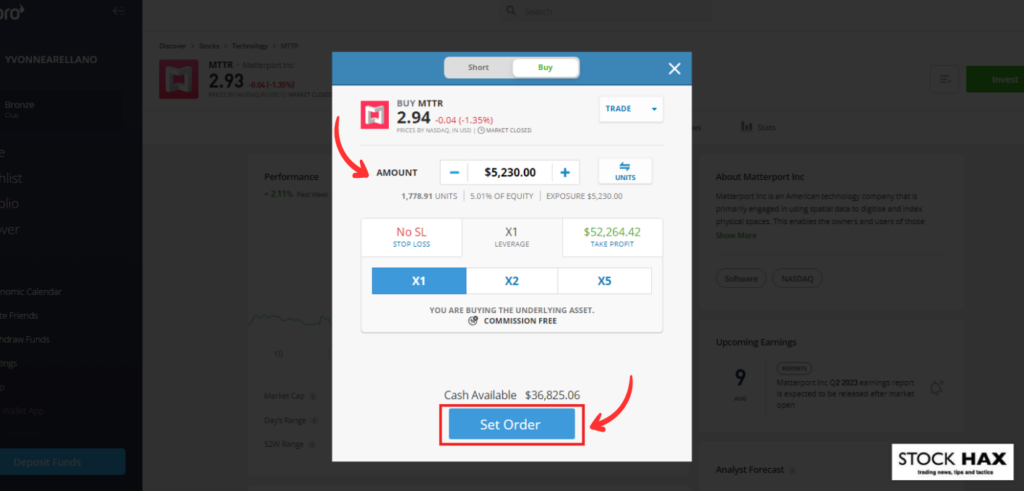 Summary
Matterport stock represents a leading technology company specializing in immersive 3D experiences. With a strong presence in industries such as real estate, architecture, and hospitality, Matterport's innovative solutions enable virtual tours and 3D modeling of physical spaces. As the demand for immersive visual experiences continues to grow, Matterport's stock holds potential for long-term growth based on financial performance, market competition, and industry trends. However, it's first essential to conduct thorough research and consult with financial professionals to make informed decisions about Matterport stock.
FAQ
Is Matterport a buy?
There are no crystal balls in the stock market, and you should always do your due diligence. However, based on Zacks' proprietary data, Matterport, Inc. currently holds a Zacks Rank 2, and projections show there's potential for MTTR shares to see an above-average return compared to the overall market in the coming months.
Who owns Matterport?
Ownership is distributed among several investors and stakeholders. Some of the major investors in Matterport include venture capital firms such as Lux Capital, DCM Ventures, and Qualcomm Ventures.
What is Matterport's pricing?
As of market close on June 16, 2023, Matterport stock was priced at $3.26 per share.
Is Matterport a dividend stock?
Matterport (MTTR) does not pay a dividend.
Risk Disclaimer
StockHax strives to provide unbiased and reliable information on cryptocurrency, finance, trading, and stocks. However, we cannot provide financial advice and urge users to do their own research and due diligence.
Read More