This website and its content are not intended to provide professional or financial advice. The views expressed here are based solely on the writer's opinion, research, and personal experience, and should not be taken as factual information. The author is not a financial advisor and lacks relevant certifications in that regard. We highly recommend consulting a qualified financial advisor before making any investment decisions, as the information presented on this site is general in nature and may not be tailored to individual needs or circumstances.
Marvel Technology Group Inc is a well-established global semiconductor industry leader, known for its innovative and comprehensive portfolio of advanced technologies. The company was founded in 1995 and is based in Wilmington, Delaware.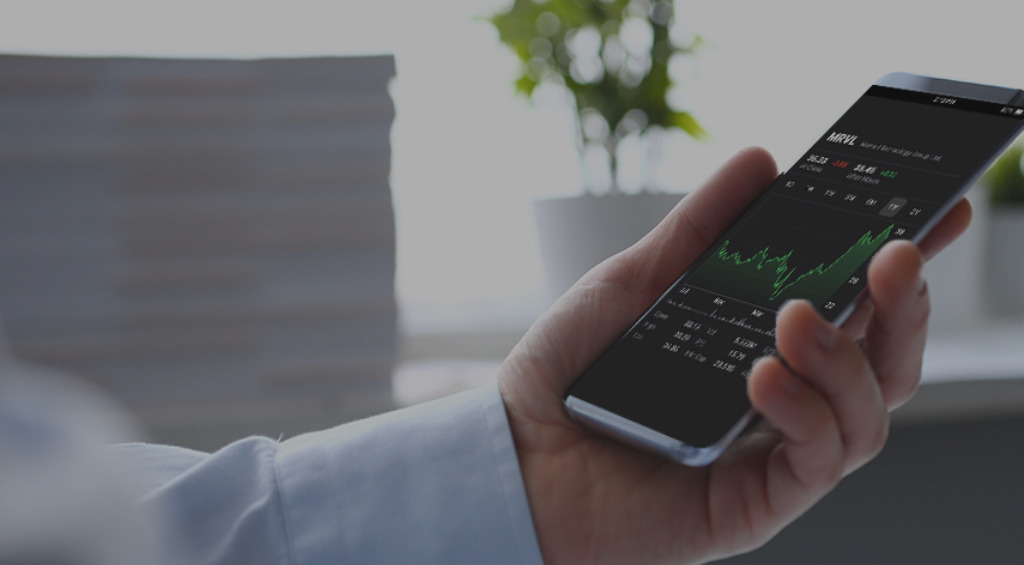 Marvel specializes in designing, developing, and manufacturing a diverse range of integrated circuits. These semiconductors are primarily employed within the sectors of data infrastructure, cloud technology, networking, and communications,
The company aims to fulfill the critical demands of these rapidly evolving markets. As an integral player in digital technology, Marvel empowers high-performance computing and next-level connectivity solutions.
MRVL Stock Key Features
Innovative Semiconductor Solutions: Marvel Technology Group Inc is well-known for designing and producing high-performance semiconductor technologies, offering comprehensive solutions in automotive, industrial, and consumer markets.
Global Presence: With headquarters in Wilmington, Delaware, Marvel maintains a global footprint, operating in several countries, including Japan, Taiwan, China, South Korea, India, Argentina, Vietnam, and Israel.
Industry Leader: Founded in 1995, Marvel has steadily become a central player in the semiconductor industry, recognized for its consistent innovation and technological advancements.
Empowering Connectivity: Marvel's products play a crucial role in enabling high-performance computing and high-speed connectivity, supporting the development and implementation of cutting-edge technologies such as IoT, 5G, and edge computing.
Commitment to Quality: Marvel is committed to maintaining the highest standards in product quality, reliability, and performance, ensuring that its integrated circuits meet the exacting requirements of today's demanding digital environments.
MRVL Stock Over the Years – Review
Over the past 5 years, MRVL has increased in price due mainly to the strong demand for its semiconductor products in the cloud, data center, and 5G markets. The company has also benefitted from its acquisition of Inphi in 2021, a leader in high-speed data movement solutions.
MRVL stock was trading at $21.54 in May 2018 and rallied to an all-time high of $93.85 by December 2021. That's equal to a return of 336%. But, the rally was short-lived, and the MRVL stock price has since returned to lower levels, mainly due to global chip shortages and increased competition.
MRVL Stock in 2023
Before we look at MRVL stock price today per share, let's consider its recent performance over the past year. After reaching a recent low of $33.75, the stock managed to rally to $49.49. From that level, the stock price drifted downwards and started to recover again on April 25, going from $36.91 to $45.98 on May24.
After the latest earnings report, which beat estimates by 5.8%, the market jumped and MRVL stock price reached a recent high of $67.99, currently trading at $63. Compared to the S&P 500, MRVL shares have outperformed the broad stock market by 68.1%.
MRVL Stock in 2022
2022 was a lousy year for MRVL stock, the price at the start of the year was $87.95. It reached $91.78 the next day, before entering a bear trend that took MRVL stock price to a 2-year low of $35.09 on December 28.
Marvell Technology managed to increase both revenue and earnings in 2021. Revenue increased by 32.7%, from $4.462 billion to $5.919 billion. Earnings increased by $604 million, or 51%, from $1.186 billion to $1.79 billion.
MRVL Stock in 2021
MRVL Stock had a volatile start to 2021, spending the first 6 months fluctuating between $39 and $56. In July, the stock's price broke the upper boundary and went into full-on bull mode. The stock reached a new all-time high of $93.85 on December 9, shortly after announcing it beat earnings by 11.76% and revenue by 5.44%.
Revenue for 2021 increased by 50.33% from $2.968 billion to $4.462 billion. Earnings increased by $569.4 million or 92.3% from $616.8 million to $1.186 billion.
MRVL Stock in 2020
In 2020, MRVL stock price experienced a remarkable rally going from around $26 at the beginning of the year to close at $47.79 on December 31, which was near its all-time high reached on December 18 of $48.42. That's an increase of 86.2% over 12 months.
Not even the earnings report miss on December 3 knocked MRVL stock off its course. After a few days of declining, the stock closed the year on a rally. Revenue for 2020 increased by 10% going from $2.699 billion to $2.968 billion. While earnings improved by 53% going from $403.5 million to $616.8.
MRVL Stock in 2019
MRVL stock had a decent performance in 2019, gaining approximately 44% from $18 at the start of the year to about $26 by the end of December. The stock reached its yearly high of $28.38 on November 12, 2019, after reporting better-than-expected earnings and revenue for Q2 2019.
Total revenue for the year declined by 6.2% from $2.865 billion to $2.699 billion. While earnings also declined by $300.9 million to $403.5 million, or by 42.7%. The company still paid its usual $0.06 dividend.
There are several ways you can invest in MRVL shares. Some give you direct access to the stock's returns, while others are indirect. Let's go through each of them:
MRVL Stocks: The most direct way to gain exposure is through the stock market and buying the company's shares through a stockbroker like eToro. You will gain access to the stock's price returns and the company's dividend payments.
Mutual Funds: Another way of gaining indirect exposure to MRVL shares is through a mutual fund. You can look for a mutual fund that specializes in the technology sector. And more specifically, one that has MRVL stock as part of its holdings.
ETFs (Exchange Traded Funds): These funds are like mutual funds that invest in a basket of securities. But unlike mutual funds, they often have a more liquid market as they are traded on an exchange. You can look for a fund that invests in the technology sector and, in particular, has MRVL stock in its holdings.
Crowdfunding: Although less common for well-established companies like Marvel technology, another way is to use a crowdfunding platform. These platforms provide a place for investors to group together low minimum investments. In this way, gaining access to assets that otherwise would be out of reach.
Options and Futures: This type of security is more sophisticated than the ones mentioned so far. But suppose you have a large enough appetite for risk. In that case, these two derivatives can give you direct exposure to MRVL stock with high amounts of leverage. Higher leverage also comes with higher risk; make sure to fully understand these products before diving in.
You can also invest in MRVL shares through eToro, a leading online stockbroker and social trading platform.
You can buy MRVL shares through various online brokers and platforms. When making your choice, you should consider essential aspects like fees, taxes, and investment tools. As an example, we'll use eToro.
Step 1: Open an Account
To get started, go to the homepage of eToro and look for the Sign-Up button. Click on it, and the registration page will load. You'll be prompted to provide your name, email, and password. You can also sign-up using your Facebook or Google accounts.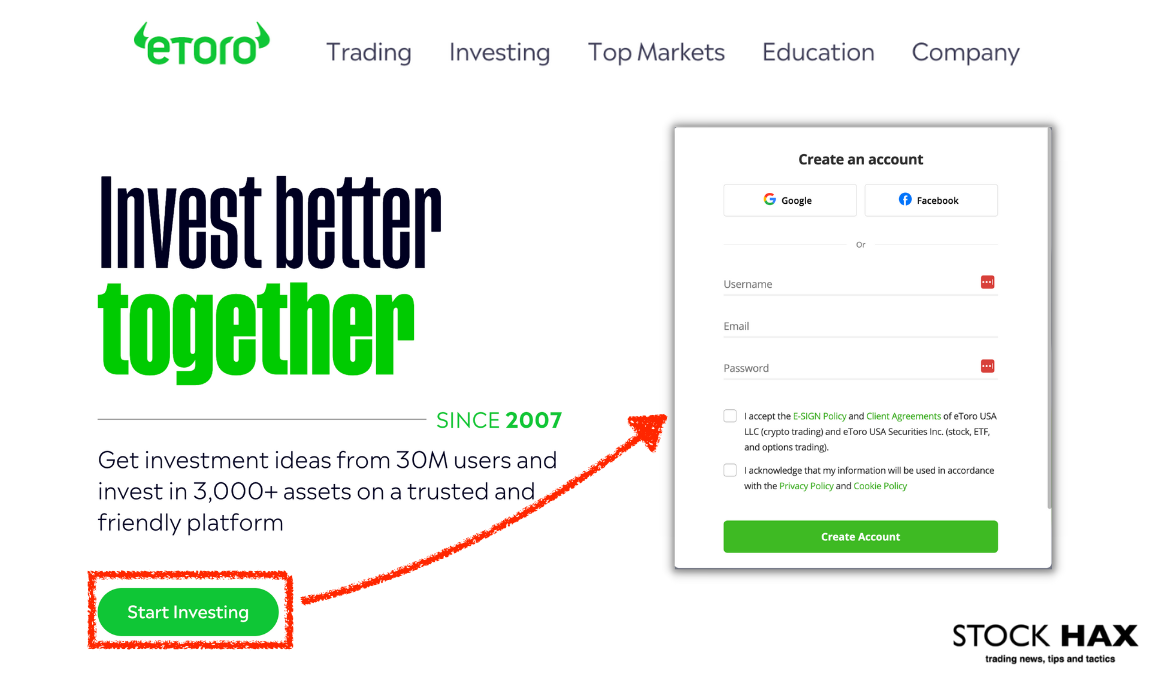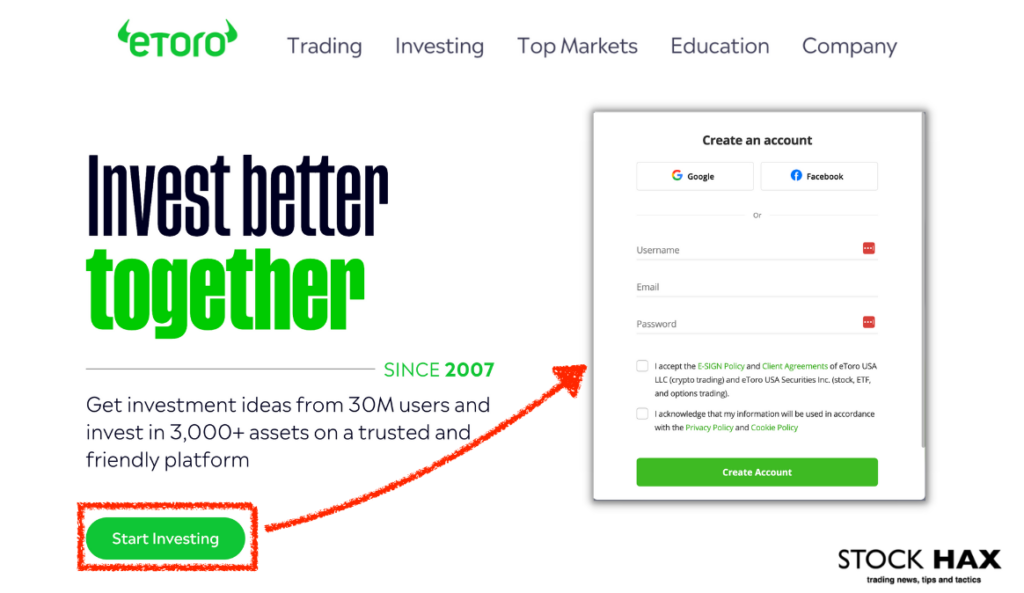 Step 2: Upload ID
In this step, you'll need to go through identity verification. To complete the process, you must upload proof of identity (POI) and proof of address (POA). For POI, you can use your ID, passport, or driver's license. While the POA must show your full name, address, and date. Note that no document should be issued more than three months prior.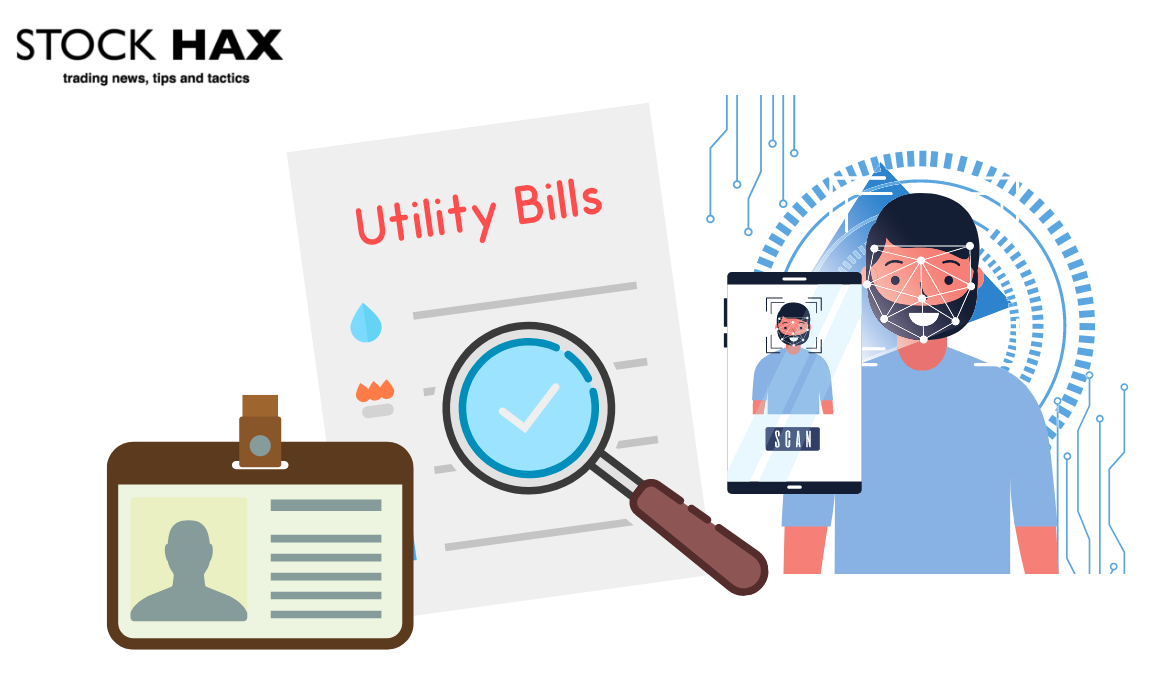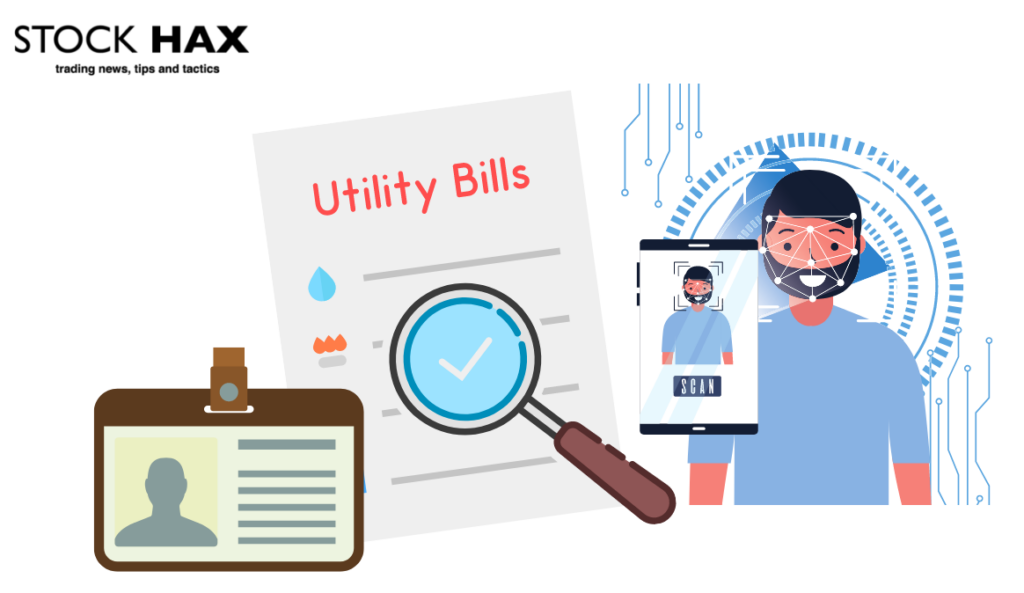 Step 3: Make a Deposit
After successfully completing your account verification, the next step is adding funds to your account. To do this, access the eToro menu and click on the Deposit Funds button. Then, you'll have the option to choose the amount you want to invest in MRVL stocks. Next, select the preferred currency and specify your payment method.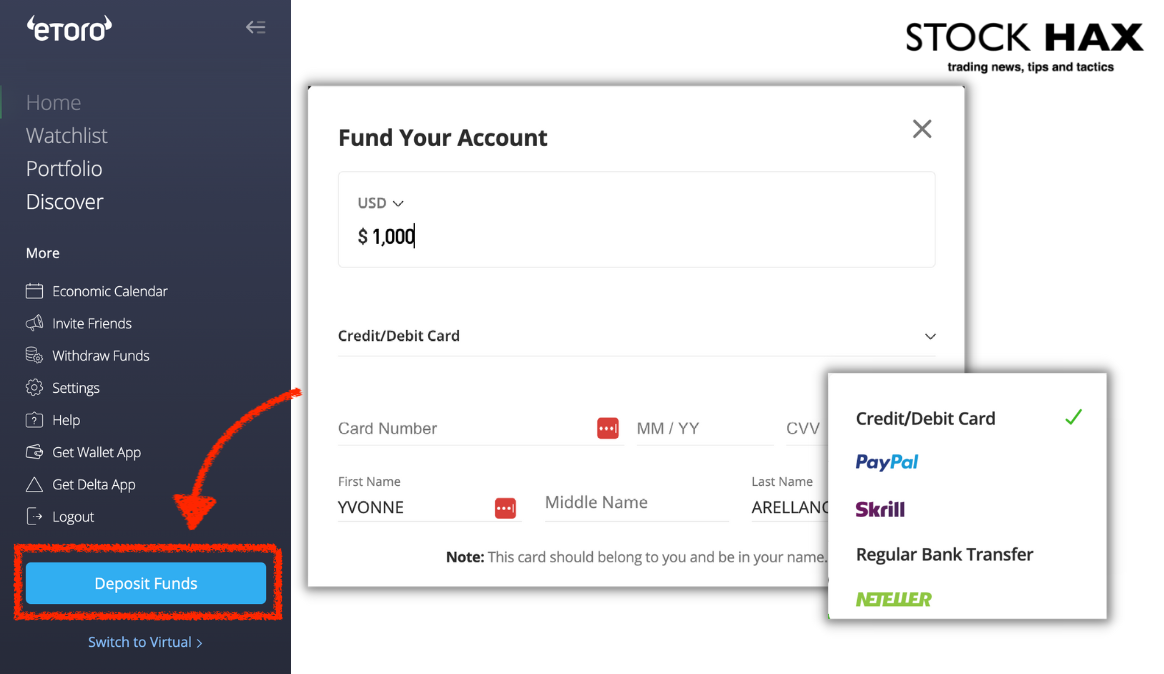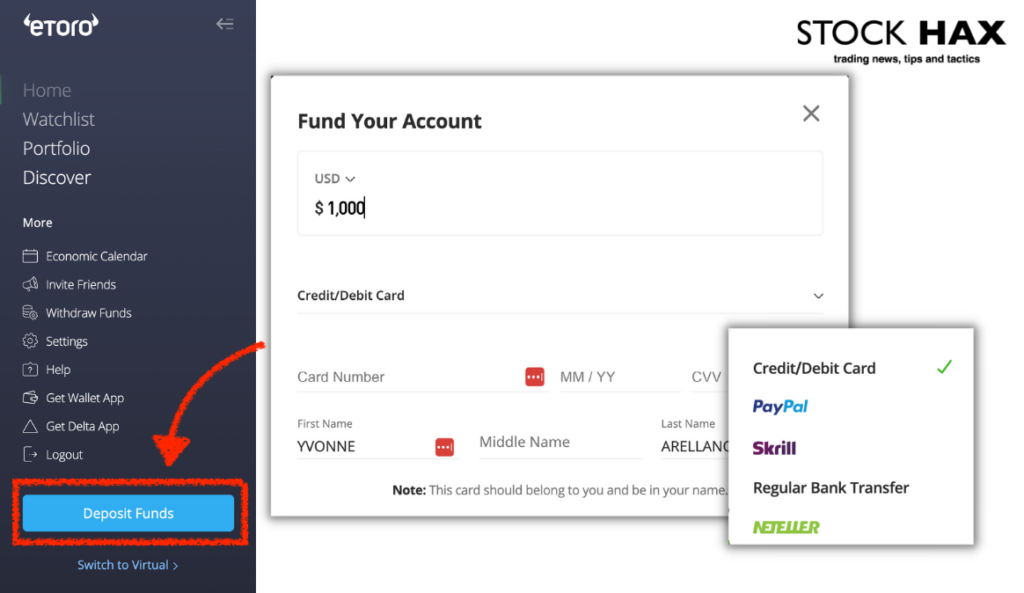 Step 4: Search for MRVL
To find MRVL shares, simply enter MRVL in the search tab. If you're unsure of the stock's ticker symbol, you can type in the first few letters, and eToro's intuitive platform will quickly display the most popular results.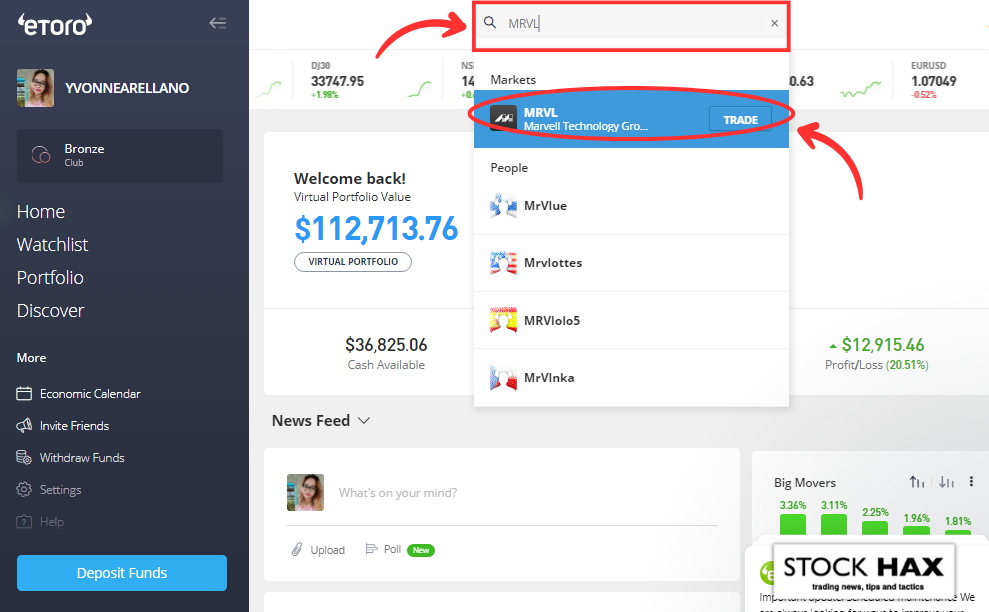 Step 5: Invest in MRVL
Once you have selected MRVL, you can easily invest in the stock through eToro. Just click on the Invest button, and you will have the option to choose the amount of money you wish to allocate or the number of MRVL shares you want to buy. After completing the process, you'll see your newly acquired assets in your portfolio.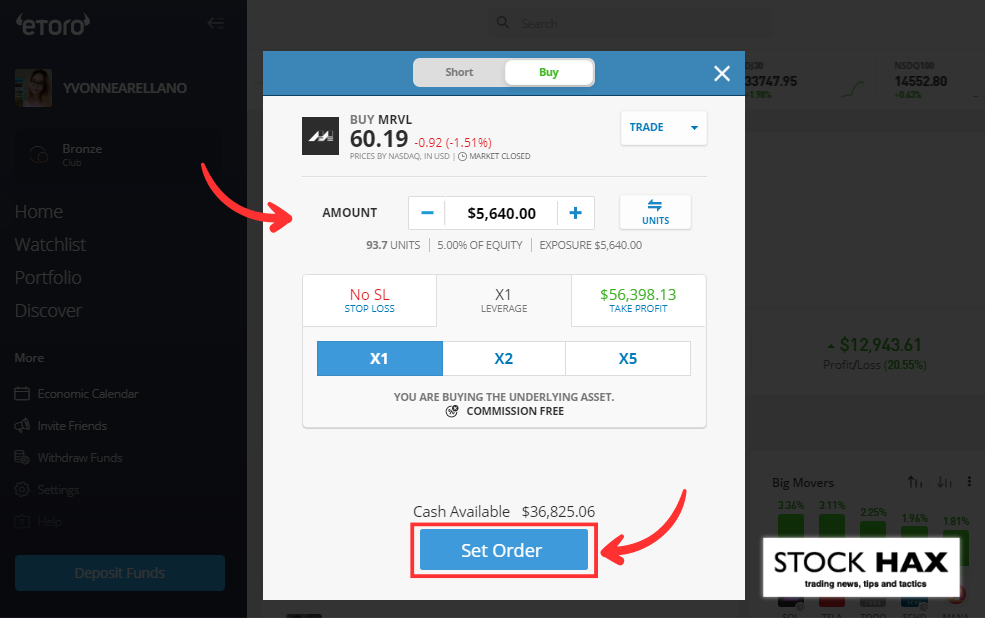 Summary
Marvel Technology (MRVL) is a leading company in the technology sector specializing in designing and manufacturing semiconductors and data infrastructure solutions. The company is based in the US and operates at a global level.
Over the past 5 years, MRVL has shown a strong stock performance, with notable growth and a positive overall trend. The year 2021 saw the stock reach an all-time high, while current levels are around 50% lower.
There are various ways to invest in MRVL shares. The most direct method is buying MRVL stocks through a stockbroker. One example is eToro, which offers a user-friendly platform and multiple funding methods.
FAQ
Is MRVL a good stock to buy?
Whether MRVL is a good stock to buy depends on many factors. Firstly, your individual investment goals and risk tolerance. Then you must consider other fundamental factors, such as the company's financial health, competitive position, and future growth prospects. We advise consulting your financial advisor and conducting in-depth research before making a final decision.
What is the business focus of MRVL?
Marvel Technology is a company that specializes in data infrastructure and semiconductor solutions globally. The company caters to clients in many sectors, including automotive, industrial, and cloud computing.
How has MRVL performed in the last 5 years?
MRVL has shown a positive trend over the past 5 years. However, stock prices are subject to substantial variations, as we have seen recently. Despite the stock market's volatility, MRVL has maintained an upward trend. It's important to note that past performance doesn't guarantee future results.
How can I invest in MRVL shares?
You can invest in MRVL shares in several ways, the most direct is buying MRVL stock. You can buy MRVL shares on many online platforms, like eToro. First, sign-up for an account, complete the identity verification process, and deposit funds. Finally, place your order to buy MRVL based on the number of shares or investment amount.
What are the fees for investing in MRVL through eToro?
eToro doesn't charge a commission for buying or selling stocks. Instead, like many brokers, eToro makes money through the bid-offer spread. This is the difference between the buying price and the selling price of an asset.
You may also incur conversion fees if your account is not in US dollars, and you buy stocks on a US exchange. You may also have minimum deposit amounts or inactivity fees. We recommend checking eToro's full fee schedule.
Can I trade MRVL shares through other platforms?
MRVL shares are available through several platforms or brokers as well. However, the trading conditions and account charges may vary depending on the platform or broker.
Does MRVL stock pay dividends?
Marvel Technology usually pays dividends and has done so consistently over the past years. Racking up 10 consecutive years of regular quarterly dividends. Unfortunately, the dividend yield on this stock is not particularly high and is currently at 0.52%.
Risk Disclaimer
StockHax strives to provide unbiased and reliable information on cryptocurrency, finance, trading, and stocks. However, we cannot provide financial advice and urge users to do their own research and due diligence.
Read More