This website and its content are not intended to provide professional or financial advice. The views expressed here are based solely on the writer's opinion, research, and personal experience, and should not be taken as factual information. The author is not a financial advisor and lacks relevant certifications in that regard. We highly recommend consulting a qualified financial advisor before making any investment decisions, as the information presented on this site is general in nature and may not be tailored to individual needs or circumstances.
Healthier Choice Management Corp is a company based in the US. It provides all-natural and organic products to 10,000 customers daily. Moreover, the brand operates locally in Florida, USA. In addition, the HCMC has three physical stores, with two more on their way.
Healthier Choice Management Corp also has an impact on campaigns about mental well-being. Furthermore, the company has centers where they conduct IV Nutrient Infusion and Intramuscular Injection Treatments. Moreover, HCMC has a subsidiary, HCMC Intelectual Property Holdings LLC, that owns patents regarding their Intelectual Property.
Their trademarks are registered both in USA and Canada and provide a healthier alternative to vaping and smoking. In addition, this new technology will reduce the carbon footprint and pollution significantly.
The Healthier Choice Management Corp's stock is listed on various online brokers under HCMC. Furthermore, the company wants to change it to HCWC. After successfully registering Form S-1, the company anticipates the HCWC common stock to trade publicly in Q3 2023.
HCMC Stock – Key Characteristics
Healthier Choice Management Corporation provides solutions for people to make healthier choices, thus improving themselves. Moreover, in this paragraph, we will discuss the upside and downside potential of the HCMC stock. In addition, it will examine whether the company's stock can be a reasonable solution for the Stock Market:
The Intrinsic Value of HCMC Stock is 32.6%. The market price per share is currently $0.0001, significantly lower than the all-time high of $0.02. However, the intraday volatility is high, so further research should be done before investing in HCMC stock.
The scales have turned positive for HCMC stock since the COVID-19 pandemic passed. Furthermore, there is an increasing interest in finding a healthier alternative to smoking. Consequently, HCMC has amassed a Gross Profit of more than $10 million for 2022.
The HCMC stock has a Negative Net Debt. This characteristic provides data on a company's cash/debt ratio. The higher the value, the better for the company. Moreover, HCMC has more than $23 million available in cash and only $2 million in debt. As a result, the ratio is 11.5 to 1.
The HCMC stock solvency remains uncertain. The analytical tool gives insight if a brand can fulfill its financial obligations. Healthier Choice Management Corporation has reached a $55 million evaluation. However, future regulation may tip the scales, and HCMC stock could experience price fluctuations.
The HCMC stock has experienced significant interest over the last 52 weeks. Moreover, from Q1 2022 to Q1 2023, the total sales are $13.6 million. This increases by over 169% in only one year. In addition, investors await Q2 of 2023 to conduct additional insight.
How has the Healthier Choice Management Company Performed on the Market?
Healthier Choice Management Corporation was founded in 1985. The company's headquarters are in Hollywood, Florida. In the beginning, HCMC started selling healthier alternatives to foods. Furthermore, it offered diets based on the medical condition of its clients. Finally, after gathering popularity across Florida, the company went public.
On February 1st, the company became publicly listed. The price per single share was $9.5 million in the first years. However, the high price was due to the low share volume.
Since 1985, the HCMC company has created four subsidiary businesses. For example, HCMC Intellectual Property Holdings owns all patents of the enterprise. Moreover, the Healthy Choice Markets and Healthy Choice Wellness Centers operate locally in Florida. In addition, the Vitamin store ships HCMC stock products across USA and Canada.
The HCMC stock has experienced five splits since February 1st, 2000. The first one was a 1:2.5 split and was in 2010. The following two in 2013 and 2015 were 1:5. The final two splits made the HCMC stock available for new investors. They both happened in 2016.
What Benefits Does the HCMC Stock Provide to Owners?
People who have invested in HCMC stock enter a rapidly growing market. The increasing search for healthier alternatives to smoking has gained vast popularity among young people. However, at the moment owning HCMC stock contributes little.
Every owner of HCMC stock will receive a dividend from the company. However, the price varies between $0.0001. Despite the 3.2% dividend yield, the volatility makes it impossible to calculate the returns.
HCMC stock owners in Florida will receive a discount when shopping from one of the enterprise's subsidiary companies.
Another benefit of owning HCMC stock is the high volatility. For example, the price could change profoundly over 24 hours. Traders who prefer a more riskier approach when trading stock may find this beneficial; however, traders should invest with caution and conduct their own research.
HCMC Stock – Price Movement Over the Years
The Healthier Choice Management Corporation IPO was on February 1st, 2000. The opening price was $8.771 million. The price ended the trading day at $10.526 million. The reason behind these numbers is the low share volume. According to the HCMC Board of Directors, the stock supply was below 100 shares.
The tendency in the high evaluation continued until the last stock split. After the 5th split, executed on June 2nd, 2016, the HCMC stock price began trading at $2. Unfortunately, it ended the trading session at $0.1 per share.
Despite the unpleasant performance, the HCMC stock survived several financial crises. For example, in 2008, the HCMC stock opened at $3.585 million and closed at $3.7235 million. However, after Q2 of 2008, the price dropped below $2.6 million. The tendency continued for only a short time. In Q1 of 2009, the price surged to $6.9 million.
On the fourth split in 2013, the HCMC opened at $63.3 million. Despite the 1:5 reduction, the value decreased only by 13.8%. In Q4 of 2013, the price reached an all-time high of nearly $70 million per share.
However, after the final split, the HCMC stock value decreased significantly. The moment price is $0.0001. Traders still need to be more concerned about the company's future, despite the promising performance in 2022 and 2023.
Best Online Brokers for Investing in HCMC Stock
Traders can purchase HCMC stocks through various online platforms. However, after reviewing fees, trading taxes, and tools, we concluded a list of three platforms. Let's dive into some of the best choices.
eToro
eToro is one of the best online brokers for trading digital assets, including HCMC Stock. The process of creating an account and funding it is straightforward. In addition, eToro provides several valuable tools, such as Chinese Candlesticks and a Copy-trading option. Here is a more detailed tutorial about how to use eToro to buy HCMC Shares.
Traders can invest in HCMC Stock through different online brokers or exchange platforms. However, making an informed decision depends on fees, tools, and transaction taxes. Moreover, eToro combines all the services to satisfy every investor.
The online brokerage platform provides traders to invest in different CFDs or global markets, including HCMC. Furthermore, eToro offers several trading tools, including a stop-loss option, copy-trading, and a demo account mode.
Creating a profile on the trading platform is an easy process. In addition, the interface is user-friendly. As a result, creating an account and funding it takes less than 10 minutes.
Step 1: Open an Account
To create your profile, browse eToro's homepage and press the Sign-up button. In a few seconds, the registration page will open. Then, users need to fill in their name, email, and password. Furthermore, eToro's newest update allows traders to create an account with Facebook or Google profiles.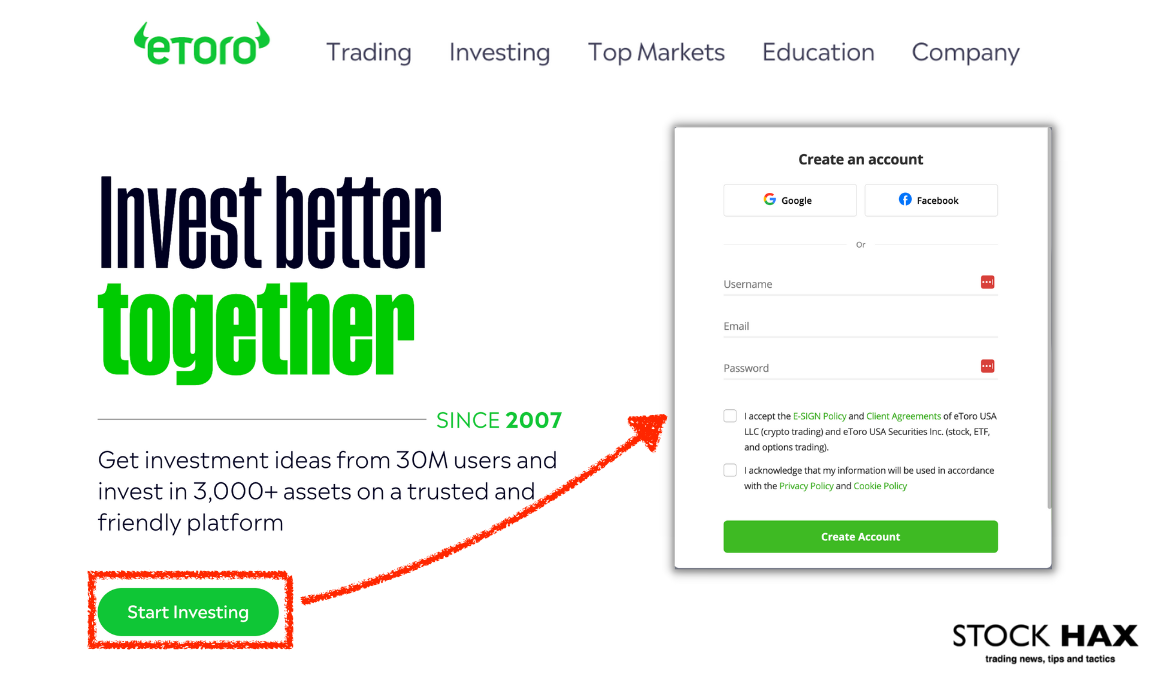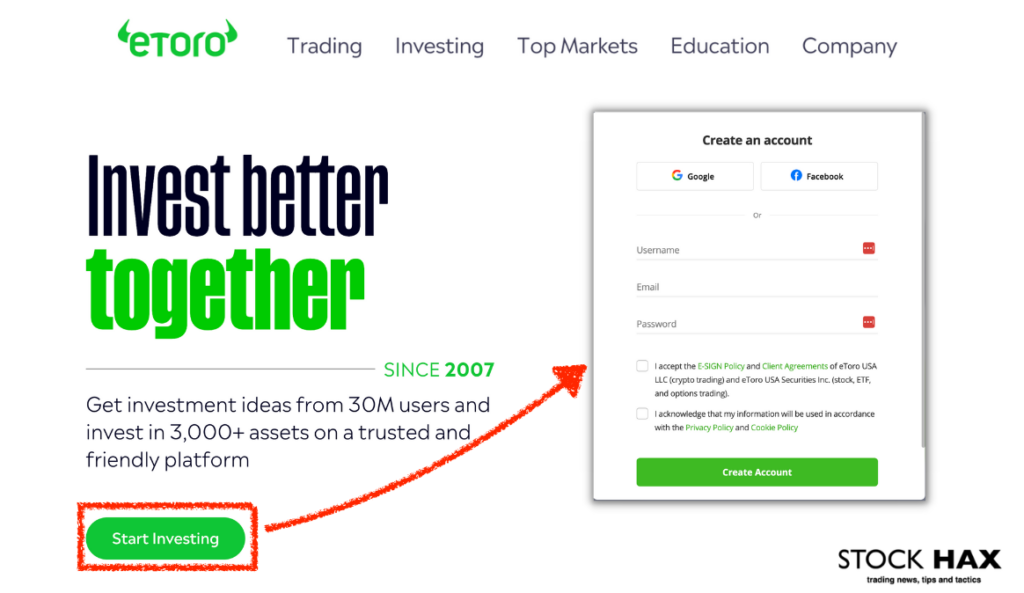 Step 2: Upload ID
In this part of the process, users need to provide identity verification. Furthermore, Proof of Identity (POI) and Proof of address (POA) are required. In addition, the POA should be at most two months.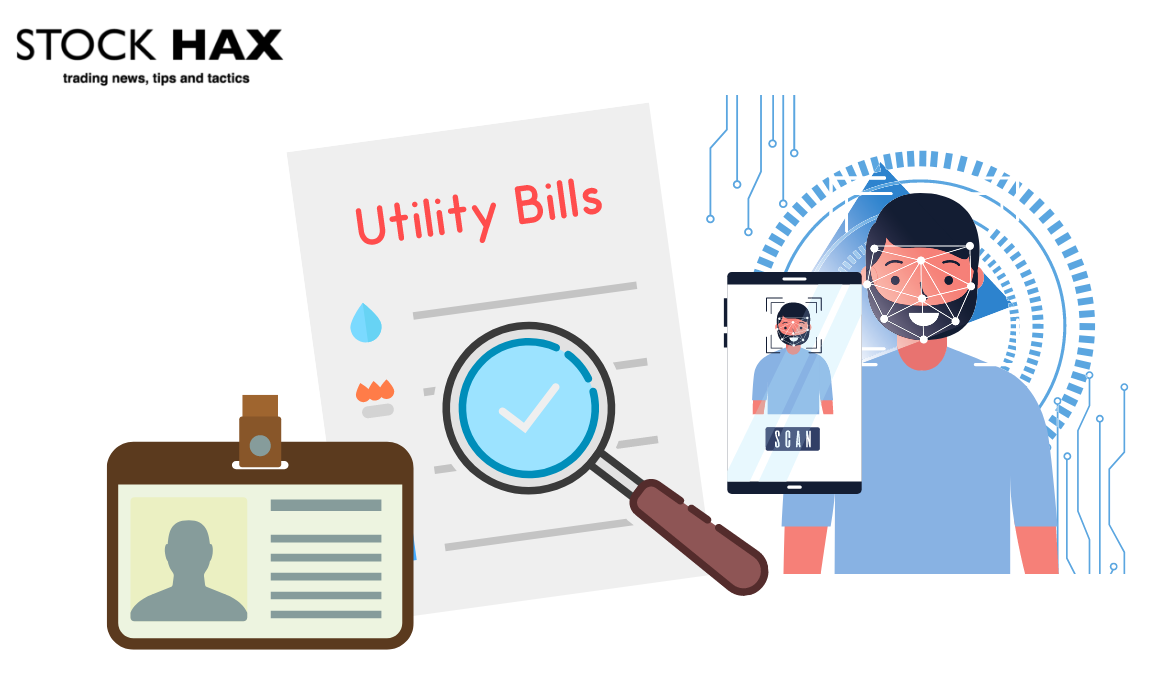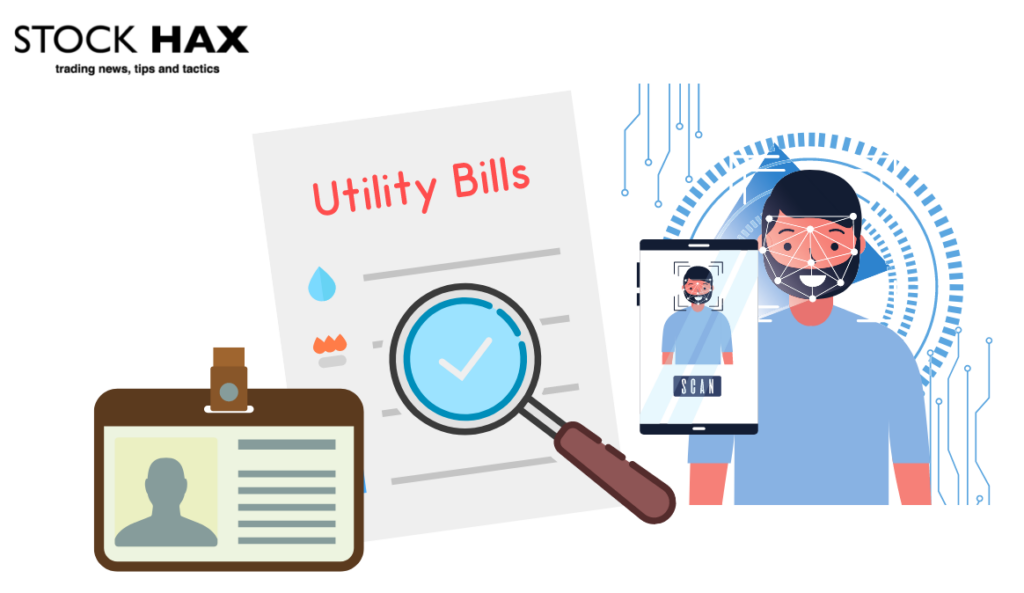 Step 3: Make a Deposit
After successfully verifying your account, you need to make a deposit. To complete this step, open eToro's menu and click on Deposit Funds. In addition, users can select the amount to invest in HCMC stock. Furthermore, the online broker offers various transaction processing.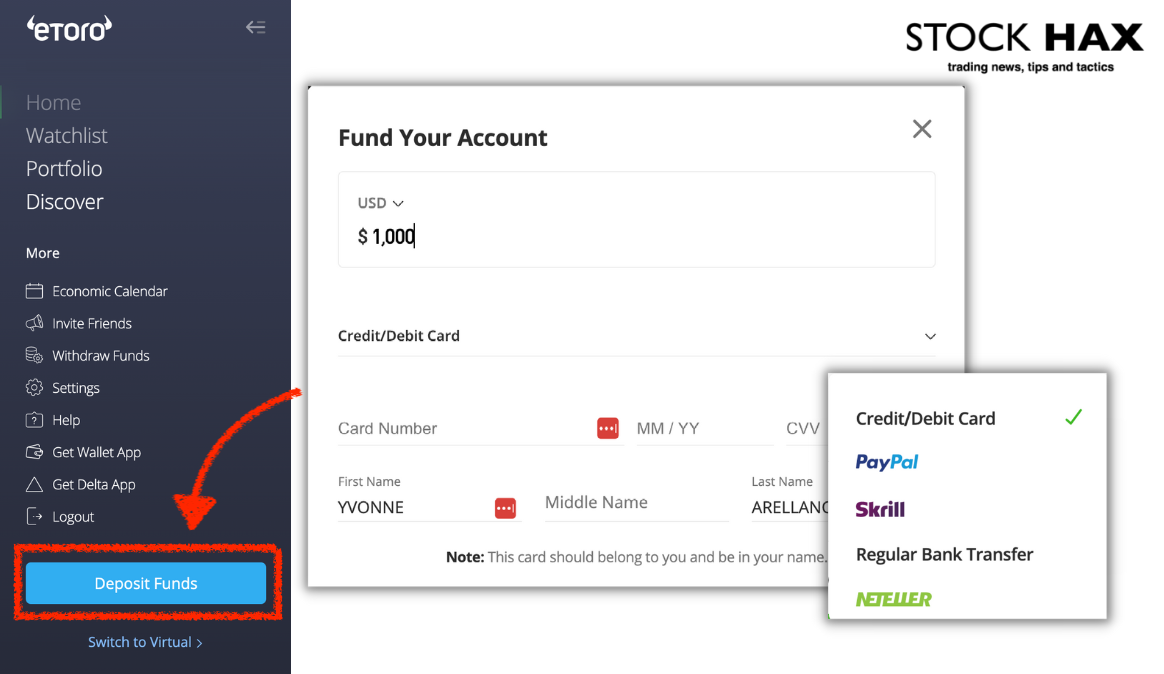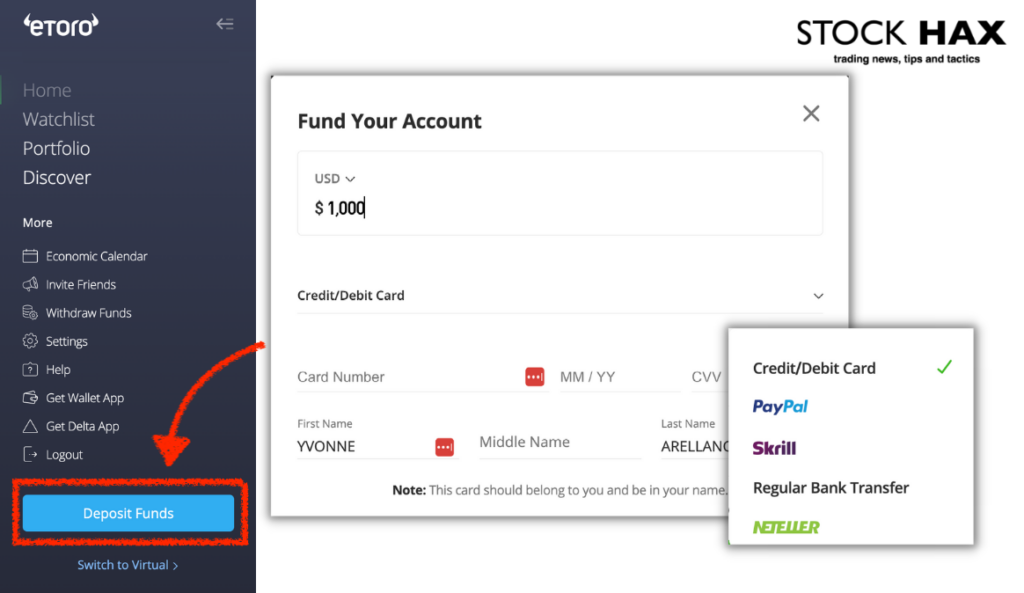 Step 4: Search for HCMC
Users can find the HCMC stock by writing its name in the search tab. eToro is very intuitive as a platform and displays the results according to popularity. Consequently, typing down only the ticker symbol will find the asset faster.
Once selecting HCMC Stock, press on Purchase. Moreover, eToro provides options to purchase an asset or only a fraction. In addition, after finishing the transactions, the newly acquired stocks will appear in your portfolio.
Fidelity
Fidelity is a great choice to invest in penny stocks such as HCMC. Furthermore, the platform provides various trading tools to benefit traders. In addition, the online broker imposes a 0% tax on investments below $2500. Consequently, this makes Fidelity a great platform to trade HCMC stock.
TD Ameritrade
TD Ameritrade is another excellent choice to purchase HCMC stock. The online broker provides its customers real-time market data, a stop-loss limit, and limit orders. Moreover, opening and funding an account is easy and takes only several minutes.
What are the Pros and Cons of the HCMC Stock?
HCMC's stock price of $0.0001 classifies it under the penny stock section. Being a penny stock, this type of asset has small market cap, high-volatility and limited liquidity, making it a rather risky investment. In the list below, we have included some of the advantages and disadvantages of the HCMC stock.
Pros
HCMC stock price is meager
The Gross Profit of the company exceeds $10 million
The Return on Equity (ROE) has improved by 12%
Cons
The investment in HCMC stock comes with a high risk
It has high intraday volatility
High transaction fees per share
HCMC Stock – Our Honest Opinion
The Healthier Choice Management Corporation has remained strong despite its previous shakedowns. In addition, the five splits executed throughout the years helped to stabilize the HCMC stock price. Moreover, the excellent performance of the Negative Net Debt and Long-term Solvency contribute to stabilizing HCMC's future.
FAQ
Do HCMC Stock Owners Receive Dividends?
Yes, owners of HCMC Stock receive dividends. However, they need to have acquired them before April 26th. Therefore, everyone who has fulfilled the requirements will receive a dividend from Healthier Choice Management Corp on May 1st.
What is the Price for one HCMC Stock?
Currently, the HCMC Stock trades at $0.0001 per share. However, the asset is characterized with high intraday volatility, meaning that it's price may fluctuate and lead to significant profits or losses. For example, the 52-week range varies between $0.0001 and $0.0200.
Are HCWC and HCMC Stock the Same?
HCWC is the new Ticker symbol of Healthier Choice Management Corporation. Furthermore, the US Security and Exchange Commission (SEC) finally approved the pending registration statement. As a result, HCWC will replace the HCMC stock by Q3 of 2023.
Do I Need to Transfer my HCMC Stock to HCWC?
No, the process is completely automated. Moreover, the dividend shares will be registered for resale on a registration statement filed with the SEC by HCWC.
Risk Disclaimer
StockHax strives to provide unbiased and reliable information on cryptocurrency, finance, trading, and stocks. However, we cannot provide financial advice and urge users to do their own research and due diligence.
Read More