This website and its content are not intended to provide professional or financial advice. The views expressed here are based solely on the writer's opinion, research, and personal experience, and should not be taken as factual information. The author is not a financial advisor and lacks relevant certifications in that regard. We highly recommend consulting a qualified financial advisor before making any investment decisions, as the information presented on this site is general in nature and may not be tailored to individual needs or circumstances.
The Walt Disney Company (NYSE ticker: DIS), the iconic entertainment conglomerate, has enchanted audiences worldwide for decades with its beloved characters, wonderful stories, and magical experiences. Established in 1923 by Walt Disney and Roy O. Disney, the company has grown into a global powerhouse, encompassing various segments such as film production, theme parks, television networks, and consumer products. With a rich history and a steadfast commitment to creativity and innovation, Disney has become synonymous with wholesome family entertainment.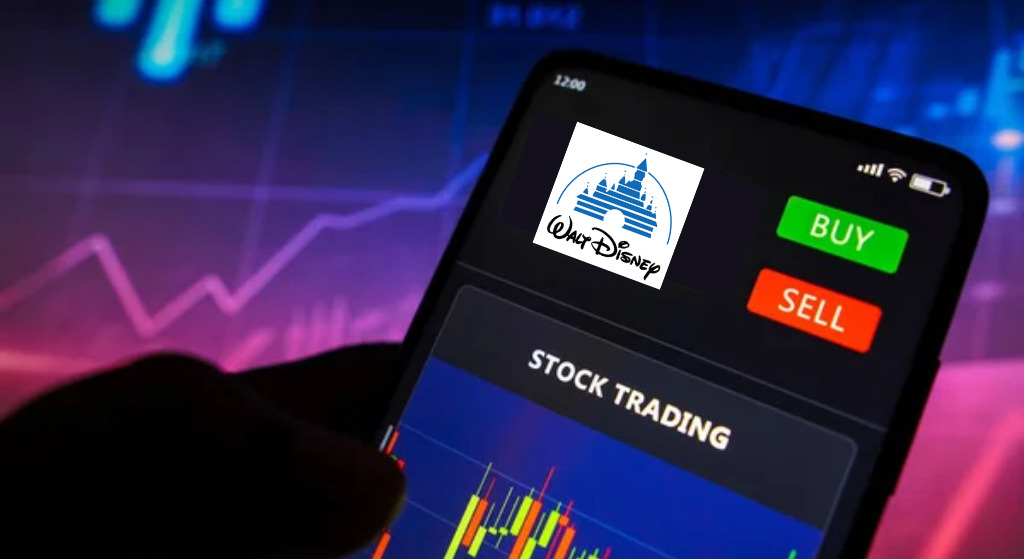 This article offers guidance on how to purchase Disney shares, providing quick insights into the process, important considerations, and strategies you may wish to apply. From understanding the company's financial performance and stock market trends to choosing a brokerage platform and executing the purchase, this piece of information aims to equip readers with the necessary knowledge to make informed investment decisions.
Disney Stock Key Features
Strong Brand Value: Disney boasts a globally recognized brand that holds immense value in the entertainment industry. The company's portfolio of iconic characters, franchises, and intellectual properties helps maintain a strong position in the market, attracting consumers and investors alike.
Diversified Revenue Streams: Disney's operations span various sectors, including theme parks, film production, television networks, and streaming services. This diversified revenue model helps mitigate risks associated with fluctuations in any particular industry, providing stability and potential growth opportunities for the company and its stock.
Content Powerhouse: With its extensive library of beloved content, Disney has a significant advantage in the streaming era. The company's streaming platform, Disney+, has gained substantial popularity and is a key driver of its growth. The continued production of high-quality content further strengthens the appeal of Disney stock.
Strategic Acquisitions: Disney has a history of strategic acquisitions that have expanded its market reach and diversified its offerings. Notable acquisitions include Pixar, Marvel Studios, Lucasfilm (Star Wars), and 21st Century Fox. These acquisitions have not only added valuable assets but also created opportunities for cross-promotion and synergies within the company's portfolio.
Long-Term Growth Potential: Disney's strong market position, ongoing expansion into new markets, and commitment to innovation suggest long-term growth potential for the company. As technology and media consumption habits evolve, Disney's ability to adapt and capitalize on emerging trends positions its stock as an attractive investment for those seeking growth opportunities in the entertainment industry.
Disney Stock Over the Years – Review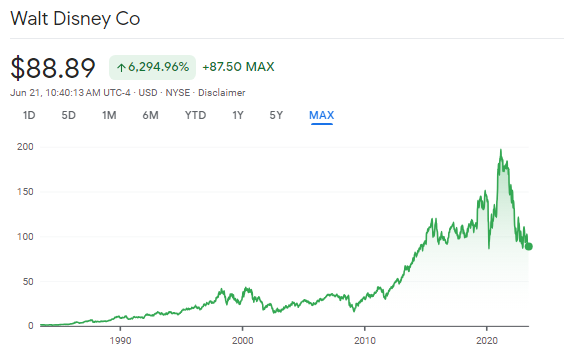 Over the past five years, Disney's stock has experienced a mix of positive and negative movements. The main cause for the share price increase during that period can be attributed to several factors, including the company's successful entry into the streaming market with Disney+. The launch of this platform in late 2019 garnered a significant number of subscribers and drove investor optimism. However, the stock faced challenges in 2021 and 2022, experiencing a drop in price due to various market factors. Nonetheless, the stock has shown resilience in 2023 with fluctuating performance, and overall, year-to-date results have been positive.
Disney Stock in 2023
In 2023, Disney displayed a strong performance, with positive results in total revenue, net income, and earnings per share (EPS). The company's total revenue has shown growth, indicating increased consumer demand and successful monetization of its content across various platforms. Disney's net income has also been positive, reflecting effective cost management and revenue generation strategies.
Of particular note is the performance of EPS. In the first quarter of 2023, Disney surpassed EPS expectations, demonstrating robust financial performance. In the second quarter, the company's earnings per share aligned closely with estimates, indicating stability and consistency in its earnings. These positive EPS figures signify Disney's ability to deliver value to its shareholders and maintain a solid financial position.
Looking ahead, Disney's positive revenue, net income, and EPS performance in 2023 suggest a promising outlook for the company. Continued growth in streaming subscriptions, successful film releases, and the recovery of theme park attendance are expected to contribute to Disney's financial success in the future.
Disney Stock in 2022
In 2022, Disney experienced a decline in stock price, despite positive financial results. The company achieved a 22.55% increase in revenue and a significant 57.64% rise in net income. However, the earnings per share performance was mixed. The first quarter saw a positive surprise of approximately 44%, while the second quarter had a slight negative surprise of around 9%. In the third quarter, EPS improved by 12%, but the fourth quarter recorded a substantial negative surprise of 46.19%. Overall, Disney's financials showed positive growth, but the stock price was impacted by various market factors throughout the year. One of those factors was of course the 4. Q EPS, which hurt the stock's performance.
Disney Stock in 2021
In 2021, Disney's performance was somewhat similar to 2022, an overall negative year, yet with an all-time high stock price. Despite the negative stock price trend, Disney achieved a significant increase in net income, nearly 167% higher compared to the year before. This indicates strong financial growth for the company. However, despite the improved net income, the stock price experienced a decline throughout the year, resulting in a negative overall performance. The specific market factors influencing the stock price movement in 2021 may have been similar to those in 2022, as discussed earlier.
Disney Stock in 2020
In 2020, Disney's stock price experienced a significant decline initially but rebounded towards the end of the year. The company faced negative financial results, including a decrease in total revenue and a major decrease in net income. However, despite the challenging circumstances, Disney managed to achieve positive earnings per share. This indicates that the company's profitability on a per-share basis was better than expected, potentially due to cost-cutting measures, strategic initiatives, or other factors that helped mitigate the impact of the overall financial decline. The rebound in stock price towards the end of the year may have been influenced by market optimism and future growth prospects.
Disney Stock in 2019
In 2019, Disney's performance showed mixed results. While the company experienced a negative net income, indicating a decrease in profitability, it achieved positive growth in total revenue. This suggests that Disney was able to generate higher sales despite facing challenges in maintaining profitability. Furthermore, Disney managed to deliver a positive surprise in earnings per share.
Interestingly, despite the mixed financial results, Disney's stock price exhibited a significant increase of 32%. This rise in stock price suggests that investors may have been optimistic about the company's long-term growth prospects, potentially driven by factors such as successful film releases, theme park performance, or the anticipation of the company's entry into the streaming market with Disney+.
Investment options available are listed below:
Company shares: Purchasing them directly on the stock exchange allows investors to become shareholders of the company, opening the potential of possible capital appreciation and getting dividends.
Exchange-Traded Funds: ETFs that include DIS among their holdings provide a diversified investment approach. These funds pool investments from multiple investors to provide exposure to a basket of stocks, including Disney, offering a convenient way to gain broad exposure to the company's performance.
Mutual Funds: Similar to ETFs, Disney can be included in the portfolio of actively managed mutual funds (MFs). These are managed by professional fund managers who aim to generate returns by strategically selecting a mix of investments, including Disney stocks.
CopyTrading: eToro's unique CopyTrading feature enables investors to automatically replicate the trades of successful traders. By identifying top-performing traders who invest in Disney stocks, users can allocate funds to mimic their trades, leveraging their expertise to potentially enhance their investment outcomes.
Fractional Shares: eToro allows investors to purchase fractional shares of Disney, meaning you can invest in a fraction of a single share. This enables investors with smaller budgets to access Disney's stock without needing to buy whole shares.
Investors can explore these options on eToro's platform, and benefit from real-time market data, social trading features, and the ability to monitor and manage their investments with ease.
Disney's stock can be acquired on a variety of exchange platforms or through internet brokers. It is, nevertheless, critical to examine fees, possible tax implications, as well as available research and investing tools. Let's take eToro as an example, and it's quite similar to the other brokerages
Step 1: Open an Account
For starting, visit the eToro website and click on the sign-up button, which will open the registration form. You will then be prompted to enter your name, email address, and password. You may accelerate the creation of the profile by opting to use your Facebook or Google account.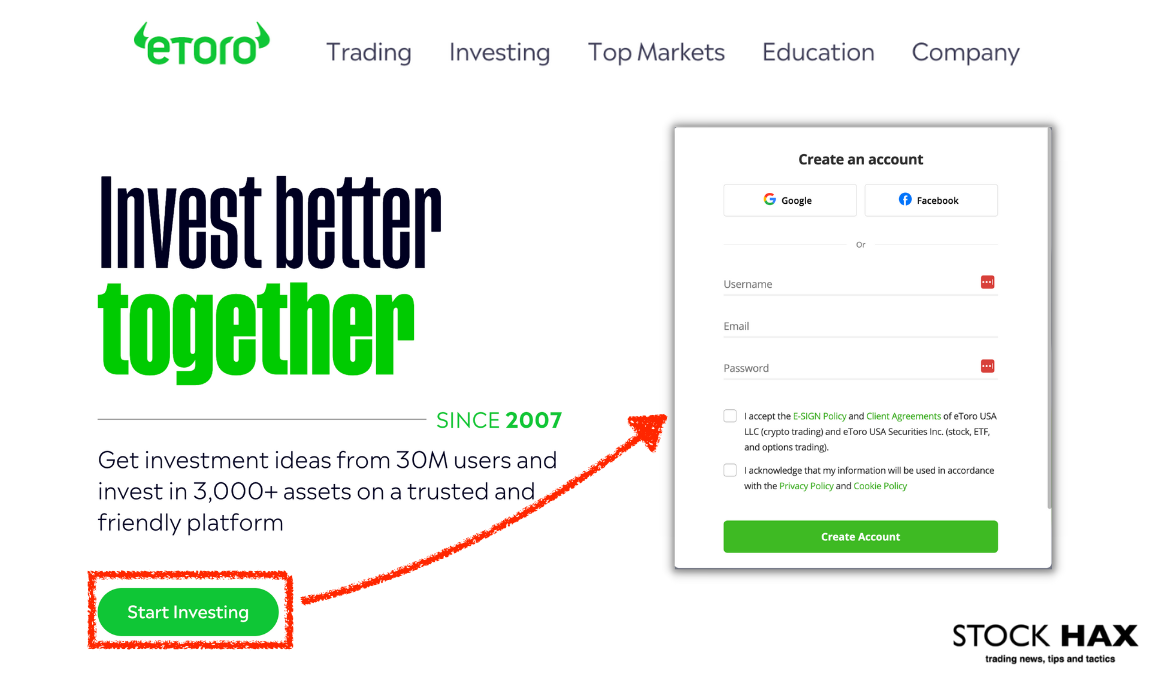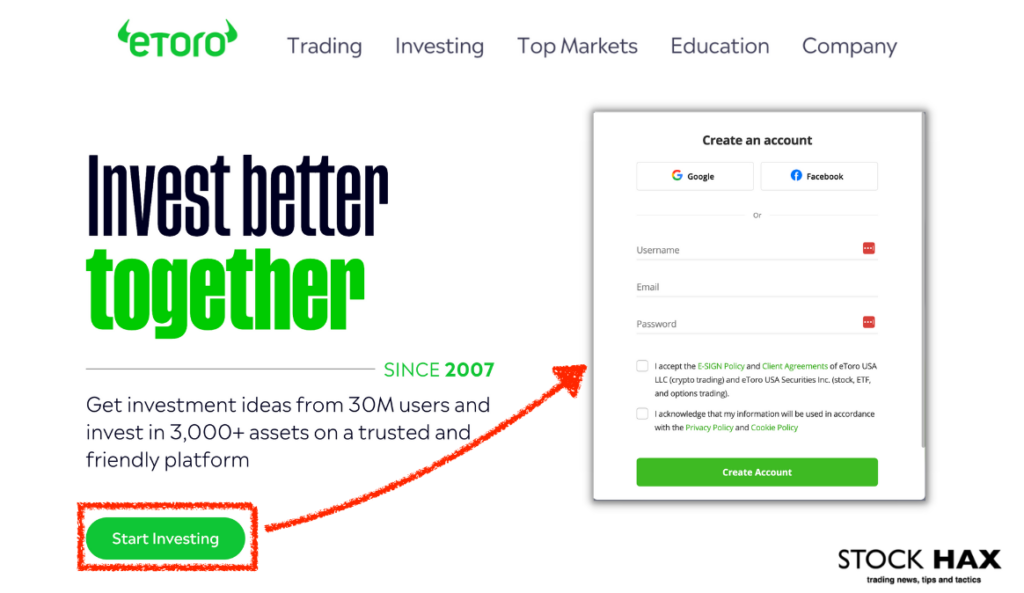 Step 2: Upload ID
This step will necessitate the verification of your identification. Users must provide proof of identity (POI) and proof of address (POA). An ID, passport, or driver's license can be used as the POI. The user's entire name, address, and birth date must be included in the POA. Furthermore, the paper should be released no more than three months in advance."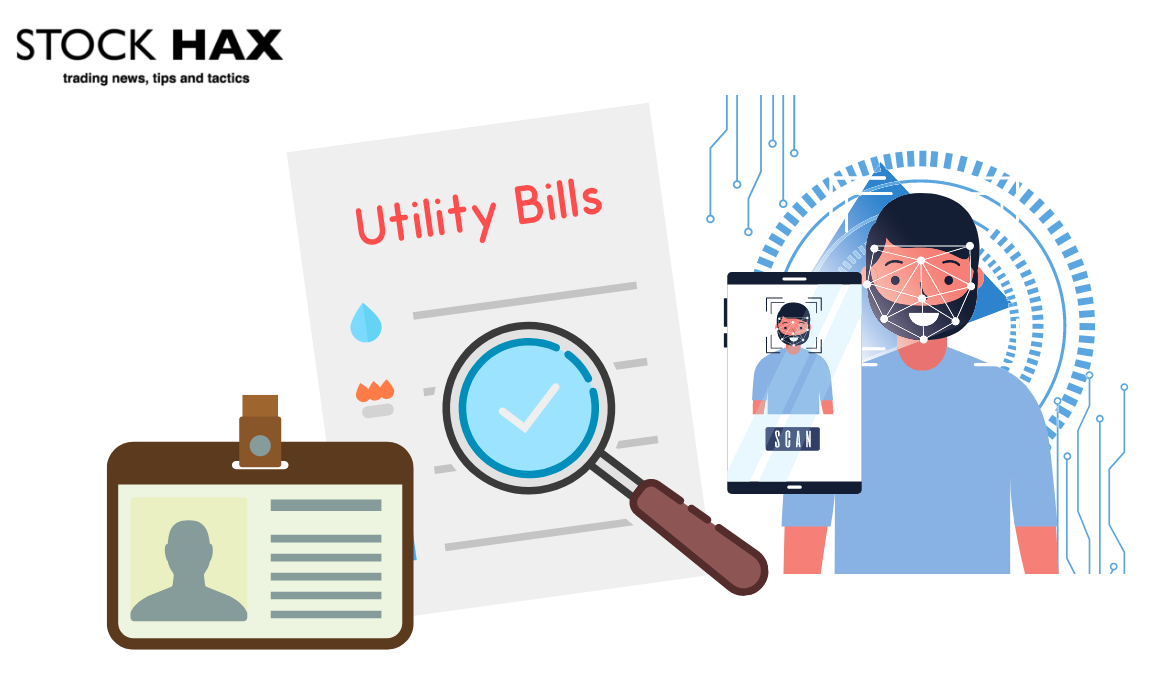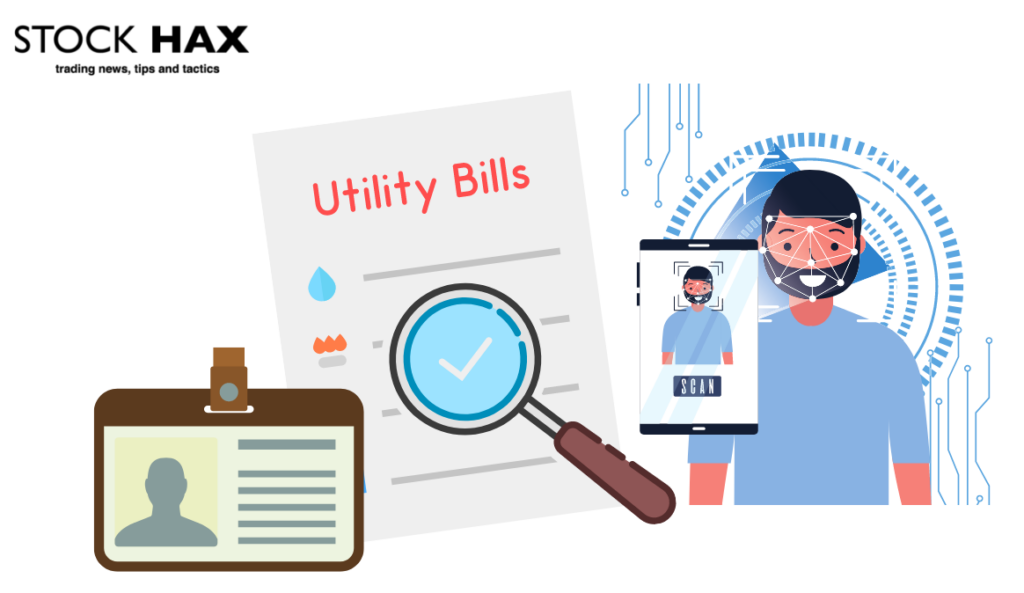 Step 3: Make a Deposit
You must fund your profile when your account has been confirmed. Navigate to the eToro menu and choose the Deposit Funds option. You may also select the amount of money to invest in DIS, the currency, and the payment method.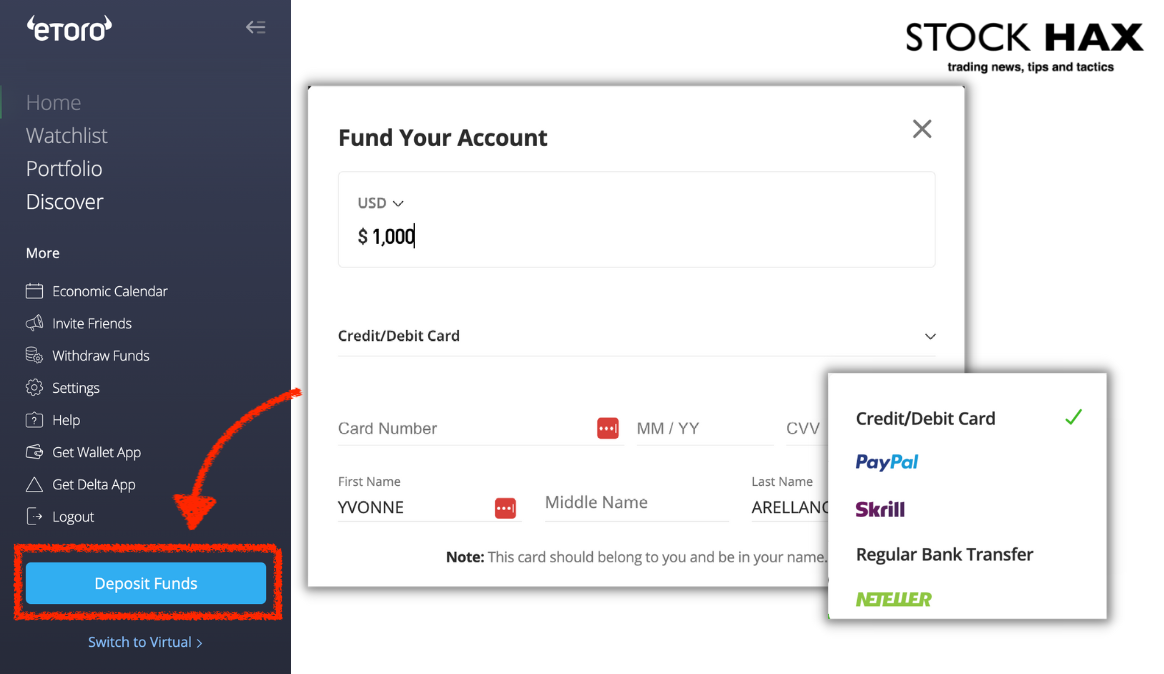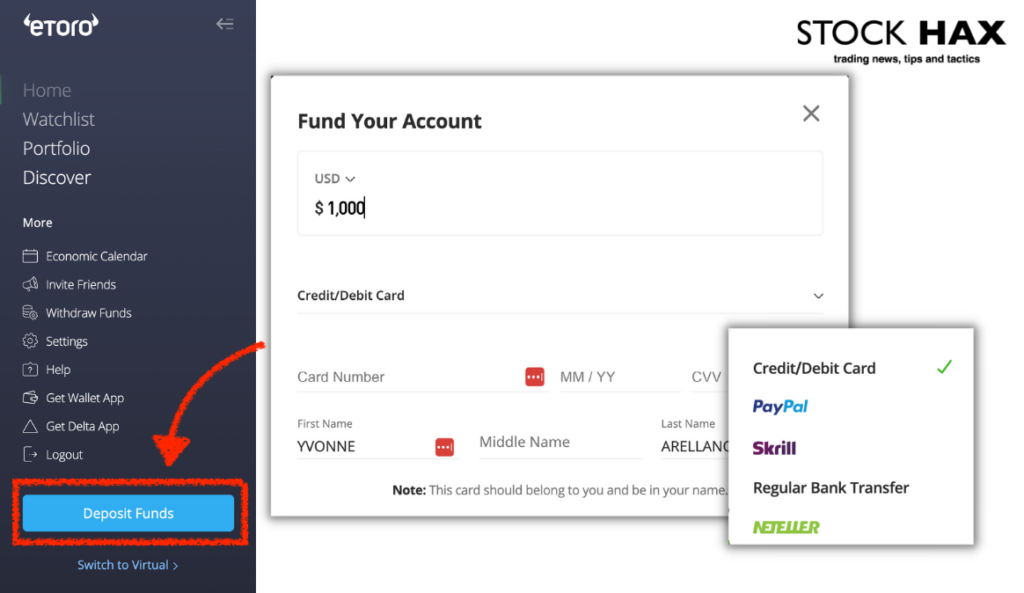 Step 4: Search for Disney
Enter DIS into the search field to find the Walt Disney Company stock. The eToro website is easy to use and presents the most important findings immediately.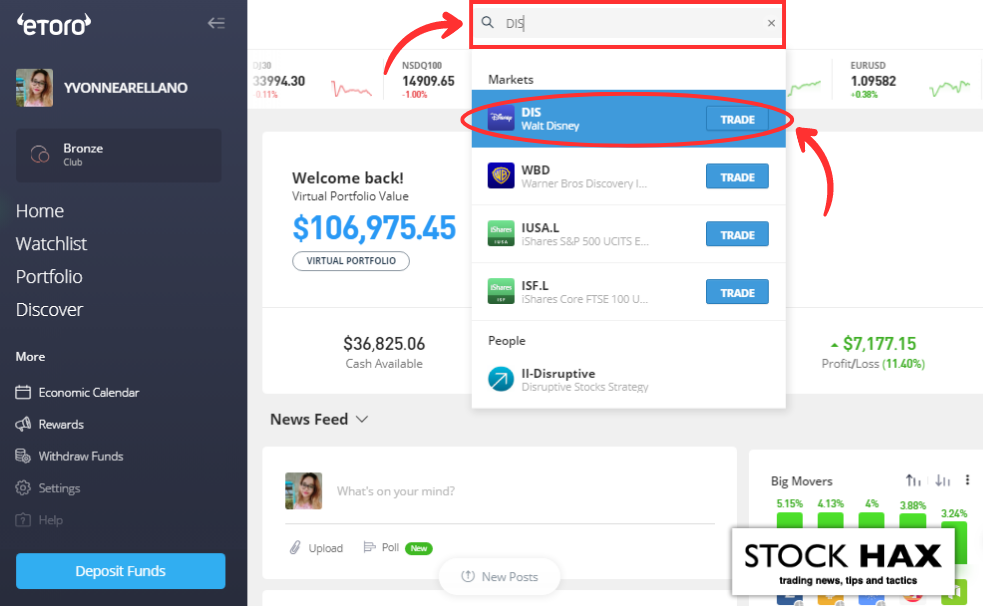 Step 5: Buy DIS Stock
After picking DIS on eToro, you can easily invest in it. After selecting Invest, you may enter the amount of money to invest or the quantity of DIS shares to purchase. You will be able to see your newly bought assets in your portfolio after the operation is completed.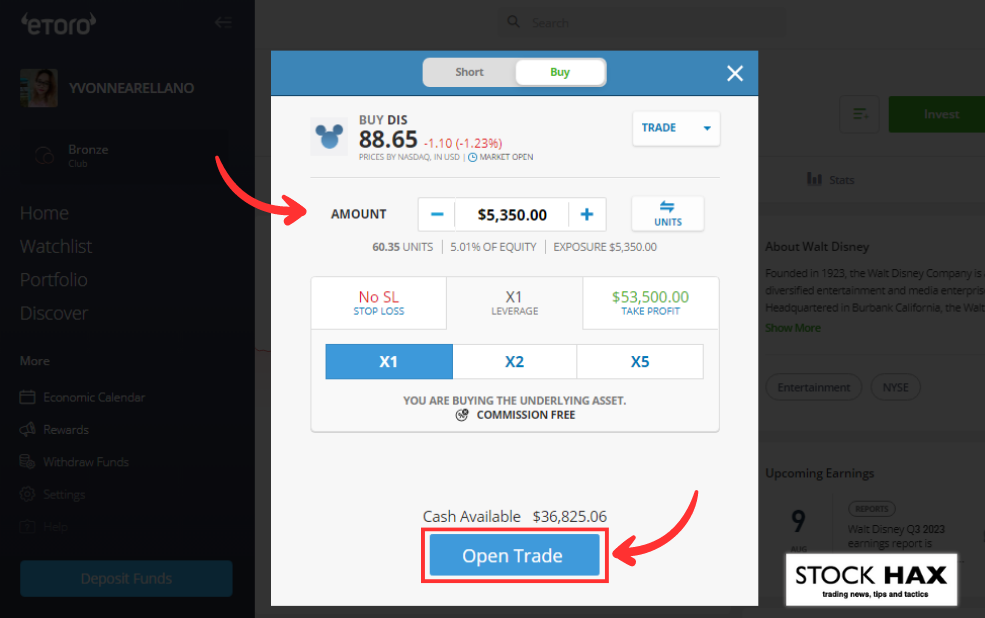 Summary
Investing in Disney shares through eToro or any other brokerage platform you may prefer, offers a convenient way to participate in the future growth of this renowned entertainment company. With options such as purchasing stocks directly, investing in ETFs or mutual funds holding DIS, exercising CopyTrading, or accessing fractional shares, eToro provides a range of multiple investment options to choose from. Acquiring Disney shares allows investors to become beneficiaries of both – regular dividend payments and appreciation of invested capital.
ETFs and MFs including DIS in their portfolios offer a much better diversification by holding other titles as well. CopyTrading enables investors to replicate the portfolios of successful traders who may have invested in Disney. Additionally, eToro's fractional shares feature allows investors with smaller budgets to take part in the future growth of DIS. With eToro's user-friendly platform, real-time market data, and social trading features, investors can easily monitor and manage their Disney investments. Whether seeking long-term growth or short-term gains, eToro offers a broad range of options to accommodate any investor's preferences and goals while acquiring DIS.
FAQ
How much is disney worth?
As of 12.06.2023, the Walt Disney Company has a market capitalization of around USD 170,2 billion. The stock was trading at USD 93.14 per piece as of the market close on that date.
How may I track the current value of DIS?
To find Disney's market value on any date, you may look it up on financial news platforms, investment websites, or brokerage platforms that provide real-time stock quotes. Beyond the share price of DIS at the moment, those usually offer important information on the company's market capitalization, as well as other relevant financial metrics such as EPS, P/E, etc. It's important to ensure that you are accessing reliable and up-to-date information from trusted sources when monitoring Disney's value or any other stock.
Disney has a long history of paying dividends, but the specific amount and frequency of dividend payments can vary over time. It's important to note that dividend payments are subject to the company's financial performance, board decisions, and other factors that may influence the distribution of profits.
Risk Disclaimer
StockHax strives to provide unbiased and reliable information on cryptocurrency, finance, trading, and stocks. However, we cannot provide financial advice and urge users to do their own research and due diligence.
Read More