This website and its content are not intended to provide professional or financial advice. The views expressed here are based solely on the writer's opinion, research, and personal experience, and should not be taken as factual information. The author is not a financial advisor and lacks relevant certifications in that regard. We highly recommend consulting a qualified financial advisor before making any investment decisions, as the information presented on this site is general in nature and may not be tailored to individual needs or circumstances.
Affirm Holdings Inc. (stock ticker: AFRM) is a publicly traded financial technology (FinTech) company headquartered in San Francisco, USA.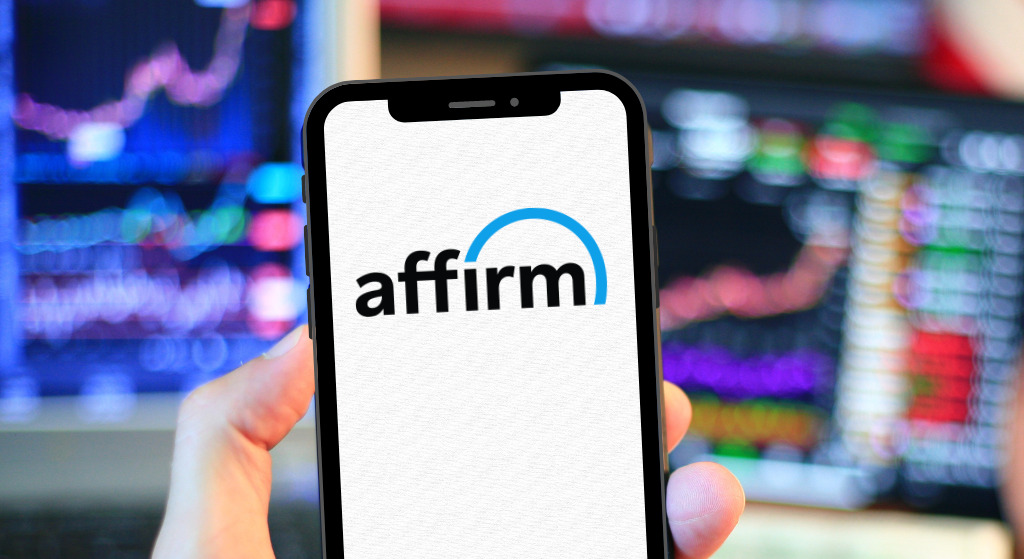 Incorporated in 2012 by the current CEO Max Levchin (also a co-founder of PayPal) and a few other partners in Delaware, the company offers its clients installment loans for financing their daily purchases at various points of sale (PoS).
In this article, we will talk about the key aspects of Affirm's business, particularly focusing on its stock performance over the last few years.
We'll also briefly cover the available investment alternatives, and walk you through the process of acquiring AFRM, may you decide to do so.
Affirm Stock Key Features
As a modern-day FinTech company, Affirm has positioned itself as a gateway of financial solutions by offering its individual and corporate customers innovative ways for paying for their purchases over time through its platform. Over the past decade, it has developed an ability to address a wide range of various transactions, using its proprietary underwriting tools, and maintaining a fundamental alignment with consumers and merchants.
Sophisticated technology: Affirm's technology offers merchants superior scalability, reliability, and ease of integration, providing clients with customizable payment options within seconds.

Flexible purchase and repayment options: the purchases financed by Affirm range between USD 50 to 17,500, whereas the duration of repayments varies between six weeks to five years. Most of the offered "buy now, pay later" products allow consumers to repay in biweekly installments. Overall, this flexibility is a key feature making Affirm an attractive choice for its users.

Durable funding model: the company uses diverse sources to fund its operations. Affirm cooperates with multiple partners and market-based programs, which provide flexible and consistent access to capital for their business. This enables Affirm to secure the consumers and merchants with its access to deep pools of committed financial resources through warehouse facilities, forward flow arrangements, and various securitization schemes.

Proprietary underwriting: This FinTech player underwrites every single transaction. The company's continuous learning models have been proven to deliver positive credit outcomes and outperform the traditional models of their competitors.

Transparency and people-first principle: Affirm offers its clients a smarter way to pay over time, while not charging the consumers any late or hidden fees. This is one of the fundamental features making the FinTech company stand out among its many peers.
Affirm Stock Over the Years – Review
Affirm Holdings Inc. went public in January 2021, with an initial price of USD 49 per share for its IPO making the company valuation of USD 12 billion. The stock grew over 100% on its IPO date, indicating stellar interest from the market participants. Following that, AFRM experienced major volatility moments, which is a common phenomenon for newly listed companies. The stock price has been on a turbulent ride recently, with a downward trend since reaching its all-time high of USD 168.52 in early November of 2021. The decline was influenced by multiple factors, such as overall macroeconomic conditions, market sentiment, and investor behavior.
Affirm Stock in 2023
Since the beginning of the current year, Affirm's share price had been on the rise. AFRM started 2023 off in the area of USD 9.10 per piece shooting up to the highest point of USD 21.14 (+132%) for the year by February. It has been on a gradual decline until early May, returning to the range of USD 9 per share. From there the trend reversed once again, moving the stock price upwards to its current level of USD 15.70 as of market close on 02.06.2023.
Affirm Stock in 2022
As for the rest of the market and particularly for the tech industry players, the last year was a rough and tough ride for Affirm's stock, resulting in a collapse of its share price from the area of near USD 80 per piece down to the area of USD 9, resulting in a loss of around -88% of the stock's value. This was largely driven by the negative global macroeconomic outlook, overall market volatility, and pessimistic investor sentiments.
Nevertheless, the company remained on the development path, reaching a gross merchandise value (GMV) of USD 15.5 billion for the fiscal year, representing an impressive 87% increase. Meanwhile, its active users grew by 96% to 14.0 million, with nearly 85% of total transactions being made by repeat customers.
Affirm Stock in 2021
Following its IPO early in the year, AFRM peaked at the level of USD 168.52 per share in November 2021. However, it was on a decline since then, resulting in over 40% loss of its market value and finishing its IPO year at the level of USD 100.56.
Meanwhile, the company's revenue growth and client base expansion affirmed its competitive edge within the ecosystem of financial technology-based services, it was clear already at that moment that Affirm still has a long way to go towards reaching its strategic goals and corporate ambitions.
Any interested investor who may decide to acquire AFRM has multiple choices for adding this play to her/his portfolio. The main options to choose from are, as follows:
Company Stocks: The most straightforward path is to buy AFRM directly. This way, you may own Affirm's shares expecting to benefit from its future growth.
Mutual Funds (MFs): Investing in such funds, which among other companies already have AFRM as a portfolio title. MFs pool capital from multiple investors which they distribute through different sectors, geographies, and asset classes, providing diversified exposure.
Exchange-Traded Funds (ETFs): ETFs are similar to MFs, however, they are cheaper and simpler, as they are traded similarly to individual stocks. Potential investors may purchase shares of ETFs that include AFRM. The advantage of diversification remains valid, as in the case of MFs.
For those looking for a convenient and user-friendly way of investing in AFRM, one of the leading brokerage platforms – eToro, represents a good way to try. With eToro's intuitive platform, investors can easily navigate the market, monitor their investments, as well as take advantage of a broad range of research and educational material.
AFRM stock may be acquired on a variety of exchange platforms or through digital brokers. It is, nevertheless, critical to examine fees, taxes, and investing tools. As an example, let us dive into the trading experience of eToro.
Step 1: Open an Account
Please re-write this
"To begin with, you should browse eToro's homepage and click the Sign-up button. In a few seconds, the registration page will load. Therefore, you must enter your name, email, and password. In addition, opening a profile is possible with Facebook or Google accounts."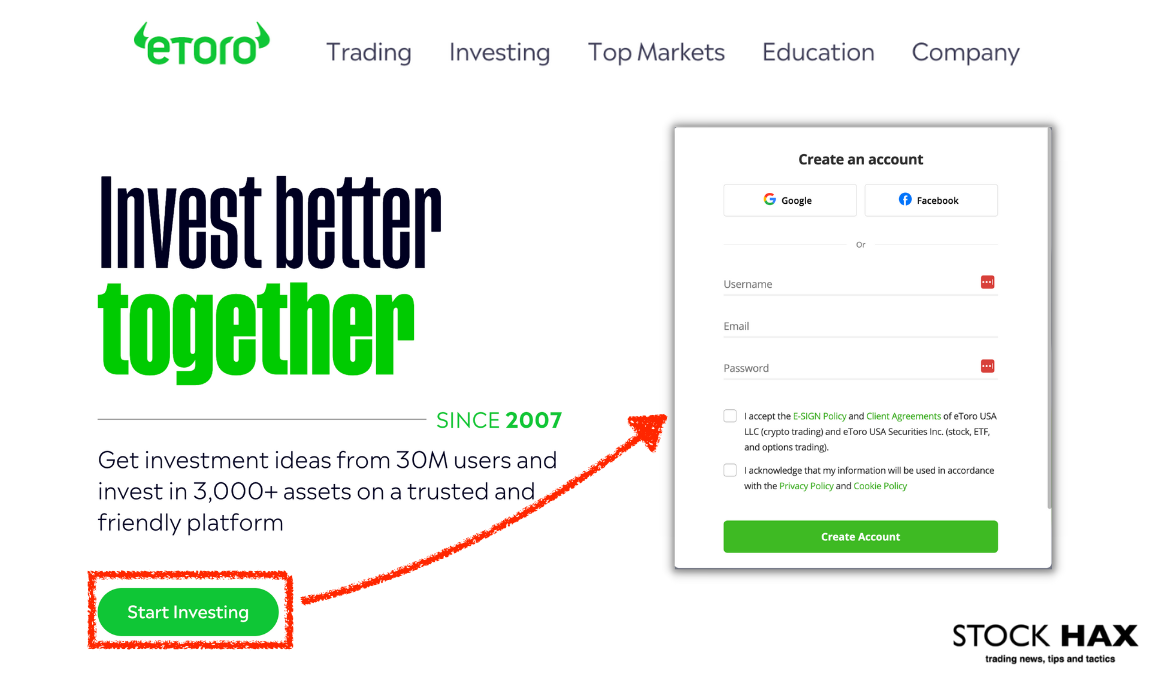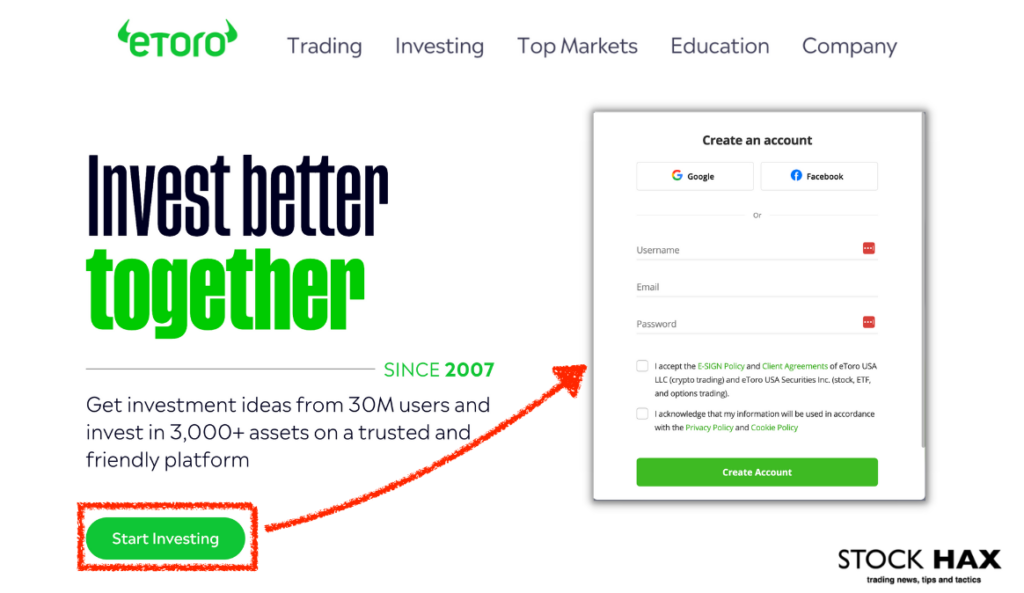 Step 2: Upload ID
In this step, you will be required to provide evidence of identification and proof of residence. An ID, passport, or driver's license can be used as proof of identity. The user's full name, address, and birth date must be submitted.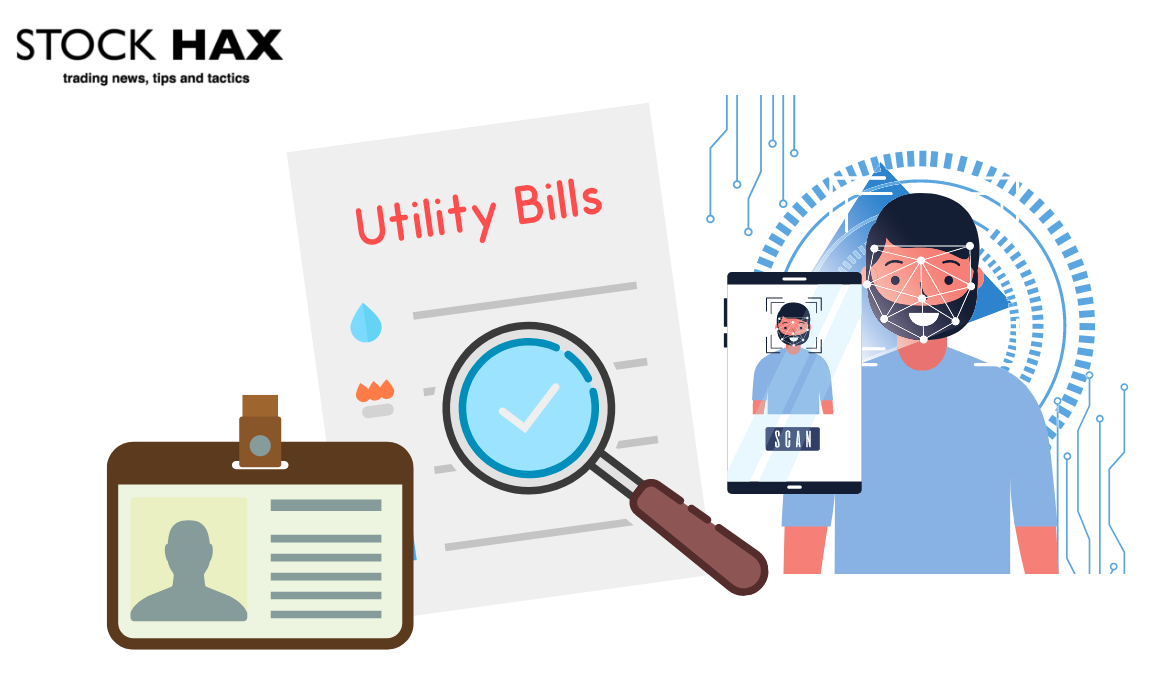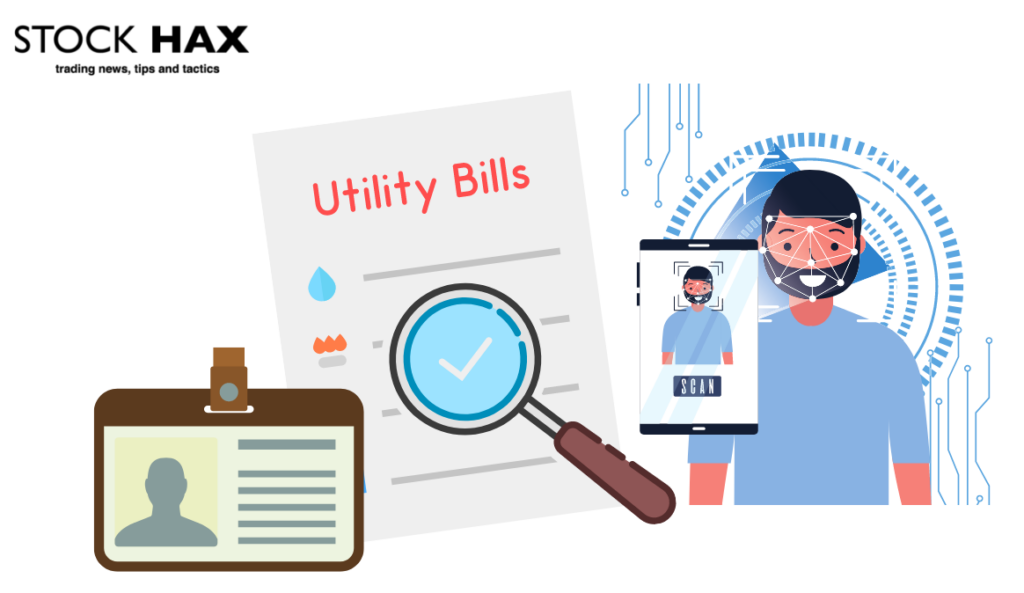 Step 3: Make a Deposit
After your account has been verified, you should fund it with a bank transfer or credit card. You may accomplish this by going to the eToro menu and selecting the Deposit Funds option. Think about how much you want to allocate to AFRM and other investments you may plan.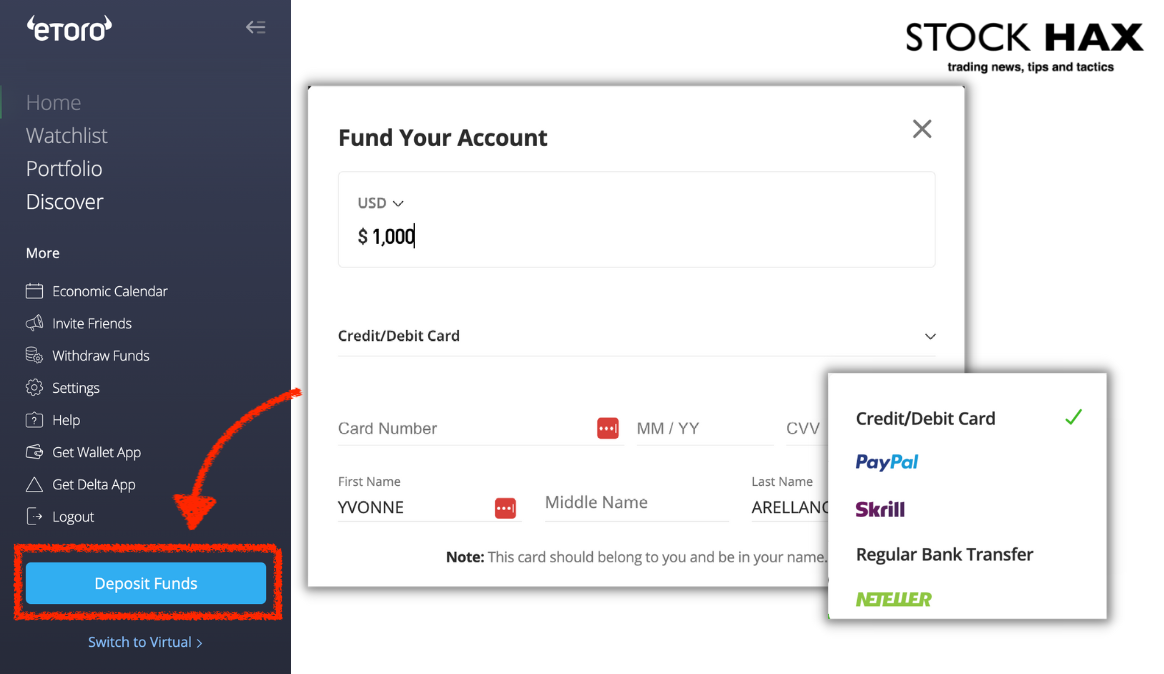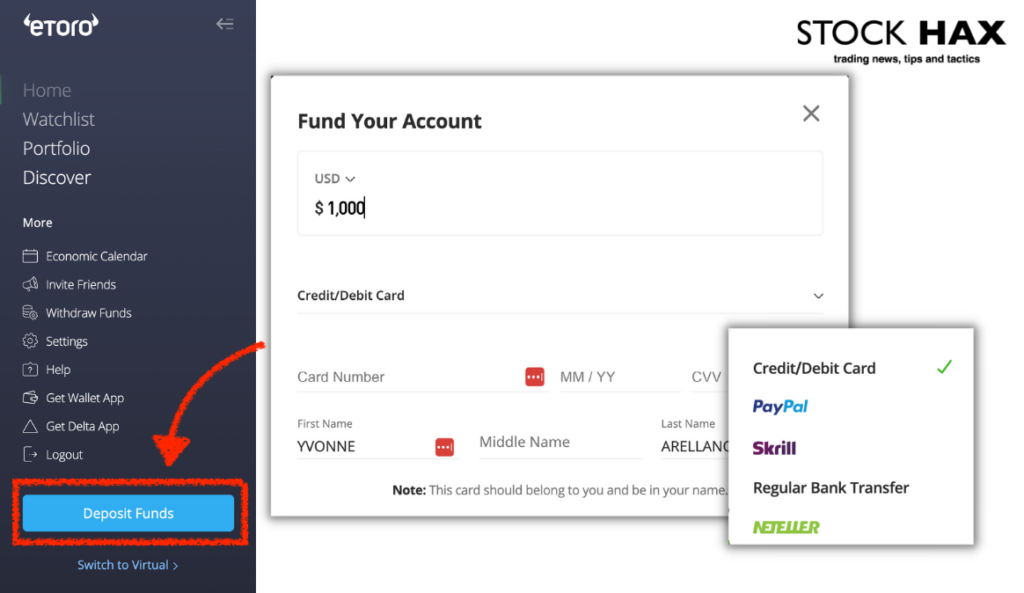 Step 4: Search for Affirm
In the search tab, type AFRM or the full name of the company to quickly find it.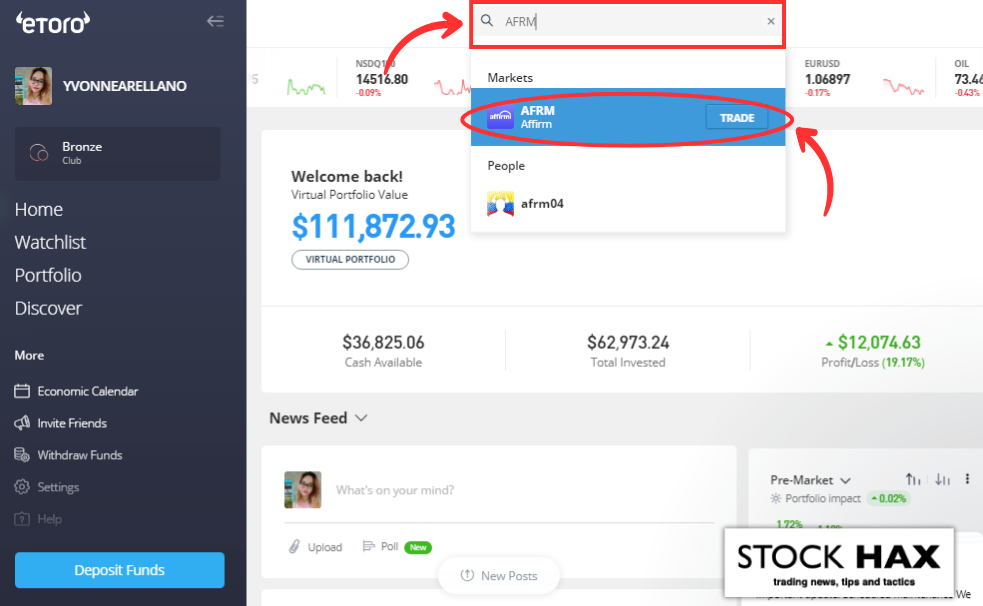 Step 5: Invest in Affirm
If you took the final decision, you may invest in AFRM now on eToro. Prior to doing so, you will need to define how many shares you wish to acquire.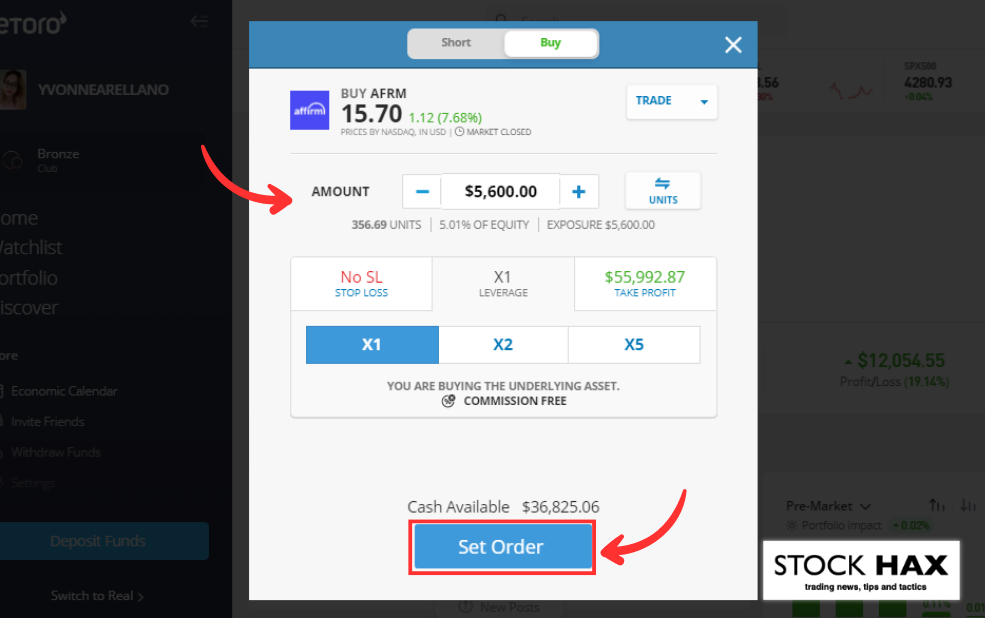 Summary
As an active FinTech player, Affirm Holdings Inc. is offering its customers tailored financial services to facilitate their shopping experience. It has been growing its client base, sales, and revenue during its existence for over a decade now.
However, following a promising IPO debut, it had a rough time especially through the fiscal year 2022 due to the reasons described in this article.
We also describe how to invest in AFRM both directly and indirectly, guiding the potential investors through a stepwise process from opening a brokerage account to buying the shares of Affirm.
FAQ
What's the strategy of Affirm Holdings Inc.?
The core of the company's strategy is to deliver honest and transparent financial services to all of its customers, with the ultimate purpose to improve people's lives. While chasing this goal, Affirm envisages becoming the partner of choice within its industry, helping its users to manage their finances more efficiently and the merchants to drive their business growth by the offered innovative technological solutions.
Does Affirm have a dividend policy?
The company currently doesn't offer dividend payments to its investors. However, as with many other firms, this may change in the future.
How does Affirm fund the loans it provides?
To sustainably fund its operations, the company applies a diverse and durable model with multiple financing channels. Affirm's primary source of funding is the committed access to warehouse facilities where the company borrows against loans held on its balance sheet. However, it also uses multiple securitization programs, forward-flow agreements, and other instruments to secure a long-term funding base for its future expansion and development.
Risk Disclaimer
StockHax strives to provide unbiased and reliable information on cryptocurrency, finance, trading, and stocks. However, we cannot provide financial advice and urge users to do their own research and due diligence.
Read More