This website and its content are not intended to provide professional or financial advice. The views expressed here are based solely on the writer's opinion, research, and personal experience, and should not be taken as factual information. The author is not a financial advisor and lacks relevant certifications in that regard. We highly recommend consulting a qualified financial advisor before making any investment decisions, as the information presented on this site is general in nature and may not be tailored to individual needs or circumstances.
Low Margin Rates and Automated Trading Options
eOption commits to having a commission fee of USD 3 per trade. However, this comes at a slight cost when it comes to research and trading tools, leaving them less equipped than more premium online brokers.

Industry-low margin rates
Low commissions
High learning curve
Pros
Extremely low margin rates
Automated trading options
Low commissions
Cons
Lack of high-quality research
Trading platform extremely limited
High learning curve
High non-commission fees
No commission-free ETF or transaction-fee-free mutual funds
EOption Review Highlights

| | |
| --- | --- |
| 💰 Account Minimum | $0 |
| 💸 Commission Fees | $0 per stock/ETF trade, $3.99 base per leg plus $0.10 per contract for options trades, and $5 per trade for mutual funds |
| 💼 Investment Options | limited to stocks, ETFs, mutual funds, fixed income, and options. You cannot trade commodities, futures, futures options, forex, cryptocurrencies, or fractional shares of stocks/ETFs with EOption |
| 🤖 Robo-Advisor | EOption is not available, as EOption does not offer any automated investing service |
| 📊 Research and Analysis | EOption are limited and do not offer in-depth market insights or stock screening tools. EOption provides some basic real-time quotes, charts, research and market news on its website and app |
| 📱 Mobile App | Yes |
| 🏦 Retirement Accounts | Traditional, Roth, and SEP IRAs |
| 🎓 IRA Accounts | Yes |
| 📈 Trading Platform | EOption is available, but it is not very advanced or customizable. EOption offers a browser-based platform called "eOption Trader" that allows you to place orders, monitor your positions, view your account balances and access some basic tools and resources |
| 📞 Customer Service | Phone and email support |
| 📚 Educational Resources | EOption are not available, as EOption does not offer any webinars, videos or articles on investing topics |
| 🌕 Fractional Shares | EOption are not available, as EOption does not support this feature |
| 🌱 Socially Responsible | EOption are not available, as EOption does not offer any ESG or SRI funds |
| 🌎 International Investing | EOption are not available, as EOption does not offer any global or international funds |
| 💳 Cash Management | EOption does not offer any checking or savings account options |
| 🔍 Margin Trading | EOption is available, but it is not very competitive. EOption offers margin accounts that allow you to borrow money to trade securities at interest rates ranging from 5.25% to 9.50%, depending on your account balance |
| ⚙️ Options Trading | EOption is available and it is one of the main strengths of the broker. EOption offers a wide range of options trading tools and resources, such as an options chain tool, an options calculator, an options screener, an options strategy builder and an options newsletter alert service |
| ₿ Cryptocurrency Trading | EOption is not available, as EOption does not support this feature |
| 🛡️ Account Security | Acorns uses bank-level encryption and Secure Sockets Layer (SSL) to protect customers' personal information. |
| 💹 Leverage | No |
| ⚖ Regulation | Acorns is regulated by the US Securities and Exchange Commission (SEC) and the Financial Industry Regulatory Authority (FINRA). It is also a member of the Securities Investor Protection Corporation (SIPC), which protects customers' securities and cash up to $500,000 in the event of broker-dealer failure. |
What are eOption's Main Features?
As an online broker, eOption has one major priority — low fees. To that end, their primary claim to fame is their $3 trading cost for stocks and options (options trading also has similarly low rates of $0.15 per contract), which are some of the lowest rates we've ever seen. That's a real boon to traders who want to get the most out of their investments, particularly if they're changing them around frequently.
In addition to those, traders can take advantage of broker-assisted trade costs that are quite reasonable as well. Most other firms charge around $20 for a service like that, whereas eOption will give that to you for just an additional $6 for most instances.
This kind of financial advantage comes at a price, as eOption clearly has to cut corners elsewhere to make such low trade commissions and margin rates viable. Their trading platform, for instance, is extremely basic, and lacks the kind of robust features that you might find in a lot of other online brokers.
Instead of having a dedicated desktop platform, eOption simply offers a web-based interface that allows you to mostly just trade on options charts, perform technical analysis of stocks and place multi-leg options trades.
While their trading platform is unremarkable, eOption's mobile app is at least notable for its slick interface and ease of use. On it, you can find real-time quotes, steaming news, order placement and charting, among other features. Some user reviews show that the mobile app offered by eOption might be better than the desktop platform.
The platform claims to offer educational materials as well. eOption does provide some research and data, but it is extremely limited, and a far cry from more features-heavy outfits like OptionsHouse. Just like their trading platform, this feature has undoubtedly been neutered to afford the aforementioned low fees.
Another big problem with eOption's web-based trading is that they charge additional fees to even access the bare-bones material that they feature. In order to get live-streaming quotes, for instance, you have to pay either $35 a month if they make fewer than 50 trades or $15 if they make between 51 and 99 trades each month. The service is free for those who make more than 100 trades per month.
What they do have in the way of education is acceptable but not fantastic; education-wise, you only get a simple blog and some links to the Options Industry Council to guide you on the ins and outs of options trading. Again, eOption is probably best for advanced traders who don't need to relearn the basics, so only offering lackluster education tools seems counterintuitive.
eOption's customer service is adequate but not stellar by most metrics, offering the usual phone support during business hours and email support. No chat support or physical assistance is available, though, making it harder to get exact answers to your specific questions. That being said, some customers highlighted that phone customer support is handled well by the company.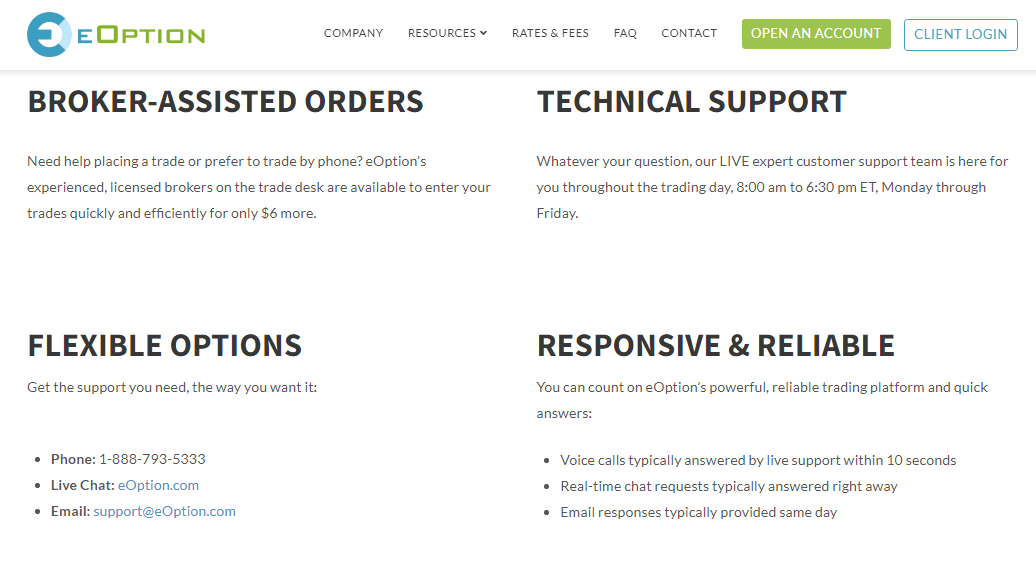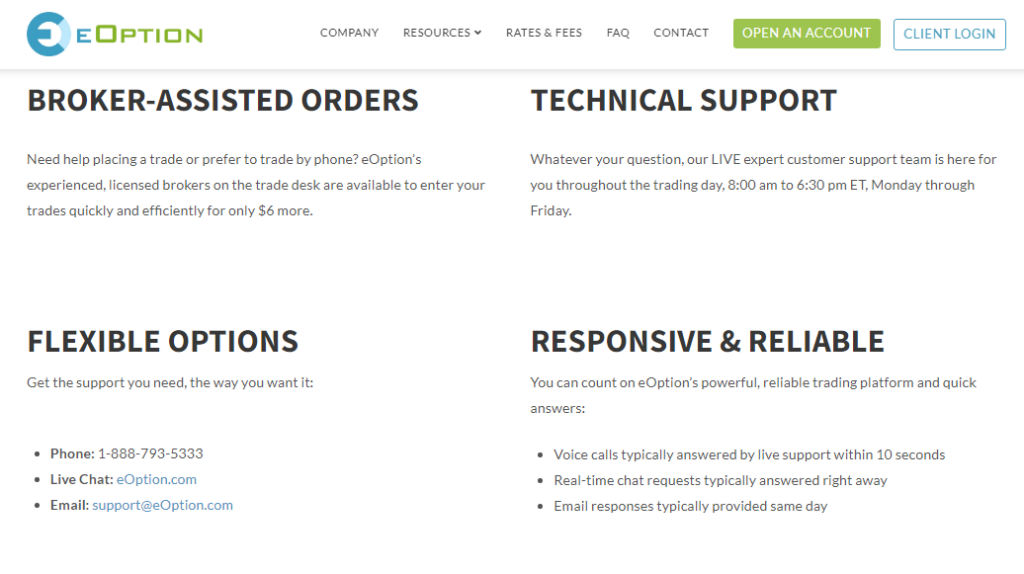 eOption Customer Service
How Do You Open a EOption Account and What are the Requirements?
Signing up for eOption is relatively simple, and just requires a quick trip to their website so you can fill out their online form. Once there, they ask you the usual information — driver's license, SSN/Tax ID, federal tax rate, annual income, expenses, net worth, and debt. Contact information (such as your email address) is also required to set up your account.
Once that is set up, all you have to do is select what kind of account you'd like to start (traditional or Roth IRA, general brokerage account, retirement, etc.), as well as your investment goals. The site does the rest, and you're set to go.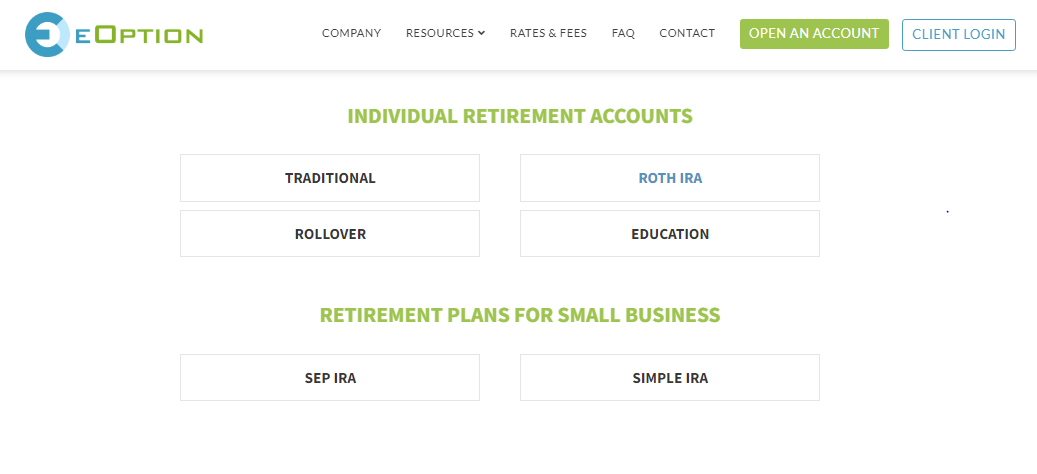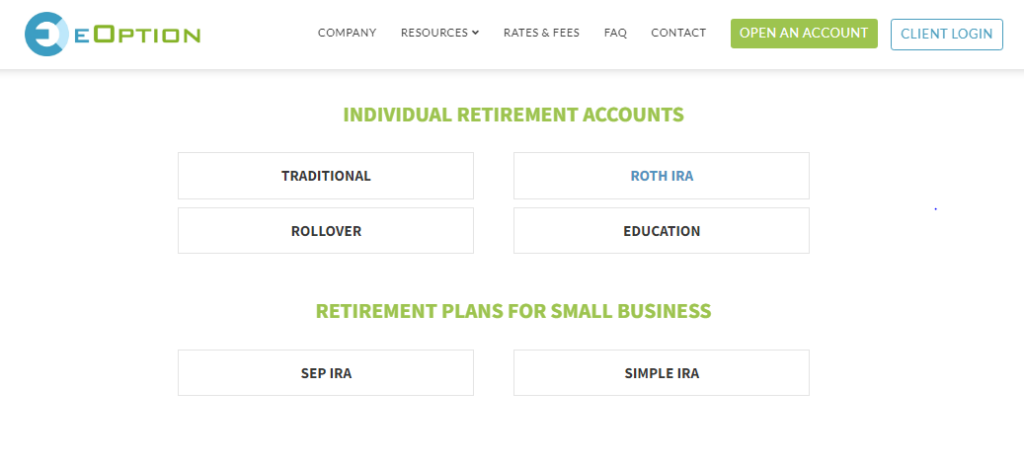 Retirement Plans
ACCOUNT TYPES
INDIVIDUAL RETIREMENT ACCOUNTS

Traditional
Rollover
Roth IRA
Education

RETIREMENT PLANS FOR SMALL BUSINESS
Keep in mind that, compared to a lot of other online brokers, eOptions' account setup takes a bit longer (15–20 minutes or so), and may require a call or two to customer service to verify steps and confirm information.
What Are the Rules for Trading on eOption?
As previously mentioned, trading on eOption costs $3 per trade for stocks and options, which is tremendously advantageous for high-activity traders. While there's an account minimum (something of a rarity with low-cost traders like this), it's only $500, so it's not a large investment.
The company also claims to have some automated trading functionalities. With this option (which costs $5 per trade), traders are given access to a participating newsletter, and then allow eOption to simply enter trades for them based on the recommendations listed in said newsletter. It's a wonderfully automated way for more casual traders to simply trust the advice of their preferred experts.
As a trader, you can easily trade stocks, options, ETFs and mutual funds once you sign up with them. However, it must be noted that there are no commission-free ETFs or transaction-fee-free mutual funds, and it actually costs a whopping $15 per trade to deal with mutual funds. Compared to a lot of other firms that do offer those no-fee assets, eOption's choices are lackluster.
While eOption's primary appeal is in its low commissions, their other fees are a bit pricey and can add up quickly when you least expect it. For instance, the high fees for accessing their direct-access trading options can very much add up over time to cut into returns.
Furthermore, IRAs cost a $15 annual fee, and accounts that do not make more than two trades a year, or don't have $10,000 or more in their balance, are charged a $50 inactivity fee.
The platform mentions that it might provide additional rewards for customers with high minimum balances. If you have $25,000 or more in your account, you get access to direct-access trading through DAS|Pro, DAS|Web and Sterling Trader Pro. That said, you still have to pay for them; DAS, for example, costs as much as $130 per month to get access to their platform, in addition to data fees.
What Kind of Trader is eOption Best For?
EOption's bare-bones, cost-cutting approach is probably most advantageous to active traders who have a bit of experience on the markets. Their trading platform gets the job done, but doesn't do anything fancy, which advanced traders might be fine with.
Investors agree that comparing the fee structure of several companies and finding one that is most suitable for you is a reasonable practice. Maximizing that particular feature of online trading may make them sacrifice other features, but traders who know how to work that system can yield tremendous returns from it.
On the other side of the coin, less active traders who simply want to work off preset recommendations can find a lot to like about eOption's automated trading service. While active investors are usually hands-on, picking a trusted set of experts and automatically following their suggestions is a more directed way to casually invest that might make sense to some.
Other Good Products
Just2Trade offers a similar mission statement when it comes to online trading — you save on commissions and fees, but you don't get the infrastructure of great research and trading tools. If this is the direction you want to take with your trading career, they're a similar service.
Meanwhile, if you'd like to invest more in robust trading tools and extensive market research, as well as education tools to get you through your trading experience, some user reviews show that TradeKing and Betterment may come with more functionalities but with slightly higher fees.
A Few Final Thoughts
Overall, eOption provides a very specific set of features for certain kinds of traders — namely, advanced traders who know what they're doing and want to save money on their active trading. While this is admirable, and everyone is always looking for cheaper fees, the tradeoff may well be too great for some.
Options traders may well flock to eOption for their supremely low fees, but may be alarmed to learn that complex options trading comes with options exercise fees of $9, which can be too rich for many people's blood.
eOption's research tools, education materials and online trading platform leave quite a bit to be desired, which certainly explains how they can fit $3 commissions into their structure. Usually, investors highlight that the fee structures of these platforms are made in different ways based on the services provided.
Risk Disclaimer
StockHax strives to provide unbiased and reliable information on cryptocurrency, finance, trading, and stocks. However, we cannot provide financial advice and urge users to do their own research and due diligence.
Read More