This website and its content are not intended to provide professional or financial advice. The views expressed here are based solely on the writer's opinion, research, and personal experience, and should not be taken as factual information. The author is not a financial advisor and lacks relevant certifications in that regard. We highly recommend consulting a qualified financial advisor before making any investment decisions, as the information presented on this site is general in nature and may not be tailored to individual needs or circumstances.
Environmental consciousness is growing, and a shift towards renewable energy sources and investing in sustainable companies is becoming an increasingly attractive prospect. One such company that has been making significant strides in this realm is Enphase Energy (NASDAQ: ENPH).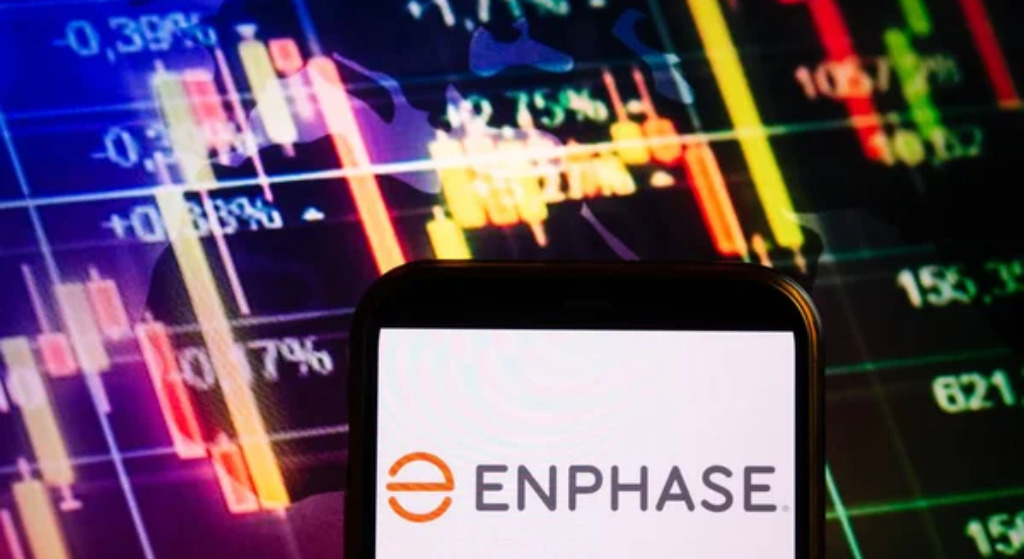 Enphase Energy, headquartered in Fremont, California, is a leading provider of solar energy management solutions. The company is renowned for its microinverter technology, which transforms how solar energy is harvested and managed.
The company also provides a complete platform of solutions, including solar generation, energy storage, and web-based monitoring and control. Their portfolio of products and services make Enphase Energy a comprehensive solution in the renewable energy sector. ENPH is facilitating the transition to cleaner and more efficient energy systems.
ENPH Stock Key Features
Solid Growth Prospects: Enphase Energy operates in the renewable energy sector, which is currently experiencing significant growth due to a global shift towards sustainability and climate-conscious practices. Solar energy is becoming more mainstream.
Enphase, with its innovative microinverter technology and comprehensive solar solutions, is well-positioned for expansion.
Innovative Technology: Enphase is a pioneer in the solar microinverter market. This technology converts DC electricity produced by a solar panel into AC electricity, which is key to integrating solar power into electrical grids. By continually investing in R&D, Enphase ensures its technology stays at the forefront of the industry.
Strong Financials: Enphase has demonstrated strong financial performance with a consistent revenue and net income growth track record. The company's focus on increasing operational efficiency and reducing costs has also bolstered its profit margins, offering promising returns to investors.
Global Footprint: Enphase has a broad international presence, supplying its energy solutions to various global markets. This wide reach provides multiple revenue streams and mitigates the risks associated with dependence on a single market.
Regulatory Tailwinds: With governments worldwide incentivizing renewable energy adoption through various subsidies and tax benefits, companies like Enphase are likely to benefit. These favorable regulatory conditions are expected to boost the company's sales and overall growth.
ENPH Stock Over the Years – Review
ENPH stock price has seen stellar growth over the past five years as the company has increased revenue and maintained high-profit margins. These two metrics have combined to take ENPH stock price from around $4.5 in June 2018 to $182.04 at the time of writing.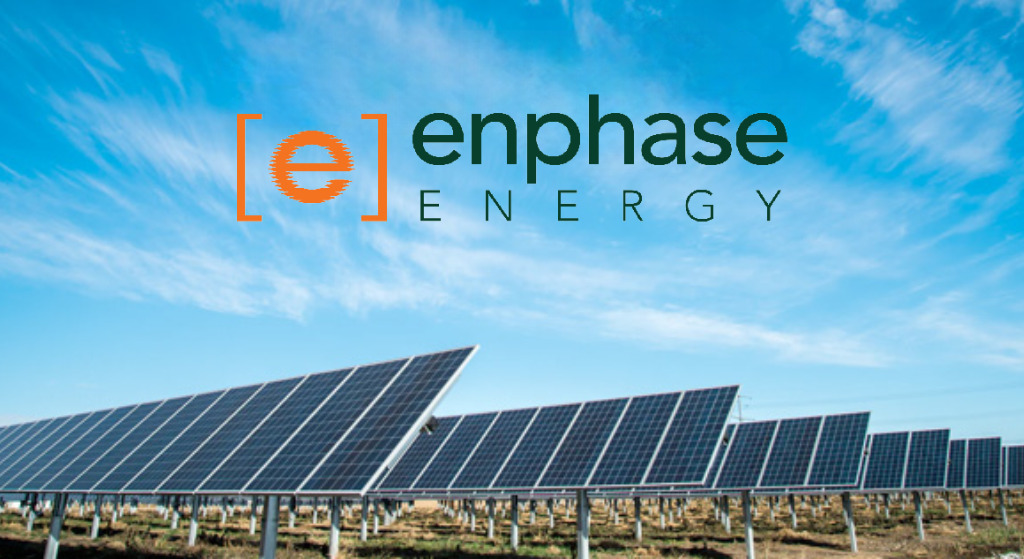 Since June 2018, ENPH share prices have increased by 3,944%. ENPH. Share prices hit an all-time high of $338.18 in November 2022; current prices represent a decline of 46.2%.
Enphase Energy's revenue has gone from $316 million in 2018 to $2.33 billion in 2022. Net income has continued to rise even faster, going from $6.5 million in 2018 to $453.2 million in 2022. The increase in revenue is equal to 637% growth, while net income has grown by 6,872%.
ENPH Stock in 2023
Like most stocks, ENPH had a poor H1 in 2023. The stock price started the year at $269.17 and dropped over the past months to a recent low of $152.15 in May. Since then, the share prices have managed a small rally and have increased by 19.7%.
The latest quarterly earnings report, on April 25, showed Enphase Energy beat estimates for EPS by $0.138 or 11.2%. And it also beat revenue estimates by 0.22% or $1.57 million. Despite the positive surprise in the report, ENPH stock price opened $41.97 lower the next day.
ENPH Stock in 2022
ENPH stock experienced a full-blown bull market in 2022, with the stock price opening the year at $119.77 and rallying to close the year at $264.96. That rise equals an increase of 121.2% for the year after touching two peaks, one in September at $324.84 and the other in November at $338.18, its all-time high.
Revenue for 2022 was up by 68.8% over 2021, from $1.38 billion to $2.33 billion. While net income grew even faster, rising from $220.7 million in 2021 to $453.2 million in 2022 or 105.3%.
ENPH Stock in 2021
Share prices for Enphase Energy had a modest run in 2021, increasing in value by 2.4%. Going from $178.7 at the start of the year to $182.94 at the end. However, that small increase did come after stock prices rose to a new high of $282.46 in November.
The increase in share prices didn't precisely reflect the performance of Enphase Energy's income statement. The company saw revenues increase by $605.6 million over 2021 or 78.2%, and net income increased by $34.3 million or $18.4%.
ENPH Stock in 2020
Enphase Energy showed a spectacular bull run in 2020. Share prices skyrocketed by a staggering 504%, moving from $29.05 at the beginning of the year to an impressive $189.41 at the end. The substantial growth, led by the global turn towards renewable energy and the company's robust financial performance, peaked with the shares hitting a then-record high of $189.41 in December.
The share price surge outpaced the company's positive performance on the financial front. Enphase Energy's revenues saw a jump of $150.1 million over the course of 2020, marking an increase of 24% over 2019. Net income increased faster by $81.1 million, or 77%.
ENPH Stock in 2019
The year 2019 was a turning point for Enphase Energy's stock, with prices observing a remarkable surge of 472%. Starting the year at a modest $5.12, the shares climbed to a solid $29.29 by the year-end. The share price rose to a then-all-time high of $35.11 in August.
The financial performance of Enphase Energy that year made this climb justifiable. The company had an increase in revenues of $308.1 million, reflecting a growth of 97.4% over the year. Also, net income swelled by $98.8 million, representing a growth rate of 1,520%.
Stocks: The most direct way to invest in ENPH is by buying shares in the company through a brokerage account. This approach offers the potential for significant returns, particularly if you believe in the company's long-term growth potential and are prepared to ride out market volatility.
Mutual Funds: Some mutual funds may hold ENPH in their portfolio, providing an indirect way of investing in the company. Mutual funds pool money from multiple investors to create a diversified portfolio managed by professionals.
Exchange-Traded Funds (ETFs): ETFs focusing on the renewable energy or tech sectors may include ENPH in their holdings. Like mutual funds, ETFs offer diversification. However, they trade like stocks on an exchange and can be bought and sold throughout the trading day.
Options Trading: More advanced investors might consider using options to invest in ENPH. Options provide the right to buy or sell ENPH stock at a set price by a specific date. This strategy can be used to speculate on the direction of ENPH's stock price or hedge against potential price declines.
You can invest in ENPH shares by going through a secure and well-established online brokerage, such as eToro.
Shares of ENPH can be bought via several trading platforms or digital brokerage services. In any case, it's crucial to factor in costs, taxes, and investment utilities. For illustration, we'll employ eToro.
Step 1: Open an Account
Starting off, navigate to the homepage of eToro and select the 'Sign-up' button. Shortly, the registration page will appear. Here, you'll need to provide your name, email, and create a password. You will also have the option to set up an account using your Facebook or Google profiles.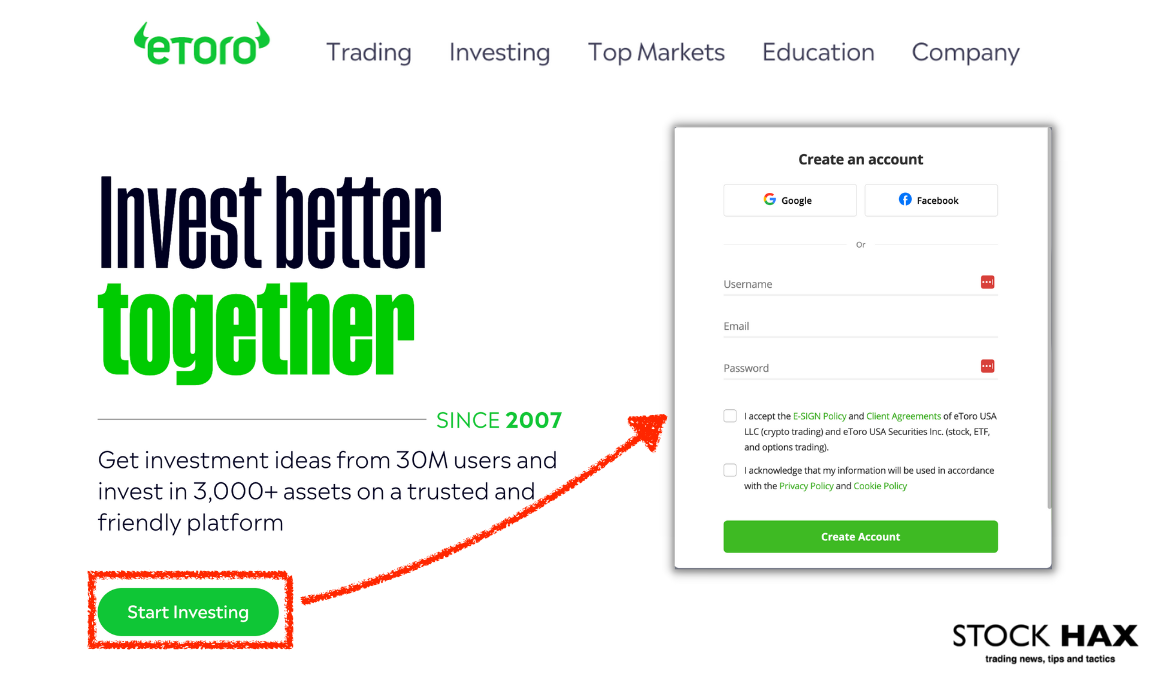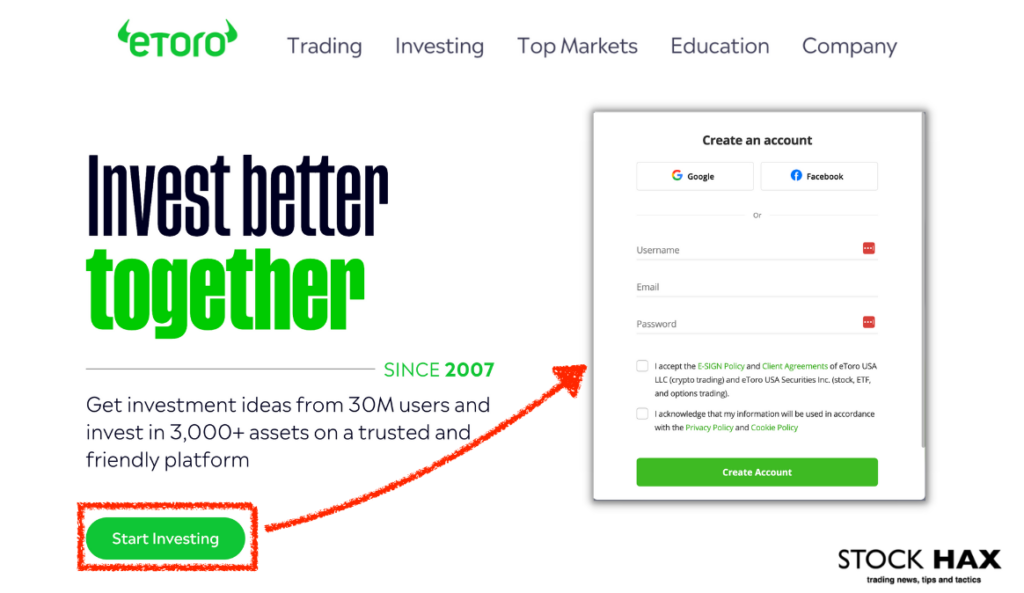 Step 2: Upload ID
For this stage, you'll need to authenticate your identity. You will be required to submit proof of identity (POI) and proof of address (POA). The POI could be a government-issued ID, passport, or driver's license. The POA should detail your full name, address, and date, and the document should be no older than three months.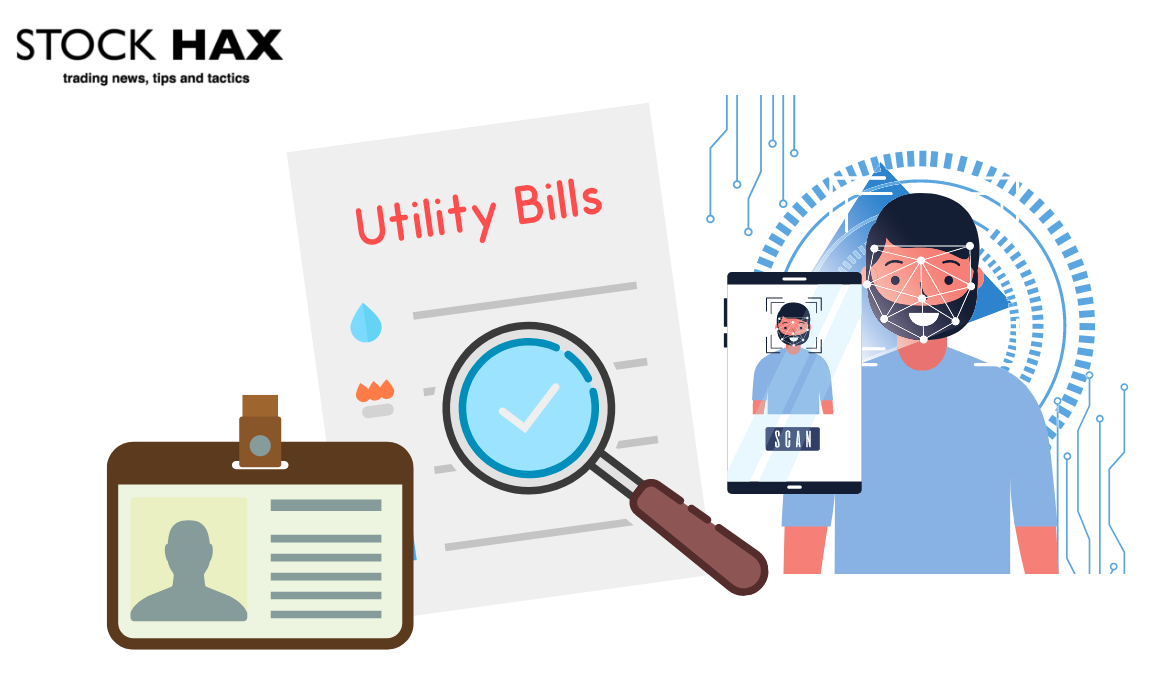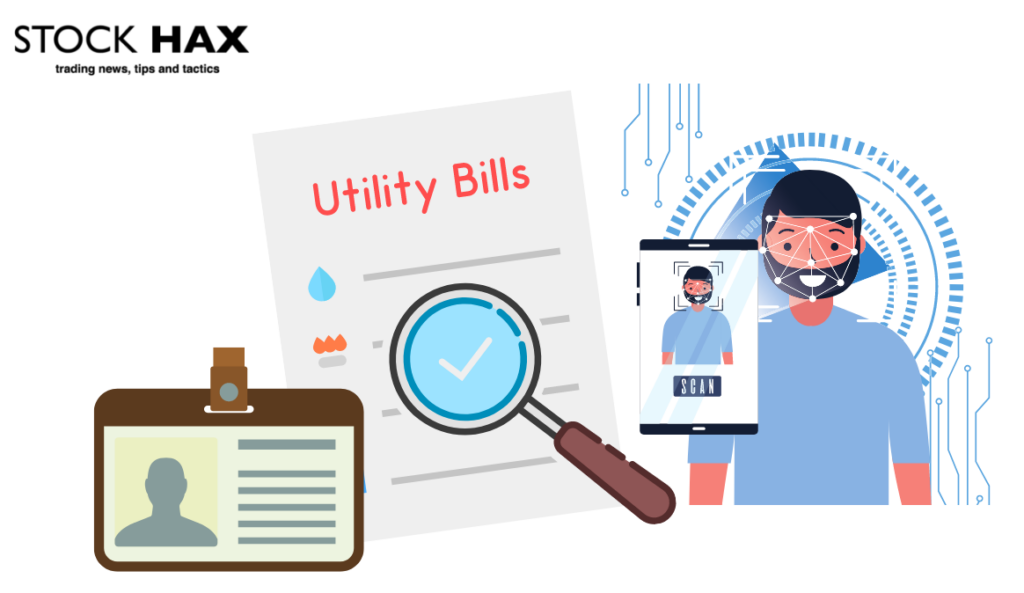 Step 3: Make a Deposit
Once your account verification process is finished, it's time to add funds to your profile. To do this, open the eToro menu and select the 'Deposit Funds' button. You can then specify the sum you wish to invest in ENPH shares, choose your currency, and decide on a payment method.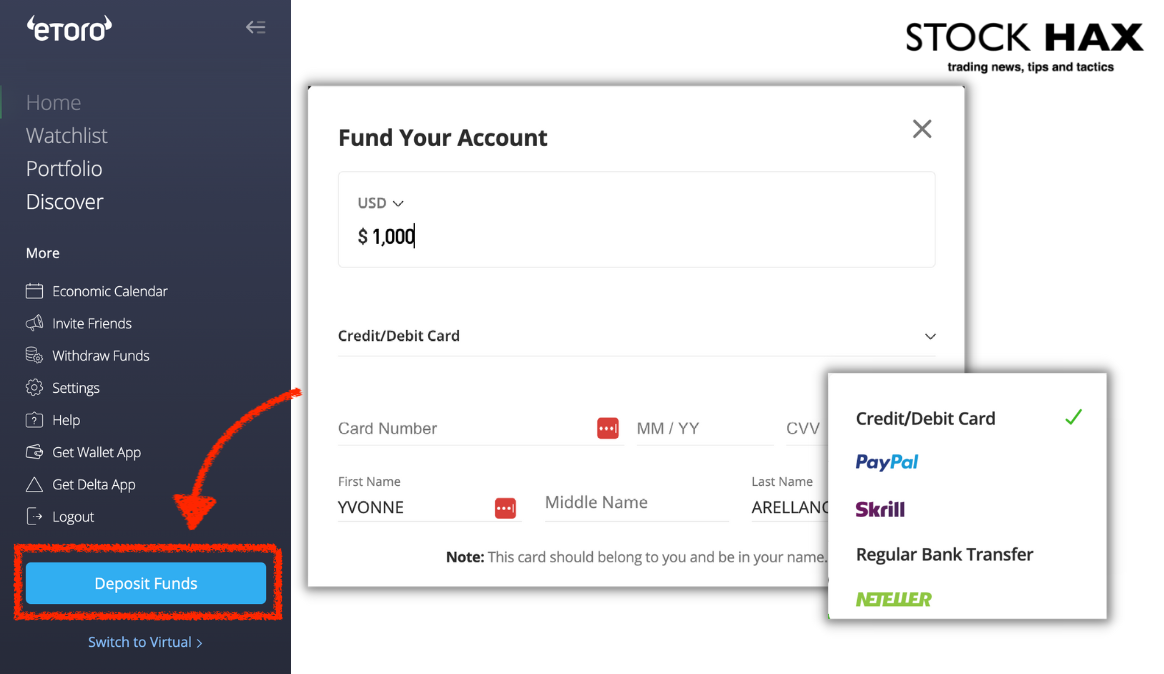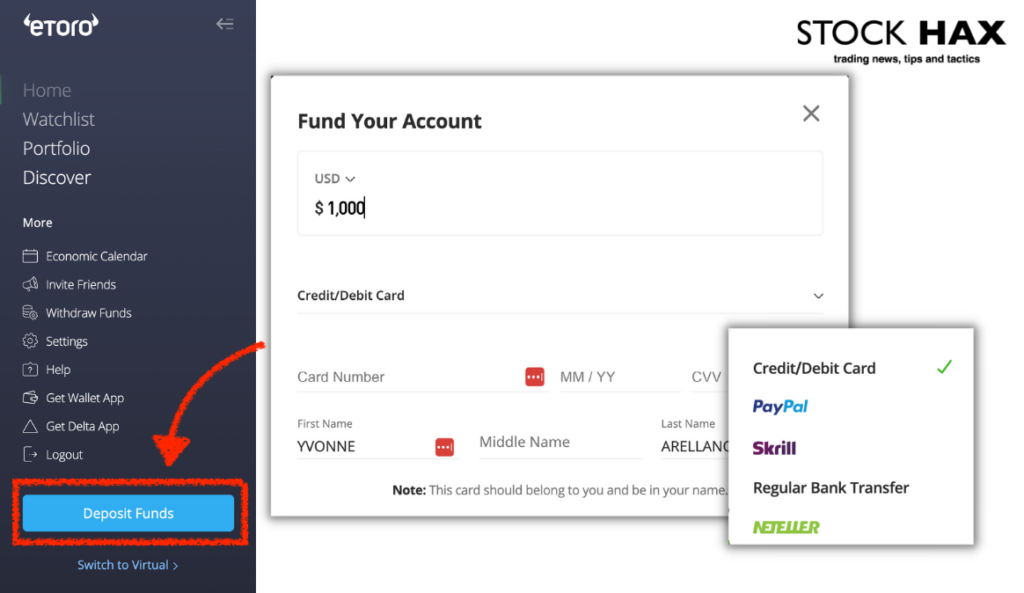 Step 4: Search for ENPH
To locate ENPH shares, input "ENPH" into the search bar. If you're unsure of the stock's ticker symbol, just type the initial letters. eToro's user-friendly platform will quickly generate the most relevant results.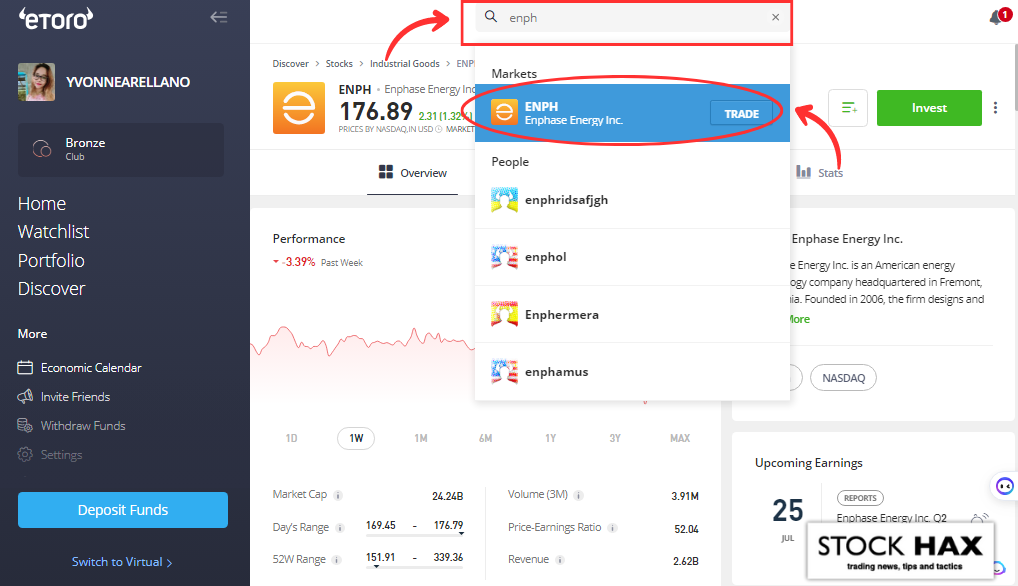 Step 5: Invest in ENPH
Once you've selected ENPH, investing through eToro is simple. Click the 'Invest' button, then decide the amount you want to allocate or the number of ENPH shares to buy. Upon completing the process, you'll find your newly purchased assets reflected in your portfolio.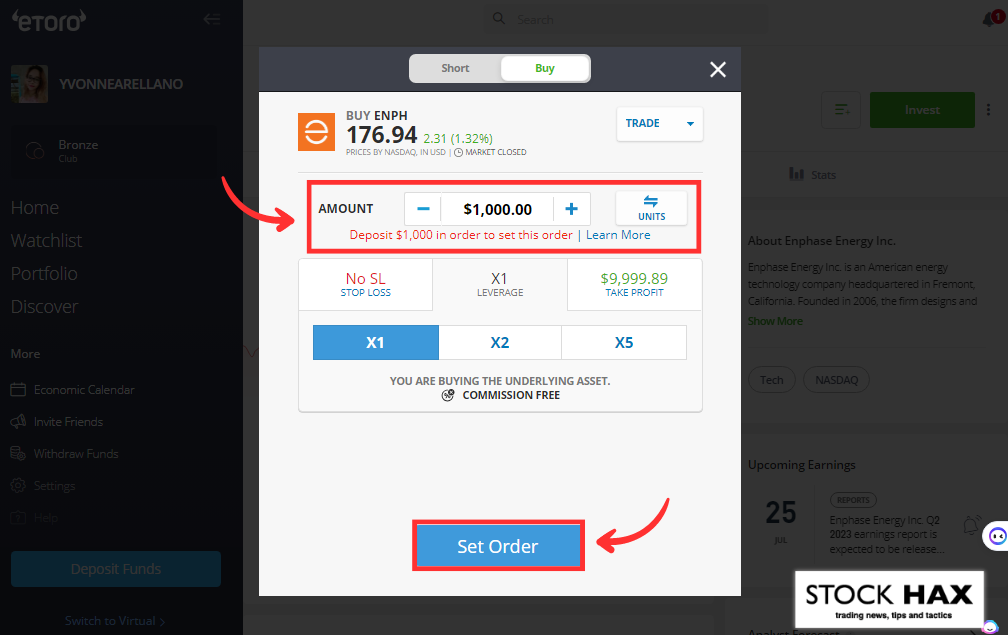 Summary
Investing in Enphase Energy offers a multitude of avenues, from direct stock purchases to mutual funds, ETFs, or even via options. The company's impressive growth prospects, trailblazing technology, strong financials, and global market presence combine to make it a compelling investment choice.
User-friendly platforms like eToro simplify the investment process, which involves creating an account, verifying your identity, funding the account, and purchasing the desired number of shares.
Through careful and strategic investment in ENPH, investors not only stand a chance to earn significant returns, but also play a crucial role in promoting renewable energy, driving the transition towards a sustainable future.
FAQ
Is Enphase Energy a good stock to buy?
Whether Enphase Energy is a good stock to buy depends on your investment goals and risk tolerance. Enphase operates in a growing industry, has solid financials, and is a leader in its field. However, like any investment, it carries risks, and the renewable energy sector can be influenced by factors such as changes in government policies and fluctuations in energy prices.
What does Enphase Energy do?
Enphase Energy is a global energy technology company that designs and manufactures software-driven home energy solutions. It's known for its microinverter technology used in solar energy generation, energy storage, and web-based monitoring and control.
How can I buy Enphase Energy stock?
You can buy Enphase Energy stock through any licensed stockbroker. Online brokerage platforms like eToro also allow users to buy stocks with a straightforward and user-friendly process.
What is Enphase Energy's ticker symbol?
Enphase Energy's ticker symbol on the NASDAQ is ENPH.
Can I invest in Enphase Energy through mutual funds or ETFs?
Yes, Enphase Energy may be part of the portfolio of several mutual funds and ETFs, particularly those focusing on renewable energy or technology sectors.
What are the risks of investing in Enphase Energy?
While Enphase has strong growth prospects, investing in its stock carries risks, such as market volatility, regulatory changes, competition in the renewable energy sector, and global economic factors.
Does Enphase Energy pay dividends?
As of writing, Enphase Energy does not paid dividends. Instead, the company reinvests its profits back into growth and research and development.
What's the minimum amount I can invest in Enphase Energy?
The minimum investment amount depends on the policies of the platform or brokerage you use to buy the stock. Some platforms allow you to purchase fractional shares, meaning you can start investing with a relatively small amount of money.
Risk Disclaimer
StockHax strives to provide unbiased and reliable information on cryptocurrency, finance, trading, and stocks. However, we cannot provide financial advice and urge users to do their own research and due diligence.
Read More