Fidelity and Webull are two US regulated brokers widely used to trade different kinds of financial products.
Both are mostly fee and commission free, offer different trading platforms and take strong security measures.
So, what are the elements that make users choose a broker instead of the other? We will compare Fidelity and Webull to share with you all their features.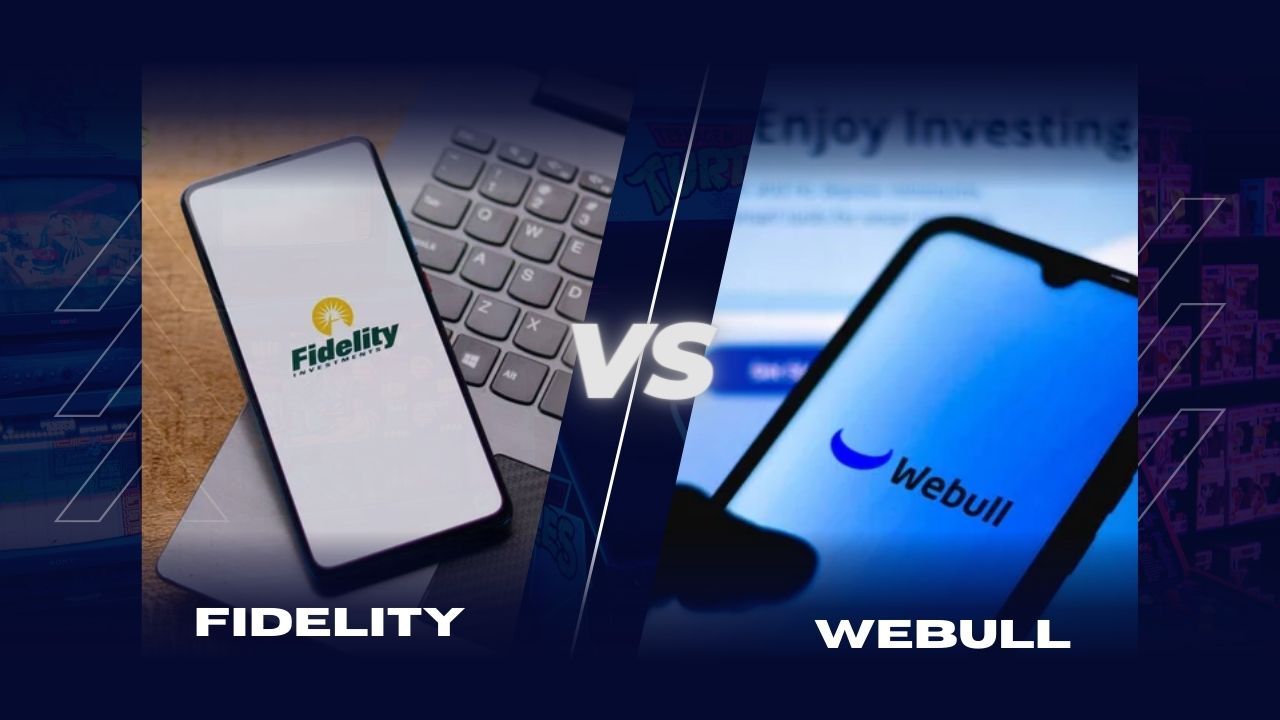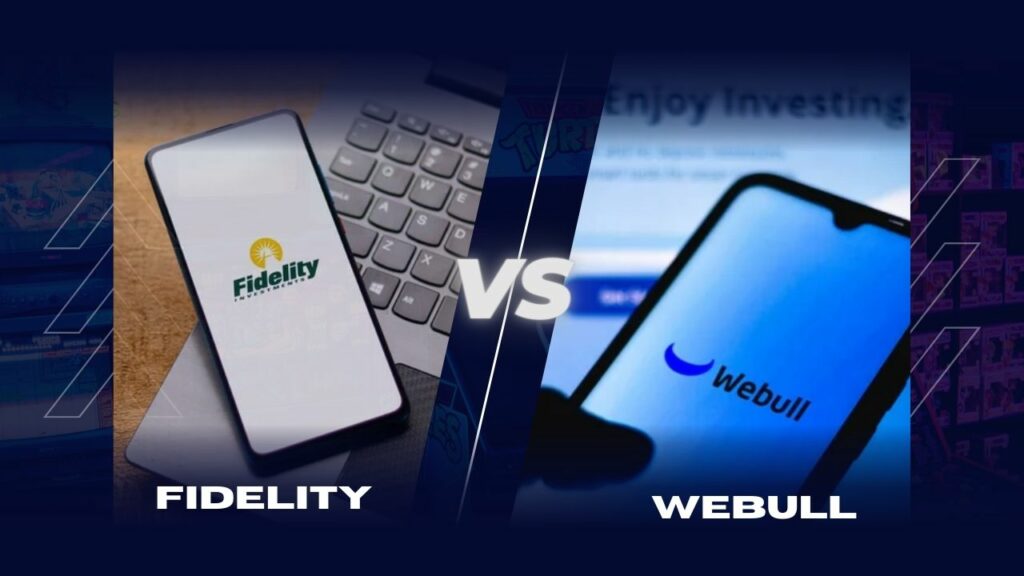 Overview of Fidelity Broker & Webull Broker
| Features | Fidelity | Webull |
| --- | --- | --- |
| 💰 Account Minimum | $0 for brokerage accounts and $2,500 for managed accounts | $0 |
| 💸 Commission Fees | $0 for stocks, ETFs, and options trades. $0.65 per options contract. Mutual funds have $49.95 transaction fees. | Commission-free trades for stocks, ETFs and options online. $0.55 per contract fee for options trades |
| 💼 Investment Options | Stocks, bonds, ETFs, mutual funds, options, and CDs | You can invest in stocks, ETFs, options, ADRs and cryptocurrencies |
| 🤖 Robo-Advisor | Fidelity Go, which charges a 0.35% annual advisory fee and has a $10 minimum investment | None |
| 📊 Research and Analysis | Extensive research and analysis tools, including reports, screeners, and educational content | Basic research and analysis tools, including news and market data |
| 📱 Mobile App | Fidelity Mobile App | iOS and Android apps |
| 🏦 Retirement Accounts | Traditional and Roth IRAs, SEP IRAs, SIMPLE IRAs, and 401(k) plans | You can open various types of retirement accounts such as traditional IRA, Roth IRA and rollover IRA |
| 📈 Trading Platform | Fidelity offers a web-based trading platform and the Active Trader Pro desktop platform for frequent traders | You can use the Webull web-based or mobile platform |
| 📞 Customer Service | 24/7 phone support and online chat. Over 190 branch locations for in-person support | You can contact Webull customer service via phone, email or live chat. |
| 📚 Educational Resources | Extensive educational resources, including articles, videos, webinars, and courses | You can access educational resources such as videos, articles, courses and more on the Webull website and app. They also have a community forum where you can interact with other traders and learn from their experiences |
| 🌕 Fractional Shares | Yes, through Fidelity's mobile app and website | You can buy fractional shares of stocks with as little as $5 through Webull |
| 🌱 Socially Responsible | Offers ESG-focused funds and tools for socially responsible investing | No |
| 🌎 International Investing | No | You can invest in ADRs (American depositary receipts) that represent shares of foreign companies traded on US exchanges |
| 💳 Cash Management | Fidelity Cash Management account offers FDIC-insured checking and ATM fee reimbursements | You can use Webull Cash Management to earn interest on your uninvested cash and access it with a debit card. You can also link your bank account to your Webull account for easy transfers |
| 🔍 Margin Trading | Yes, with competitive rates | You can trade on margin with a Webull margin account if you have at least $2,000 in cash or eligible securities. The margin interest rate varies depending on your account balance |
| ⚙️ Options Trading | Extensive options trading tools and resources | You can trade options with a Webull options account if you have at least $25,000 in cash or eligible securities. The commission for options trades is $0.55 per contract plus fees charged by regulatory agencies and exchanges |
| ₿ Cryptocurrency Trading | No | Yes, offers trading of cryptocurrencies such as Bitcoin and Ethereum |
| 🛡️ Account Security | Two-factor authentication and advanced encryption technologies | Two-factor authentication and SSL encryption |
| 💹 Leverage | No | No |
| ⚖ Regulation | Fidelity is regulated by the SEC and FINRA in the US, and the FCA in the UK. It is also a member of SIPC. | Regulated by FINRA and SEC in the US |
Fees and Commissions
Webull doesn't charge fees to trade most of its products, but regulatory fees apply.
For what concerns options, Webull offers competitive fees – $0.55 per contract. To short the financial products the broker offers, the margin rate will affect investors' funds – the higher your debit balance, the lower the rate, which goes from 9.49% to 5.49%.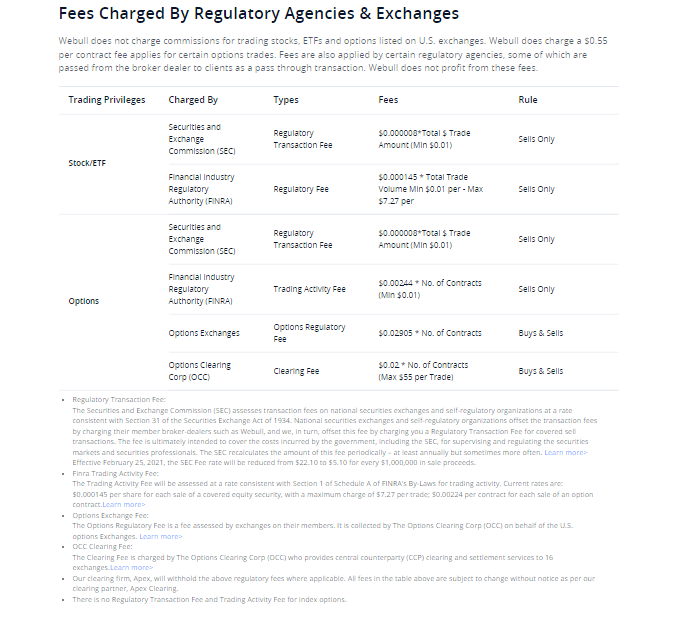 Webull also informs that there are potential fees for OTC securities – fees that can range between $0.0002 per share and $5 per trade.
Webull isn't inexpensive when it comes to deposit and withdrawals. If ACH deposits and withdrawals in the US are free, if you deposit money via wire transfer you'll need to pay $8 per deposit and $25 per withdrawal. If you don't have a US bank account, you'll need to pay $12.5 for a wire transfer deposit and $45 for withdrawals.
On the other hand, Fidelity is relatively less expensive for what concerns commissions and fees. The broker doesn't charge any fee on many products. To be more specific: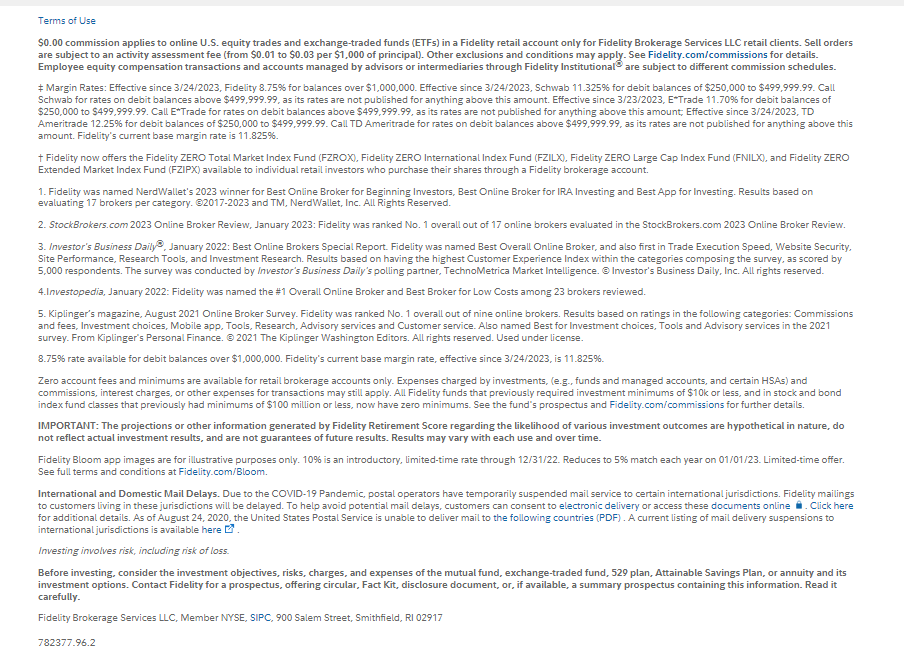 You can make fee-free trades in stocks, ETFs and mutual funds;
For what concerns bonds and CDs, the broker charges $1 per bond or CD for online trades, and $0 for US Treasuries;
Fidelity doesn't charge commissions for Mutual Funds – which is not very common among brokers;
The broker charges $0.65 per contract when it comes to futures – which is in line with the price of other brokers.
According to this analysis, Fidelity is the most cost effective between the two brokers we're considering.
Trading Platforms
Both brokers offer interesting trading platforms full of features that help you to use the brokers constantly.
Webull offers trading platforms suitable for traders and investors with different levels of experience. The broker provides three versions of its trading platforms – one online, which you can use right after you open an account; the mobile app – particularly appreciated by users, who rated the application 4.4 out of 5 on Google Play; and the downloadable trading platform for desktop.
The desktop version provides seconds interval charts, you can fully customise the platform, add and remove widgets, set your screeners and alerts to constantly control your investments and trades. You can decide to open group orders, and cancelling orders is simple and fast.
Also Fidelity offers three trading platforms:
The online trading platform: users with a brokerage account can use this platform to benefit from advanced trading tools and insightful research;
The mobile trading platform: the Fidelity Mobile app is a downloadable application with a strong focus on security. Thanks to this app you can trade, track your portfolio and get professional tips;
The desktop trading platform: Active Trader Pro allows you to trade, find trading ideas thanks to the Real-Time Analytics provided by the platform, news and insights.
It's hard to tell which broker is better when it comes to trading platforms, but we lean towards Webull – especially because it tends to constantly improve its platforms, especially the desktop version, which can be used on different platforms seamlessly.
Investment Options
Fidelity and Webull are not among the brokers that offer the higher number of investment options. Moreover, the two are mainly designed for the US market – and foreign traders could face restrictions or higher costs.
Fidelity offers you seven different investment options:
Stocks,
Mutual Funds,
ETFs,
Fixed Income products,
Bonds
Certificates of Deposit (CDs),
Options.
Webull is more limited in the offer of investment products when compared to Fidelity.
Webull offers:
Stocks,
Cryptocurrencies,
Options,
ETFs,
OTC– Over-the-Counter – securities.
When comparing the investment options offered by the two brokers, Fidelity offers a wider range of products.
Customer Service
Both Fidelity and Webull offer high quality support, available 24/7.
The customer service of Fidelity tends to mix traditional methods used to assist clients and more technological methods. The customer service of the broker consists of:
A live chat: this type of specialised support is not available 24/7 – it is not available during the night on working days, and it's available from 9 am to 4 pm during weekends;
Phone call service – available 24/7;
Virtual assistance – also this method is available 24/7.
Webull offers support 24/7 via phone call or email. This might seem not enough for modern brokers, but we want to highlight the fact that Webull tends to optimise its website to allow people to work as autonomously as possible.
The very design of the website makes it easy to find any piece of information you need, and the help centre – as well as the FAQ section and the educational resources – are so exhaustive that you can find everything you need.
Another big pro of Webull is that it focuses on accessibility: when you visit the website you can choose to optimise it by choosing a specific profile – to mention some of the available profiles, the Vision Impaired Profile and the ADHD Friendly Profile.
Both brokers have high quality customer services, and each of them has a peculiarity that can meet the needs of a larger audience.
Security
Both Fidelity and Webull put in place strong security measures to protect accounts and funds, but Fidelity offers higher security levels.
Fidelity takes several measures to protect your account and funds.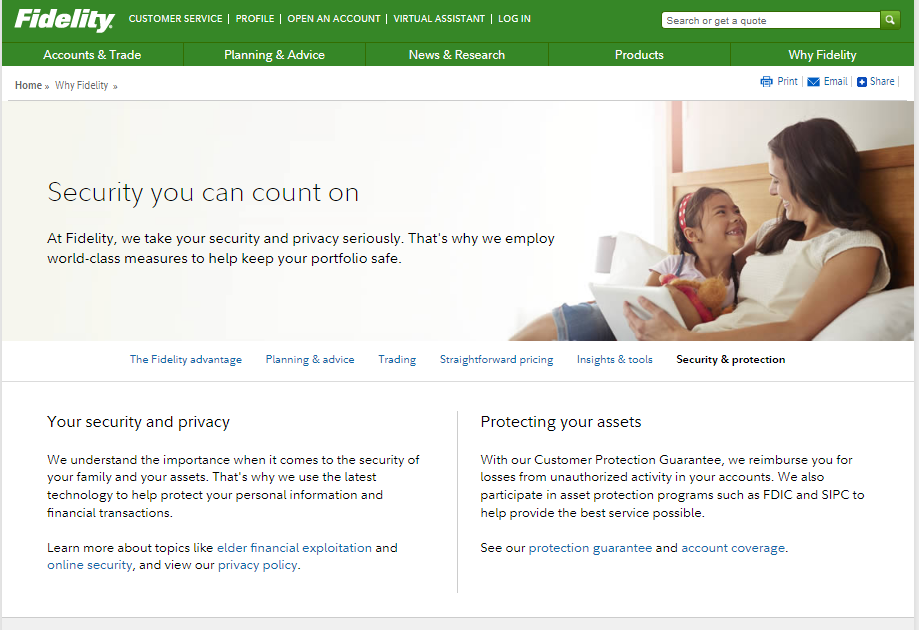 The broker has a strong privacy policy, and is committed to offer you free services to store any document that can be related to your personal finances – for free.
It uses encryption to make your sensitive data even safer, along with security means like voice recognition and 2-factor authentication as a part of its Extra Login Security policy.
Security is one of the main goals of the broker not only for what concerns online activity, but also when it comes to its physical branches: in both cases, the access to the data of customers is limited and employees who have to manage them are constantly trained.
If you get the mobile app you'll benefit from additional layers of security, like alerts and text notifications, which are the result of the constant monitoring of accounts to avoid unauthorised activity and data thefts.
If an unauthorised activity occurs, your funds will be reimbursed under the Fidelity Customer Protection Guarantee program. Moreover, your funds are insured:
The US Federal Deposit Insurance Corporation (FDIC) insures cash deposits for up to $250,000 per account;
The Security Investor Protection Corporation (SIPC) coverage insures securities, and thanks to the additional coverage provided thanks to this organisation, Fidelity is able to insure up to $1 billion of capital – with a per customer limit of $1.9 million.
Despite its strong security measures, Fidelity reported a data breach on January 6, 2023.
Also Webull offers several security measures – both for your account and funds: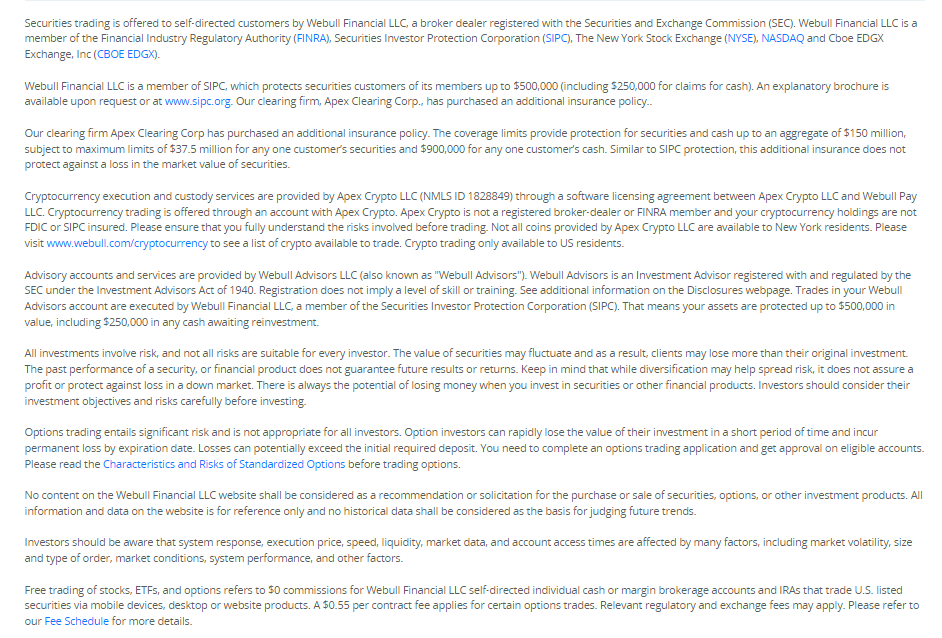 Sensitive data are encrypted,
You can activate the 2FA to further protect your account and avoid unauthorised activity,
As a member of the SIPC, securities are insured for up to $500,000,
Webull benefits from an additional insurance that covers securities up to $37.5 million and cash for up to $900,000.
Both brokers follow high security standards, and Fidelity seems to offer even stronger solutions to protect users' accounts and funds. Despite this, Webull has never reported hacks – even if users occasionally report account issues and accounts frozen for potential security threats.
Conclusion
Both Fidelity and Webull offer valuable tools to trade different products, a strong customer support and security measures, as well as intuitive trading platforms.
Overall, Fidelity performs better, especially if we consider the different financial products available and the availability of international markets.
Nevertheless, always do your own research to understand if a broker fully meets the needs of your trading activity!
FAQ
Are Fidelity and Webull regulated?
Yes, both brokers are regulated in the US.
Do these brokers keep my funds safe?
Yes. Both brokers take several security measures, to protect both your account and funds. Your funds are secured also thanks to the insurance policies used by Fidelity and Webull.
Which one offers more products?
Webull is limited in its investment options when compared to Fidelity, which offers stocks, mutual funds, ETFs, fixed income products, Bonds, CDs and options.
Risk Disclaimer
StockHax strives to provide unbiased and reliable information on cryptocurrency, finance, trading, and stocks. However, we cannot provide financial advice and urge users to do their own research and due diligence.
Read More