Charles Schwab and Robinhood are widely used in the US, and traders might ask which one they should choose for their trading activity.
Both brokers are regulated, mostly free and protect your funds, but it will be your trading goals to determine which is better between the two.
In this article, we will compare all the features of Charles Schwab and Robinhood, to help you make an informed decision.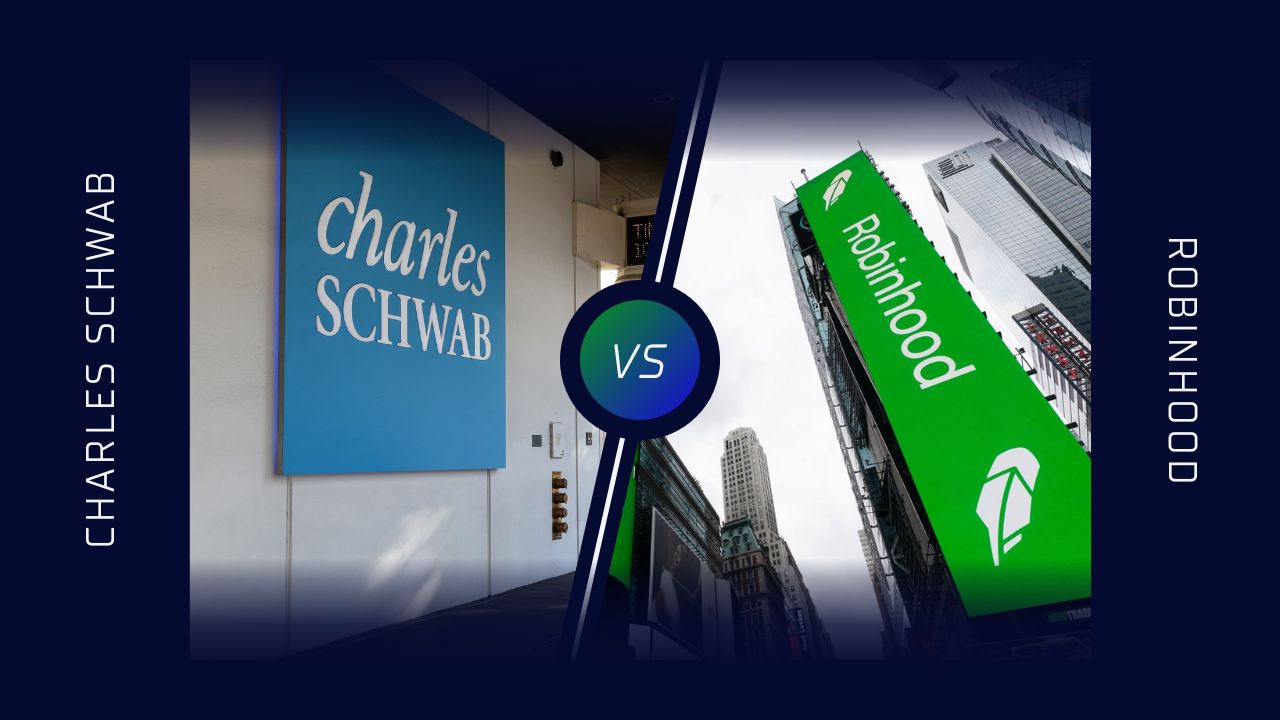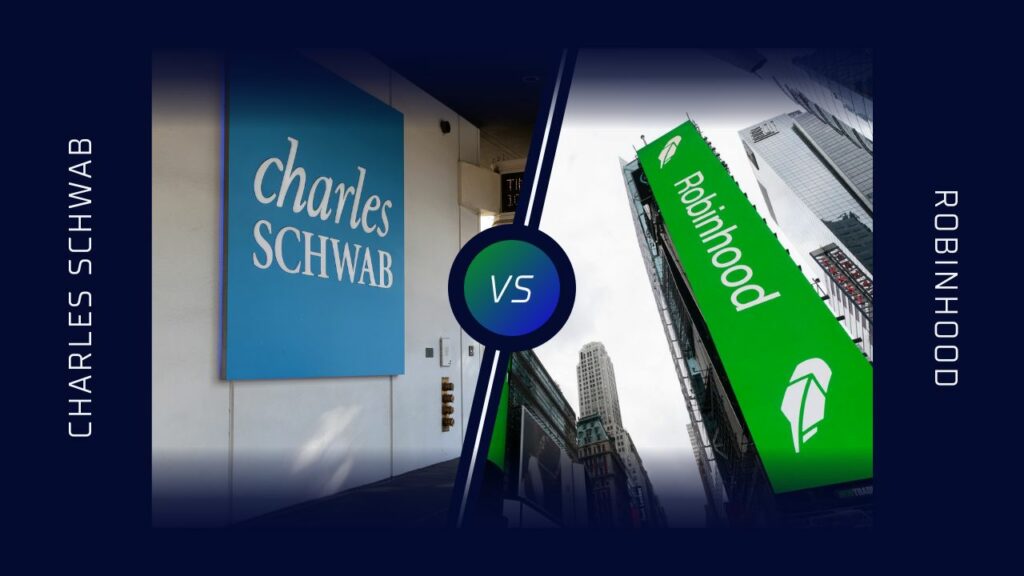 Overview of Charles Schwab Broker & Robinhood Broker
| Features | Charles Schwab | Robinhood |
| --- | --- | --- |
| 💰 Account Minimum | $0 | $0 |
| 💸 Commission Fees | $0 for Stocks/ETFs | $0 for Stocks/ETFs |
| 💼 Investment Options | Stocks, ETFs, Options, Mutual Funds, Bonds, Futures | Stocks, ETFs, Options, Cryptocurrencies |
| 🤖 Robo-Advisor | Schwab Intelligent Portfolios | N/A |
| 📊 Research and Analysis | Free research reports and analysis from Schwab and third-party providers | Basic research tools available |
| 📱 Mobile App | Available for iOS and Android devices | Available for iOS and Android devices |
| 🏦 Retirement Accounts | Traditional IRA, Roth IRA, Rollover IRA, SEP IRA, SIMPLE IRA, Self-directed IRA | Traditional IRA, Roth IRA |
| 🎓 IRA Accounts | Yes | Yes |
| 📈 Trading Platform | Schwab.com and StreetSmart Edge | Robinhood app |
| 📞 Customer Service | Available 24/7 via phone, online chat, and email | Limited customer service options |
| 📚 Educational Resources | Extensive educational resources available, including webinars, articles, and videos | Limited educational resources available such as blog posts, FAQs, and glossary |
| 🌕 Fractional Shares | Yes | Yes |
| 🌱 Socially Responsible | Yes | Yes |
| 🌎 International Investing | Yes, with access to 12 international markets | Limited international investing options |
| 💳 Cash Management | Schwab Bank High Yield Investor Checking Account | Robinhood Cash Management |
| 🔍 Margin Trading | Yes | Yes |
| ⚙️ Options Trading | Yes | Yes |
| ₿ Cryptocurrency Trading | Yes, through its subsidiary, Schwab Digital Assets | Yes |
| 🛡️ Account Security | Schwab offers two-factor authentication, encryption, and fraud monitoring | Robinhood offers two-factor authentication, encryption, and fraud monitoring |
| 💹 Leverage | Charles Schwab offers up to 4x leverage for stocks and ETFs with a margin account only if you meet certain requirements such as having at least $25,000 in equity or being approved as a pattern day trader. | up to 2x leverage for stocks and ETFs with a margin account only if you pay a monthly fee of $5 to join the Robinhood Gold program. |
| ⚖ Regulation | Regulated by the SEC, FINRA, and other regulatory bodies | Regulated by the SEC, FINRA, and other regulatory bodies in the US. In the UK, Robinhood is authorized and regulated by the Financial Conduct Authority (FCA). In Australia, Robinhood is authorized and regulated by the Australian Securities and Investments Commission (ASIC). In the EU, Robinhood is authorized and regulated by the Cyprus Securities and Exchange Commission (CySEC). |

Fees and Commissions
Both Charles Schwab and Robinhood charge 0% fees and commissions on most of the products they provide, but there are some exceptions.
Charles Schwab charges 0% fee or commissions on most products, but you'll need to make different considerations when you're not an autonomous trader. If you want to benefit from the assistance of the broker for your trades, you'll be charged up to $25.
The broker also charges the following fees and commissions:
$2.25 on futures contracts,
$6.95 on OTC stocks and on stocks not listed in the US,
$50 for foreign transactions,
Up to $74.95 for mutual funds.
Robinhood doesn't charge any fee or commissions on its products. However, as it happens with many brokers, the platform profits from bid-ask spreads. Moreover, since the platform also offers paid subscriptions, Robinhood charges $5 per month to Robinhood Gold users – who have access to higher APY on unused cash, higher instant deposits, lower fees for margin investing, more professional tools and data.
Margin trading can actually be considered the most expensive service provided by Robinhood: traders who want to increase their funds thanks to capital borrowed by the platform, they'll be charged a 11.25% fee as margin interest rate. If you want to trade securities on margin, the minimum amount you need on your account amounts to $2000.
Fees are applied to more particular services like the provision of paper documents produced by the broker. Moreover, you'll need to pay 1.5% of your transaction in case of instant withdrawal.
To establish which is the best broker when it comes to fees and commissions, it's important to consider the different trading activity of users: if you want to trade the most popular financial products easily and fast, Robinhood is better. But if you need a wider choice of products and more complex trading tools, and you're willing to spend a part of your capital to get these services, Charles Schwab represents a good compromise.
Trading Platforms
The trading platforms provided by the two brokers can meet the needs of different types of traders, but Charles Schwab performs better when traders and investors need more advanced tools.
The broker offers three different trading platforms – a web platform, a desktop version you can use by downloading the free software provided by Charles Schwab, the mobile trading application.
All these platforms allow for complex trades as well as simple orders. In any case, you'll be provided with insightful data and trading tools. Moreover, Charles Schwab offers its All-in-One Trade Ticket: thanks to this software, you'll be able to set different orders with different strategies by using the same window of the trading platform.
The trading platform offers some indicators and charts are complete, but if you want more advanced tools and charts, you'll need to subscribe to Gold.
Investment Options
When it comes to the products available for investing, Charles Schwab performs better – it guarantees a wider range of products when compared to Robinhood.
To be more specific, these are the products you can trade on Charles Schwab: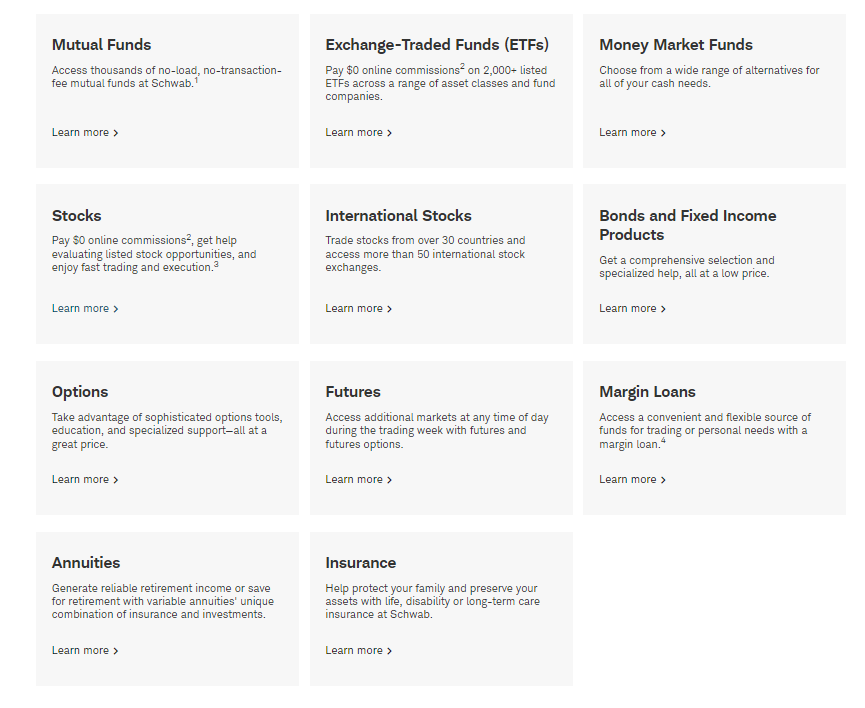 Stocks,
ETFs,
Mutual Funds,
Options,
Fixed Income products,
Futures,
Forex,
Crypto derivatives and stocks.
Moreover, you can invest in 12 countries autonomously, while you can reach 30 different international markets thanks to the assistance of the broker.
Robinhood is more limited: the broker offers the opportunity to trade stocks, ETFs, securities, options and cryptocurrencies. Moreover, the broker doesn't have the international vocation of Charles Schwab: you can't sign up if you're not a US resident, and when it comes to investment products you can get access to some Canadian and Israeli markets.
Charles Schwab is better, compared to Robinhood, for what concerns the investment options provided to users.
Customer Service
Both brokers offer high quality customer support, even if Robinhood just recently added support 24/7.
Charles Schwab offers support via phone calls – also to international customers – and live chat. Alternatively, users can visit one of the branches of the broker to meet Charles Schwab's representatives in person.
Robinhood wasn't very appreciated for the customer support, but in 2021, it introduces new services to meet customers' needs.
Noew, Robinhood's customers can reach out to Robinhood also via chat and by requesting a phone call – the broker notifies them when a representative is about to call, also communicating the phone number. Currently, the average time customers have to wait is around 30 minutes.
Comparing the two brokers, both provide large resources on their websites – like tutorials and FAQ sections, and at the same time, they provide alternative support methods, but Charles Shwab tends to offer more alternatives (including in-person support).
Security
Security is a must in the online world, and especially when it comes to investing, you need to rely on platforms that protect both you and your funds.
Both Charles Schwab and Robinhood take strong measures to reach these goals.
As a member of SIPC, Robinhood is able to insure your investments in securities (up to $500,000). All the sensitive data and passwords are encrypted before being stored. Moreover, it provides 2FA (Two-Factor Authentication) for an additional layer of security.
In line with the higher complexity of the products and services offered, Charles Schwab takes further measures:
Also Charles Schwab uses encryption, and a constant monitoring of accounts helps to avoid unauthorised accesses and to send alerts instantly to the customers;
All the employees involved in the management of data are trained in security and privacy;
If any funds are lost due to unauthorised activity, Charles Schwab guarantees that those funds will be reimbursed;
For both on-line and in-person support, the identity of the customer is first verified;
Advanced and voice identifications are available, and customers can choose to use them for a more secure experience;
Moreover, Charles Schwab provides users with an extensive knowledge base to follow the best practices when it comes to using web services and online investing.
Both brokers use strong measures and policies to protect their customers, and even if Charles Schwab offers more security measures, we want to highlight that the security infrastructure is designed also according to the products users can invest on – and Charles Schwab is more complex than Robinhood.
Despite the technological security measures and strong monitoring of accounts, both brokers suffered hacks that resulted in the theft of data – Robinhood was hacked in 2021, Charles Schwabb in 2022.
Conclusion
To conclude our article, we want to highlight once again that your trading activity and goals will be pivotal to determine which broker is better between Charles Shwab and Robinhood.
These brokers have similar features when it comes to fees, commissions and security, but they completely differ in the investment options they offer.
Robinhood is more suitable for traders who want to place orders as fast and easy as possible – this is precisely the goal of the broker, the democratisation of finance.
FAQ
Are Charles Schwab and Robinhood regulated brokers?
Yes, both are regulated in the US – Charles Schwab by the SEC and FINRA, and Robinhood by the SEC.
Did these brokers suffer any hack in the past?
Yes, both Charles Schwab and Robinhood suffered data thefts – Charles Schwab in 2022, Robinhood in 2021.
Which is better for investment options?
Charles Schwab offers more investment options and access to international markets when compared to Robinhood.
Risk Disclaimer
StockHax strives to provide unbiased and reliable information on cryptocurrency, finance, trading, and stocks. However, we cannot provide financial advice and urge users to do their own research and due diligence.
Read More