This website and its content are not intended to provide professional or financial advice. The views expressed here are based solely on the writer's opinion, research, and personal experience, and should not be taken as factual information. The author is not a financial advisor and lacks relevant certifications in that regard. We highly recommend consulting a qualified financial advisor before making any investment decisions, as the information presented on this site is general in nature and may not be tailored to individual needs or circumstances
CFDs, or contracts for differences, are contracts between financial institutions and investors where they take a position about the future financial value of an asset. It is a type of trading that financial institutions offer to investors who are looking to enter the financial market. It is an arrangement made by financial institutions where the difference in the settlement between the opening trade and closing trade is settled in cash.
If you're looking to start trading CFDs in South Africa, then you've come to the right place. Contracts for Difference, or CFDs, are a well-liked tool used by traders to predict price changes in a variety of financial products, such as stocks, indices, commodities, and currencies. But it might be difficult to know where to start with so many possibilities available. To assist you in locating the greatest CFD trading opportunities in South Africa, we've put together this article.
The Best Trading CFDs brokers in South Africa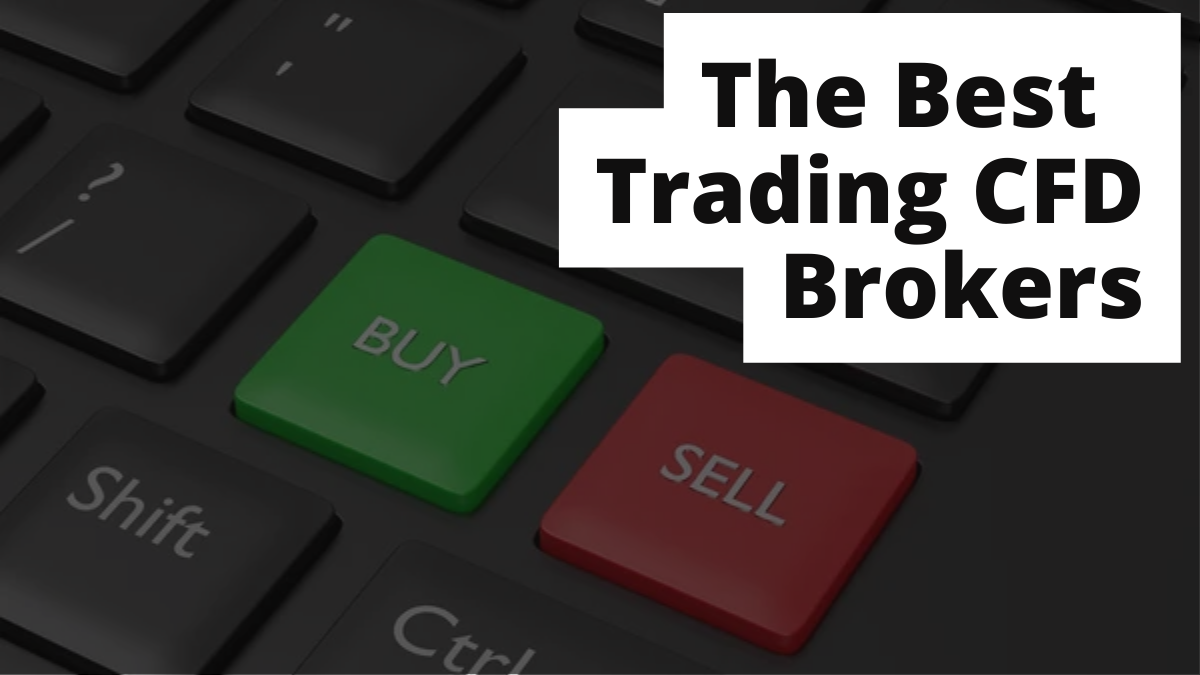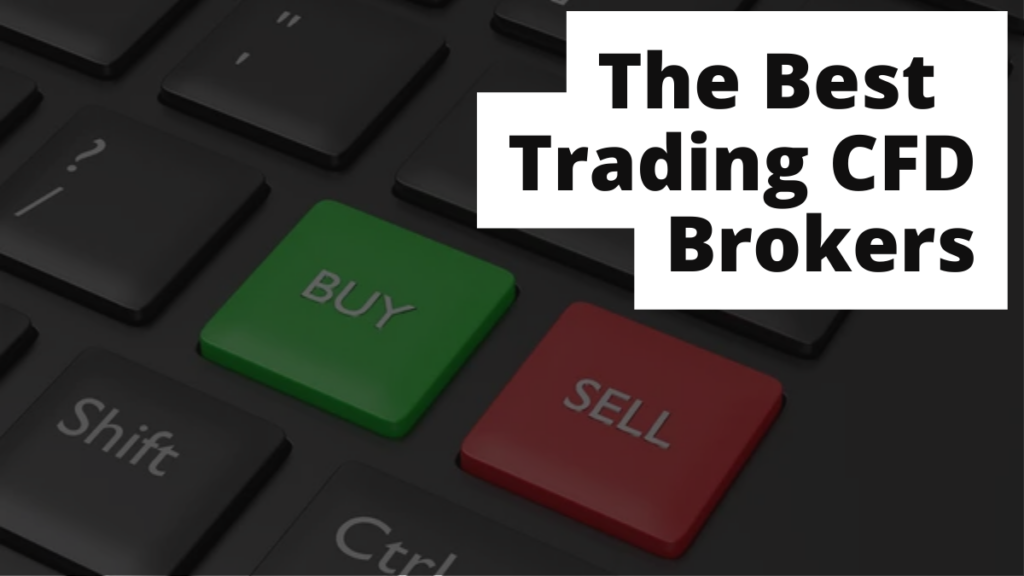 When it comes to choosing a CFD in South Africa, there are many options available, and what will end up being your favourite CFD will be based on your personal preferences and investment goals.
In no particular order, below is a list of some of the reputable CFD brokers in South Africa, amongst others.
Pepperstone

With CFD trading on more than 10 instruments, including Forex pairs, stocks, indices, crypto, commodities, and currency indices, Pepperstone is the top ASIC-regulated ECN/STP CFD and Forex broker. The Razor Account, one of Pepperstone's two ECN accounts, offers market execution that includes some of the thinnest spreads in the business for a $7 charge.
Additionally, Pepperstone provides fixed spreads for its CFDs for indices, cryptocurrency basket trading, and 24/7 trading for U.S. shares.
The cornerstone of Pepperstone's exceptional customer service, which offers personal assistance through a variety of means, is its award-winning, round-the-clock support. Pepperstone also features one of the greatest education sections made available by a market execution broker for newbies considering CFD trading.
Pros
FSCA Regulation: Pepperstone is regulated by the Financial Sector Conduct Authority (FSCA) in South Africa under FSP number 49497. This ensures that the broker follows strict regulatory guidelines and that clients' funds are safeguarded.
Competitive Spreads & Low Fees: Pepperstone offers tight spreads and low fees for trading forex and CFDs. This makes it an attractive choice for South African traders looking to minimize their trading costs.
Extensive Range of Trading Instruments: With over 1,000 trading instruments, including forex, indices, commodities, and cryptocurrencies, South African traders have a wide range of options to diversify their trading portfolios.
Advanced Trading Platforms: Pepperstone offers access to the popular MetaTrader 4 and MetaTrader 5 platforms, as well as the cTrader platform. These platforms provide advanced charting tools, indicators, and automated trading capabilities suitable for both beginners and experienced traders.
Excellent Customer Support: Pepperstone is known for its responsive and helpful customer support, available 24/5 via live chat, email, and phone. South African traders can expect prompt assistance for any issues or inquiries.
Educational Resources: Pepperstone offers a variety of educational resources, including webinars, market analysis, and trading guides. These resources can help South African traders learn more about trading strategies and market dynamics.
Cons
Limited Local Presence: Pepperstone is an Australian-based broker and does not have a local office in South Africa. This may be a concern for some South African traders who prefer to deal with a broker that has a local presence for additional support.
No Share CFDs for South African Stocks: While Pepperstone offers a wide range of trading instruments, they do not provide access to share CFDs for South African stocks. South African traders who want to trade local shares as CFDs may need to consider other brokers that offer this service.
In conclusion, Pepperstone is a well-regulated and reputable online broker that offers competitive spreads, low fees, and a diverse range of trading instruments to South African traders. The broker's advanced trading platforms, excellent customer support, and comprehensive educational resources make it an attractive choice for both beginners and experienced traders. However, some potential drawbacks include the lack of a local presence in South Africa and the absence of South African share CFDs. Overall, Pepperstone remains a solid option for South African traders seeking a reliable and efficient trading experience.
---
AvaTrade

AvaTrade is the finest broker for cryptocurrency CFD trading because it offers a wide variety of cryptocurrency options, high leverage, the option to trade cryptocurrencies against fiat currencies, and round-the-clock client service. On AvaTrade's 4 unique trading platforms, which include some of the greatest trading tools in the business, you may trade these items as well as many more.
AvaTrade operates a customer service group in South Africa. The app offers access to over 1,000 CFD instruments, as well as the AvaProtect feature, which shields users from losses for a short period of time. The app's zoom feature, market trends monitor, and seamless synchronisation with AvaTrade's web trader are some of its other standout features.
Pros
Regulated by South African Authorities: AvaTrade is regulated by the Financial Sector Conduct Authority (FSCA) in South Africa under license number 45984. This ensures that the broker adheres to local regulations, offering a safe and secure trading environment.
Wide Range of Trading Instruments: AvaTrade offers a diverse range of financial instruments, including forex, commodities, indices, stocks, ETFs, and cryptocurrencies. This variety allows South African traders to diversify their investment portfolios and access multiple markets.
Multiple Trading Platforms: AvaTrade provides various trading platforms such as MetaTrader 4, MetaTrader 5, and their proprietary WebTrader platform. South African traders can choose the platform that best suits their needs and preferences.
Competitive Spreads and Low Fees: AvaTrade offers competitive spreads and low fees on trades, making it more cost-effective for South African traders to access global financial markets.
Local Customer Support: AvaTrade provides local customer support for South African traders, which can be advantageous when seeking assistance in the same time zone and native language.
Educational Resources: AvaTrade offers a wealth of educational materials, including webinars, eBooks, and video tutorials, to help South African traders learn and improve their trading skills.
ZAR Account Option: South African traders can open an account denominated in the local currency (ZAR), which can help them avoid currency conversion fees when depositing and withdrawing funds.
Cons
Limited Range of Deposit and Withdrawal Methods: Compared to some other online brokers, AvaTrade offers a limited range of deposit and withdrawal methods for South African traders. While they do support popular options such as credit/debit cards, bank transfers, and some e-wallets, the availability of certain local payment methods may be lacking, which could be inconvenient for some users.
Inactivity Fee: AvaTrade charges an inactivity fee of $50 per quarter after three consecutive months of account inactivity. This might be a disadvantage for South African traders who do not trade frequently or prefer to take a more passive approach to investing.
In conclusion, AvaTrade presents a strong choice for South African traders looking to enter the world of online trading. With its FSCA regulation, diverse range of trading instruments, multiple platform options, competitive spreads, local customer support, educational resources, and ZAR account option, it offers several advantages tailored to the needs of traders in the region. However, it is essential to consider the limited range of deposit and withdrawal methods and potential inactivity fees when making a decision. Overall, AvaTrade is a reputable and reliable broker that can provide a solid foundation for both novice and experienced South African traders to grow their investments.
---
HFM (HotForex)

Global CFD broker HotForex offers a range of CFDs, including Forex pairings, cryptocurrencies, commodities, indices, and equities. HFM allows access to 1,000+ CFD instruments and fast market execution on all six of its distinct accounts. Additionally, HFM has added JSE-listed symbols to its portfolio, which are perfect for investors looking to trade South African stocks.
Spreads on the micro account begin at 1.2 pips on the EU, and the minimum deposit is an incredibly modest 70 ZAR. HFM provides limitless demo versions of each of its account types for new users. For a 200 USD initial deposit, the HFM Zero Spread Account provides spreads as low as 0 pips for more seasoned traders.
Pros
Regulation: HotForex is regulated by multiple financial authorities, including the Financial Sector Conduct Authority (FSCA) in South Africa, which provides some level of safety and security for South African traders.
Multiple account types: HotForex offers a range of account types to suit different trading styles and preferences, including Micro, Premium, Zero Spread, and Auto accounts.
Trading instruments: HotForex offers a wide range of trading instruments, including forex, commodities, cryptocurrencies, indices, and shares, which can provide South African traders with ample opportunities for diversification and profitability.
Low minimum deposit: HotForex has a low minimum deposit requirement, which makes it accessible to traders with small trading capital.
Cons
Limited educational resources: HotForex's educational resources are somewhat limited compared to some other brokers, which could make it challenging for new traders to get started.
Limited customer support: HotForex's customer support could be more responsive and helpful, which could be a problem if South African traders need assistance.
In conclusion, HotForex (HFM) can be a viable online broker for South African traders due to its regulation by the Financial Sector Conduct Authority (FSCA) in South Africa and its range of account types and trading instruments. However, the limited educational resources and customer support could be a drawback for some traders. Overall, South African traders should carefully consider their trading goals and preferences and do their due diligence before choosing an online broker.
---
Benefits of Trading CFDs
Leverage
The ability to trade with leverage is one of the main benefits. This indicates that you can make a trade with less money than you would need to acquire the underlying asset. Your prospective profits may grow as a result, but so will your chances of suffering losses. Therefore, it's crucial to keep your risk management plan in mind when trading with leverage.
Let's first discuss how leverage functions. In order to increase the size of your trade when trading CFDs on leverage, you essentially borrow money from your broker. You might use leverage to trade a CFD with your $1,000 and borrow the rest $9,000 from your broker if you have $1,000 in your trading account and wish to trade a CFD for $10,000. As a result, you are able to trade a bigger position than you otherwise could.
Your broker and the particular CFD you are trading will determine how much leverage you are allowed to employ. Leverage ratios as high as 1:500 are available from some brokers, meaning you can trade $500 for every $1 in your account.
Ability to go long and short
The option to trade CFDs both short and long is another advantage. This implies that you can benefit from both rising and decreasing prices, which is advantageous in a market that is prone to volatility. With the capacity to short sell, you can profit from unfavourable trends and increase your wealth even as the market declines.
Considerations When Choosing CFD Trading in South Africa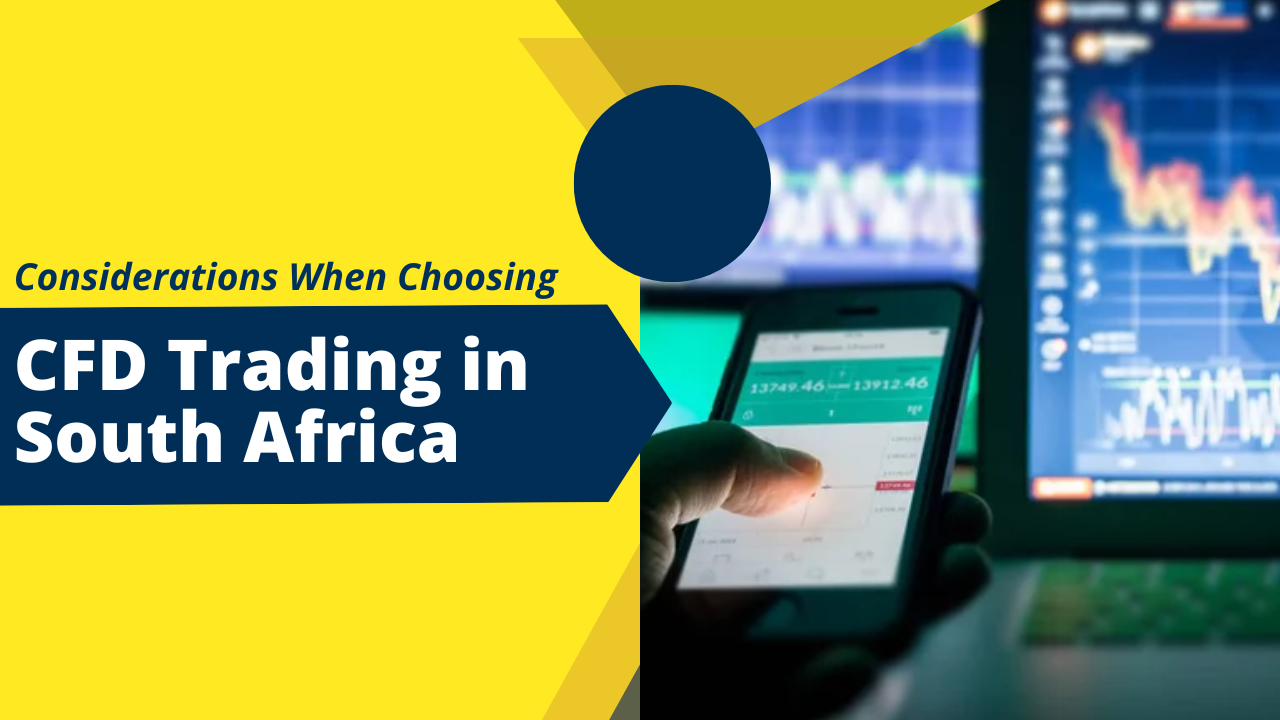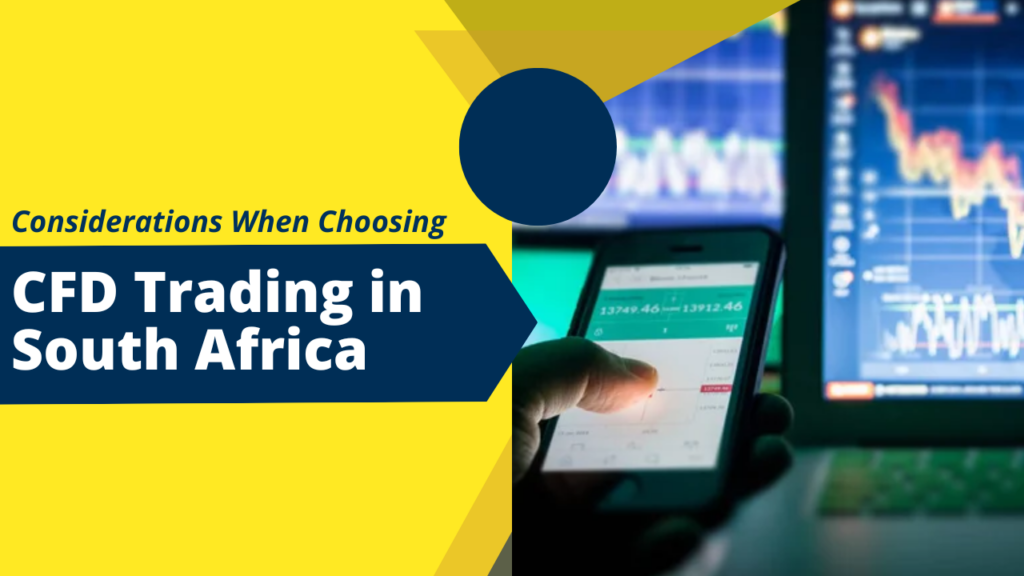 When choosing the best trading CFDs to use in South Africa, there are a few important things you want to consider. Let's consider some of these factors below;
Underlying Asset the CFD is Based On
CFDs are based on several assets; it might be a stock, a commodity, or a currency pair. It's crucial to have a solid understanding of the underlying asset and its market circumstances before choosing. For instance, when you're thinking about trading a CFD on a stock, you should be well-versed in the business's operations. Similar to this, if you're thinking about trading a CFD on a commodity like gold, you should be well-versed in the variables that can influence gold's price, including supply and demand, geopolitical developments, and economic conditions.
Choosing an underlying asset that complements your trading approach is also crucial. If you're a short-term trader, you might want to think about trading CFDs on assets like cryptocurrencies that are more prone to volatility. However, if you're a long-term trader, you might want to think about trading CFDs on more stable assets, like blue-chip stocks.
The availability of the underlying asset on the trading platform you intend to utilise is a crucial factor to take into account. It's vital to verify that the trading platform offers the underlying asset you're interested in trading before opening an account with the broker because certain trading platforms may not offer all of the assets you're interested in trading.
Fees and Commissions
It is very crucial to consider the fees and commissions that the broker charges. Some brokers may charge higher than other brokers and so it is super important for you to compare the fees and commissions of several brokers and make the decision of the CFD to trade with. Whichever broker fits into your budget and doesn't charge too much is the one you want to go with. You should also keep in mind that cheap doesn't necessarily mean better, and if you're paying less, there must be some features and capabilities that you'll be trading off.
The spread is also one of the most crucial expenses to take into account. The spread is the distinction between a CFDs buy price and sale price. To determine which broker gives the best deal, it's critical to evaluate the spreads of several brokers since some may charge bigger spreads than others.
The overnight financing fee is another cost to take into account. This cost, which varies depending on the broker, is assessed when you hold a CFD position overnight. It's vital to examine the fees of many brokers to choose the one that offers the best deal because some brokers may charge a higher overnight financing fee than others.
It's crucial to take into account any additional costs the broker may impose. These might cover charges for deposits, withdrawals, and inactivity. It's critical to find out if and how much the broker charges these fees.
The commission fees on trading are another factor to take into account. While other brokers may charge a percentage of the trade amount, certain brokers may impose a fixed commission on trades. Finding the broker who gives the best deal requires comparing the commission fees of several brokers.
Additionally, it's crucial to keep in mind that brokers provide various account types with varying costs and commissions.
Reputable and Regulated Broker
The first thing you should do is look for a trustworthy and licensed broker. The regulatory agency in charge of policing the South African financial services sector, including CFD brokers, is the Financial Sector Conduct Authority (FSCA). You can be sure that a broker is adhering to stringent guidelines and standards designed to safeguard your interests by selecting one that is fully regulated by the FSCA.
Additionally, you should choose a broker that offers a broad selection of trading options for financial products as well as affordable spreads. You will have more possibilities as a result, which will make it easier for you to identify the trading opportunities that best suit your investing philosophy.
Trading Platform
The trading platform is a further crucial consideration. You will manage and place transactions using this software. It's crucial to pick a platform with a number of tools and features to assist you in making educated selections. It should also be simple to use. The MetaTrader 4 and MetaTrader 5 platforms, as well as unique platforms provided by specific brokers, are some of the most well-liked CFD trading systems in South Africa.
You'll want to be sure that you have a solid understanding of the markets and products you're trading in addition to selecting the appropriate broker and trading platform.
The software you use to carry out trades, study the markets, and handle your account is known as a trading platform. It's essential that it is user-friendly, dependable, and provides all the tools and capabilities you require because it serves as the primary interface between you and the markets.
What Are the Advantages of Using A Regulated Broker?
When trading CFDs, there are various benefits to working with a regulated broker. These include the safeguarding of client funds.
Brokers that are subject to regulation are expected to keep client funds separate from their own funds in segregated accounts. This means that clients' funds will be safeguarded and can be refunded to them in the event that the broker goes bankrupt.
Transparency
Brokers that are subject to regulation are obligated to make public information about their operations, including financial statements and details of any legal or administrative measures that have been taken against them. This enables traders to decide intelligently whether to open an account with a specific broker.
Resolution of disputes
If a trader and a regulated broker have a disagreement, there are established processes for doing so. This can apply to arbitration, mediation, or some other types of conflict resolution.
Regulation adherence
Regulated brokers are obligated to abide by rules created to safeguard traders and guarantee honest and open markets. These guidelines may include risk management, margin requirements, and leverage.
Conclusion
Trading CFDs is a great investment opportunity for investors looking to get into the financial markets. It offers a unique opportunity to trade and earn money. In recent years, CFD trading in South Africa has grown, and this has provided the opportunity for traders to speculate on the price movements of a variety of stocks, currencies, commodities, and indices without owning the underlying asset.
Choosing the best CFD trading platform in South Africa will increase your chances of getting a return on your investment and making valuable profits on your trades. When choosing, you should consider the fees, the range of markets available, and the level of support the platform provides. The platform you'll ultimately choose will depend on your trading preferences and needs.
FAQs
What is CFD trading?
A CFD (contract for difference) is a type of trading that allows traders to speculate on the price of several financial instruments like stocks, commodities, and currencies without owning the underlying asset.

Is CFD trading legal in South Africa?
Yes, it is legal in South Africa, and it is regulated by the FSCA, the Financial Sector Conduct Authority.
What are the risks of CFD trading?
CFD trading is a high-risk level of trading, as traders can potentially lose their investments. Traders can also make significant profits when they predict the price movements of an asset correctly.
What are the fees associated with CFD trading?
Fees such as overnight financing charges and trading fees are charged when trading CFDs. Traders should understand these fees before beginning to trade.
Risk Disclaimer
StockHax strives to provide unbiased and reliable information on cryptocurrency, finance, trading, and stocks. However, we cannot provide financial advice and urge users to do their own research and due diligence.
Read More