This website and its content are not intended to provide professional or financial advice. The views expressed here are based solely on the writer's opinion, research, and personal experience, and should not be taken as factual information. The author is not a financial advisor and lacks relevant certifications in that regard. We highly recommend consulting a qualified financial advisor before making any investment decisions, as the information presented on this site is general in nature and may not be tailored to individual needs or circumstances.
When you trade with an online broker, you have more options and are more comfortable because you don't have to leave your home. They allow ordinary people to become experts, provided they enrich themselves with more knowledge.
Opening and closing trades are now made with mouse clicks and taps rather than phone calls. Online brokers give you the tools to trade instruments and stay in charge. Some give you a lot of charts and technical indicators to help you understand the market.
Online brokers are not limited to stocks, as they feature other instruments like CFDs, treasuries, bonds, cryptocurrencies, etc. Based on how much functionality you want, there are three primary types of online brokers. They include the following:
Robo-advisers: These platforms use platforms to provide investment advice or invest clients' assets in the market. They have little to no human interaction.
Full-service brokers: This type fits the bill if you need a platform that provides advice on investments, taxes, and market trends.
Discount brokers: Have limited services, but you can access them with little deposits.
Despite heavy losses in 2022, online brokers continue to grow in popularity. Let's review two famous ones: eToro and IG.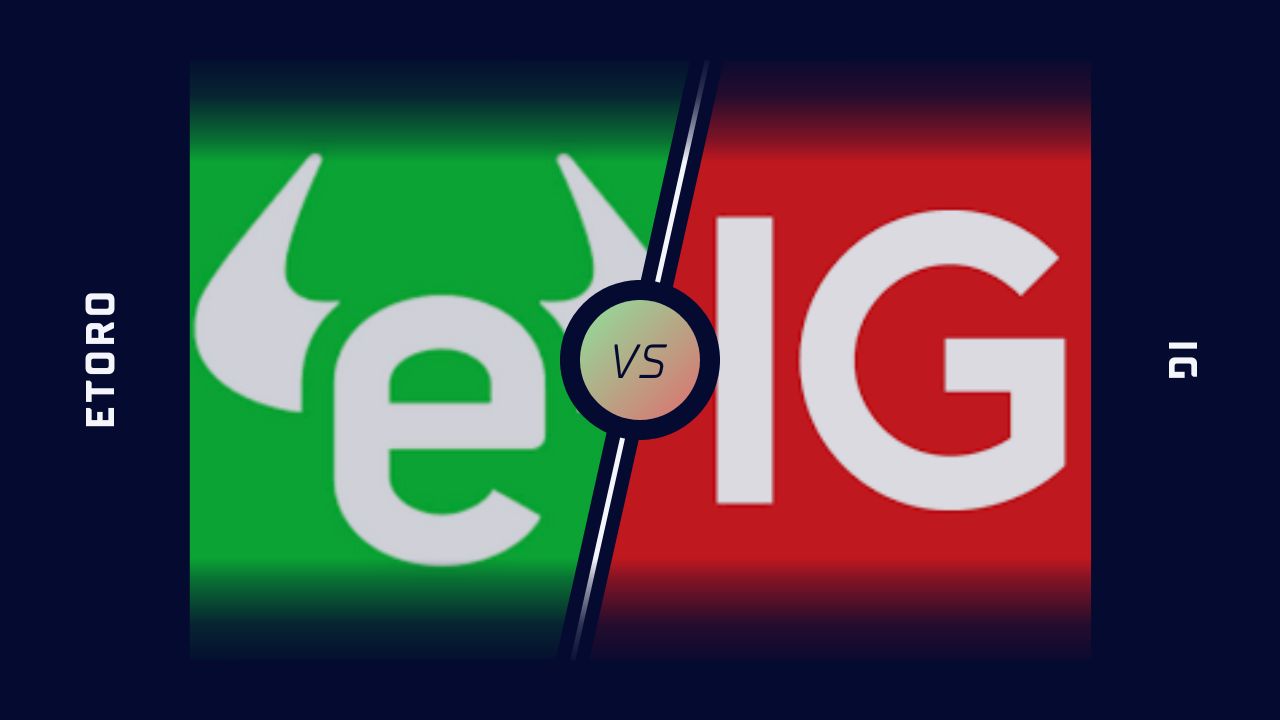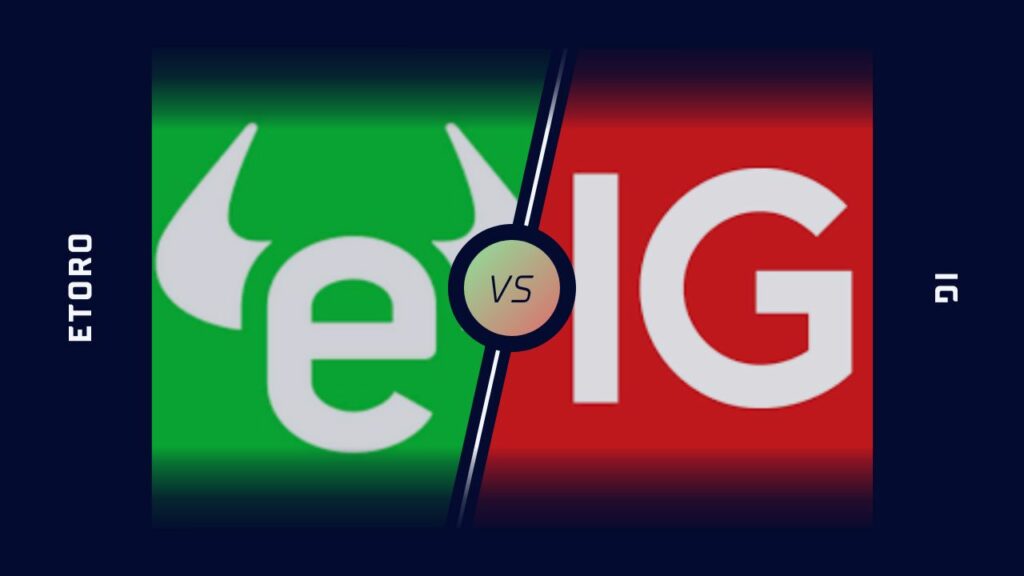 Overview of eToro and IG
| Features | eToro | IG |
| --- | --- | --- |
| 💰 Account Minimum | $50 for US clients, $200 for other regions | $200 IG International Account. IG Group varies depending on the region and the type of account. |
| 💸 Commission Fees | None for stocks and ETFs, variable spreads for other instruments | None for forex and indices, $10 per lot for shares and ETFs |
| 💼 Investment Options | Stocks, ETFs, Crypto, CFDs on Forex, Commodities, Indices & Options | CFDs on Forex, Shares, Commodities, Indices, ETFs & Cryptocurrencies |
| 🤖 Robo-Advisor | eToro's CopyPortfolios | None |
| 📊 Research and Analysis | Market news, economic calendar, trading signals, sentiment analysis | Market news, economic calendar, trading signals, sentiment analysis |
| 📱 Mobile App | Yes | Yes |
| 🏦 Retirement Accounts | None | None |
| 🎓 IRA Accounts | None | None |
| 📈 Trading Platform | eToro Platform, eToro WebTrader, eToro Mobile Trader | IG web platform and mobile app, MetaTrader 4 and 5 |
| 📞 Customer Service | 24/5 online chat and ticket support | 24/5 phone and chat support |
| 📚 Educational Resources | eToro Academy, blog, podcasts | IG Academy, webinars, eBooks, blog |
| 🌕 Fractional Shares | Yes | None |
| 🌱 Socially Responsible | Yes, eToro Sustainable Portfolios | None |
| 🌎 International Investing | Available in 140+ countries | Yes, over 20 countries across five continents |
| 💳 Cash Management | eToro Money for payment services | IG's Smart Portfolio for cash management |
| 🔍 Margin Trading | Yes, up to 1:30 leverage for retail clients and up to 1:400 for professional clients | Yes, up to 1:30 leverage for retail clients and up to 1:400 for professional clients |
| ⚙️ Options Trading | Yes, CFDs on options | None |
| ₿ Cryptocurrency Trading | Offers a wide range of cryptocurrencies for trading | Offers a range of cryptocurrencies for trading |
| 🛡️ Account Security | Two-factor authentication, SSL encryption, and segregated accounts | Two-factor authentication, SSL encryption, and segregated accounts |
| 💹 Leverage | Up to 1:30 for retail clients and 1:400 for professional clients | Up to 1:30 for retail clients and 1:200 for professional clients |
| ⚖ Regulation | Regulated by FCA, CySEC, and ASIC | Regulated by FCA, ASIC, and other global regulators |
eToro vs. IG
IG has been in the industry much longer than eToro, but that doesn't mean the latter is inferior. Both online brokers are competitive and stand toe-to-toe with each other. More so, you can start trading with a demo account on both and learn the ropes of the industry.
eToro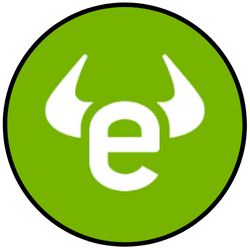 eToro is a widely recognized online trading platform known for its social trading features and user-friendly interface. Catering to investors and traders of various experience levels, eToro allows users to trade a wide range of assets, including stocks, cryptocurrencies, and commodities. In this module, they will discuss the pros and cons of eToro in the context of a beginner trader looking to open an account.
Pros
Social Trading
User-friendly Platform
Educational Resources
Wide Range of Assets
Low Minimum Deposit
Cons
Fees
Limited Advanced Trading Tools
For beginner traders, eToro offers a platform with social trading features, a user-friendly interface, and educational resources. However, its fee structure and limited advanced trading tools may be less attractive to more experienced traders.
---
IG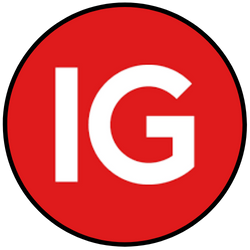 IG is a well-established online broker with a strong reputation in the trading community. Offering a comprehensive suite of trading products and services, IG caters to both novice and experienced traders. In this module, they will discuss the pros and cons of IG for a beginner trader considering opening an account.
Pros
Wide Range of Assets
Advanced Trading Platform
Educational Resources
Competitive Fees
Cons
Account Minimum
Steeper Learning Curve
IG is a choice for beginning traders looking for a comprehensive trading platform with advanced tools and competitive fees. However, its higher account minimum and steeper learning curve may make it less accessible for some beginners compared to eToro's user-friendly platform.
---
Service
eToro
They know that eToro is an online broker, but how it does things makes the difference. For example, you can use its Smart Portfolios to shape your investment strategy. This platform uses powerful platform to put together assets and traders, which gives investment strategies a solid base.
Smart Portfolios launched in 2016, and it is available to eToro users. Another milestone for the service came in 2017 when it added cryptocurrency to its assets. However, the online broker continued trading cryptocurrencies such as CFDs and futures.
eToro Money is an all-in-one platform to manage your finances and cryptocurrencies. It can act as a crypto wallet to store your coins before and after trading. As a result, eToro is one of the few online brokers that supports the trading of physical cryptocurrencies.

Cryptocurrency trading is available for users in the United States. Likewise, US residents can trade fractional shares with zero commissions.
With eToro, you can trade stocks, cryptocurrencies, indices, commodities, ETFs, NFTs, and currencies. Delta by eToro is an NFT explorer that facilitates your NFT trading. In addition, you can connect your Web3 wallets and access them from the platform.
The NFT market reached $24.7 billion in trading volume in 2022. Enthusiasts who want the versatility of traditional online brokers will enjoy eToro's Delta platform.
CopyTrader is one of eToro's most popular trading platforms. With one click, you can copy the market strategies and technical trades of experienced traders.
IG
There is much you can do with IG's API if you are a developer. You can build your direct market access platform and execute your trades with little to no intervention.
Concerning the direct market access platform, IG has it ready with the L2 Dealer and the mobile applications. The latter has professional tools that you can use to tweak the experience to your taste. Furthermore, it is the most advanced you will find if you want direct access to the market.
ProRealTime is another outstanding service you can get with IG. With it, you can do the following:
Use strike price and expiration date to filter options
Use trend lines to place orders
Access 100 indicators
Build platforms for 24-hour trading


This innovative platform from IG gives you access to automation, technical analysis, customization, and back-testing capabilities. However, it is only available on PCs and not on mobile devices.
You can use platform when you trade with IG International Limited and MetaTrader4. While advanced technology & platform trading can potentially give you an advantage over the regular average Joe, it can also be an opening to your downfall, financially. that is why it is recommended to consult with an expert before investing. Fortunately, you can get support 24 hours a day on IG, except on Saturdays, when it lasts from 8 a.m. to 10 p.m.
Apart from the trading platforms, IG offers the following markets:
Cryptocurrency
Thematic and basket
Options
Commodities
Indices
Shares
Forex
There are many more as you explore the platform. You can trade on weekends in exclusive markets, including global indices, forex, and cryptocurrencies. The market opens at 3 p.m., but indices close at 5.40 a.m., forex at 3.40 a.m., and cryptocurrency at 5 a.m.
Fees
eToro
eToro is has the following cost advantageous.
Zero management fees
Zero commission on stocks
Free $100,000 demo account
You can start trading on the platform for as little as $10. That is because of the fractionalized nature of its stock market. Still, withdrawals cost $5, and deposits and withdrawals made outside the US are charged FX fees.

All cryptocurrency trades attract a 1% fee, which tops off the market spread. You may also be charged additional fees for specific cryptocurrencies. Then, you have a 0.1% charge on all crypto conversions you do through the wallet.
Spreads can be as low as 0.15% for stocks and CFDs and up to 2 PIPs for commodities. Finally, staying inactive for 12 months will attract a charge of $10 per month.
IG
Let's begin with the ProRealTime platform. It provides the first month of trading free of charge, while traders with professional accounts have three months free. You can use the software for free if you make at least four monthly transactions.
IG charges $40 a month if you don't meet that requirement, and it will deduct the money at the end of the month. Other fees include spreads and commissions when trading. One trade could cost up to 5 points, but you can still get some below 1 point.


It also has an overnight charge and a guaranteed stop premium. Leaving your trade open beyond 10 p.m. UK time attracts an admin fee. However, it does not apply to futures.
Guaranteed stop premiums will appear on your order ticket once you engage them. Review it before you proceed with the feature. Finally, you need at least $250 to open an account with IG International Limited. IG has a $300 minimum deposit for credit/debit cards and PayPal.
Customer Support
eToro
eToro has limited customer support for users at the primary level. They can only use email or support tickets to reach customer service. Nevertheless, the comprehensive FAQ section contains ample information on how to use the platform.
$5,000 in equity, the platform's "silver level" gives you access to telephone calls with the customer support team.
Live chat is also available, but everything depends on your joining the eToro Club. After you join, you can upgrade your membership to get more help with your online trading.
IG
You can reach IG's customer support via the following channels:
Telephone
Live chat
Email
If you are yet to open an account, there is a separate email to use. The live chat option allows you to speak with a customer service representative at any time of the day. Even so, more demanding challenges are best addressed with an email.
The "Help" button at the top of the homepage will take you to a new window where you can type your queries. There are preselected categories to give you quick access and response.
Conclusion
In conclusion, both eToro and IG have their unique advantages and disadvantages for beginner traders. eToro's social trading features, user-friendly interface, and low minimum deposit make it an attractive option for those new to trading. On the other hand, IG's advanced trading platform, competitive fees, and wide range of assets offer a more comprehensive trading experience.
When comparing the two brokers, beginner traders should consider their individual needs and preferences, such as the importance of social trading, ease of use, and account minimums. Ultimately, both eToro and IG are reputable and well-regulated brokers, and the right choice will depend on the specific requirements and goals of the beginner trader.
Recommendations to Get the Right Broker
If physical cryptocurrencies and copy trading are essential, eToro is provides both. It has eToro Money, which acts as a wallet, and its CopyTrader and Smart Portfolio boost copy trading. On the other hand, if you are a trader interested in automation and powerful platforms, IG might be the way to go.
Risk Disclaimer
StockHax strives to provide unbiased and reliable information on cryptocurrency, finance, trading, and stocks. However, we cannot provide financial advice and urge users to do their own research and due diligence.
Read More