This website and its content are not intended to provide professional or financial advice. The views expressed here are based solely on the writer's opinion, research, and personal experience, and should not be taken as factual information. The author is not a financial advisor and lacks relevant certifications in that regard. We highly recommend consulting a qualified financial advisor before making any investment decisions, as the information presented on this site is general in nature and may not be tailored to individual needs or circumstances.
Trading has been around for centuries, but online brokers came along a few decades ago. Before then, people had to call their stockbrokers and trade on the available assets. End users did not have any real-time means of tracking the market but depended on the press and brokers for accurate information.
Today, markets, trends, events, sentiments, analysis, and indicators are at our fingertips. Whether you employ a broker or make trades, real-time information is available. Fast forward to the era of smartphones, and you can monitor your open and closed positions anywhere.
Online brokers give regular people and newbies a place to trade stocks, forex, ETFs, CFDs, and other financial instruments. They also support trading in cryptocurrencies, commodities, treasuries, and indices. There is no need for telephone calls, except if you need customer support for peculiar challenges.
Reports show that the global online trading industry has a compound annual growth rate (CAGR) of 6.7%. You can use any of the following types of online brokers:
Those that offer trading services with tax, investment, and strategy advice
Those that provide trading services at a discount but lack any advice
Those that use algorithms with little to no human interference
Overview of Saxo and Interactive Brokers
| Features | Interactive Brokers | Saxo Bank |
| --- | --- | --- |
| 💰 Account Minimum | $0 for IBKR Lite accounts, $100 for IBKR Pro accounts | $10,000 for Classic accounts, $200,000 for Platinum accounts, $1,000,000 for VIP accounts |
| 💸 Commission Fees | $0 for US-listed stocks and ETFs on IBKR Lite accounts, tiered or fixed pricing for other instruments and regions on IBKR Pro accounts | Variable pricing for stocks and ETFs depending on the region and account tier, spreads and commissions for other instruments |
| 💼 Investment Options | Stocks, Options, Futures, Forex, Bonds, Funds and more | Stocks, ETFs, Forex, CFDs, Futures, Options, Bonds, Mutual Funds and more |
| 🤖 Robo-Advisor | Yes (Interactive Advisors) | No |
| 📊 Research and Analysis | Market news, economic calendar, trading signals, sentiment analysis and more | Market news, economic calendar, trading signals, sentiment analysis and more |
| 📱 Mobile App | Yes, IBKR Mobile | Yes, SaxoTraderGO |
| 🏦 Retirement Accounts | Yes, Traditional IRA, Roth IRA, SEP IRA and more | No |
| 🎓 IRA Accounts | Yes | No |
| 📈 Trading Platform | Client Portal web platform and mobile app, Trader Workstation desktop platform and mobile app, IBKR APIs | SaxoTraderGO web platform and mobile app, SaxoTraderPRO desktop platform |
| 📞 Customer Service | 24/5 phone and chat support | 24/5 phone and chat support |
| 📚 Educational Resources | Traders' Academy, webinars, podcasts, blog and more | Saxo Academy, webinars, podcasts, blog and more |
| 🌕 Fractional Shares | Yes | No |
| 🌱 Socially Responsible | Yes, Impact Dashboard and ESG ratings | Yes, ESG ratings and sustainable investing portfolios |
| 🌎 International Investing | Yes, over 135 markets across 33 countries | Yes, over 40 exchanges across 25 markets |
| 💳 Cash Management | Yes, with IBKR Debit Mastercard and Bill Pay | No |
| 🔍 Margin Trading | Yes, up to 1:50 leverage for US clients and up to 1:400 for other regions | Yes, up to 1:30 leverage for retail clients and up to 1:100 for professional clients |
| ⚙️ Options Trading | Yes | Yes |
| ₿ Cryptocurrency Trading | Yes, through Paxos Trust Company | No |
| 🛡️ Account Security | SSL encryption and segregated bank accounts. Member of SIPC, member of FINRA, member of various other regulatory bodies depending on the region. | SSL encryption and segregated bank accounts. Licensed and regulated by various global leading regulators depending on the region. Member of the Guarantee Fund for Depositors and Investors which covers eligible clients up to EUR 100000 in case of insolvency. |
| 💹 Leverage | Up to 1:50 for US clients and up to 1:400 for other regions | Up to 1:30 for retail clients and up to 1:100 for professional clients |
| ⚖ Regulation | Regulated by the SEC, FINRA, and CFTC in the US, the FCA in the UK, and other regulatory bodies worldwide | Licensed and regulated by various global leading regulators depending on the region |
Interactive Brokers vs. Saxo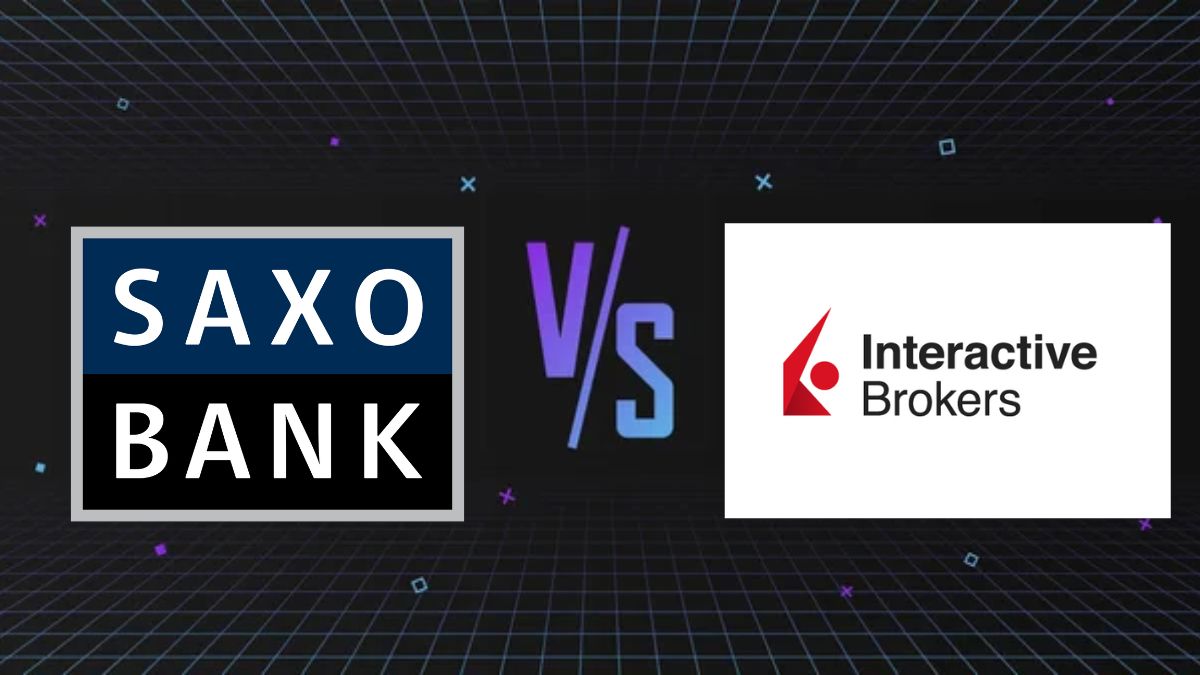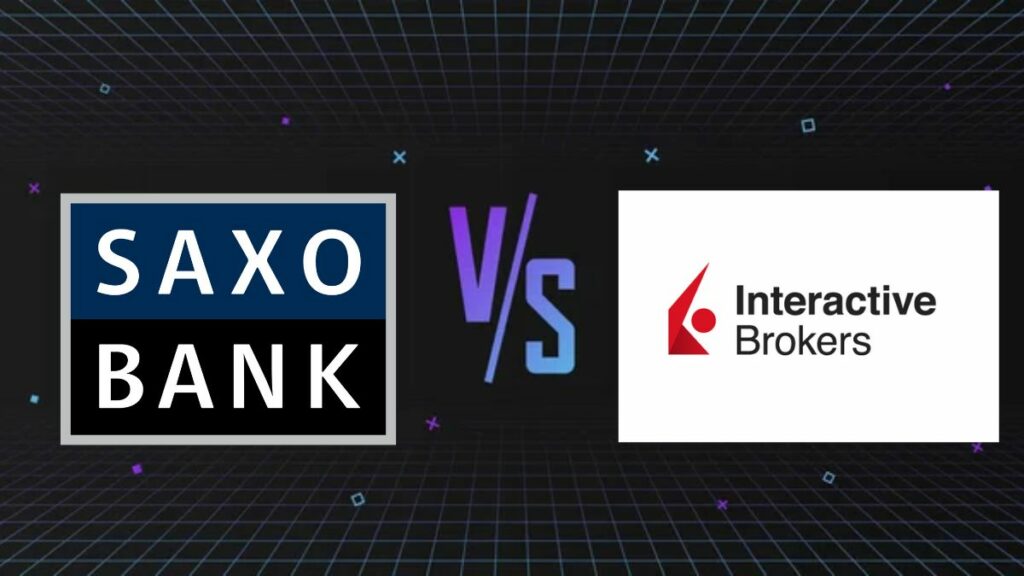 Selecting the right online broker is a critical decision for individual investors looking to navigate the world of investment opportunities. In this comparison, they will examine two well-established online brokerage firms, Interactive Brokers and Saxo Bank. Both companies offer a wide range of investment products and services, but they also have notable differences in terms of fees, platform usability, research tools, and additional services. By comparing the pros and cons of each broker, they aim to provide a comprehensive analysis that will help investors make an informed decision based on their unique needs and preferences.
Benefits and Drawbacks
Interactive Brokers moves ahead with its advisory service in the US. However, Saxo is an equally competitive online broker. Their respective benefits and drawbacks are shown below.
Saxo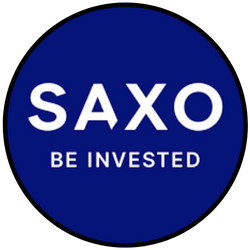 Saxo Bank is an online broker offering a range of investment products and services, including stocks, bonds, ETFs, and more. In this module, they will discuss the pros and cons of Saxo Bank for individual investors and compare them to Interactive Brokers, another well-established online brokerage firm.
The Benefits and Drawbacks of Saxo
Pros
Wide range of investment options
Competitive trading fees
User-friendly platform
Cons
Higher account minimums
Limited research tools
Saxo Bank provides a wide range of investment options, competitive trading fees, and a user-friendly platform. Interactive Brokers specializes in low account minimums and comprehensive research tools. When deciding between the two brokers, individual investors should consider their specific needs and preferences to make the best choice.
---
Interactive Brokers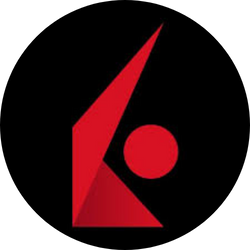 Interactive Brokers is a well-known online broker providing a range of investment products and services, including stocks, options, futures, and more. In this module, they will explore the pros and cons of Interactive Brokers for individual investors looking to open an account and compare them with Saxo Bank, another popular online broker.
The Benefits and Drawbacks of Interactive Brokers
Pros
Low trading fees
Comprehensive investment products
Powerful trading platform
Cons
Complex platform
High account minimums
Interactive Brokers customers generally value low trading fees, comprehensive investment products, and a interactive's powerful trading platform.
---
Service, Fees, and Customer Support
Saxo
Service
Saxo offers trading services in two tiers, which are as follows:
Investment products like stocks, ETFs, bonds, mutual funds, crypto ETPs, etc.
Leveraged products, including options, futures, forex, crypto FX, CFDs, and commodities.
With commodities, you can trade spot metals, CFDs, futures, options, and ETCs. However, the pricing has three tiers: classic, platinum, and VIP. The VIP level supports trades with lower amounts.
It will cost you more to attain the VIP level, but it has benefits. The broker will give you access to cryptocurrencies without needing an exchange or wallet. That means you cannot trade physical cryptocurrencies but can still trade their price movements.
Saxo offers three platforms to support online trading, and they are as follows:
SaxoTraderGo
SaxoTraderPro
Connectivity and APIs
Third-party tools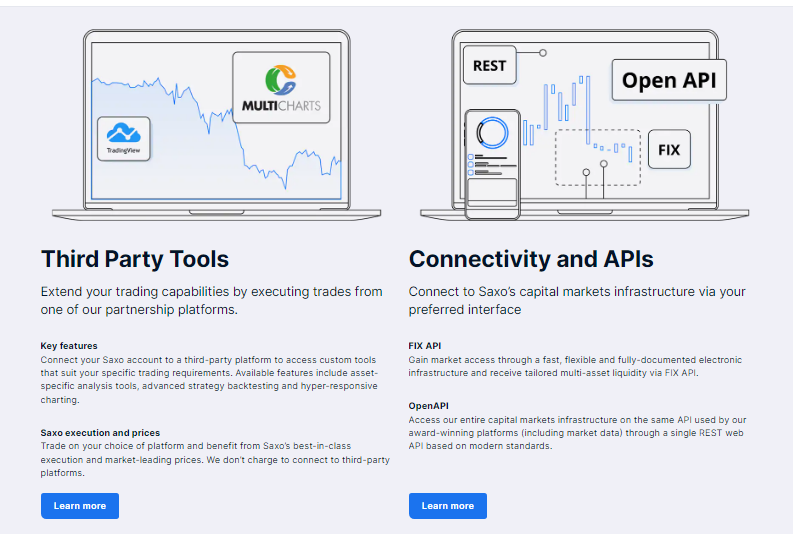 SaxoTraderGo is the primary trading platform, but it is packed with all the tools to execute online trades. You can view the portfolio summary, perform performance analysis, and examine returns. The software also has an in-depth research tool that uses SaxoStrats analysis and price data.
You can download SaxoTraderGo on your Android or iOS device from the App Store or Google Play. That allows you to trade on the go and manage your trades wherever you are.
Advanced traders will likely use SaxoTraderPro because of the enhanced functions. It suits people who engage in high-volume trading and require more flexibility and customization. Moreover, it is only available for PCs, requiring 650 MB of disk space.
While downloading and using SaxoTraderPro is free, some functions may require monthly subscriptions. A Saxo account allows you to trade over 65,000 instruments and has three tiers.
Fees
Let's begin the fee structure with the accounts before they move to the trades. The Saxo account has three tiers. Their charges are as follows:
| | |
| --- | --- |
| Fees | |
| Classic | Requires initial funding of $2,000 |
| Platinum | Requires initial funding of $200,000 |
| VIP | Requires initial funding of $1,000,000 |
Opening a joint account will cost less than $50,000 on the first deposit. You can also step it up to the VIP level and pay $1,000,000. This level brings the most competitive prices, a personal manager, exclusive event invitations, etc.
The commissions from trading are as follows:
$1 for stocks and ETFs
$1.25 on listed options and futures
0.05% on government bonds
$0 on mutual funds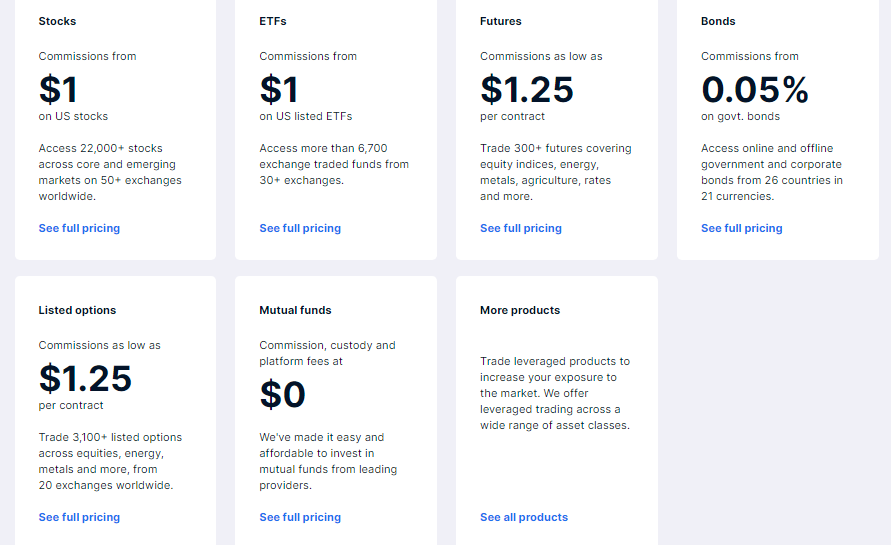 Other charges come with specific features. For example, Level 2 Market Data on SaxoTraderPro requires a subscription.
Customer Support
You will get top-notch customer support when you trade with Saxo. Given its robust coverage worldwide, they did not expect anything less. The physical offices are well distributed across regions to provide hands-on support to clients.
Saxo has offices in Europe, Asia/Pacific, and the Middle East. The countries include Belgium, Denmark, France, Italy, Netherlands, Switzerland, Australia, Shangai, Singapore, etc.
If you want to avoid going to the physical offices, contact the support team through the email address or telephone number provided. Just pick the office in or close to your city and extract its email or contact information.
Saxo does not have live chat support in its software. You can only reach them via email or phone call. Nevertheless, the help center can help with your challenges.
Interactive Brokers
Service
Interactive Brokers is a full-service online broker with more than a trading platform. The extra services will come in handy if you need more than commodities, stocks, ETFs, etc. However, you must know the platforms before learning how to get each service.
The broker offers the following trading platforms:
IBKR Global Trader
Client Portal
IBKR Mobile
Trader Workstation
IBKR APIs
IBKR EventTrader
Impact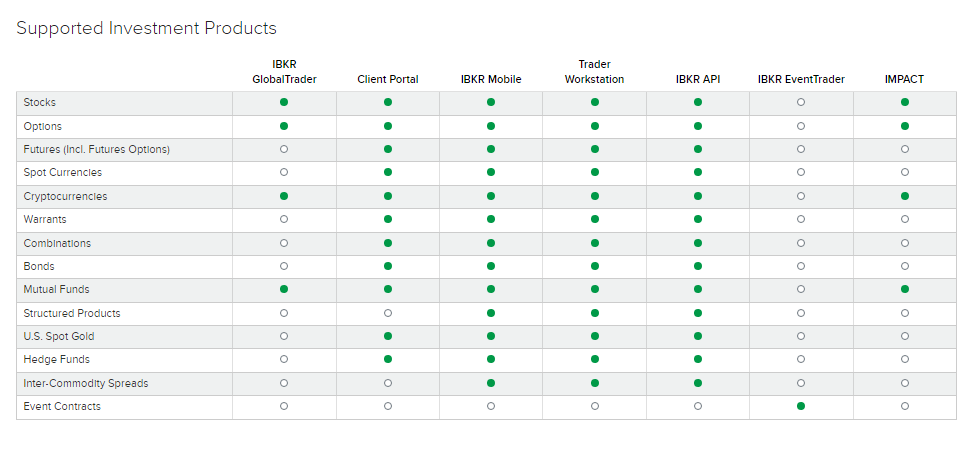 GlobalTrader features stocks, cryptos, ETFs, mutual funds, and options. You can also use your mobile device to get to the platform, place orders, and make trades.
The client portal is more of a way to keep track of quotes, balances, and reports. It is available on the web and has no downloadable or installation file.
Trader Workstation suits clients that trade actively and have large volume orders. It only works on desktops but has everything you need for advanced features. Even Interactive Brokers does not recommend it for beginners.
Interactive Brokers offers the following services:
PortfolioAnalyst
Mutual funds marketplace
Bonds marketplace
Cash management
Third-party integration
Interactive advisors
Interactive Advisors is available for as little as $100. You can use its advice on top-performing portfolios and other themes to shape your trading strategy. However, it is not licensed to provide advisory services in the UK.
Fees
You don't need any money to open an account with Interactive Brokers. Its IBKR Pro and IBKR Lite accounts cost $0. Nevertheless, trading is only available if you deposit money with the online broker.

Broker accounts require an initial payment of $10,000. The platform will use the deposit as its commission for the first eight months. Then, beginning with the ninth month, you will pay $2,000 per month.
Enhanced Network Connections are not without cost, with FIX CTCI costing $1,500 per month in first-session commissions. Subsequently, you will pay $1,000.
Hooking up to the Trader Workstation and TWS API costs $500, while the REST API costs $500 in commission. Apart from these, you will pay commissions and margins on trades. You can expect competitive rates for these services.
Customer Support
Interactive Brokers has a comprehensive support center that contains answers to common queries. You can use the search bar to narrow the results or browse the entire FAQ library. Everything, from trading to funding and management, is available.
There is a live chat room where you can interact with a representative in real-time. If you need something more direct, you can use the telephone service. Otherwise, sending an email should take care of your challenges.
Use the "Send Documents" function if you have any files you would like to share with the broker. You can also send them via email.
Conclusion
Saxo is an internationally recognized online broker under Saxo Bank A/S. It has physical offices in several countries, but you can contact customer service via email or telephone. On the other hand, Interactive Brokers brings an advisory role to its online trading.
You can trade with its recommendations for as little as $100. With Saxo, you must analyze the markets yourself. That does not prevent you from analyzing with Interactive Brokers.
Recommendations to Get the Right Broker
If you want a more affordable online broker with advisory services in the US, you can go with Interactive Brokers. Saxo is more expensive, with a $2,000 minimum deposit. Also, you need to pay more to get competitive rates with Saxo.
Risk Disclaimer
StockHax strives to provide unbiased and reliable information on cryptocurrency, finance, trading, and stocks. However, we cannot provide financial advice and urge users to do their own research and due diligence.
Read More