This website and its content are not intended to provide professional or financial advice. The views expressed here are based solely on the writer's opinion, research, and personal experience, and should not be taken as factual information. The author is not a financial advisor and lacks relevant certifications in that regard. We highly recommend consulting a qualified financial advisor before making any investment decisions, as the information presented on this site is general in nature and may not be tailored to individual needs or circumstances.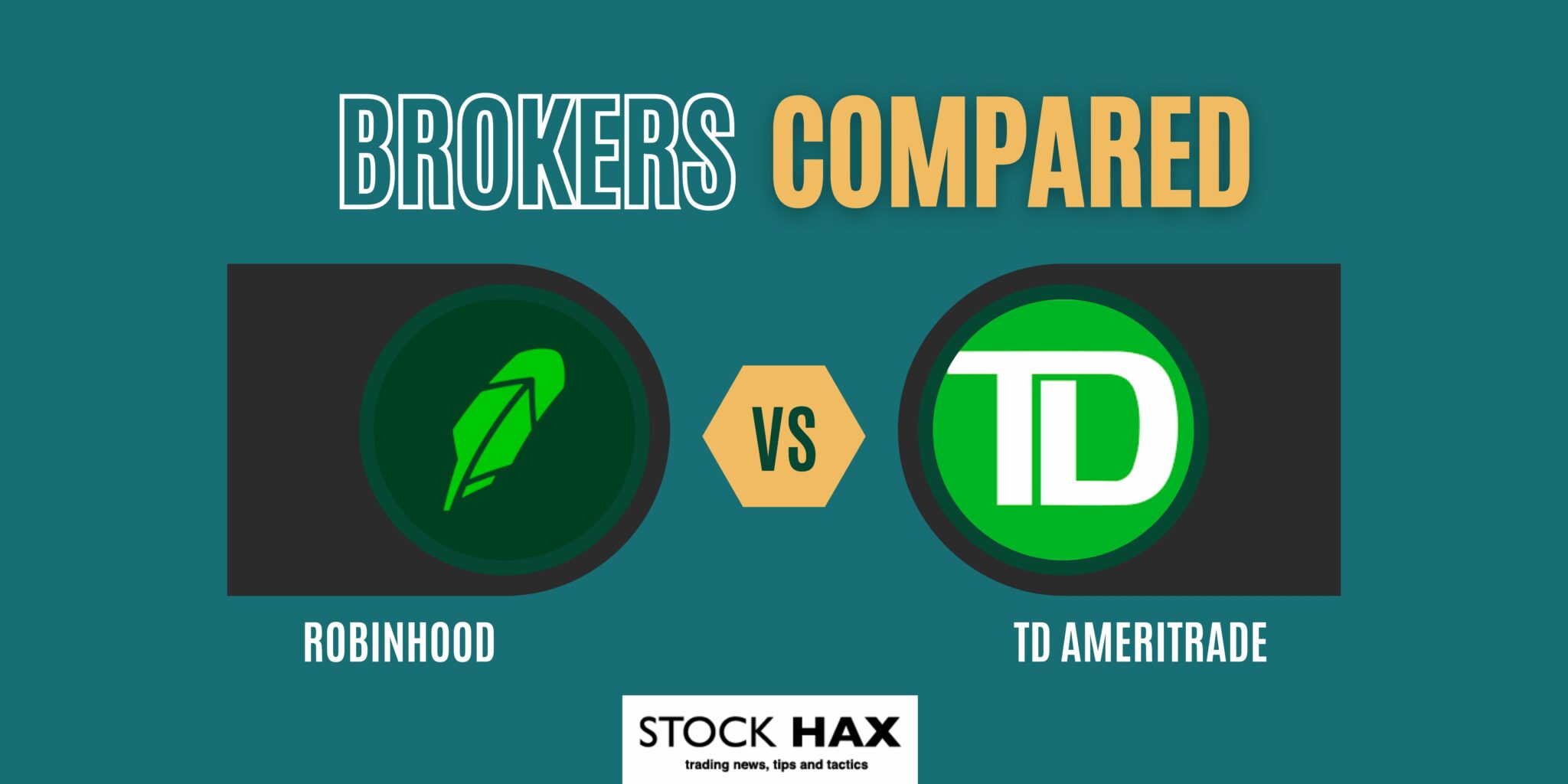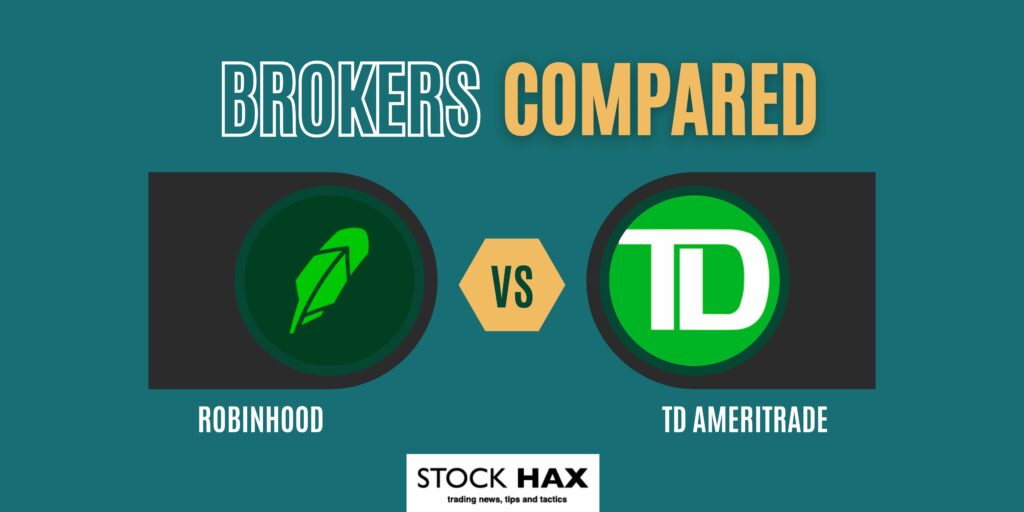 Robinhood and TD Ameritrade are among two of the most popular online brokers, but they have different customer bases, features, and products.
While Robinhood's main goal is the democratisation of finance via an increasingly seamless access to financial products for a wide audience, TD Ameritrade might better suit the needs of professionals – even if beginners can find intuitive tools and get additional help thanks to the extensive educational resources provided by the broker.
The fact that Charles Schwab officially acquired TD Ameritrade could mean an even larger audience for the merged broker.
In this article, we will analyse and compare the features of Robinhood and TD Ameritrade, as well as the services offered: security measures, investment options, fees and commissions, and customer service.
Overview of Robinhood & TD Ameritrade
| Features | Robinhood | TD Ameritrade |
| --- | --- | --- |
| 💰 Account Minimum | No minimum | $0 |
| 💸 Commission Fees | $0 commission for stocks and ETFs, options fees start at $1 | $0 commission for online trades of stocks, ETFs, and options. $0.65 per contract for options trades. Fees vary for other types of trades, deposits and withdrawals, wire transfers, broker-assisted trades, and regulatory fees. |
| 💼 Investment Options | Stocks, ETFs, mutual funds, bonds, CDs | Stocks, ETFs, options, bonds, mutual funds, futures, forex, annuities, and more. |
| 🤖 Robo-Advisor | Personal Advisor Services, a robo-advisor service | TD Ameritrade offers a robo-advisor service called Essential Portfolios that provides automated investing based on your goals and risk tolerance. |
| 📊 Research and Analysis | Extensive research and analysis tools, including analyst research and reports, market commentary, and educational resources | TD Ameritrade offers various research and analysis tools such as market insights, ratings, screeners, charts, alerts, reports, and more. |
| 📱 Mobile App | iOS and Android apps | TD Ameritrade has a mobile app that allows you to access your account, trade investments, check market data, use analysis tools, deposit checks, transfer funds, and more. |
| 🏦 Retirement Accounts | Traditional IRA, Roth IRA, SEP IRA, SIMPLE IRA, and individual 401(k) | TD Ameritrade offers various retirement accounts such as traditional IRA, Roth IRA, rollover IRA, SEP-IRA, SIMPLE IRA, individual 401(k), and more. |
| 📈 Trading Platform | Advanced trading platform with extensive customization options | TD Ameritrade has a trading platform that allows you to buy and sell investments online with ease and convenience. You can also use advanced tools such as real-time quotes, watchlists, alerts, conditional orders, thinkorswim®. |
| 📞 Customer Service | Extensive customer service options, including phone, email, and chat support | TD Ameritrade has a customer service team that is available to assist you with your account and investment needs. |
| 📚 Educational Resources | Extensive educational resources, including webinars, articles, and courses | TD Ameritrade offers various educational resources such as articles, videos, podcasts, webinars, courses, events, and more to help you learn about investing and improve your financial literacy. |
| 🌕 Fractional Shares | Yes | TD Ameritrade does not offer fractional shares trading at this time. |
| 🌱 Socially Responsible | Extensive options for socially responsible investing | TD Ameritrade offers socially responsible investing options such as ESG (environmental, social, and governance) funds and ETFs that seek to align your investments with your values and beliefs. |
| 🌎 International Investing | Extensive international investing options | TD Ameritrade offers international investing options such as global and international funds and ETFs that allow you to diversify your portfolio across different countries and regions. You can also trade directly on foreign exchanges through TD Ameritrade Global Account™ or access international markets through American depositary receipts (ADRs) or Canadian stocks. |
| 💳 Cash Management | Cash management account available, offering check-writing privileges | TD Ameritrade offers cash management services such as a brokerage account with a linked bank account that acts as a holding place for money waiting to be invested or withdrawn from your account. |
| 🔍 Margin Trading | Margin trading available | TD Ameritrade offers margin trading services that allow you to borrow money from your brokerage account to buy securities on credit. You need a minimum of $2,000 in marginable securities to open a margin account and you will be charged interest on any borrowed amount. |
| ⚙️ Options Trading | Options trading available | TD Ameritrade offers options trading services that allow you to buy or sell contracts that give you the right to buy or sell an underlying asset at a specific price within a specific time period. You can also access tools such as options chains, screeners, calculators, and more. |
| ₿ Cryptocurrency Trading | No | TD Ameritrade does not offer cryptocurrency trading at this time. |
| 🛡️ Account Security | Two-factor authentication, SIPC insurance up to $500,000 | Yes, TD Ameritrade offers account security features such as encryption technology, firewalls, secure login process, and biometric authentication. You can also enable two-factor authentication (2FA) to add an extra layer of protection to your account. |
| 💹 Leverage | Up to 2x leverage on margin accounts | TD Ameritrade offers up to 4x day-trade buying power and 2x overnight buying power with a margin account. You need to have a minimum of $2,000 in marginable securities to open a margin account and you will be charged interest on any borrowed amount. |
| ⚖ Regulation | Regulated by FINRA and SEC in the US, FCA in the UK, and ASIC in Australia | TD Ameritrade is registered with and regulated by the Securities and Exchange Commission (SEC) and the Financial Industry Regulatory Authority (FINRA). It is also a member of the SIPC, which protects (up to $500,000, which includes a $250,000 limit for cash) against the loss of cash and securities held by a customer at a financially-troubled SIPC-member brokerage firm. |
Fees and Commissions
Fees and commissions are pivotal to understanding overall costs when it comes to trading and investing.
Robinhood and TD Ameritrade have very different fees and commission plans.
Robinhood doesn't charge fees and commissions to users, at least not directly: the broker makes money from the bid-ask spread, so the costs might not be evident to users. For margin trading, the broker charges 11.25%.
Robinhood also offers a paid subscription – Robinhood Gold – that gives access to additional trading tools.
TD Ameritrade has a more complex fee and commission plan. The broker doesn't charge any fees or commissions for most products – for instance, no fees and commissions on stocks, ETFs and forex trading.

For options, the broker charges $0.65 per contract, a price in line with the average price charged by other brokers.
For futures trading, TD Ameritrade charges $2.25 per contract. Stocks not listed on US exchanges cost $6.95.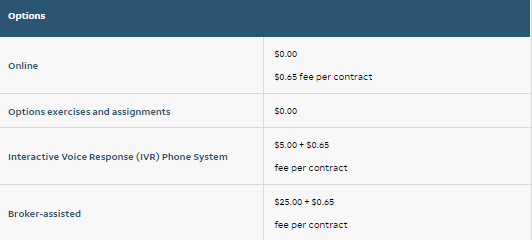 Moreover, TD Ameritrade offers assisted trading – and charges a commission when users choose this option, ranging from $5 to $25.
TD Ameritrade might seem more costly, but the higher costs are usually for assets and services that are not offered by Robinhood, so it's up to investors to decide which is the most convenient broker according to their specific needs and activity.
Trading Platforms
Both brokers try to provide a seamless user experience to their customers. The result are trading platforms that can be considered intuitive and in line with the needs of traders and investors.
Robinhood's customer base is mainly mobile-oriented: its mobile trading platform has the features needed by most users like price charts, analysis tools, news, and information on popular assets.
Robinhood also offers a desktop version of its trading platform, with the same features as the mobile one, which can be used online.
Users who want more advanced tools can subscribe to the paid version of Robinhood – Robinhood Gold.
By comparison, TD Ameritrade offers more trading platforms: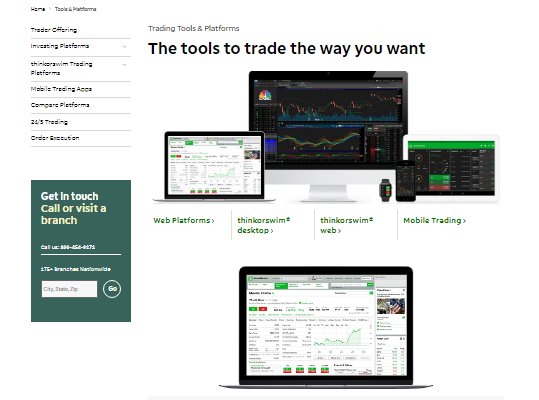 A web platform that can be used on both desktop computers and mobile devices,
Users who prefer a trading platform specifically designed for mobile devices can use the mobile application of TD Ameritrade – which has the same features as the other trading platforms and can sync with them.
Thinkorswim. This app is available online and as a downloadable desktop application. It's the trading platform created by TD Ameritrade to meet the needs of traders and investors who lwant more advanced features.
TD Ameritrade offers more options. But, we need to consider the customer base of the two brokers: while beginners and professional traders can use TD Ameritrade, Robinhood is specifically designed to "democratize finance" – so, to reach a larger audience, also among inexperienced traders who look for intuitiveness.
Investment Options
The online brokers offer different investment products. TD Ameritrade offers more financial products than Robinhood.
Traders and investors who choose Robinhood can invest in:
Cryptocurrencies,
Securities,
Stocks,
Options,
Exchange Traded Funds (ETFs),
Financial products focused on retirement – with Robinhood Retirement.
TD Ameritrade OFFFERS:
ETFs,
Mutual funds,
Stocks,
Options,
Fixed income products,
Futures,
Forex (TD Ameritrade offers 70 pairs),
Cryptocurrencies through derivative products.
Customer Service
Customer service is another parameter to evaluate before choosing a broker.
This service is the point of communication between the user and the broker, and it's what allows users to get more information and solve any issue that can arise from the use of the online platform
TD Ameritrade seems to offer more than Robinhood.
Robinhood has improved its customer service, offering users the ability to contact the customer service team 24/7.
Users can contact the broker via chat or phone call – the average waiting time is 30 minutes.
Moreover, Robinhood offers a complete set of information on its official website – so, users can get additional information autonomously.
TD Ameritrade provides more channels to contact the brokerage platform. Along with the opportunity to contact the team via social media, users can contact the customer service team via phone, fax, email, and even meet the team in-person at the company's various branches.
Security
Security is another pivotal topic: it's important both in cases in which traders and investors use real money, and when it comes to online activities.
Online brokers need to consider both the security of funds and online data.
Both brokers have been subject to hacks that resulted in the theft of millions of accounts' data.
They now take all the necessary measures to secure both data and funds of users – and the two hacks pushed the brokers to give users additional information about security.
The first measure taken by Robinhood is the high level of encryption it uses to secure the data of its customers.
Users can enable 2-factor authentication to add another layer of security to their account – by making the login more secure. Funds are insured – up to $500,000 – thanks to Robinhood's SIPC membership.
TD Ameritrade, along with its security measures, provides extensive information on how users should manage their accounts and navigate the Web.
As part of its security program, the broker offers free products that customers can download to protect their devices, and its partnerships with third-party companies allow users to get more products at a discount.
TD Ameritrade also has an Asset Protection Guarantee, which provides a refund in case the funds of customers are used in unauthorised activities.
Both brokers put in place all possible measures to protect users and their funds, but TD Ameritrade pays attention also to how users should protect themselves when navigating the Web in general – and when using online brokers.
Conclusion
Both Robinhood and TD Ameritrade are two popular brokers, and they significantly differ from each other, but also have points in common.
Along with popularity, both traders aim to lower costs for traders and investors. Another point they have in common is that they provide valuable trading platforms, with extensive analysis tools and information related to the assets offered.
In the case of trading platforms, TD Ameritrade offers more options, and it's able to meet the needs of beginners and professionals.
On the other hand, if Robinhood users want to get access to more complex tools, they need to pay for a subscription – Robinhood Gold.
From this point of view, TD Ameritrade is completer and more cost-efficient than Robinhood.
Both brokers aim to provide most investment products at low or zero costs, but TD Ameritrade offers a wider choice of investment options.
When it comes to security measures, these brokers are similar, in the sense that both adopt all the necessary measures to protect both users' data and funds.
But also in this case, TD Ameritrade provides additional resources in the sense that it pays equal attention to informing users – and to providing them with as many tools as possible – about how they should behave to protect themselves.
Customer care is emphasized in both cases, and available 24/7, but TD Ameritrade is also able to offer in-person meetings.
Overall, TD Ameritrade is a more complete online broker, which can be used by people who look for intuitiveness and professionals who want more complex tools by limiting costs.
But the two brokers are targeting different types of users, so it's always up to traders and investors to evaluate each platform and choose the one that best suits their needs. \
FAQ
What are the investment options available on TD Ameritrade?
TD Ameritrade offers the possibility to invest in and trade mutual funds, ETFs (Exchange Traded Funds), Options, Stocks, Futures, Retirement products, Fixed income investment products, Crypto derivatives, and Forex.
Does Robinhood offer retirement accounts?
Yes, Robinhood offers two different types of retirement accounts – traditional IRA and Roth IRA.
Depending on the income and status of each trader and investor, traditional IRA contributions can be tax deductible. The Roth IRA, on the other hand, requires users to pay taxes now, but they benefit from tax-free withdrawals later.
What are the fees and commissions charged by TD Ameritrade?
The commissions and fees plan of TD Ameritrade involves 0% commissions on stocks, exchange traded funds and forex – stocks not listed on US exchanges are exceptions, and cost $6.95. Options cost $0.65 per contract, while futures cost $2.25 per contract. Trades managed by the team of brokers involve commissions that range from $5 to $25.
What are the investment options available on Robinhood?
On Robinhood traders and investors can find stocks, ETFs, options, cryptos, securities, and retirement investment products.
Risk Disclaimer
StockHax strives to provide unbiased and reliable information on cryptocurrency, finance, trading, and stocks. However, we cannot provide financial advice and urge users to do their own research and due diligence.
Read More