This website and its content are not intended to provide professional or financial advice. The views expressed here are based solely on the writer's opinion, research, and personal experience, and should not be taken as factual information. The author is not a financial advisor and lacks relevant certifications in that regard. We highly recommend consulting a qualified financial advisor before making any investment decisions, as the information presented on this site is general in nature and may not be tailored to individual needs or circumstances.
When online brokers came on the scene, it changed everything for investors. No longer were the best opportunities reserved for institutional investors as retail investors gained access to the very same trading tools and charting capabilities to put them up against the best of them.
With the proliferation of online brokers, the field has grown extremely competitive, making it tricky for investors to choose the platform that is best suited for them. In this article, we strive to make the decision-making process easier with a comparison of IG vs. Oanda, two very popular online brokers.
IG is a leading online trading provider that specializes in forex, CFDs, shares, indices, commodities and more. It's one of the oldest brokers, dating back to 1974. IG is a trusted and regulated platform whose parent company, IG Group, is publicly traded.
Meanwhile, Oanda has more than two decades worth of operating history, offering access to dozens of forex trading pairs and cryptocurrencies. Oanda is also regulated and is considered a highly trusted trading platform among tens of thousands of users.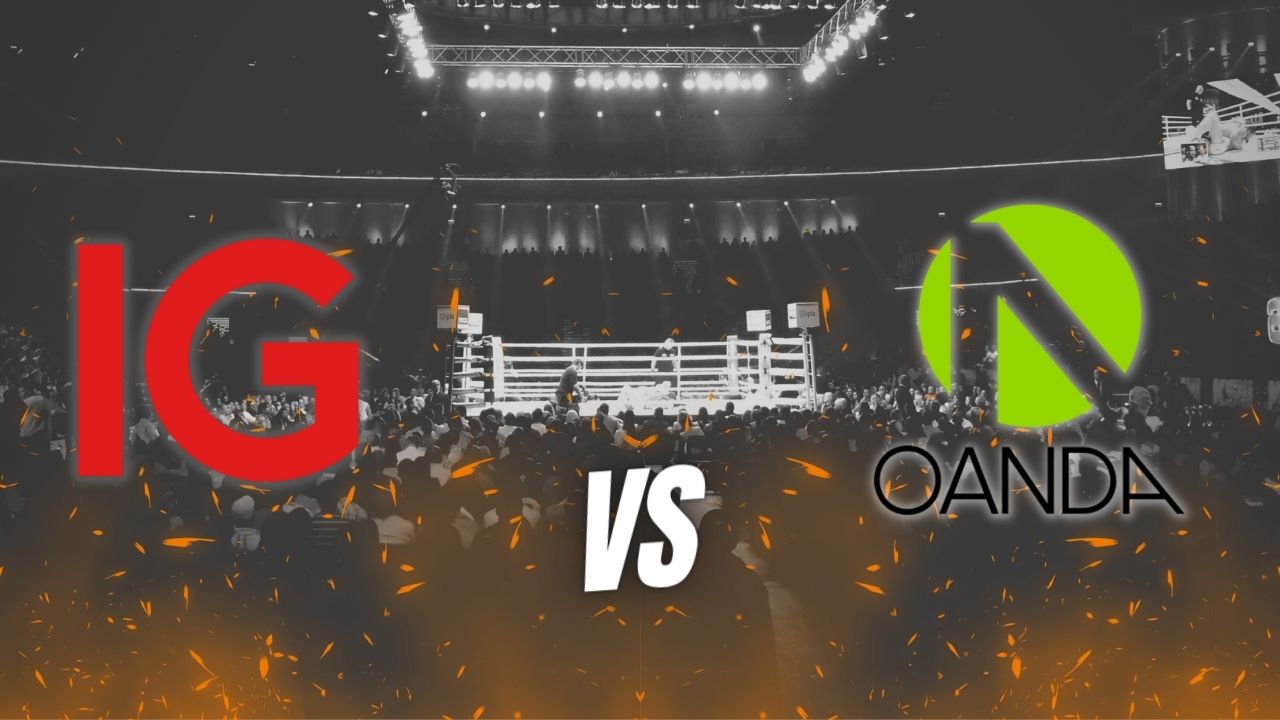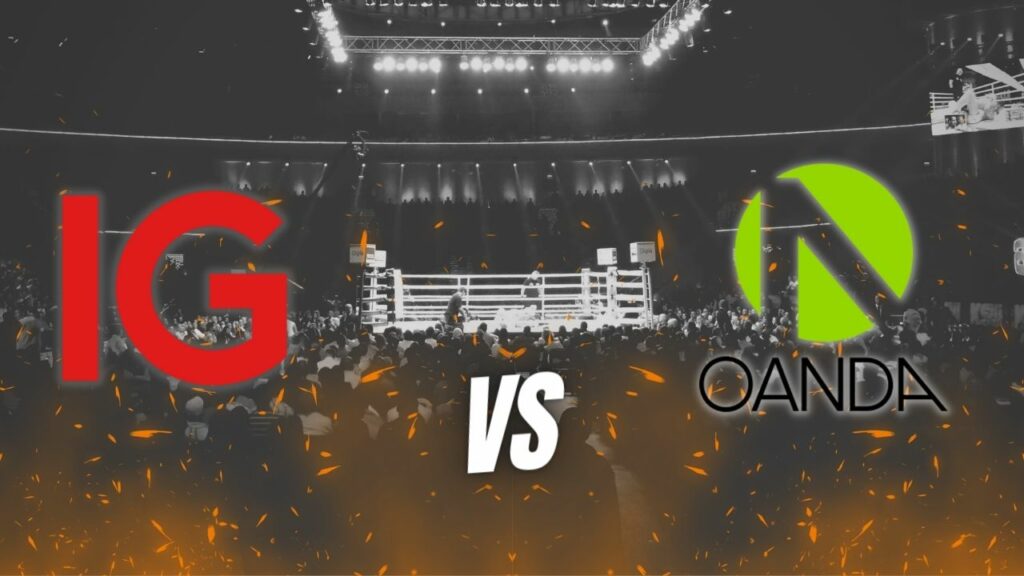 Overview of IG Group & OANDA
| Features | IG | Oanda |
| --- | --- | --- |
| 💰 Account Minimum | £250.00 | $0 |
| 💸 Commission Fees | $0 for US stocks and ETFs, variable for other assets | Variable, depending on the asset and account type |
| 💼 Investment Options | Stocks, ETFs, options, futures, forex, bonds, cryptocurrencies | Stocks, ETFs, options, forex, commodities, bonds, metals |
| 🤖 Robo-Advisor | No | No |
| 📊 Research and Analysis | Extensive, including news, analysis, charting, and trading signals | Limited, including news and basic analysis |
| 📱 Mobile App | Highly rated mobile app with advanced features | Mobile app with basic features |
| 🏦 Retirement Accounts | Traditional IRA, Roth IRA, and SEP IRA | No |
| 🎓 IRA Accounts | Yes | No |
| 📈 Trading Platform | Advanced web-based platform and customizable desktop platform | Web-based platform and MT4 platform |
| 📞 Customer Service | 24/7 phone and email support, live chat | Phone, email, and live chat support during market hours |
| 📚 Educational Resources | Extensive, including webinars, courses, and trading tools | Limited, including basic trading guides and webinars |
| 🌕 Fractional Shares | Yes | No |
| 🌱 Socially Responsible | No | No |
| 🌎 International Investing | Yes, in over 17,000 markets | Yes, in over 120 markets |
| 💳 Cash Management | Yes, including a debit card and savings account | No |
| 🔍 Margin Trading | Yes | Yes |
| ⚙️ Options Trading | Yes | Yes |
| ₿ Cryptocurrency Trading | Yes, including Bitcoin, Ethereum, and more | Yes, including Bitcoin, Ethereum, and more |
| 🛡️ Account Security | FCA and ASIC regulated, segregated client funds, negative balance protection | FCA and ASIC regulated, segregated client funds, negative balance protection |
| 💹 Leverage | Up to 20:1 on certain assets | Up to 50:1 on certain assets |
| ⚖ Regulation | IG is regulated by the FCA and ASIC, among other regulatory bodies, and is available in multiple countries. Oanda is regulated by the FCA and ASIC, among other regulatory bodies, and is available in multiple countries. Both brokers are well-established and have a good reputation in the industry. | |
IG vs. Oanda
Choosing the right online broker for forex and CFD trading is a crucial decision for traders, and IG and Oanda are two renowned options in the industry. Both brokers have a strong global presence and are regulated by multiple financial authorities, ensuring the safety and security of traders' funds. In this comparison, we will examine the key features, pros, and cons of each broker to help you determine which platform best aligns with your trading needs and preferences.
IG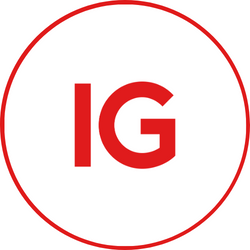 IG is a leading online broker offering forex, CFDs, and spread betting services to traders worldwide. With a history dating back to 1974, IG has built a strong reputation for its reliable trading platform, competitive pricing, and wide range of trading instruments. In this module, we will explore the pros and cons of IG for traders considering opening an account and compare them to Oanda's offerings.
Pros
Extensive Range of Trading Instruments: IG offers over 17,000 markets, including forex, CFDs, indices, commodities, stocks, and cryptocurrencies, providing traders with ample opportunities to diversify their portfolios.
Advanced Trading Platforms: IG offers a user-friendly web-based platform and the advanced MetaTrader 4 (MT4) platform, catering to traders with varying levels of experience.
Competitive Pricing: IG is known for its competitive spreads and low commissions, which can help traders minimize costs.
Educational Resources: IG provides a wealth of educational materials, including webinars, video tutorials, and market analysis, to help traders improve their trading skills and make informed decisions.
Excellent Customer Support: IG offers responsive customer support via live chat, email, and phone, ensuring traders receive assistance when needed.
Cons
Account Opening Process: IG's account opening process can be time-consuming, requiring additional documentation for verification.
Inactivity Fee: IG charges an inactivity fee if there is no trading activity on an account for two years, which may be a drawback for infrequent traders or those who maintain multiple accounts.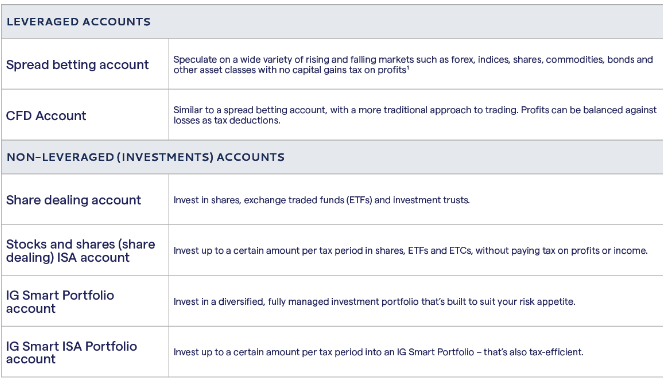 Account Types
Leveraged Accounts

Spread Betting
CFD Accounts

Non-Leveraged Accounts

Share Dealing
Stocks and Shares
IG Smart Portfolio
IG Smart ISA Portfolio
IG is a reputable online broker with a comprehensive range of trading instruments, advanced trading platforms, and competitive pricing. Its educational resources and customer support make it an attractive choice for traders of all levels. However, the account opening process and inactivity fee may be potential downsides for some traders. When compared to Oanda, IG stands out for its extensive range of trading instruments and the availability of the MT4 platform.
---
Oanda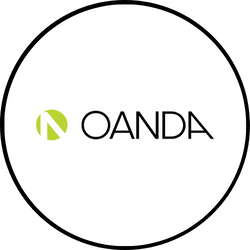 Oanda is a well-established online broker offering forex and CFD trading services to traders worldwide. Known for its transparent pricing, intuitive trading platform, and strong regulatory standing, Oanda has gained a reputation as a trusted broker in the industry. In this module, we will explore the pros and cons of Oanda for traders looking to open an account and compare them to IG's offerings.
Pros
Transparent Pricing: Oanda is known for its transparent pricing model, with no hidden fees or commissions, allowing traders to better understand their trading costs.
User-friendly Trading Platform: Oanda's proprietary trading platform, fxTrade, is easy to use and offers a range of advanced tools and features, catering to traders of all experience levels.
Wide Range of Trading Instruments: Oanda offers a diverse selection of trading instruments, including forex, CFDs, commodities, and indices, providing traders with various opportunities to diversify their portfolios.
Educational Resources: Oanda offers a comprehensive suite of educational materials, including webinars, articles, and market analysis, to help traders enhance their trading knowledge and skills.
Strong Regulatory Framework: Oanda is regulated by multiple financial authorities, ensuring a high level of safety and security for traders' funds.
Excellent Customer Support: Oanda provides responsive customer support through live chat, email, and phone, making it easy for traders to get help when needed.
Cons
Limited Account Types: Oanda offers a single account type, which may not cater to the specific needs of different traders.
No Cryptocurrency Trading: Oanda does not currently support cryptocurrency trading, which may be a drawback for traders interested in digital currencies.
Oanda is a reputable online broker that offers a diverse range of trading instruments and a user-friendly trading platform. Its transparent pricing, strong regulatory standing, and excellent customer support make it an attractive choice for traders. However, the limited account types and lack of cryptocurrency trading may not be suitable for all traders' preferences.
---

Fees and Commissions
As a trader, there's no getting around fees and commissions, as this is how brokers earn their revenue.
IG's spreads vary but here's an idea of what to expect. Trading spreads on key forex pairs could start at 0.6 points; they start at 0.8 points on major indices and 0.1 points on commodities.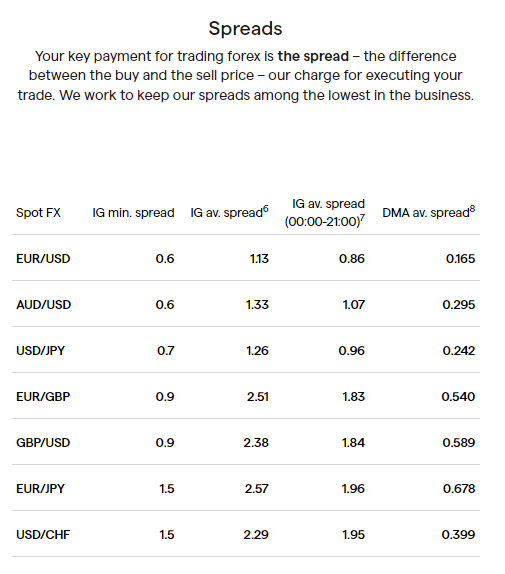 IG generates most of its revenue through spreads on leveraged products like CFDs but also makes money from some other fees. Other fees you could experience on IG include share CFD commissions, forex conversion fees, overnight fees and inactivity fees.
You can expect to pay a commission on share CFDs rather than a spread. If you hold a position past 10 pm (UK time), you can expect to be charged an overnight fee. IG begins charging a $12 inactivity fee for accounts that have not traded for two years. There's no charge to open an account with IG.
Oanda has a two-pronged pricing model, giving traders the option to choose between spread-only or core pricing plus commission. In the case of spread-only, the commission charges are integrated into the spread, streamlining the process for you.
Meanwhile, with the core pricing plus commission option, traders are charged a lower spread compared with the spread-only option. You'll also pay a fixed commission on each trade. The core pricing spreads begin from zero with a commission of $50 per 1 million.
On Oanda, you should also be aware of deposit fees. If you're depositing funds with a debit card or via ACH, you won't be charged for your first withdrawal each month. After that, all bets are off. These fees are waived for premium clients.
Oanda charges financing fees for forex trades. You'll want to be mindful about leaving positions open overnight on Oanda. This broker charges a financing cost to users at the end of each trading day for open positions. It's calculated on a per-position basis and encompasses an administrative fee as well as the interest differential of the trade.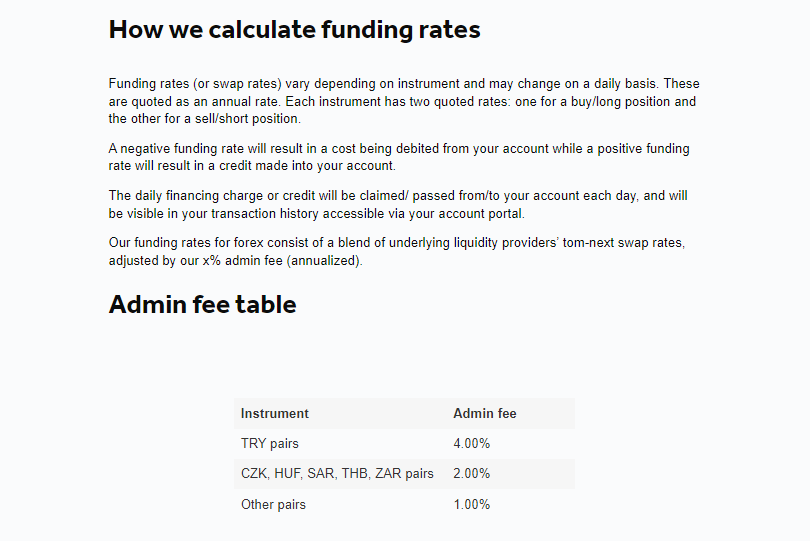 Oanda also charges an inactivity fee on accounts that have stopped trading. This fee is GBP 10 per month and it kicks in if there's no trading activity over a 12-month period. While Oanda doesn't require a minimum deposit amount to open an account, it caps your deposits at 50% of your net worth.
We like Oanda's two-tiered pricing model, giving it the edge over competitor IG on this front.
Trading Platforms
Just because you select a certain online broker on which to trade doesn't mean you're limited to its investment platform. Online brokers have made it a practice to offers users multiple choices when it comes to trading software. Let's explore those offered by IG vs Oanda.
First we'll start with IG's core platform. If you choose it, you can trade on the web, mobile app (iOS or Android) or tablet. Trade CFDs on the mobile app and gain access to the same tools and charting capabilities as the web-based platform.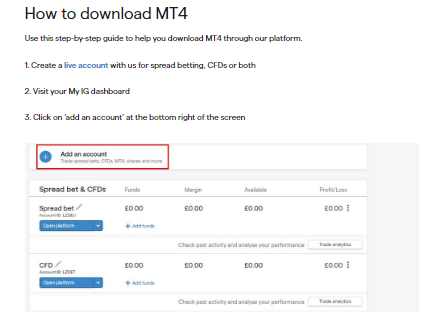 Traders find it to be a user-friendly platform that's easy to navigate. They've also called it "fast and responsive" and praised its fundamentals and signals. Other features users appreciate include chart analysis, relevant alerts and automatic trading via market orders.
IG also supports the popular MetaTrader 4 (MT4) offering. This system is downloadable at no additional charge. MT4 is widely used for CFD trading. It also offers analysis, trading tools and other add-ons specifically from IG.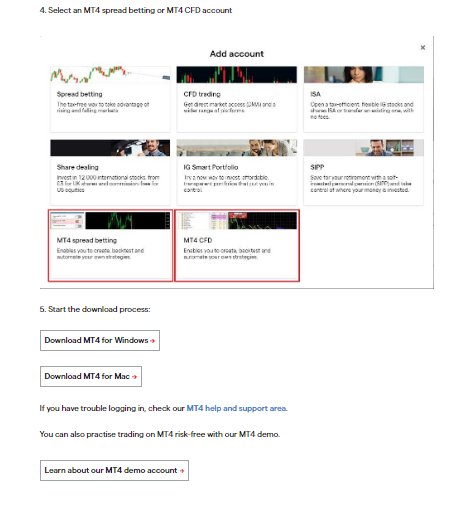 ProRealTime is a web-based charting package that IG offers. If you're involved with technical charting to analyze the markets, this platform could be useful. L2 Dealer is yet another trading platform available on IG. This is IG's direct market access platform for share or forex CFD trading.
Oanda has its own native offering, the OANDA Trade platform, and also supports TradingView and MT4. OANDA Trade is a web-based platform on which you can trade forex but there are also apps for mobile and tablets. If you choose the mobile app/tablet, you gain access to the same FX pairs and functionality as the web-based version so you don't have to stop trading when you are on the go.
The OANDA Trade platform offers technical analysis tools combined with charting capabilities. In fact, users can trade directly through charts fueled by TradingView. This allows you to react faster to price action in financial instruments. You can also open and close positions from these charts and manage risk.
Oanda supports risk management through actions like stop-loss orders and offers tutorials and guides to help you make better trading decisions.
Oanda has built a special bridge to connect users to MT4. It's based on Oanda's pricing and execution along with MT4's charting and analysis features. Users can also access an enhanced version of MT4 by upgrading their account. User reviews on Oanda's platform vary from being easy and transparent to requiring expertise to navigate.
In comparing IG vs Oanda based on trading platforms, it's really neck and neck. However, IG has the slight edge thanks to a pleasant user experience and the number of options from which traders can choose.
Investment Options
In this comparison of IG vs Oanda, investment options are a critical factor to consider. Think ahead to when you become a more experienced trader and consider the types of securities you expect you'll want to trade. IG and Oanda are very different in this respect.
IG has a wide range of markets to trade, including forex, shares, indices, commodities, options, futures, cryptocurrencies and more using CFDs.
By using CFDs, traders can manage risk by using stop and limit orders. CFDs also allow you to open a position at a fraction of the cost because you aren't limited to trading in full units. IG doesn't require a minimum balance to open a CFD account.
IG offers a wide range of FX pairs, amounting to more than 80 in number. Go long or short and trade on leverage. Trade forex on IG's web-based platform, mobile app, MT4 or L2 Dealer. You can also trade CFDs in bitcoin pairs, removing the need to own the underlying asset, which can be tricky to custody.
IG also allows users to take a position in more than 80 indices as CFDS, including Wall Street, the FTSE 100, Australia 200 and many others. You can also trade commodities like iron, copper, led and zinc as well as the energy and agriculture markets.
Oanda's investment options pale in comparison to IG. Oanda offers access to over 70 forex trading pairs, including major and minor currencies. Users can choose to trade them on the OANDA trade platform or MT4. Margin requirements are based on the leverage allowed by regulators in a jurisdiction.
One of Oanda's trading tools is AI sentiment. It harnesses the latest headlines to help you gauge the mood around certain instruments, like EUR, USD and others.
Oanda also lets you trade cryptocurrencies like bitcoin or Ethereum via CFDs on the Oanda mobile app or its platform. Oanda offers crypto spot trading through its partner and cryto service provider Paxos. If you choose to trade crypto on the Oanda app, all the trading tools are streamlined in the app for you.
If you sign up at the right time, new clients might be able to receive a bonus from Oanda if you meet certain conditions.
It's clear that IG is the better bet based on investment options. IG offers thousands of financial markets to trade and offers no shortage of investment options. Both brokers offer exposure to cryptocurrencies. And while Oanda offers dozens of forex trading pairs, they just can't compete with a powerhouse forex broker like IG.
Customer Service
Customer service is one of the most important features by which to measure online brokers like IG vs Oanda. When it comes to trading, time is of the essence and can be the difference between a profit and a loss. We have dived into the availability of customer service representatives at both brokers and also observed some of the feedback provided by users.
IG's customer service can be reached around the clock Monday-Friday. You can reach them online, via email, on Twitter, by live chat or by calling. In the U.S., IG has separate phone number for new and existing clients.
First the negative. One individual who attempted to create an account was unsuccessful and described the level of customer service as disrespectful, saying the representatives lacked basic communication skills. IG responded to this complaint on TrustPilot, saying they were going to try and make it right.
On the positive side, other users who have ran into issues have had a pleasant experience with customer service. One user described a customer service rep as a "pearl" among the helpdesk even though their issue had yet to be fully resolved. He described them as "polite, helpful, objective" and "very friendly."
Oanda's customer service is available to users 24/5 across multiple channels including live chat, email or phone. Among the complaints, some users find it difficult to find a live representative to speak with in the first place to help them handle any issues. Chief among the complaints is difficulty being able to withdraw funds, which coupled with challenges in reaching a live individual has made things worse.
Other frustrations have surrounding opening an account on Oanda and receiving seemingly scripted responses from the customer services team. In this case, the representatives provided conflicting advice to the user, causing them to describe their experience as "terrible."
Customers looking for technical support have complained about there not being a direct phone number for them to call for support, saying there was only virtual help available.
On the positive side, other users have had a pleasant experience with Oanda's customer service, describing them as helpful in fixing minor issues. Happy traders have described the customer service as being high quality, especially for a broker of Oanda's massive size.
Overall, we have to go with IG based on their customer service offering. IG has more satisfied customers compared with Oanda and also appears to be extremely proactive in responding to unhappy users in an attempt to fix the situation.
Security
Security is another top feature to consider when comparing online brokers IG vs. Oanda. By nature, brokers are a highly regulated market and therefore companies like the ones we are reviewing here must abide by local and regional rules that are set by each jurisdiction. Fortunately, both firms are regulated in leading markets and have solid track records among their users.
IG Group, the parent company of online broker IG, is publicly traded in London. It's overseen major regulators including the FCA in the U.K. and the CFTC in the U.S. In addition, IG is regulated in Japan, Australia and New Zealand, South Africa, Dubai, Switzerland, the EU and other jurisdictions.
IG holds customer funds in segregated accounts at banks that are regulated. This broker also says customer funds are "ring-fenced from our creditors."
IG Group has been betting on commodities since the 1970s after the U.S. dollar and other currencies lost their peg to gold. This broker offers two-factor authentication as an optional security feature on accounts to strengthen security.
Oanda operates in multiple jurisdictions and is regulated by the U.S. CFTC and the National Futures Association as well as the FCA in the U.K. In addition, Oanda is regulated in Singapore by the Monetary Authority of Singapore as well as in Canada, Europe, Japan and Australia. This broker says it uses top-tier banks in which to store customer assets.
Oanda also offers two-factor authentication on accounts. While this feature is not required, the broker strongly recommends that traders use it. Oanda's other security features include:
Internal security team
Partnerships with security firms
24/7 security monitoring
Adheres to high regulatory standards
While Oanda hasn't experienced any major security breaches in the recent past, its slate isn't totally clean. In 2014, Oanda experienced a security breach. A hacker managed to access non-FX services data on Oanda's server, capturing the personal details of customers in the process, including usernames, emails and credit card information. Oanda confronted the situation, revealing details of the hack to its customers and regulators in an attempt to keep those relationships intact.
When considering IG vs Oanda based on security, we have to go with IG. Not only is IG parent company IG Group regulated by the FCA and CFTC, but it has a history dating back to 1974. It has the distinction as the UK's maiden spread-betting company, and that reputation is hard to beat.
Conclusion
When comparing IG and Oanda, each broker has its advantages. IG offers a wider range of trading instruments and the MT4 platform, while Oanda is known for its transparent pricing and user-friendly fxTrade platform. Ultimately, the choice between IG and Oanda will depend on each trader's individual needs and preferences. Both brokers are reputable and well-regulated, providing a secure trading environment.
FAQ
What's the risk of CFDs?
CFDs contain leverage, placing traders at risk of losing more money than they deposited to begin with. The initial deposit you make is known as margin.
Can I use shorting in the forex market?
Yes, you can use it to offset your currency exposure or as a way to earn potential profits from trading analysis and forecasts.
Does IG require a minimum deposit amount?
If you're funding your account by debit card, the minimum deposit is $250.
Risk Disclaimer
StockHax strives to provide unbiased and reliable information on cryptocurrency, finance, trading, and stocks. However, we cannot provide financial advice and urge users to do their own research and due diligence.
Read More