This website and its content are not intended to provide professional or financial advice. The views expressed here are based solely on the writer's opinion, research, and personal experience, and should not be taken as factual information. The author is not a financial advisor and lacks relevant certifications in that regard. We highly recommend consulting a qualified financial advisor before making any investment decisions, as the information presented on this site is general in nature and may not be tailored to individual needs or circumstances.
When looking for the leading online brokerages, there are a few platforms that you will certainly come across first, among them – eToro, Plus500, Trading 212, Interactive Brokers, etc. All of them are essentially financial technology (fintech) companies, offering their users trading tools for acquiring, holding and selling various assets available at international financial markets. These platforms are all pretty active in gaining clientele, as well as increasing their market share. Below, they will focus on brief comparative analysis between two of those, namely – Trading 212 and eToro.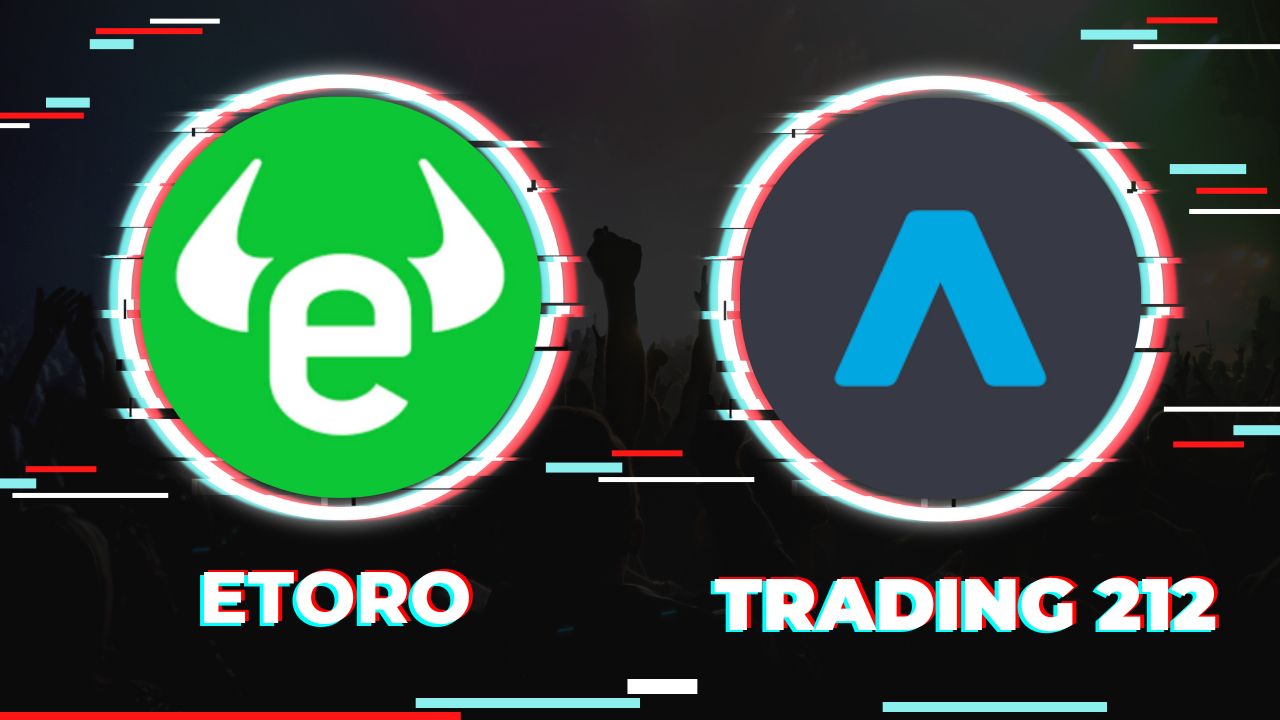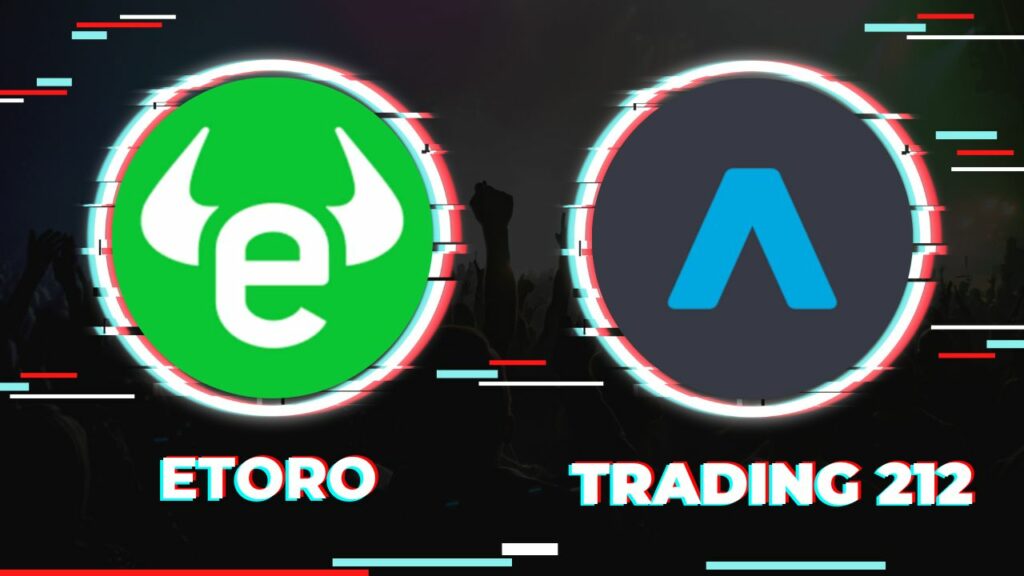 Features, Fees & Ratings Comparison Table
| Features | eToro | Trading 212 |
| --- | --- | --- |
| 💰 Account Minimum | $50 for US clients, $200 for other regions | $0 |
| 💸 Commission Fees | None for stocks and ETFs, variable spreads for other instruments | None |
| 💼 Investment Options | Stocks, ETFs, Crypto, CFDs on Forex, Commodities, Indices & Options | Stocks, ETFs, Forex, Commodities, Indices & Cryptocurrencies |
| 🤖 Robo-Advisor | No | No |
| 📊 Research and Analysis | Market news, economic calendar, trading signals, sentiment analysis | Market news and analysis, price alerts, and charting tools |
| 📱 Mobile App | Yes | Yes |
| 🏦 Retirement Accounts | No | Not offered |
| 🎓 IRA Accounts | No | Not offered |
| 📈 Trading Platform | eToro web platform and mobile app | Trading212 web platform and mobile app |
| 📞 Customer Service | 24/5 online chat and ticket support | 24/7 support via email and live chat |
| 📚 Educational Resources | eToro Academy, blog, podcasts | Video tutorials and knowledge base |
| 🌕 Fractional Shares | Yes | Available for stocks and ETFs |
| 🌱 Socially Responsible | Yes, eToro Sustainable Portfolios | Does not offer specific socially responsible investment options |
| 🌎 International Investing | Yes, over 140 countries | Allows for international investing in over 10,000 markets |
| 💳 Cash Management | No | Offers debit card and withdrawal to bank account |
| 🔍 Margin Trading | Yes, up to 1:30 leverage for retail clients and up to 1:400 for professional clients | Yes, up to 1:30 leverage for retail clients and up to 1:300 for professional clients |
| ⚙️ Options Trading | Yes, CFDs on options | No |
| ₿ Cryptocurrency Trading | Yes | Offers a wide range of cryptocurrencies |
| 🛡️ Account Security | SSL encryption and segregated bank accounts | FSCS-insured up to £85,000, SSL encryption and segregated bank accounts |
| 💹 Leverage | Up to 1:30 for retail clients and up to 1:400 for professional clients | Up to 1:30 for retail clients and up to 1:300 for professional clients |
| ⚖ Regulation | Licensed and regulated by a variety of global leading regulators | Licensed and regulated by FCA and FSC |
eToro vs Trading 212
eToro and Trading 212 are two prominent online brokers that cater to traders with varying preferences and experience levels. eToro is renowned for its user-friendly platform and social trading features, while Trading 212 is known for its low fees and the ability to trade fractional shares. When considering eToro vs. Trading 212, it is essential to weigh the unique strengths and weaknesses of each platform to determine which broker best aligns with your trading goals and requirements.
eToro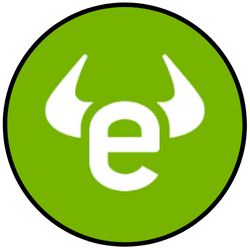 eToro is a popular online broker known for its user-friendly platform, social trading features, and a wide range of assets available for trading. Established in 2007, eToro has grown significantly and now serves millions of users in over 100 countries.
Pros
User-friendly platform
Social trading
Wide range of assets
Cons
Higher fees
Limited advanced tools
eToro is a versatile and user-friendly online broker that offers an extensive range of assets and a unique social trading experience. Its intuitive platform caters to both beginners and experienced traders, making it a popular choice for those interested in learning from and following the strategies of successful investors. While eToro's fees may be higher compared to some competitors, its diverse offerings and innovative features make it a strong contender for traders seeking a comprehensive and social trading environment.
---
Trading 212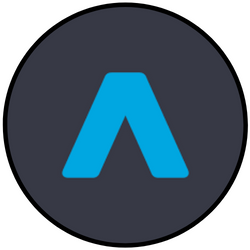 Trading 212 is a fast-growing online broker offering a simple, yet powerful, trading platform. Launched in 2006, Trading 212 provides a diverse range of trading options for both new and experienced traders.
Pros
Low fees
Intuitive platform
Fractional shares
Cons
Limited research tools
No social trading
Trading 212 is an accessible and cost-effective online broker that offers a user-friendly platform and the ability to trade fractional shares. Its low fees and commission-free stock and ETF trading make it an attractive option for budget-conscious investors and those starting with smaller capital. Although Trading 212 may lack some advanced research tools and social trading features, its straightforward platform and competitive pricing make it a strong choice for traders seeking an affordable and intuitive trading experience.
---
Trading Fees and Other Costs
Trading 212
In general, the are no (like for opening/maintaining the account or direct trading of stocks, ETFs, etc.) or low (like for currency conversions, CFD trading or long-term inactivity) commissions that apply to this platform. Trading 212 has a fee structure, being charged through spreads or overnight fees. Some of the costs that you may incur are bid-ask spreads or fees associated with transactions that are held overnight. Importantly however, there are no depositing or withdrawal fees when adding or deducting funds to or from your brokerage account.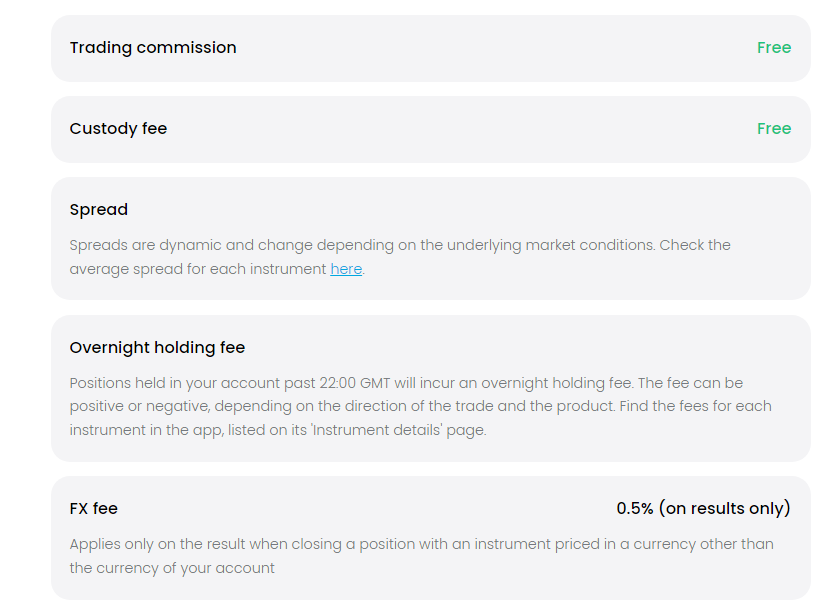 Trading 212 Trading costs and custody

Trading commission
Custody fee
Spread
Overnight holding fee
FX fee
eToro
the company declares that there are no commissions for opening and maintaining an account with them, however there is a minimum deposit amount of USD 50 for most of the countries (USD 10 in USA and UK). The trading currency of eToro is USD, so if you are depositing money to your account in any other currency, it must be exchanged to USD before initiating any trades. Keep in mind that the usual currency conversion fee is 0.5%. (compared to 0.15% for Trading 212). There is also a 1% commission applicable to crypto transactions, as well as various fees for CFDs trades. Finally, there is a flat withdrawal fee of USD 5 for eToro, whereas there is none for Trading 212.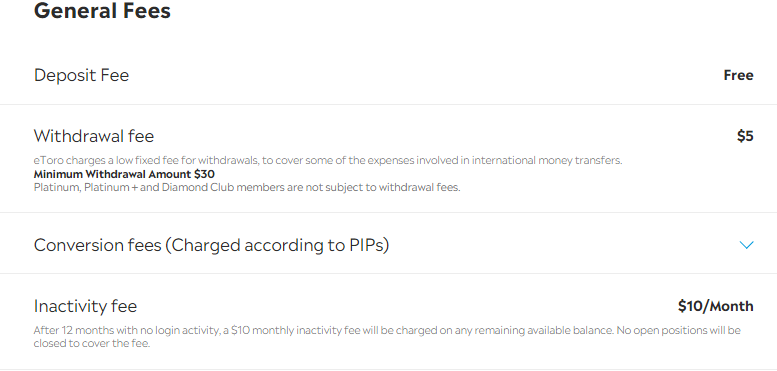 eToro Other fees

Deposit fee
Withdrawal fee
Conversion fees
Inactivity fee

Customer Support
Trading 212
the platform offers a 24/7 customer support with a striking average response time of 29 seconds! It can be reached either via the online chat feature built into its app, by email or a WhatsApp call.
eToro
There is no hotline or a customer service representative, whom you can reach directly. You may choose between the automated chatbot or chat with a customer service available 24/5. Alternatively, you may open a "ticket" describing your issue, which will be addressed within 48 hours. There is also a WhatsApp chat option, however it is only limited to club members holding Platinum or higher level.
Comparison of Benefits and Drawbacks
First, let's understand the level of overall satisfaction of the users of both brokerage platforms. Here, looking into the customer reviews are of crucial importance. Out of current 17,000+ reviews, eToro has a good score of 4.3 out of 5, whereas Trading 212 got an impressive 4.6 from its 20,000+ reviews. The message here is clear – the users of the latter platform find it being better. Actually, the interface of Trading 212 is simpler and more intuitive to use, as it is ultimately designed for beginners.
On the other hand, eToro has two comparative advantages in our view: its social trading feature and the possibility of crypto-trading. The social trading feature is unique in its kind within the industry, also offering the possibility to copy the portfolios of leading investors and automatically making any changes initiated by them without need of constantly monitoring their moves. Trading 212 doesn't offer anything of that kind, as it is merely a standard trading platform.
Another important difference between the two brokerages is that eToro's main currency is USD, so you must exchange any balance denominated in other currencies into dollars in advance of any trading transaction. The exchange fee is 0.5%, which is not too high if compared within the industry, however much higher than the 0.15% conversion fee offered by the Trading 212. Moreover, in case of Trading 212 currency conversions are done automatically, once the trade is initiated.
Finally, in terms of customer support, Trading 212 offers a 24/7 service through chat, email and calls, while eToro has more limited offer, as described above.
Conclusion
Trading 212 and eToro are both leading online brokers with a solid customer base, having a good and increasing market share, actively acquiring new users to broaden their operations. Established in mid-2000s, both platforms currently reached a global presence, being regulated by major financial authorities of US, UK, Europe, etc. Both fintech firms are multi-asset brokerages, offering thousands of titles ranging from company shares to commodities, ETFs and else for trade.
There are both low-cost platforms in general, however some differences in fees that are being charged (described above, under the sub-title: Trading Fees and Other Costs) require any user's attention. Although these platforms have a lot in common, there are also some differences which deserve attention. Hence, It is recommended to research and understand the key nuances of both platforms before making a final choice.
When choosing between the two, it is advisable to pay special attention to comparing the fees, regulations and features you may need to use most often. Only then will you be best informed and able to choose the brokerage suitable to your purpose and investment goals. Finally, it is fundamental to deep-dive into the targeted investment, aiming to fully understand the risks involved in it, as well as making a plan for entering and exiting that investment position.
Recommendations for Finding the Right Online Broker
When choosing an online broker, there are a few key factors to consider for ensuring that you will pick the right one for your needs. Firstly, it is important to check the regulatory environment and make sure the broker is overseen by reputable financial regulators to protect yourself against fraud and loss of funds, due to inappropriate financial practices.
The next important factor to look at are the costs involved, which must be compared among alternative platforms, trying to find the most attractive option. Make sure to read the terms carefully (including the footnotes), since quite often the essential details are covered under the small fonts. It is also worth to check the quality and user-friendliness of the platform's interface. Apart from the tools for trading, you may also wish to consider the learning resources available.
Finally, checking the existing customer reviews and the quality of customer service should be taken into consideration, too. For the overall level of your satisfaction with the brokerage you may finally choose to use, it is of high importance that you would be able to easily communicate with their support team in case of any issues related to your portfolio. Many investors struggle with companies, lacking proper customer support and their request remaining unattended for weeks or even months. Therefore, it is really worth paying attention to the ways the given platform handles its communication with the existing customers and how satisfied they really are with those practices.
FAQs
What are the key differences between Trading 212 and eToro?
Trading 212 and eToro are both leading online brokerage platforms, but they have some key differences. Trading 212 is known for its simple and intuitive interface, making it more beginner-friendly. It offers 10,000+ stocks and ETFs and lower currency conversion fees. However, it lacks social trading features and does not support cryptocurrency trading. eToro, on the other hand, has a unique social trading feature that allows users to follow and copy other traders' portfolios. It also supports cryptocurrency trading but has higher currency conversion fees.
How do Trading 212 and eToro generate revenue despite offering low or no commission trading?
Both Trading 212 and eToro primarily generate their revenue through spreads and other fees associated with trading activities such as contracts for differences (CFDs) and overnight fees. While they offer low or no commission trading for stocks and ETFs, they may charge fees for currency conversions, CFD trading, or long-term inactivity.
What unique features does eToro offer compared to Trading 212?
eToro stands out from Trading 212 by offering a social trading feature, which allows users to interact with other traders, view their portfolios, and even copy their trades. This feature is particularly useful for beginners who want to learn from more experienced investors. Additionally, eToro supports cryptocurrency trading, which is not available on Trading 212.
How do the fees and costs differ between Trading 212 and eToro?
Trading 212 generally has lower fees and costs compared to eToro. Trading 212 charges a 0.15% currency conversion fee, while eToro charges a 0.5% fee. Additionally, eToro has a flat withdrawal fee of USD 5, whereas Trading 212 has no withdrawal fee. However, eToro's fees for other services, such as CFD trading and crypto transactions, should be considered when comparing the two platforms.
How does the customer support of Trading 212 and eToro compare?
Trading 212 offers 24/7 customer support through chat, email, and calls with an average response time of 29 seconds. eToro, however, provides more limited customer support, with a chatbot and live chat service available 24/5. Users can also open a support ticket, which is typically addressed within 48 hours. eToro offers WhatsApp chat support for club members holding Platinum or higher level, but it doesn't provide a direct hotline or customer service representative like Trading 212 does.
Risk Disclaimer
StockHax strives to provide unbiased and reliable information on cryptocurrency, finance, trading, and stocks. However, we cannot provide financial advice and urge users to do their own research and due diligence.
Read More